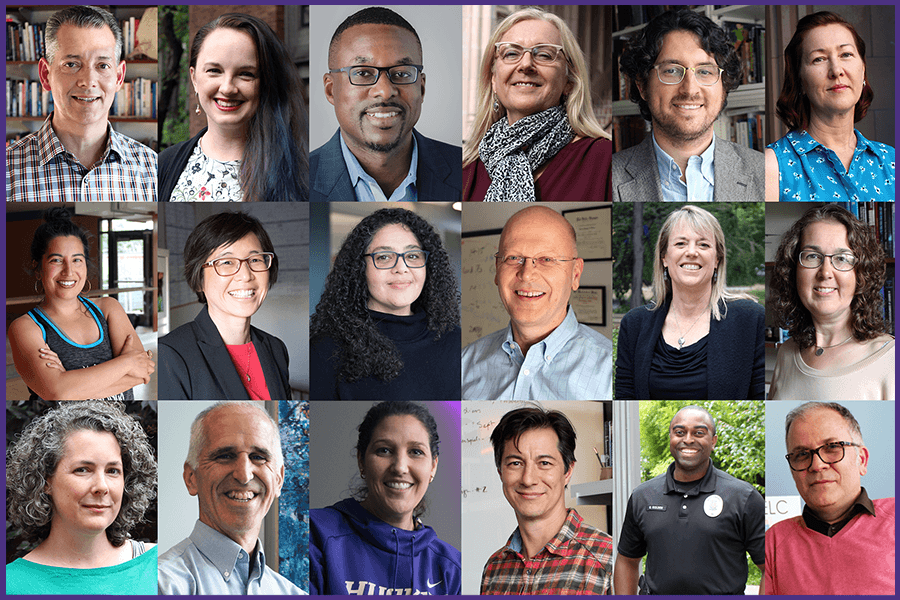 Spotlight 2019—Year in Review
Before we begin a new decade, let's look back on a year of learning, growth, and achievement by way of our Spotlight series. Published on Fridays, the weekly Spotlight feature takes the form of a Faculty Friday, a Staff Story, or a Coaches' Corner—promising readers an informative view into the lives, research, interests, and achievements of faculty and staff from across the University of Washington. Read on to get to know 33 amazing educators, administrators, staff members, and coaches!
---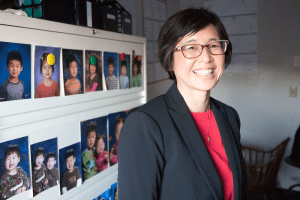 Joyce Yen
We caught up with Joyce Yen, who, as director of the University of Washington ADVANCE Center for Institutional Change, has helped hundreds of women succeed as faculty in science, engineering, and mathematics fields. "With UW ADVANCE, I saw an opportunity to take what I had learned as a woman in engineering—particularly as a professor in engineering—and share that experience with others on the same path." Read more about Joyce here.
---
Kim Durand
Following news that University of Washington student-athletes again reached all-time benchmarks for high GPA, senior associate Athletic Director for Student Development Kim Durand shared insights on helping student-athletes translate in-game lessons to life beyond athletics. "If we do this right, it can change the trajectory of student-athletes' lives and their families' lives. You don't forget there's a larger purpose to all this." Read more about Kim here.
---
Coach Jody Wynn
In the midst of her second year as head coach of Husky Women's Basketball, Jody Wynn talked heart, hustle, and how every day is a chance to get better. "The culture we're working everyday to establish is a culture where everything matters. I place a lot of value on getting your education as well as taking care of your body, fueling it right, and getting enough rehab. We're trying to develop the whole person, not just a basketball player." Read more about Jody here.
---
Adam Warren
An associate professor of Latin American history at UW Department of History, Adam Warren works to reveal "missing voices" in the history of medicine and early global health interventions with a special emphasis on those of people living in Peru during Spanish colonial period (1492-1832). "In terms of early colonial Lima, one of the things that we've learned is that it was probably a vastly more complex society than we imagine." Read more about Adam here.
---
Michael Berry 
A classically trained bassist, Michael Berry teaches music theory and music appreciation between UW Seattle and UW Tacoma. His love of rap music led him to develop a course on music theory and the history of hip-hop that "goes beyond" the beats and rhymes. "I want to give students opportunities to create where they might not otherwise…They learn what it takes to loop a break beat for ten seconds and they realize, 'Wow, this is really work.'" Read more about Michael here.
---
Shondell Reed
Shondell Reed, senior associate Athletic Director of UW Athletics, shared the story of his journey on the road less traveled to a career in college athletics and why he sees it as his responsibility to set UW student-athletes on a life-changing trajectory. "We're here to offer a life-transforming experience for student-athletes. After your four years, you'll be sent into the world with the tools to serve you well for the next sixty years." Read more about Shondell here.
---
Charlotte Sanders
Homelessness remains one of the most pressing issues facing the city of Seattle. Charlotte Sanders, a teaching associate in UW School of Social Work, advocates addressing it via a holistic, human-centered approach that involves creating environments that make anyone entering them "feel like they can get connected to community." Read more about Charlotte, her work, and ways the UW community is working to address homelessness in the U District.
---
Joe Grojean
UW Hazard Assessment Coordinator Joe Grojean reflected on the most perilous work encounter of his life—cancer—and how finding a stem cell donor match saved his life. "There's no greater feeling than to be someone who directly saves someone else's life so that person can continue to be with their friends, family and loved ones. I know I will be forever grateful to my donor."  Read more about Joe here and why he has been an active part of UW's Be the Match campaign.
---
Andrew Nestingen
Months before he was made Knight First Class of the Order of the Lion of Finland, Andrew Nestingen sat down with The Whole U to share more about his work promoting Finnish culture and Scandinavian Studies' place in an ever-changing world. "I believe there are unresolvable questions in life that we need to talk about and being able to look at the many [Scandinavian] voices that have, in profound ways, expressed versions of responses to those questions is important."
---
Coach Robin Stephenson  
When Washington Husky Women's Tennis got off to the best start in program history, we caught up with head coach Robin Stephenson, who riffed on winning, willpower, and what it means to strive for constant improvement. "That's one of the mottos of our entire athletic department and our girls have really taken that to heart: get better every day. We work super hard and it's been cool to see that come to life." Read more about Robin and the Women's Tennis team here.
---
James Clauss
Why are the original Star Wars films so enduringly popular? James Clauss, professor in the University of Washington Classics Department, argues it might have something to do with their reliance on mythic motifs that resonate on a universally human level. Clauss' popular course, "Classical Mythology in Film," challenges students to go in search of myth and meaning in movies. Read more about James and the lessons the course imparts about life and learning.
---
Amy Kim
For her work focusing on interactions between healthy building design, occupants, and building operations, Amy Kim was one of the recipients of UW Sustainability's 2019 Husky Green Awards. We caught up with the assistant professor in Civil and Environmental Engineering to learn more about how and why well-engineered workspaces should be "good for people, good for environments, but also benefit the bottom line." Read more about Amy here.
---
Selim Kuru
Selim Kuru, associate professor and chair of UW Near Eastern Languages & Civilization – NELC, introduced his department's Bāḳī Project, which is bringing scholars of engineering, informatics, and humanities together to synthesize and better understand the literary legacy of Bāḳī, one of the Ottoman Empire's greatest poets. "There's a lot of promise in the digital humanities. Our students are learning things we wouldn't even imagine." Read more about Selim here.
---
Greg Wilson
If Greg Wilson had a time machine, he'd dial it back 66 million years to the last days of the late Cretaceous—a period when Tyrannosaurus rex and Triceratops still roamed the earth. "I'd go and see what it was like in those last days before the world changed completely," says Wilson, an associate professor of Biology at the University of Washington specializing in the evolution and ecology of early mammals. Read more about Greg's research on the rise of life as we know it.
---
Karen Fredriksen Goldsen

Did you know that LGBTQ Pride is a matter of public health? We caught up with Dr. Karen Fredriksen Goldsen of UW School of Social Work whose landmark longitudinal study, "Aging with Pride," shows how experiences of victimization, discrimination, and social isolation can be significant predictors of negative health outcomes—and that visibility and sense of community lead to positive health outcomes. Read more about the study and about Karen's work.
---
The MC-1 Team
"Most people don't even know about us." By the time you notice that refreshed feeling of a deep-cleaned restroom or that glimmering new coat of floor wax, the staff members who made it so are likely long gone and on to their next maintenance project. It's time to meet MC-1, the unique mobile unit of University of Washington maintenance professionals who help keep countless locations across Seattle's campus in working order—whatever the job calls for.
---
Lisa Brandenburg
For Lisa Brandenburg, chief health systems officer for UW Medicine, providing better access to healthcare starts with taking care of those who work for the health system itself. "As staff or faculty of the University of Washington devoting so much of your time, energy, and life to this place, you should be able to get your healthcare here if you want to." Learn more about Lisa, the UW's health systems, and her efforts to better serve the healthcare needs of UW employees.
---
Dalya Perez
Every week, fourth year PhD student Dalya Perez leads a group of UW faculty, staff and students who gather to move, groove and otherwise get down during a lunch hour dance class at the Kelly Ethnic Cultural Center. "We have this beautiful community of multigenerational folks.  I want to create a space where we can let go and be silly and uninhibited, bold and brave, and also strong and tough." Read more about Dalya's Dance Crew here.
---
Gabriel Golden
UWPD officer Gabriel Golden works full-time on issues of community engagement. When not meeting face-to-face to discuss issues that matter most to the students they serve, he works a different, digital beat—harnessing social media and humor to augment safety messaging and foster connections across campus. That's how he became involved in what subsequently became known as the UW Meme War of 2019. Read the full profile to learn how he "won" it.
---
Holly Arsenault
An acclaimed playwright, Holly Arsenault writes mostly comedies, but she takes her work as director of engagement for the UW School of Drama very seriously. "For me, next season has already started," she says, referring to all the public shows the UW School of Drama will present in the 2019 and 2020 academic year. "In some ways we function like a theatre company inside an academic department." Read more about Holly's work at UW and her play-writing process.
---
Kristi Morgansen
Using bio-inspired engineering, Kristi Morgansen can propel everything from underwater Seagliders to Blue Origin rockets in outer space. The chair of the Department of Astronautics and Aeronautics at the University of Washington even has a school of robotic fish. "We're interested in taking these basic building blocks of biology and coming up with more effective designs for systems." Read more about Kristi and the exciting work happening in her department!
---
Charity Urbanski
"Mostly, my summer has been devoted to monsters—dragons, revenants, werewolves, that sort of thing." We caught up with 2019 Honors Excellence in Teaching Award recipient Charity Urbanski to talk historiography, humor, and why she spent this past summer hunting monsters through the Middle Ages. Read more about Charity, her work studying how history has been written in the past here, and why it can be important to be a devotee of the "deeply weird."
---
Tom Hawn
On the eve of the 4th Annual TB Symposium held by the University of Washington Tuberculosis Research and Training Center (TRTC) in September, Tom Hawn explains why the disease that remains the leading cause of infectious death in the world still has a 19th-century reputation. "Our goals are to foster innovative research and collaboration among investigators to see how we can do more together." Read more about Tom and TB's past and future here.
---
Kevin O'Brien
Before teams from across the UW participated in Seattle's annual Heart Walk, we asked UW Medicine cardiologist Dr. Kevin O'Brien about need-to-know info about cardiovascular disease and how people can help support and advance research into heart health. A native Idahoan, Kevin also shared how his career was shaped by UW School of Medicine's five-state WWAMI program. "We're all science nerds trying to…help people decrease their risk of developing heart problems."
---
Marianne Stecher
You probably know at least one story by Danish writer Hans Christian Andersen. But how well do you know the author himself? Marianne Stecher, professor of Danish and Scandinavian Studies within the UW Scandinavian Studies Department, delivered the public lecture, "Hans Christian Andersen—Fairy Tales and Science Fiction," at the National Nordic Museum in October. As a teaser for her talk, she shared some insights onto Andersen's unique life and worldview.
---
Devin Naar
In recovering the nearly-lost narratives of the Jews of Salonica—including those of his own ancestors—Devin Naar helped vault Sephardic Studies at the University of Washington to international renown as a hub for collecting, digitizing, and understanding the history and culture of Sephardic Jews. Read more about the fascinating links between Salonica and Seattle and what the Sephardic Jewish immigrant experience tells us about the U.S.'s history of racism and exclusion.
---
Mindy Kornberg
Vice President for UW Human Resources Mindy Kornberg is longtime executive sponsor of the UW Combined Fund Drive. In November, she reflected on all the ways the UW is powering a culture of employee giving and why that matters now as much as ever. "We work at UW because we are committed to improving the world. UWCFD provides a window into the needs of our community and our contributions help make a difference locally, regionally and throughout the world."
---
Leila K. Norako
A scholar, a mother, a black belt, and a poet, assistant professor of Medieval Literature Leila K. Norako shares "low-stakes" strategies for setting words to the page and why she encourages students to read with empathy when approaching centuries-old texts. Read more about Norako's work, her newly published chapbook of poetry, "Nautilus," and why "creating those low-stakes ways to generate output can be really valuable whatever your interest is."
---
Jennifer Otten and Branden Born
UW's Livable City Year program provides a University-wide opportunity for students to develop ideas and apply them via practical, actionable research projects that help cities address real issues and problems. After announcing a 2019-2020 academic year collaboration with the city of Sultan, program directors Jennifer Otten and Branden Born reflected on impact of Livable City Year's partnerships with Washington communities.
---
Coach Keegan Cook
"Volleyball teaches you the importance of consistency—whether you're working on your serve or trying to create habits in your life." Before an exciting run in the NCAA Tournament, Keegan Cook reflected on an exciting fifth season as head coach of UW Volleyball and the transformative life lessons the sport imparts. "Somehow volleyball just spoke to me," he says of how he got involved in the sport. "Once you find your calling, everything else just kind of fades away."
---
Chadwick Allen
Drawing from his new book manuscript, "Earthworks Rising: Mound Building in Native Art, Literature, and Performance," Allen shared how these sites are not only encoded with knowledge from the Indigenous past, but also provide inspiration for Indigenous futures. "The evidence of engineering, astronomy, mathematics, construction techniques, and multiple simultaneous physical and symbolic alignments is just incredible." Read more about Chadwick here.
---
Misty Shock Rule
The lunch hour is primetime for Misty Shock Rule. Since 2016, she has reviewed more than 100 U District restaurants and dining spots on her food blog, Eating the Ave. "Once I started, I thought, 'I might as well keep on doing it,' because I don't think there's anyone else eating at this many places in the U District." Read more about Misty, her all-time favorite lunch spots, and how she stayed committed to this creative endeavor over a three-year period.
---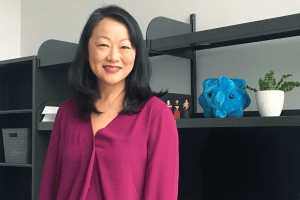 Helen Chu
While most people are trying to avoid catching the flu, Helen Chu is chasing it. Read about Chu's work on the groundbreaking Seattle Flu Study to develop and deploy strategies for detecting, monitoring, and controlling flu outbreak. "The next frontier in flu prevention is the ability to predict an outbreak and quickly take action to stop its spread. We hope to find new ways to identify when flu arrives in a community and develop tools to protect people before it becomes widespread."
---
Do you have a story or know of a colleague with a story you'd like to see shared with the wider University of Washington community? Get in touch by emailing mleib22@uw.edu