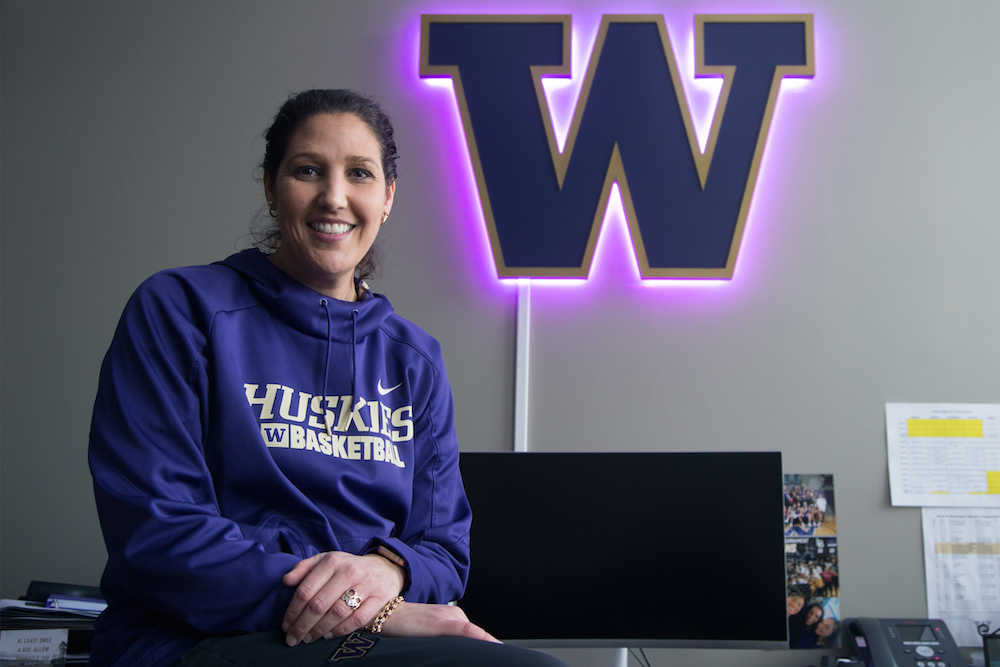 Coaches' Corner: Jody Wynn
Crash the boards in support of Huskies Women's Basketball and Gymnastics with select ticket discounts from UW Athletics!
---
There's an unforgettable scene in Frank Capra's 1946 film It's a Wonderful Life in which a basketball gym floor splits open during a high school dance, sending unsuspecting dancers splashing down into a 25-yard swimming pool below.
The uproarious scene was no product of a complex studio staging. The hybrid gym/pool actually existed—and still does—at Beverly Hills High in Los Angeles. While still remembered for its star turn on the silver screen, the marvel of mid-century engineering could easily serve as a metaphor for the career of another fixture of southern Californian sporting life: Jody Wynn, who, since 2017, has served as head coach of the University of Washington Women's Basketball.
A standout high school player who helped lead Brea Olinda High School to three state championships, Wynn went on to start at guard for USC where she and teammates won the 1994 Pac-10 Conference championship and made three consecutive NCAA Tournaments. But beneath the polished parquet and litany of hard-won victories, water ripples.
Wynn ascribes her success playing and coaching basketball to foundational lessons she learned as a competitive swimmer from her then coach, Olympian Lori Scott.
"I think Lori Scott taught me hard work, dedication and sacrifice," Wynn says. "I really was a swimmer who played a little basketball at my elementary school. I played for fun, but I still wanted to be an Olympic swimmer."
And she might have become one—indeed, her brother went on to swim competitively at Duke—had her play on court not caught the attention of Mark Trakh, then the high school coach of the local Ladycats team in Wynn's hometown of Brea.
"One day, he pulled me aside and said, 'Hey, do you want me to teach you how to shoot?' and I was like, 'Sure,'" she recalls. Trakh convinced her to start playing seriously in seventh grade as part of the PE class he taught at the local junior high. "He was extremely instrumental in my growth and development as a basketball player."
By the end of eighth grade, Wynn says she felt "water-logged" as a competitive swimmer and so decided to turn her full focus to basketball—a game she was fast falling in love with for its sociable qualities and complex elements of teamwork.
"I fell in love with basketball playing in junior-high," Wynn says, adding that Trakh allowed her to play high school varsity league games during the summer season. After a stellar turn as a high school standout, she went on to success as a starter for USC while simultaneously honing her skills as a coach—working with local players at camps each summer at home.
Stepping up
There was little question what Wynn wanted to do after graduating. She joined Trakh, her former coach and now coaching mentor, as his assistant at Pepperdine. She recalls one instance in which—unbeknownst to her—Trakh feigned illness so that she could have the experience of coaching her first collegiate game.
"He said I could be a head coach by the time I was 30, but I didn't believe him," Wynn says of Trakh, who she then followed to USC, serving as the program's senior assistant, recruiting coordinator, and head of scouting.
In 2009, Wynn got her first taste of the role of head coach at Long Beach State, where, over eight seasons, she'd compile a 137-119 record and achieve smashing success in the Big West. In April 2017, she accepted the head coach's job at the UW and made the move to Seattle with her two daughters and husband, associate head coach Derek Wynn.
"Last year was a whirlwind," Wynn says of a first year in Seattle, which she calls "a great basketball town."
"Our time is here at UW or with our children and, in year two, I don't need my navigation system quite as much."
In Washington, the Wynns inherited a team which had lost over 85 percent of its scoring and rebounding from the previous year and had just one player with experience as a collegiate starter prior to the start of the season.
After a rebuilding campaign in 2017-18, Wynn says Husky Women's Basketball finds itself "in the thick of things" in 2019, not yet at a the halfway point of the Pac-12 conference season. On paper, the team's record is already improved from last season, but Wynn is keen on looking beyond the scoreboard in order to gauge her team's triumphs and toughness.
"We're placing a lot of value on grit and grind and heart, rather than just valuing our seasons on mere wins and losses from the scoreboard," Wynn says. "We're trying to ask, 'Did the scoreboard tell the truth or is the scoreboard a liar.' In our hearts and minds, we're placing an extreme value on effort, teamwork, toughness and performance."
Improving every day
Wynn has stressed that there are no shortcuts on the way back to the spring NCAA tournament and that each day stands as a chance for improvement, especially within the second top ranked conference in the country—one that boasts five teams in the top 25 nationally. Last weekend, playing against Cal, Wynn's Huskies lost by nine points. Cal's center—widely heralded as the best in the country—scored thirty.
"We felt like we came away feeling pretty good about ourselves," Wynn says of what she and the team took away from the outcome. "We're all about heart and hustle—that's kind of our mantra right now and how we measure our success: whether we displayed that."
Wynn says part of rebuilding a championship culture is ensuring her players are "pretty open" about when and whether they have or not shown that level of tenacity on court. But that's just one part of a bigger picture.
"The culture we're working everyday to establish is a culture where everything matters," Wynn says. "First and foremost, I place a lot of value on getting your education as well as taking care of your body, fueling it right, and getting enough rehab. We're trying to develop the whole person, not just a basketball player."
Noting that basketball has the longest season of any collegiate sport, Wynn says she believes that makes it all the more imperative that players to find outlets elsewhere on campus, even amid what can feel like a near-constant schedule of practices and conference play.
"My vision for our young women is that when you're a part of such an amazing university as the University of Washington is, you need to be a part of as many aspects of it as it offers," she says. "Get yourself in a place that's outside of being just a student-athlete. That's part of what makes being a student-athlete here an unbelievable experience."