Want to start your own social group? Need help with promotion? Check out the activity toolkit.
---
Affinity groups are supported by the UW as a way to advance recruitment and retention efforts. Organizations in higher education and the corporate sector have used affinity groups as a way to build community and to improve recruitment and retention of diverse talent. If you are interested in building community or fostering connections with other faculty and staff at the UW, we invite you to get involved with one of UW's faculty and staff affinity groups.
Questions? Contact Simone Willynck, Program Coordinator, at staffdiv@uw.edu. Affinity groups are jointly sponsored by the Leadership, Community and Values Initiative and the Office of Minority Affairs & Diversity.
---
Recognizing and honoring the rich ethnic, cultural and social diversity of University of Washington Asian and Pacific Islander American faculty and staff, the purpose of the Asian and Pacific Islander American Faculty and Staff Association (APIAFSA) is to create, engage, maintain, and sustain a visible and supportive APIA community. Get involved, learn more, follow the APIAFSA on social media, and join the mailing list here.
---
The mission of the University of Washington Black Faculty and Staff Association is to foster a greater sense of community and mutual support among the Black faculty and staff of the University through mentoring and networking in an effort to provide an organized support system that will enhance the cultural diversity within the University, as well as enhance and support the academic mission of the University. Get involved, learn more, and join the mailing list here.
---
The University of Washington Latinx Faculty and Staff Association (LFSA) is an advocacy, leadership development and social network that addresses Latinx issues in higher education, including the educational concerns and advancement of the UW Latinx community. LFSA uses "Latinx" to recognize our intersectionality as a community spanning borders, genders, race, and other identities. We recognize the unique cultures and experiences of our community and join in solidarity for the advancement of all our members. Get involved, learn more, and join the mailing list here.
---
The Native Faculty and Staff Association seeks to focus on initiatives specifically related to the well being of the University of Washington's Native Faculty and Staff. It is important to note that there are a number of American Indian/Alaska Native/First Nations (AIAN/ First Nations) coalitions and efforts involving Native faculty and staff. There is overlap in the membership and participation in these groups, as well as with their respective focus, vision, and mission. As NAFSUW evolves, it will determine how it can best collaborate with these groups. Get involved, learn more, and join the mailing list here.
---
The University of Washington Queer Association is a group whose vision is to foster a campus climate where all Q Faculty, Staff and Allies are valued and respected, regardless of sexual orientation or gender identity. Our mission is to ensure the inclusion and success of Q faculty, staff and allies through recruitment, retention and training opportunities. Get involved, learn more, follow QFS on social media, and join the mailing list here. 
---
The UW Disability Faculty & Staff Association is a group for all D/deaf, disabled, chronically ill, neurodivergent-identifying faculty/staff and allies, at the University of Washington, to advocate for universal design across campus and to find and build community. We center the social model of disability, the principles of disability justice, disability culture, and the complex intersectional identities of our diverse community.
*This group is still in the process of becoming an official affinity group. In the meantime, if you are interested in learning more, click here (does not require UW email or any identifying information). If you have any questions, contact Christine Lew at lew32@uw.edu.
---
Being Active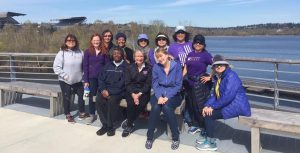 At the University of Washington, there are plenty of opportunities to be active and share your fitness outings, goals and achievements with fellow faculty and staff. The follow are established being active and fitness groups at UW.
A private group for UW faculty & staff to inspire and encourage each other with photos, quotes, and positive motivation! Members build community, offer advice, share progress, and plan outings together. Learn more and join us here.  Only UW faculty, staff, and students may join The Whole U Being Active Facebook page.
Husky Triathlon Club
Serves UW-affiliated multisport athletes of all ages and abilities, enabling them to achieve their athletic goals in a stimulating, supportive and sociable environment. We educate and inform our members, having fun while participating in all the Pacific Northwest has to offer for training and racing, to improve sport for all. Check us out on Facebook.
Tower Trotters
The Tower Trotters get together to run, walk, and/or jog from the UW Tower. Some of our runs are fast, some are slow, but all are fun! Join their private Facebook group or join the email listerv for updates. Contact Heather Rieck for more info.
Union Bay Rowing Club
Faculty, staff, students, and spouses/partners who row as a team for exercise and enjoyment. UBRC also rows competitively in many local regattas. Annual dues are $55. More info here.
University Kayak Club
The University Kayak Club is an organization dedicated to all forms of paddling and is open to students, faculty, staff, and their spouses. The club hosts pool sessions (lake sessions during the summer), organizes outings, and provides equipment and instruction for club members. There is an annual membership fee. Visit our website for more info.
UW Libraries Wellness Walking Group
Our group's mission is to facilitate walks promoting wellness among Libraries faculty and staff. The walks are exciting, informative, and fun and we leave every Wednesday, rain or shine, at 12:10 p.m. at the Broken Obelisk sculpture in Red Square. These free walks are 30-60 minutes long and there are also periodic special walks on topics of interest from our own experts in the Libraries.
UW Medicine Cycling Club
A recreational cycling club for cycling enthusiasts of all abilities. Open to all of UW, not just those in the medical field. We have an official Jersey so let us know if you would like to order one. Join our Facebook group for ride info.
Washington Yacht Club
A student-run club open to faculty, staff, and allumni. They offer supervised sailing, lessons, social events but there are quarterly or annual dues. Visit their website for more info.
Yoga at Harboview
Dr. Joe Merrill offers yoga instruction to all members of the HMC community every Thursday from 6:30 to 7:30 a.m. in the Harborview Research & Training Building, room 109/121. More info here. 
---
Engaging Interests
UW Knitting & Crochet Club
Interested in meeting to knit or crochet together, and share tips? Join the club! All faculty, staff and students are welcome. We have weekly meetups on Thursdays during the lunch hour (currently on Zoom) and happy hour once a month in the U-District. We also have group events such as yarn swaps, charity knitting drives, and the Annual Stitch N' Pitch night at the Mariners. Join our private Facebook group,  Ravelry group, or contact Brooke to join the email listserv and/or get added to the Microsoft Teams group.
UWB Campus Garden Committee
Our goal is to turn unused campus space into a space where everyone can learn, socialize, study, and create a sense of space at University of Washington Bothell. Learn more on our Facebook page.
University of Washington Faculty Auxiliary
For more than 100 years the University of Washington Faculty Auxiliary has enriched the UW community by organizing a variety of social and cultural activities and raising funds for student scholarships. Visit our website, www.washington.edu/uwfa/ to learn more about our organization, membership, interest groups, and activities.
---
Life Events and Changes
There is no "right way". There is no "perfect way". Each working parent is trying to find "the best way". Our goal is to get to know each other through offering support, resources and community to all working parents at UW – at various stages in parenthood and career – as they make choices each day and throughout their journey of wearing many hats (as an individual, parent, employee, etc.). Learn more and join the Facebook group here.
Campus Business & Professional Women
Advocates respect and support for everyone working in the University community. Focuses on supporting women and life-long education through regular guest speakers and events. Like our Facebook page to learn more.