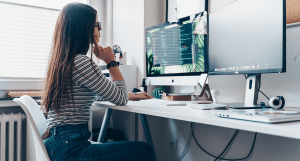 It's essential to ensure that your work space stays a place where you can get things done, safely. Good ergonomics helps prevent work injuries and discomfort by examining how a work space suits the needs of your body.
With the help of the Environmental Health and Safety (EHS) department, the resources below can answer your questions and provide helpful details to keep you physically feeling great about what you do.
Environmental Health and Safety
EHS's ergonomics information includes guidelines and advice about ergonomic work space and awareness to help prevent injuries across different departments. You can learn more about ergonomics in your office or laboratory, along with how to properly handle materials.
It's also helpful to be aware of your personal ergonomic habits, so remember these tips:
Keep a neutral posture helps prevent injury
Change postures frequently
Practice neutral posture
Be aware of your body
Organize your work area
Avoid eye strain by making sure that your monitor is not to close, high, or low