---
For and by the UW, The Whole U launched in January 2014 to foster community, promote holistic wellness, and share the great perks available to UW faculty and staff. The Whole U expanded virtual programming in 2021, hosting over 1,000 events and activities! We look forward to being back on campus with our Huskies in 2022.
Download the full recap of 2021 (107 MB .pdf) and then check out the video and infographic below for a broader look at how The Whole U brings wellness to the workplace at the University of Washington.
---
---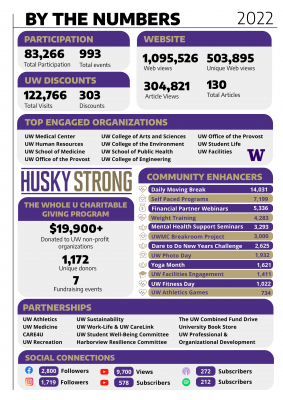 ---
Meet The Whole U Team
Now you know who we are, but what The Whole U is depends on you–your interests, your passions, your availability, and your willingness to reach out to us so we can better meet the needs of our unique community. Please send us your ideas. We don't know exactly what the future holds, but we know The Whole U will be for UW, by UW.
Is The Whole U required? Does it cost money?
Participation is voluntary and is funded by UW Human Resources.
How are events scheduled? Do you take into account different shifts, schedules, and locations?
Part of being responsive to people's interests and availabilities means that the times and locations vary. Large events will typically be at lunch on weekdays in a central location to engage the maximum number of people. For smaller events, the location and timing depends on the target participants. For faculty and staff leading their own activities, it remains up to the activity leader. The toolkit contains advice on scheduling to maximize participation.
Is release time available for participation in Whole U activities?
Typically, activities are scheduled to take place during lunch breaks or weekends. When your work schedule conflicts with a Whole U event, it is up to you to speak with your supervisor about the possibility of attending.
We encourage you to stay connected to The Whole U website for information on upcoming events, resources and discounts, but please do so in a way that is appropriate for your unit. If there is any ambiguity with your schedule or the policies that govern your workspace, please talk with your supervisor.
How does UW Medicine's Social Networking Policy and Guidelines affect participation of faculty and staff who are involved in patient care?
UW Medicine employees should limit their use of The Whole U program's social media elements in hospital or clinic space to rest or meal breaks, unless social media use has been previously approved by a supervisor.
I see that you include information on volunteerism. Does this mean that I can get release time to volunteer at a non-profit organization?
Participation in Whole U events or service opportunities is on a volunteer basis that exists outside of your normal work responsibilities and is not covered by release time.
What is The Whole U's Comment Policy?
The Whole U is a moderated website, and reserves the right to not post submitted comments. Please submit your comments at any time, and they will be approved and posted as soon as they can be reviewed-the next business day if not sooner. Generally, we will not post comments that:
Are not related to the topic, or are clearly spam.
Do not demonstrate mutual respect for the University, University employees and other individuals, including use of abusive or prejudicial language, personal attacks, or unsupported claims.
Contain commercial links in support of a business, service, or product.
We will not edit comments. If a comment contains any of the above, or is otherwise considered inappropriate, it will not be approved for posting.
Thank you for visiting our website. We look forward to your comments!