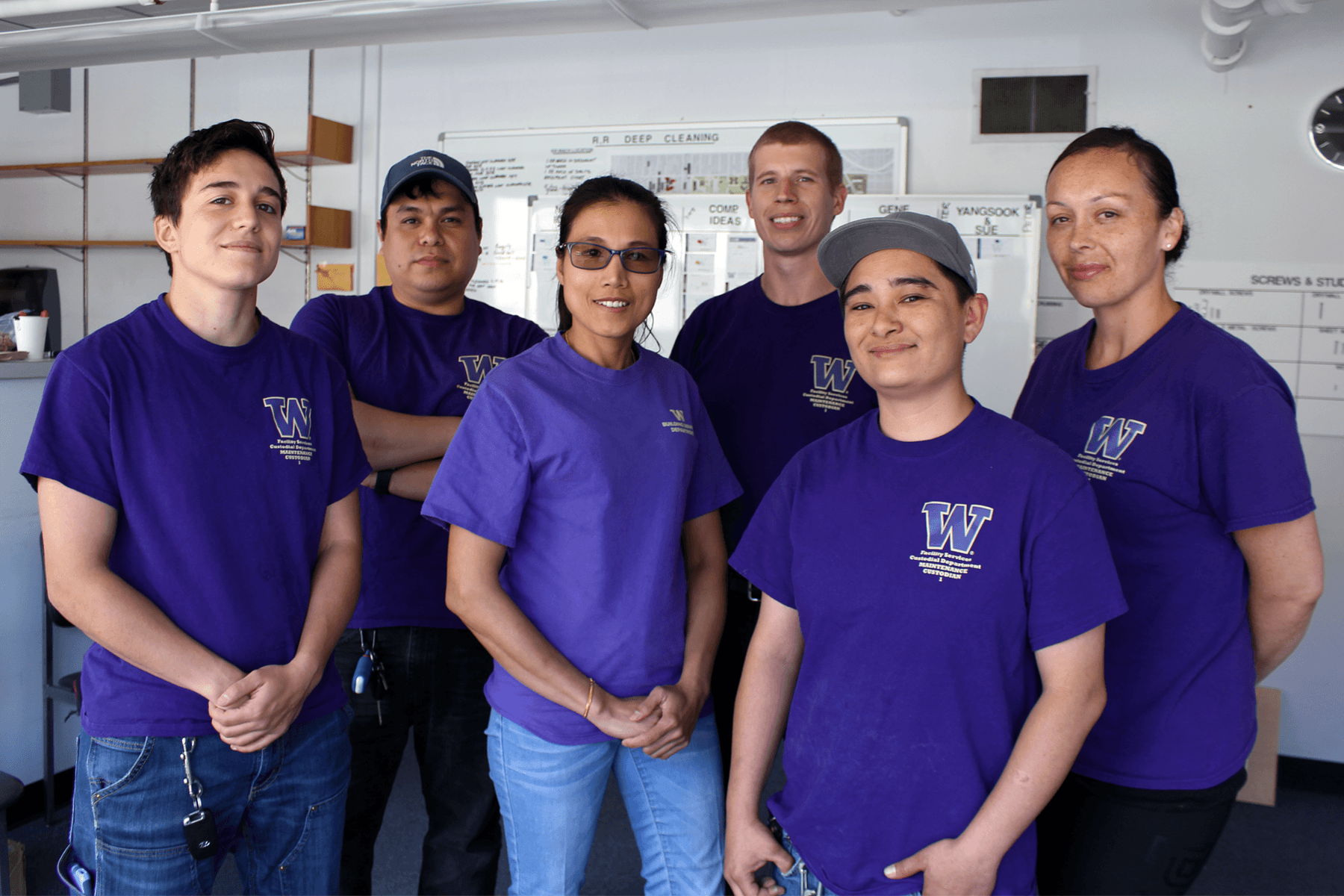 Staff Story: The MC-1 Team
Pictured above—Front row, left to right—Joya Clark, Thongnee Foosaeng, Leilani Uehara;
Back row, left to right: Julius Ordonez, Ken Sawicki, Angelina Quintero; not pictured: Keith Sterling, Kong Yeung
---
Every morning before five o'clock, a surfer, a mother, a gardener, and a rugby referee arrive on the University of Washington's Seattle campus. Along with four other members of UW Facilities' eight-person MC-1 maintenance and custodial team, they quickly set about work with a singular purpose: getting the University ready for work.
"Every day is different," says Angelina Quintero, who has been a part of the MC1 crew for the past five years. "What sets apart our work from other custodians is that we do different projects every day."
That could be anything from stripping and waxing floors to conducting deep cleans of bathrooms and lab spaces. Regular maintenance and other major cleaning projects are also part of the job.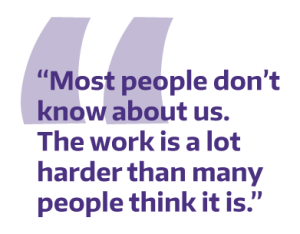 "Most people don't even know about us," Quintero says. "And the work is a lot harder than many people think it is."
MC-1 team members receive extensive training that allows them to serve as a sort of "special operations" force that keeps the University in working order.
When, in June 2017, the Building Services Department launched and later expanded its free menstrual product program to 72 permanent locations within 60 different buildings, MC-1 staffers were the ones to install the clear, acrylic dispensers in restrooms.
During widespread campus closures in wake of last winter's snowstorm, the MC-1 team was out in Red Square clearing snow and ice for when University operations did resume.
"A lot of the time, they don't know what a space will look like and will go, on the fly, and work with whatever's there," says Peter Bakkedahl, MC-1's custodial supervisor with Building Services.
"Any time you come into a building and you see that brand-new looking, shiny floor, you won't see anybody there, but that's because MC-1 was there at about five in the morning," he says. "They are very skilled."
The team convenes every Friday to discuss any situations that might have arisen during the week and to introduce new ideas to make jobs safer and more efficient. "They have the knowledge and we rely on them as a resource," Bakkedahl says. "This team makes any building a lot easier to maintain."
Late spring and summer are especially busy times for MC-1. With fewer students on campus, they can cover more ground and engage in the most time-consuming and labor-intensive work such as stripping and waxing floors.
"Now is when a lot of the hardcore floor work comes," says Angelina Quintero. "You have to be a multi-tasker and super-active. You have to be ready for change. We've got to be fast, but also safe."
The mobile nature of their work often means it goes unseen and unrecognized, though the team roundly heaps praise on the "awesome" UW staffer who brought them coffee while they were clearing snow and ice from Red Square last winter.
The gesture buoyed their spirits and renewed their energy, but, according to team member Ken Sawicki, members of the MC-1 team have to operate with an outlook that transcends relationship-building for motivation.
"We have to be self-motivated, because we don't necessarily get the high-fives you typically get when you build relationships." Instead, Sawicki says members of the MC-1 team adopt an approach to "go in, do our best, and deliver a consistent, quality product."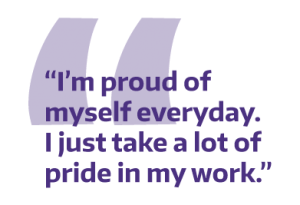 Joya Clark, one of MC-1's newest team members, says she quickly learned how important it is to be respectful when working across so many areas—especially when that overlaps with custodians who care for specific buildings.
"We want to leave places better than we found them and build good relationships, especially because we're doing our work and then we leave," Clark says, adding that, when people see them wheel in their work cart, it doesn't necessarily mean something has gone wrong.
"We're often doing routine maintenance to keep UW in proper working order."
It's something all team members take pride in.
"Everyone here is a fairly active person and tends to enjoy the larger projects and challenges that come with custodial work," Sawicki says. "We do a little bit of everything everywhere and that's what is really unique about our group."
Quintero echoes that sentiment. "I'm proud of myself every day," the mother of three says. "I don't want to sound vain, but I just take a lot of pride in my work."
---
Meet the MC-1 team
If you don't see them around campus, that probably means the job has already been done. Here's your chance to get to know the hard-working staff members who comprise the MC-1 team!
---
When not at work, Joya Clark is likely to be found on a rugby pitch somewhere in the U.S. After winning "a handful" of national championships in college, Clark served as an assistant coach at Central Washington University and currently plays for the Seattle Saracens, but is well on the way to the goal of serving as a rugby referee on the international level.
The element that distinguishes work as part of the MC-1 team for Julius Ordonez is that the team, by necessity, is incredibly mobile: getting to project sites on time and with the right equipment is an essential first-step to completing any job well. His favorite part of work? "We get to drive trucks!"
Known to teammates as Lek, Thongnee Foosaeng grew up working on a farm in Thailand. After more than a decade living and working in the U.S., she continues to garden in her free time surrounded by family. "I love working in the garden and watching my grandkids," she says.
In his free time, Ken Sawicki is studies socionics, a theory of how individuals select and process information. Developed by Lithuanian researcher Aushra Augusta in the 1970s, socionics contextualizes interactions to help predict future behavior. "I like to understand people."
Growing up in Hawaii, Leilani Uehara was practically born a surfer. "My mother had me on a surf board at the age of one—not on my own, of course, but she had me in the water." Now that she lives in Washington, Uehara will snowboard or skateboard as "the next best thing."
Angelina Quintero is mother to three boys. "My kids are not only my kids, they're my best friends, so every chance I get—even if I'm tired from work—I try to go home with a positive attitude and we'll go to the park, hang out, and do things together." Basketball, bikes, the beach are common favorites, she says.
An Army veteran and avid family man who has been with the MC-1 team for seven months, Keith Sterling has a degree in public speaking and loves spending time with his children.
Kong Yeung is "very popular with the team" according to custodial supervisor Peter Bakkedahl. "He gets along with everyone and is very adaptable."
---