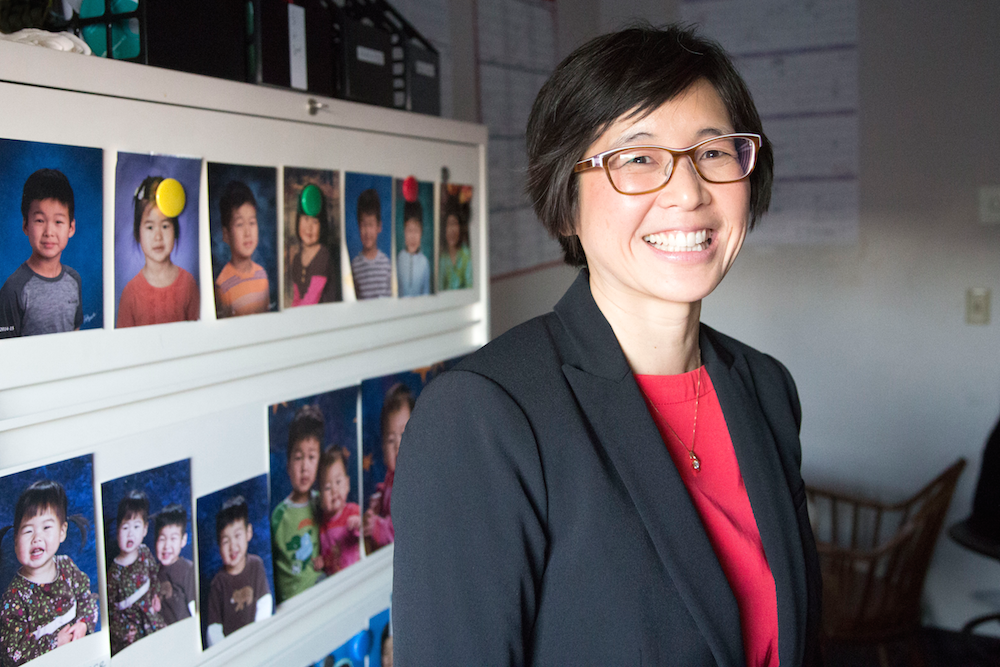 In academia, many devote long stretches of their lives to preparing for a career they've aspired to since they were young. A few outliers find their way to faculty positions via the confluence of aptitude and happy accident. Fewer still spend years preparing for a future career without ever really realizing it. Dr. Joyce Yen falls into that last category.
Arriving to the University of Washington in the early 2000s with her master's and Ph.D. in Industrial and Operations Engineering from the University of Michigan, Yen seemed set in what she wanted: to make her mark in academia as a specialist engineer. But after a short while in Seattle, she determined a different path would allow her to achieve much the same goal. So she stepped off the tenure track, joining the University of Washington ADVANCE Center for Institutional Change as program/research manager. In so doing, she charted a new course for herself—and hundreds of others in turn.
Conceived as a campus and national resource for implementing systemic solutions to increase the participation of women in academic STEM careers, UW ADVANCE launched with grant funding from the National Science Foundation in 2001, a time when fewer than a quarter of all workers in STEM fields were women—a drastic gap when compared to the fact that women comprised 47% of all workers in all other fields.
Yen recalls that, at the time, women made up fewer than ten percent of engineering faculty nationally. Delve deeper into the figures and stark disparities in representation become even more apparent.
According to statistics from the U.S. Department of Commerce, Economics and Statistics Administration, at the turn of the millennium college-educated women were much less likely than men to major in STEM fields. But even when women did choose to pursue STEM degrees, their typical career paths diverged substantially from their male counterparts. When UW ADVANCE launched in 2001, about 40 percent (2.7 million) of men with college STEM degrees worked in STEM jobs, whereas only 26 percent (0.6 million) of women with STEM degrees ended up pursuing a career in the field.
Those statistics not only suggest a need to promote careers in STEM to women, but also indicate "how important it is to champion female faculty in STEM disciplines," Yen says. UW ADVANCE was founded to do just that by providing support and other advancement opportunities to faculty in those fields.
"With UW ADVANCE, I saw an opportunity to take what I had learned as a woman in engineering—particularly as a professor in engineering—and share that experience with others on the same path," says Yen, who has since risen to the position of director of UW ADVANCE. She credits the late Denice Denton, former Dean of the College of Engineering, with bringing the program into being as its first principal investigator and "a tireless and leading champion of diversity in engineering, particularly women in engineering."
In conversation, I liken Yen's choice to dedicate her career to helping others find success in academic STEM careers to becoming a mountain guide—a dexterous specialist who knows each slope, valley, and precipice and can translate that knowledge to help others safely and successfully find their footing to traverse expansive, oft-times slippery embankments. It's not a bad analogy, Yen admits. To stretch a metaphor, she practically grew up slope-side, climbing rope at the ready.
Back to the future
In Yen's case, extracurricular work she began in college would end up having an outsize impact on her eventual career. After studying mathematics and engaging in a wide variety of student leadership experiences as an undergraduate at the University of Nebraska-Lincoln, Yen left her home state for the University of Michigan, where she earned her master's and Ph.D. There, she became an active member of the University's chapter of the Society of Women Engineers, devoting time to organizing career workshops and network-building.
The only difference between what she did then and what she does now is that, today, Yen works on a much greater scale: presenting nationally and internationally, facilitating workshops, and leading events focused on diversity, bias, and cultural change in academia, among other topics. As director of UW ADVANCE, Yen serves as liaison to 21 "target departments" in the College of Engineering, the College of Arts and Sciences, and the College of the Environment, as well as to the University community at large.
"People get involved with UW ADVANCE because the information shared through our programs and the connections they make with others are directly relevant to their roles and responsibilities," Yen says.
UW ADVANCE currently offers four types of regular faculty-focused events for the University of Washington campus. The first focuses on leadership development for department chairs, deans, and emerging faculty leaders; the next two connect pre-tenure and mid-career faculty in STEM fields with career development opportunities; and the fourth involves mentoring luncheons for female faculty in STEM on different paths to leadership.
Yen describes UW ADVANCE as "a valuable campus resource, serving more than just science and engineering departments to provide department chairs and other faculty leaders a regular professional development opportunity through our quarterly leadership workshop."
In addition to her core work at the UW, Yen has also served as principal investigator or co-investigator on 13 successful proposals that have brought over $6.7 million in funding to advance female faculty in STEM and to address faculty professional development more generally.
Among them, BRAINS, which seeks to broaden representation of academic investigators in Neuroscience (UW President Ana Mari Cauce served as a co-PI on the first BRAINS grant), and LATTICE, "an intentional community in engineering" that supports early-career, post-PhD women as they navigate faculty careers in engineering. As partnerships between Yen and several other UW faculty and staff as well as colleagues at other institutions around the country, both programs stand as national efforts that raise UW's profile as a leader in advancing faculty diversity in STEM.
"This work continues to evolve and each year we try new programs and advocate for more best practices to meet the needs of our faculty and strengthen the advancement of our female faculty in STEM departments," Yen says.
With yet another group of collaborators, she is also currently co-developing LEAD-it-Yourself!, an online toolkit that will enable academic institutions across the country to plan and host faculty leadership workshops.
The project featured in a paper published this week in Equality, Diversity and Inclusion: An International Journal, which Yen co-authored alongside Eve Riskin (UW College of Engineering), Cara Margherio, (UW Center for Evaluation & Research for STEM Equity), Jan Spyridakis, (UW Department of Human Centered Design & Engineering), Coleen Carrigan (Department of Social Sciences, California Polytechnic State University), and Ana Mari Cauce.
"We hope faculty everywhere see UW ADVANCE as a resource for supporting their success and advancing faculty diversity, equity, and inclusion," Yen says.
Women rising
The work appears to be paying off.
Between 2001 and 2015, the UW saw a 93% increase in the number of tenured or tenure-track female faculty—specifically a 115% increase in College of Engineering female faculty. Today, the UW's tenured or tenure-track engineering faculty is 23% women, compared to only 15% nationally.
While Yen says UW ADVANCE cannot take full credit for the growing numbers and percentages of female faculty in target departments over the past 17 years, she does believe it has helped bring about culture change and improved the experiences of female faculty, department chairs, and the other faculty members—both male and female—who have participated in its programming.
That UW ADVANCE has been able to sustain itself as impactful long after its initial NSF grant funding ended in 2007 also remains a point of pride for Yen, who credits unflagging support the program has received from the UW community as a whole since its inception.
"Even though we have had multiple presidents, provosts, deans, department chairs, and other leaders at UW, the one constant throughout all those changes is that every single person has been supportive of UW ADVANCE's work and partnered with us to improve our programs. That consistent, ongoing support has made a huge difference in our ability to do the work that we do and to have the impact we have had."
While it means much to Yen that so many believe in the program's work and see the importance of continuing to support its efforts, she says she hopes that one day the scheme will become redundant, echoing the words of UW ADVANCE's faculty director.
"My boss, Professor Eve Riskin, says that we hope to be out of business someday because diversity, equity, and inclusion will be fully integrated into the fabric of everything that we do at UW and there will no longer be the disparities like those that prompted NSF to fund programs like UW ADVANCE," Yen says. "But until that time comes, I look forward to continuing to help our faculty, departments, and colleges move into that future."
---
Joyce Yen is the recipient of the University of Washington's College of Engineering Professional Staff Innovator Award (2007), the University of Washington David B. Thorud Leadership Award (2012), and the Women in Engineering ProActive Network's Inclusive Culture and Equity Award (2017). She holds a B.S. in Mathematics from University of Nebraska-Lincoln and an M.S. and Ph.D. in Industrial and Operations Engineering from University of Michigan.