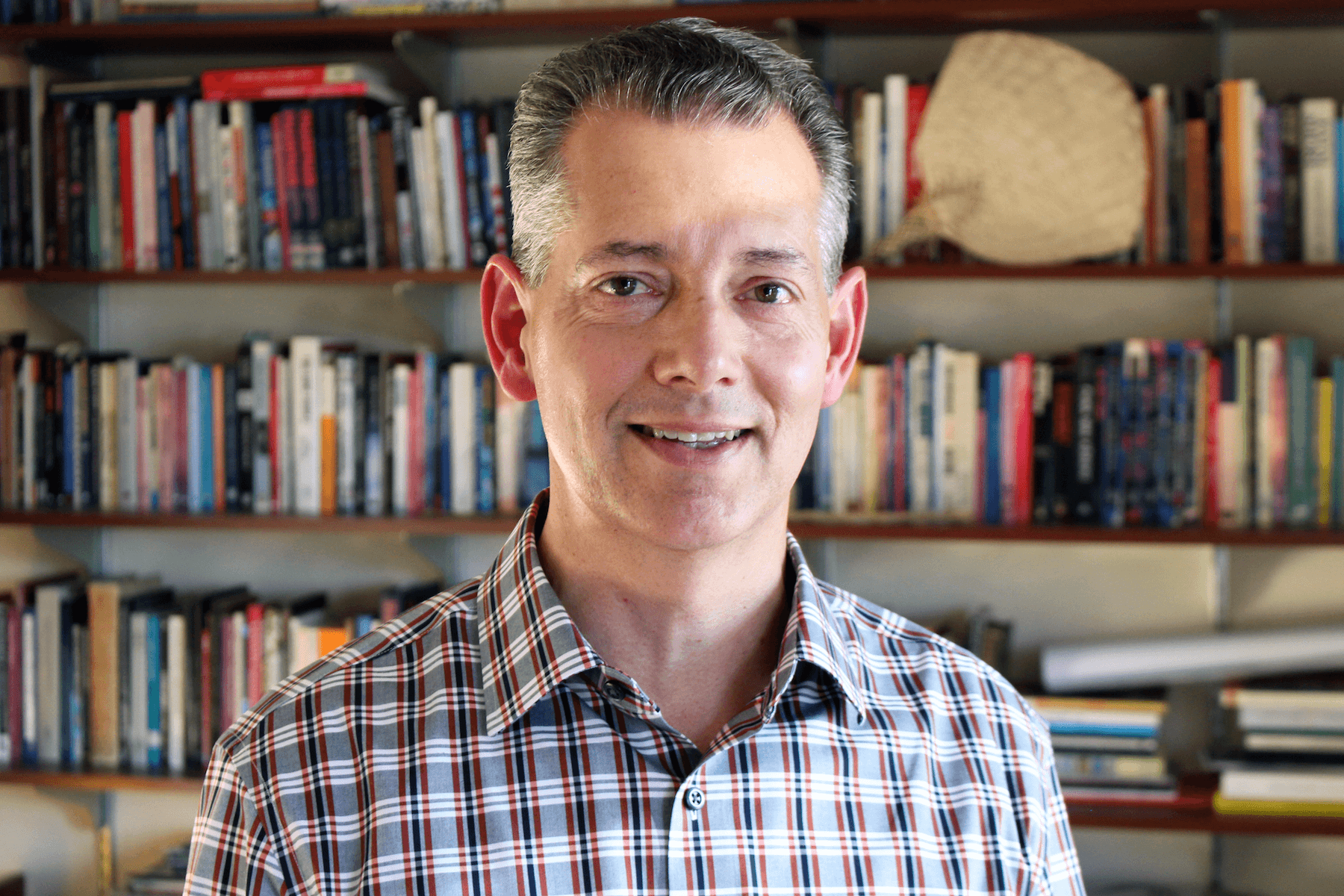 Faculty Friday: Chadwick Allen
When Chadwick Allen delivers his lecture, "Earthworks Rising: Mound Building in Native Art & Literature," in Kane Hall on December 3, he'll do so with an underlying message: the network of earthworks that dot the eastern half of North America not only hold knowledge from the Indigenous past, but also provide inspiration for Indigenous futures.
Built by Native peoples between 500 and at least 5,000 years ago, the mounds, embankments, and other earthen structures are most highly concentrated within what is now the southeastern United States and the expansive valleys of the Mississippi and Ohio rivers. When non-Native explorers, settlers, and intellectuals encountered them beginning in the 18th century, they became subject for fantastical theories about their origins that endured into the 20th century.
Many posited that a race vastly superior to America's "savage" Indians must have built these impressive constructions. Egyptians, Phoenicians, Vikings, White giants, and lost tribes of Israel all were proposed ahead of Indigenous peoples as possible builders. In reality, the enduring earthworks stand as testament to just how advanced and complex Indigenous societies were in "Pre-Columbian" North America—conveying far more fascinating stories than even the wildest of non-Native theories could suggest.
---
---
Drawing from his new book manuscript, Earthworks Rising: Mound Building in Native Art, Literature, and Performance, Allen's lecture—part of the Simpson Center for the Humanities' Katz Distinguished Lectures in the Humanities Series—will explore ongoing Indigenous traditions that run counter to those limited past perceptions.
"One of the things I'm invested in conveying to a broad audience is not only the complexity and sophistication of contemporary Native literature and other arts, but also of Native aesthetic systems and technologies," says Allen, who serves as professor of English, adjunct professor of American Indian Studies, and co-director of the Center for American Indian and Indigenous Studies (CAIIS) at the University of Washington, in addition to his administrative role as Associate Vice Provost for Faculty Advancement.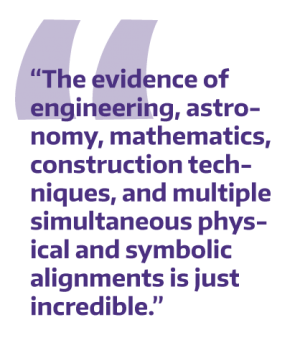 Often massive in scale, and typically aligned to natural features in the landscape, to each other, and to the movements of the sun, moon, and stars overhead, earthworks demonstrate a high degree of landscape design and urban planning as well as knowledge of astronomy, mathematics, and engineering.
"The earthworks are a strong counter-example to the old stereotypes of savages and simplicity," Allen says, adding that a perceived lack of scientific acumen had long been one of the markers used to argue that Native peoples were not as developed—or even as fully human—as Europeans.
"The evidence of engineering, astronomy, mathematics, construction techniques, and multiple simultaneous physical and symbolic alignments is just incredible," he says.
"When you consider that this complex building and urban planning was happening 2,000 or more years ago versus what was happening, say, in Europe at the same time, it's every bit as sophisticated as what people were doing elsewhere in the world."
A most compelling piece of evidence is archaeological confirmation that in some regions, such as Ohio, the builders of the mounds appear to have used multiples of a standard unit of measurement and its geometric complements to construct hundreds of earthworks complexes over a period of active building that spanned some 1,500 years. That standard unit of measurement meant that the mounds could be calibrated to align with each other in multiple ways.
"We see this replicated all over southern and central Ohio, where the geometrical earthworks—outlines of circles, squares, and octagons—have mathematical relationships to each other," Allen says. "The math isn't an add-on; it's a deep part of the structures of these earthworks."
In "playing with the math," the builders of the mounds were imbuing sites with cultural knowledge and expertise that remains "encoded" in the human-made landforms.
"After 2,000 years, the knowledge encoded in monumental structures like the Octagon Earthworks is still there," Allen says, referring to a fifty-acre site in central Ohio that contemporary researchers have rediscovered is a lunar observatory that tracks the 18.6-year cycle of the moon's northernmost and southernmost rise and set points on the horizon.
---
---
"We may not know exactly what people did at these large and elaborate sites in the past, but we can imagine possibilities based on what remains and based on what we know about historical and contemporary Indigenous cultures," he says. "We know that one way to store important knowledge, for instance, is to put it in a durable structure, like a mound."
"That encoded knowledge becomes a readable text and a gift for future generations. The Native artists and writers I'm working with are imagining how to engage these gifts from the ancestors."
Native-built earthworks also serve to smash erroneous notions about Indigenous peoples and land use.
"One of the stereotypes perpetuated about Native peoples is that they're natural environmentalists who never touched the landscape," Allen says. "The idea is basically that Native peoples are similar to animals and plants—that they somehow just exist in the world without consciously altering it in any way."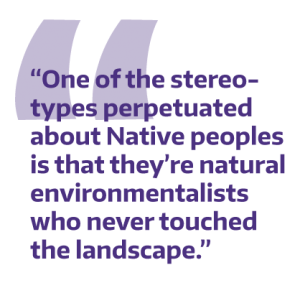 On one side, the stereotype of the ecological Indian manifests in ideas about pristine wilderness, that is, landscapes without people, as though humans are not part of environments. On the other side, the stereotype is used to justify the settler expropriation of Native land—the old argument that Native peoples have no rights to land because they don't "use" or "improve" it the way Europeans do.
"On either side, the lie is that Native peoples don't deeply interact with their lands," Allen says. "If building earthworks doesn't count as interacting with the land in a deep way, I'm not sure what does. Native peoples are integral parts of complex ecosystems. Their sophisticated and detailed understanding of environments over time often means they are good relations and good stewards to the land, but they don't stand outside it in some kind of wilderness model."
Today, earthworks remain a vital expression of insuppressible sovereignty and continued connections to specific lands. The Chickasaw Nation built a reconstruction of a Southeastern platform mound as part of the Chickasaw Cultural Center in Sulphur, Oklahoma, which opened in 2010, while the Choctaw and Creek nations have embarked on similar projects.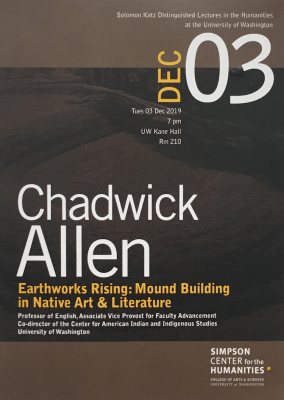 The new American Indian Cultural Center and Museum (AICCM), which represents the 39 federally recognized tribes in Oklahoma and is set to open in Oklahoma City in 2021, features a huge, spiraling promontory mound built on the banks of the Canadian River.
These contemporary sites are one of the reasons Allen titled his talk and forthcoming book "Earthworks Rising."
"Earthworks are not only about the past," he says. "All of this new work—in Native art, literature, performance, and built environments—is in response to hundreds of years of sometimes crazy theories put forward by non-Native people. When Europeans arrived and found these massive and complex sites, the physical evidence went against their stereotypes about a so-called virgin land and a howling wilderness."
Allen's lecture will focus on how earthworks are shaping contemporary works of Native art and literature in particular. The mathematical alignments of some mounds, for instance, are reflected in works such as Allison Hedge Coke's Blood Run, a sequence of interrelated earthworks poems that animate the Blood Run site located on the Iowa-South Dakota border. Allen has analyzed the ways the poet mathematically encoded the volume's sixty-six individual free verse poems to emphasize the complexity of the site's structural relationships and multiple alignments.
Indigenous Studies Rising
Allen's interest in how literature intersects other arts and technologies traditions dates back to his travels in Oceania, Aotearoa New Zealand, and Australia after completing his undergraduate degree in the comparative study of religion at Harvard. Originally from Oklahoma and of Chickasaw ancestry, Allen was one of the first in his family to attend college, doing so at a time when Indigenous Studies was still developing as an academic field.
He first encountered earthworks while completing a Master's degree at Washington University in St. Louis, which lies across the Mississippi River from the site of Cahokia. Once a bustling mound city and trade center larger in population than medieval London, the site is now considered the largest and most complex north of the pre-Columbian cities in Mexico.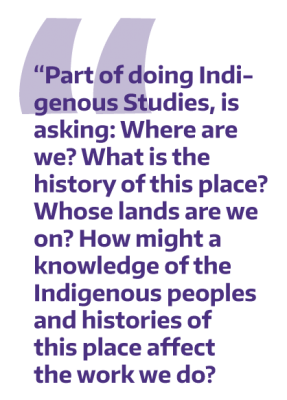 Further exploration of the mounds and the societies that built them would have to wait, however, as Allen embarked to Arizona and later back to Aotearoa New Zealand to complete his PhD. He credits his time in Aotearoa during the mid-1990s for helping him hone his work in comparative literary and cultural studies. He describes those years as a "really exciting" time for Maori Studies and Indigenous activism. When he landed his first academic job at Ohio State University, the earthworks were waiting.
"Part of doing Indigenous Studies, I think, is asking a series of basic questions: Where are we? What's the history of this place? Whose lands are we on? And how might a knowledge of the Indigenous peoples and Indigenous histories of this place affect the work we do?" he says. "Since I was teaching in central Ohio, one of my responsibilities was to figure out how to bring the earthworks and their complex histories into the literature classroom."
Working directly with a group of Native writers and artists who themselves were studying earthworks, Allen was able to help facilitate contemporary, Indigenous-focused research projects in central and southern Ohio. He credits these artists and writers with teaching him how to approach mound sites differently—"as sacred and ancestral, as places where the ancestors might still be encountered, or as places where spiritual forces might still be present."
When Allen joined the UW in 2015, he said part of the appeal was the university's strong base in Indigenous studies, citing wǝɫǝbʔaltxʷ – Intellectual House, the Burke Museum, the Indigenous Wellness Research Institute (IWRI), and the fact that UW has a freestanding department of American Indian Studies.
"I knew some of my colleagues here already and I was excited to meet other people," he says. "Our location in the Pacific Northwest is great for my research and teaching since we're here at the intersection of Native North America and Oceania."
Last year, UW announced the debut of the Center for American Indian and Indigenous Studies (CAIIS), supported by the Provost's office, multiple colleges and schools, the UW Libraries, and all three campuses. Led by Allen and Jean Dennison, associate professor of American Indian Studies, the center aims to support students and faculty across the UW, and to facilitate relationships with surrounding Native communities.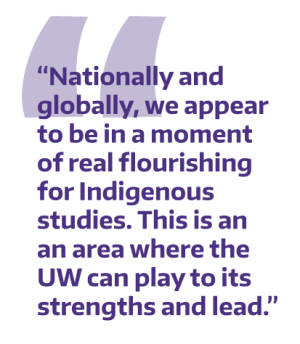 "The creation of the center is exciting, in part, because 11 units were willing to support it," Allen says. In September, the Center received a $1.82 million grant from the Mellon Foundation that Allen says will help bring more Native students to the UW "and help support them through undergraduate into grad and through grad school."
For the past several summers, Allen and colleague Tony Lucero, associate professor in the Jackson School, have facilitated the Summer Institute on Global Indigeneities (SIGI), a consortium-model program that brings graduate students and faculty together from multiple institutions. And just last week, the Board of Regents approved a new Graduate Certificate in American Indian and Indigenous Studies.
"We have a large Native studies community and a critical mass of Native faculty here at the UW," Allen says. "Nationally and globally, we appear to be in a moment of real flourishing for Indigenous studies. This is an area where the UW can play to its strengths and lead."
---
Chadwick Allen is author of the books Trans-Indigenous: Methodologies for Global Native Literary Studies (2012) and Blood Narrative: Indigenous Identity in American Indian and Maori Literary and Activist Texts (2002). He is a former editor for the journal Studies in American Indian Literatures and a past president of the Native American and Indigenous Studies Association (NAISA). In anticipation of Allen's lecture, visit the library resources web page for suggested readings and other resources.
---