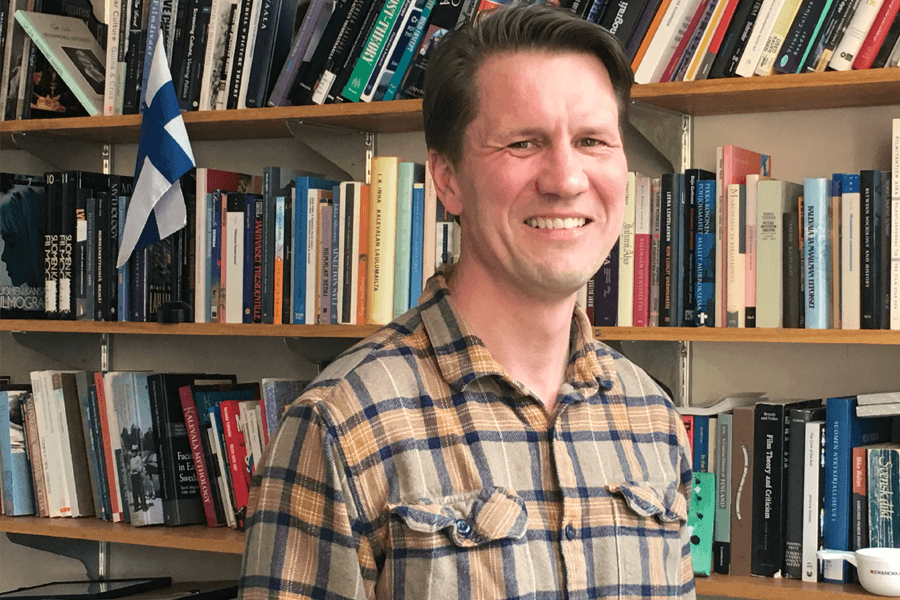 Faculty Friday: Andrew Nestingen
As a college student living in Chicago's suburbs, I would often cope with the city's dreary, frigid winters by imagining I was instead living in another similarly snow-bound location—somewhere in Alaska, perhaps, or maybe Finland. There was a romantic quality to imagining oneself into another world entirely; stepping into a mental space where those all-too-familiar heaps of snow felt different, newer; the pale pink evening sky more flush with possibility.
Now that I live in Seattle, I sometimes catch myself playing out similar flights of fantasy during the city's darker, colder months. Only this winter, I learned you really can step through a portal to another world, courtesy of the University of Washington's Department of Scandinavian Studies.
Indeed, if you've ever felt like getting away, but can't justify that ticket out of town, you'll be hard-pressed to find a better alternative than Crossing North, a new podcast from the department about Nordic and Baltic society and culture.
I first heard about the podcast in February while attending a talk at Seattle's Swedish Club where UW Danish instructor Kristian Næsby was presenting an after-dinner lecture on Asta Nielsen, the world's first true international film star, and her part in earning Denmark an infamous reputation for scandalous silent films during the 1910s. I'd only learned about Næsby's lecture hours before via a post on the department's Facebook page, which I had followed in December after attending professor Lotta Gavel Adams' lecture on trolls at the Nordic Museum.
Somehow, over the ensuing three months, I quite by accident stumbled into a rich and varied litany of Nordic cultural events around Seattle. So when Næsby informed me he was helping create a new podcast chronicling the very cultural crossroads I was busy exploring, it instantly added yet another dimension to my ever-growing calendar of Nordic-skewed after-work activities. I took it as a sign to double down.
By the time I sat down to listen to the podcast's first episode, featuring the music of Latvian folkband Vilkači (Werewolves) who visited campus this past winter, I was on a bus to catch a screening of Norway's 1929 silent epic Laila, part of the Paramount Theater's Silent Movie Mondays series. I listened to the podcast's second episode, featuring Department Chair (and podcast "executive producer") Andrew Nestingen, on my walk home from a screening of the contemporary Swedish crime drama Goliat, part of SIFF's Nordic Lights Film Festival.
Suddenly Seattle was looking—and sounding—Scandinavian at every turn. The Crossing North podcast is both a reflection and extension of the Puget Sound region's longstanding ties to Scandinavian culture. For Andrew Nestingen, it's also intended as a vehicle for reaching new audiences.
---
---
"The podcast is an effort to reach out to the public," he says. "Students are making choices about what they want to study earlier and earlier, so we wanted to be in touch with them in a way that offered them reasons to look at this part of the world that is not particularly large, but has lots of interesting facets that intersect with a lot of important things that are going on around the world."
For Nestingen, who shared his experiences living in Finland with his family in the second episode, the podcast is a new way of introducing listeners to "ways in which we can look for better solutions to some of the main challenges in our globalized, multicultural world"—a next step in the evolution of the public lecture format that allows a wider audience to engage with the Department, its guests, lectures, and events.
"There's this public out there hungry for these ideas," Nestingen says. "Crossing North is going to be a neat vehicle for reaching a broader public about what we're doing."
Produced and hosted by Colin Gioia Connors with Kristian Næsby and featuring interviews with authors, performers, and leaders from Scandinavia and the Baltic, as well as discussions with faculty in the Scandinavian Studies Department and Baltic Studies Program, Crossing North promises to provide a portal for broad cultural exploration—the kind Nestingen says was integral to his own development as a scholar.
Growing up between Minneapolis-St. Paul and Toronto, Nestingen says he had little interest in exploring his family's Norwegian roots. That was until he befriended a Finnish neighbor and classmate in Toronto. As a result of that friendship, he ended up spending time in Finland during the summer and later studied abroad there.
"That friendship from first and second grade led me to know that country and learn the language," Nestingen says, acknowledging the "long history of interconnectedness" between Norway, Sweden, Finland, and Denmark. "There's a natural feeling, from that long history and similarities in language, that ties people together."
While studying abroad, Nestingen determined to learn Finnish out of a desire to fit in with cross-country skiing-obsessed Finnish classmates.
"If I wanted to be part of the group, I had to learn Finnish," he recalls. "I was very motivated to do it and it ended up being a hugely rewarding experience."
Returning to the US, he attended St. Olaf College in Minnesota, where he studied English. After graduating, he traveled to China, Morocco, and throughout Europe before landing back in Finland on a Fulbright Scholarship. "I was convinced this was something I was interested in," Nestingen says. "I was motivated to be back in Finland and excited to be in Helsinki."
---
---
In trying to unlock the ins and outs of how Finnish society worked, Nestingen looked to popular culture as a key. Since the 1960s, the region had been known for its crime fiction as well as its tradition of art-house cinema—topics he recently lectured on at the Nordic Museum as part of Scandinavian 30, a series of free, thirty-minute talks by UW Scandinavian Studies faculty held on the second Thursday of each month.
"Those films and novels were almost like secret codes in a way," Nestingen says. "By engaging others about them, I could learn more and find out about these layers that had remained a mystery to me."
"It was a great way to talk to people and find these areas of interest."
By the time he joined the University of Washington in pursuit of his PhD, Nestingen says he'd realized that conversation lay at the heart of scholarship.
"Conversation is a great way to enrich your learning even further. It presented the opportunity to learn and find different ways of learning that kept me motivated to keep learning more."
In the same vein, he hopes Crossing North can serve as a platform to amplify conversations already happening throughout UW's Department of Scandinavian Studies—ones that will ultimately ensure the discipline's place in an ever-changing world.
"I believe there are unresolvable questions in life that we need to talk about and being able to look at the many [Scandinavian] voices that have, in profound ways, expressed versions of responses to those questions is important," Nestingen says. "Humanities and social sciences do a great job of talking about ideas, perceptions, and understandings of the way the world is."