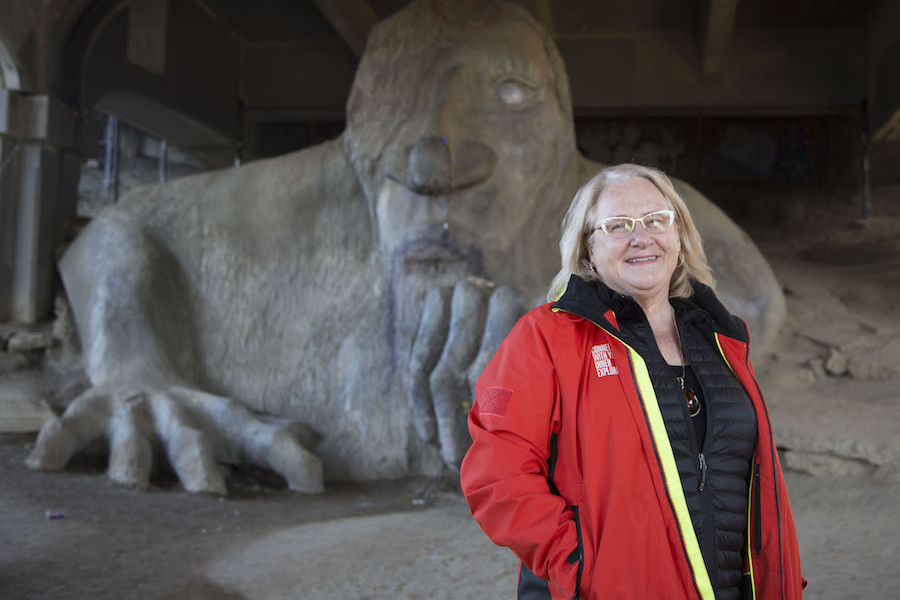 Faculty Friday: Lotta Gavel Adams
To understand trolls is to understand oneself—and professor Lotta Gavel Adams knows them better than most.
But Gavel Adams, professor emerita and Barbro Osher Endowed Chair of Swedish Studies at the University of Washington, insists she's neither troll scholar nor folklorist.
"I am an historian of literature and culture who looks at what trolls look like in literature."
Her primary area of research is the life and work of Swedish playwright and novelist August Strindberg, who, along with Henrik Ibsen, helped lay the groundwork for modern drama in the 19th and 20th centuries.
But even a literary giant like Strindberg can appear small when set against the gangly, oft-times gruesome forest-dwellers who loom large against the tree-lined horizon of Nordic cultural consciousness.
"For centuries, since the middle ages, stories about trolls have been told—particularly in the rural areas and in farm communities," Gavel Adams says. "This is what they talked about sitting around the fire at night."
---
---
This winter, Gavel Adams will teach a course at the UW on children's literature, which, in part, will trace the evolution of trolls from fearsome monsters of folklore to the friendlier, fun-loving forms they assumed in the 20th century. On Thursday, December 13, she'll offer Seattle a "short, snappy" sneak preview in the form of a lecture at Ballard's Nordic Museum called, "Trolls in the Nordic Imagination: Scary, Clumsy, and Lovable."
"Trolls moved from fiction for adults to children's literature and, for the entire 20th century, trolls belong in children's literature," she says. "But now trolls have reemerged in literature for grown-ups."
Far from being frozen in folklore past, trolls remain something of a constant companion in the human consciousness—an important signifier of how we view and conceive of ourselves as humans. Gavel Adams cites a scene in Henrik Ibsen's play, Peer Gynt, first published in 1867 and performed in 1876. Inspired by one of the collected folktales of Asbjørnsen and Moe, the play blends folkloric fantasy and realism, bending space and time across a whirlwind forty scenes.
In one, Peer Gynt is confronted by the Troll King, whose daughter he has managed to impregnate. Insisting on a marriage, the Troll King poses Peer a riddle: "What is the difference between man and troll?"
---
---
Peer says he doesn't see a difference, so the Troll King explains: "Between men, they say, 'Mann, vaer dig selv!' (Man, be (true) to yourself!), but in the troll world, they say: 'Troll, vaer dig self-nok!' (Troll be enough unto yourself, you do not need to take anybody else into account, i.e. be selfish)."
"Where is the border between being a human being and being a troll—a selfish, bad person?" Gavel Adams asks. It's a question she'll explore further in her Nordic Museum lecture and one she says is worth asking now, more than ever.
"It's something we need to confront: what does it mean to be a human being?"
A most peculiar pedagogy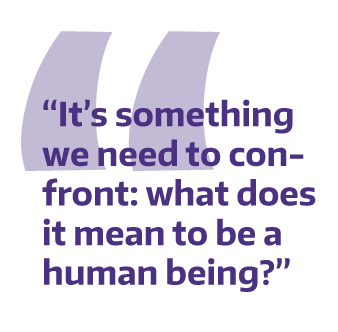 Through their many distorted forms, trolls help us hold a mirror to ourselves. It might seem a peculiar form of pedagogy, but the troll has been a teaching tool ever since the mid-1800s when it burst into Scandinavian popular imagination thanks to the efforts of folklorists who criss-crossed Norway, Sweden, and Finland bent on uncovering core national narratives from rural hinterlands.
Norwegians Peter Christen Asbjørnsen and Jørgen Moe were among them, giving literary life to trolls when they published Norwegian Folktales in the 1840s.
"When they recorded the stories and published them, people became excited—this was the first time we had seem them in writing," Gavel Adams says.
"After their first edition became so popular, they wanted to have them illustrated and they contacted a lot of friends and artists, but when it came to illustrating the trolls, they had never seen one before."
That posed something of a problem until they met illustrator Theodore Kittelsen, whose illustrations for the second edition gave form, personality, and movement to something no one had actually seen before, save for in the mind's eye.
Ever after, trolls ran rampant throughout Nordic culture. Teachers and writers adapted the original tales to educate children, softening once-gruesome narratives with themes of perseverance and ingenuity—qualities now highly prized in a rapidly changing, industrialized society.
Trolls, it would seem, were evolving along with it.
Hastening the process was the second great contributor to their enduring image, the illustrator John Bauer, whose art deco trolls came to define a golden age of Scandinavian children's literature at the turn of the 20th century.
"His illustrations have made those stories unforgettable," Gavel Adams says. Bauer's work represented a step toward a completely different attitude and understanding of trolls. "Now they had moved from adult fiction to children's literature and, for the entire 20th century, trolls belong in children's literature."
The Moomin trolls are perhaps the most memorable and widely recognized trolls of the 20th century. Created by Swedish-speaking Finnish writer and artist Tove Jansson after World War II, the peaceable Moomins trace their origins to a comical admonishing Jansson received from her uncle who warned that "Moomins" would emerge to blow cold air down the necks of children looking to sneak food from the kitchen.
After the first Moomin story published in 1945, Jansson's hippopotamus-like trolls gained an international following that has only grown with the subsequent release of Moomin-themed comic strips, television series, and films. In the 21st century, however, popular depictions of trolls appear to be moving back to reflect their classic characteristics: fearsome, brutish, and, above all, wild.
Recent encounters
Films such as 2010's Troll Hunter and 2018's Border have served to reconnect trolls with their primordial past. The latter, which won accolades at Cannes and will be Sweden's entry for Best Foreign Language Film at the 2019 Academy Awards, tells the story of a customs agent whose odd features and keen sense of smell set her apart from the rest of society. A chance encounter with a man with similarly troll-like qualities upends her world, leading her to question her very nature.
As for "troll" being coopted as a term to describe ne'er-do-wells and troublemakers on the internet, Gavel Adams says the usage doesn't do justice to the original forest-dwellers. "They almost do not deserve the name of trolls, because they're just kind of anonymous, causing havoc."
Even so, the term's widespread use would indicate trolls loom as large as ever in human consciousness.
"They ate children, they did all kinds of mischief, and they were very rich," Gavel Adams says. "And you have to be very smart to escape from them."
Strindberg in Seattle
It was Gavel Adams' interest in Strindberg that first brought her to the US from her native Sweden in 1985.
Her mentor as a Ph.D. candidate at the University of Washington was Birgitta Steene, herself a Strindberg scholar who took over the Scandinavian Studies Department in the 1950s as one of first women to become full professor and department chair. Hired on at the UW as an assistant professor in 1990, Gavel Adams credits her background as a Strindberg scholar for helping her land the job.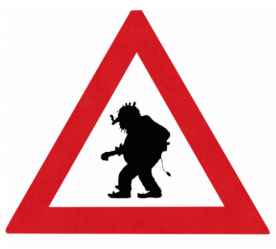 "You usually don't get hired by the same institution where you do your dissertation," she says, "but because this position had been a Strindberg position for a long time, they decided I would be able to do it."
Now professor emerita, Gavel Adams says setting foot on campus is still a special feeling. "I get energized by walking across the Quad and seeing the students and all the beautiful nature here—this is a place where you get energized."
And how could she not feel energized with family close by? Her daughter, Dr. Kristina Adams Waldorf, is a professor of Obstetrics and Gynecology at UW Medicine.  "I have two beautiful granddaughters whom I spend a lot of time with," Gavel Adams says. "So I am very lucky."
---
Catch Lotta Gavel Adams' lecture, Trolls in the Nordic Imagination: Scary, Clumsy, Lovable, at the Nordic Museum in Ballard on Thursday, December 13 at 7 pm.
---