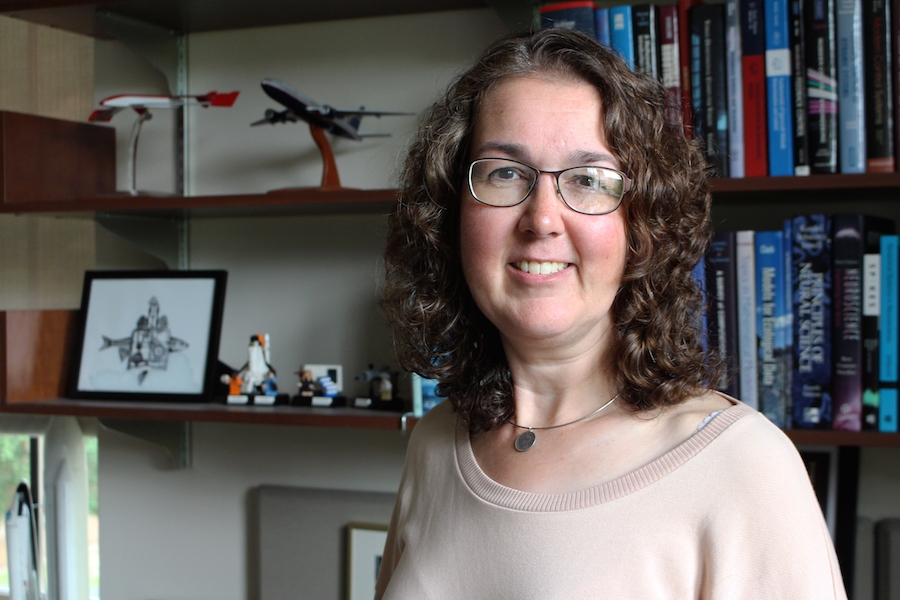 Faculty Friday: Kristi Morgansen
Growing up, Kristi Morgansen dreamed of becoming an astronaut—of unknown worlds and the engineering feats that would allow her to explore them. Today, as chair of the UW Department of Astronautics and Aeronautics, she does all that and more. She didn't become an astronaut, but she does have her own school of robotic fish, so call it even.
While Morgansen admits humans might not set foot on an earth-like planet in her lifetime (though an engineer can dream), she hopes to have a hand in engineering the vehicle systems that might one day get us there. To do so, she looks to nature for inspiration—drawing on fundamental biological principles in order to improve engineering design and operation.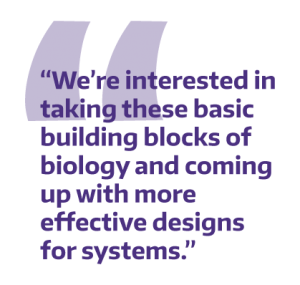 "We're interested in taking these basic building blocks of biology and coming up with more effective designs for systems," Morgansen says of her research. "It's an iterative process of building models that are based on biological hypotheses, coming up with mathematical models, and using those to inform engineering design."
In other words, the old crooner's exhortation to "fly me to the moon" might one day soon involve a system of sensors and actuation based on the biology of actual fruit fly.
"If we think about what goes on in biology and come up with some motivation from there, we can come up with algorithms that allow us to predict and guarantee we won't run into things," Morgansen says.
That's the idea behind Morgansen's robotic fish. Consisting of an aluminum and acrylic body with 3D-printed fins, each "fish" could soon contribute to making planetary scale environmental monitoring more thorough and feasible, tracking and modeling everything from temperature and salinity to chemical content and species growth and decay.
It's a similar functionality to the larger Seaglider, a deep-diving Autonomous Underwater Vehicle (AUV) initially developed by the University of Washington, that Morgansen helped design for missions lasting many months and covering thousands of miles. With no propeller or engine, it is entirely driven by change in density between it and the water around it.
Deploying such autonomous unmanned vehicles represents a more effective upgrade from sensor buoys and costly monitoring expeditions by boat. "We took our mathematical model and said how do we make something with this mathematical model move," Morgansen says of the development process.
It's that kind of problem solving Morgansen has always enjoyed. And applications extend beyond bio-inspired underwater propulsion. Morgansen and her team also work on applications for everything from fixed-wing aircraft and underwater gliders as well as novel systems such as bio-inspired agile flight, human decision-making, and neural engineering.
---
---
"Doing the math and successfully solving a problem is what brings me the most joy," she says. That problem-solving ability now extends to Morgansen's work as department chair, a position she's occupied since May 2019 after serving interim chair since September 2018 and as associate chair for academics since 2015.
She's ready to go too, having returned from a 2017 sabbatical that saw her work at Blue Origin, the rocket company founded by Jeff Bezos, on guidance, navigation and control for their autonomous rocket systems. Prior to that, she spent several months at Imperial College, London collaborating with Dr. Rafa Palacios on aeroservoelasticity.
"Working at Blue Origin was fantastic," Morgansen says. "They have a great team environment. Everyone there is full of energy to build these amazing new space systems to launch and then operate and live in space. I loved being able to spend several months immersed in their activities."
As chair, Morgansen has plenty on her plate. The department will be launching a new interdisciplinary Master's track—what Morgansen describes as "basically capstone team design for graduate students"—as well as an interdisciplinary Master's track: "We're putting some focus on our project-based learning in general as well as cross-disciplinary partnerships with law and policy, entrepreneurship and data science."
She is also overseeing a hiring process that will grow the 16-faculty department by 25%.
"The more diversity we have, the more diverse our ideas," she says, adding that new and different perspectives are more important than ever in a field that, since she joined the UW in 2002 after three years as a postdoctoral researcher, has gone from science fiction to science fact.
Morgansen points to self-driving cars and "drone" technology as just two examples of developments that portend far more advances in the future. As such, she emphasizes fostering educational dialogues for opportunities to understand where and how such engineering marvels can be deployed.
"Developing these technologies is important to me to help provide needed solutions for society in terms of safer and more energy efficient technology, assistance in monitoring and reversing climate change, exploration here on this planet and beyond, and emergency response—that's to name just a few," she says.
Education around the actual capabilities and applications for unmanned aerial vehicles is one of the aspects of the field Morgansen hopes to emphasize from her position as chair.
"Much of the funding we rely on in aeronautics and astronautics comes from the federal government so it's important that people are informed about what these vehicles can and can't do to help influence those government priorities," she says, adding that there's no better place than the UW to do that work.
"The UW has been a great place to be while all of these developments are emerging because of the values here. There's always been this emphasis on collaboration and interdisciplinary work and that's really what's always been at the core of aeronautics and astronautics."
She says she hopes her work can contribute to there one day being permanent structures for research and resource-development in space.
If and when those are built, would Morgansen be interested in making the trip to visit? Sure. But right now, she's focused on getting back on her bicycle after sustaining a wrist injury while riding in Ballard a few years ago.
As a graduate student, she once pedaled the distance from Boston to New York in a three-day AIDS ride. It's considerably farther to the moon, but the University of Washington is a great place to start.
---
Kristi Morgansen holds a BS in Mechanical Engineering and MS in Mechanical Engineering from Boston University and a PhD in Engineering Sciences from Harvard University