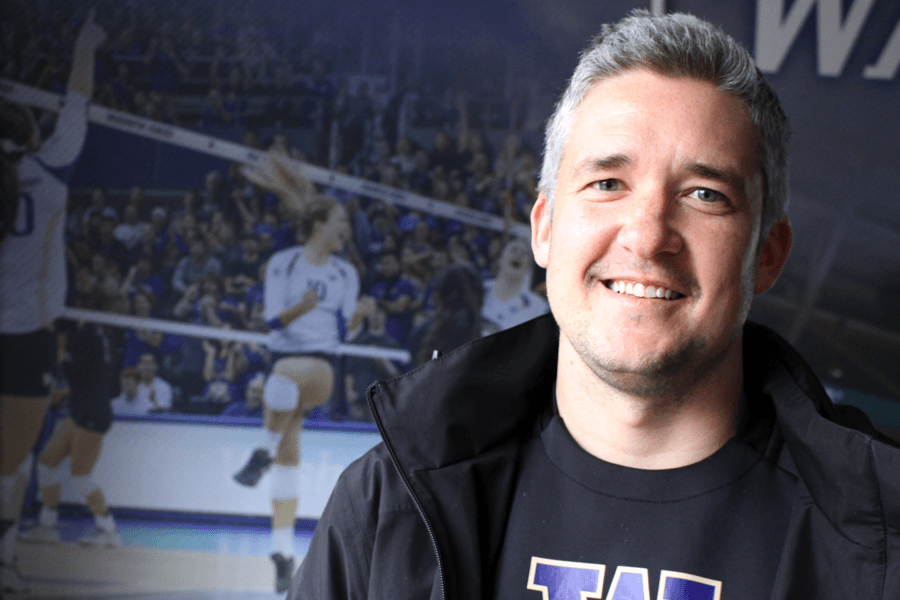 Coaches' Corner: Keegan Cook
In college, Keegan Cook knew he wanted to do two things in life: teach and compete. A math major at St. Mary's College in his home state of California, Cook planned to teach math and coach high school volleyball after getting his degree, but the closer he came to graduation day, the more wary he felt about that ultimate plan.
"I realized what I really wanted to do was teach this sport at the highest level," says Cook, who has served as head coach of UW Volleyball since 2015. "I finished my math degree as early as possible and started taking sports management classes. At some point, that's what college is about: figuring out what you don't want to do."
Beginning as a volunteer assistant at St. Mary's, Cook says he was as interested in "teaching" volleyball as much as "coaching" it. He credits his sister, who went on to play volleyball at the Division-I level, for first exposing him to the sport.
"Somehow volleyball just spoke to me—maybe because I got dragged around to too many tournaments with my sister and thought I could be better than her, which I never was," Cook says. "Once you find your calling, everything else just kind of fades away. What was me playing six sports turned into me playing one sport."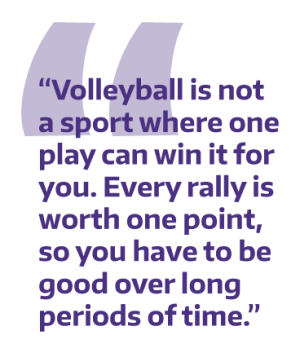 A game of angles and precision strikes, the sport challenged Cook's mind in the same ways that math did—and in many ways math didn't.
"I was a math major and this is harder than some of my math classes," Cook says of how volleyball lends itself to statistical analysis. It's something he's embraced and utilized to his teams' advantages throughout his coaching career and as a Volleyball Information Supervisor (VIS) for the FIVB, the international governing body for the sport.
"Volleyball is not a sport where one play can win it for you—one great shot at the end or one deep throw for a touchdown. Every rally is worth one point, so you have to be good over long periods of time."
Volleyball's capacity to teach is another reason why Cook says he likes to approach his work as head coach with an academic's eye.
"[Volleyball] teaches you the importance of consistency—whether you're working on your serve or trying to create some habits in your life where you just show up day after day," he says. "When you start to do a little behavior over and over again, it turns into a powerful force in your life. Compound interest is one of the most powerful forces in the world. If you do something day after day, all of a sudden it will turn into something that just takes you places you never thought you could go."
In Cook's case, it took him to Seattle. Beginning his coaching career at St. Mary's after graduating, he served for eight years—first as a volunteer assistant, then a full-time assistant coach, and eventually as top assistant for the Gaels. He joined the UW's staff as an assistant coach in 2013.  Now in his fifth year heading the program following two seasons as assistant coach, Cook says an ability to "show" and "do" have been central to his—and the team's—sustained success.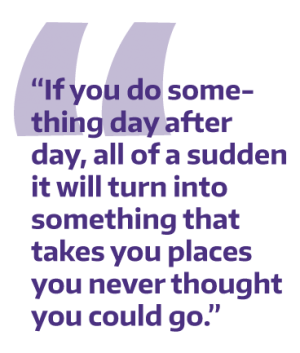 "Telling isn't teaching and listening isn't learning," Cook says, adding that that message of "showing and doing" has emerged as one of his core tenets as head coach. "Telling an athlete what to do is a really archaic way to teach. You have to be great at showing."
Before facing an opponent, Cook, the UW Volleyball coaching staff, and team take part in three film sessions. He and other coaches also assemble individualized game footage with annotated analysis and written pointers for players. That consistent, communicative approach has helped speed the team to a 19-5 record overall in 2019, including 10-4 in conference play. The team is poised to contend for another Pac-12 Championship and a deep finish in the NCAA Tournament.
"Everyone's battling out," Cook says of the Huskies' pursuit of first-place Stanford, a team UW beat for the first time on the road in Palo Alto earlier this season in what he describes as "a big moment for this group."
It's a group that remained almost wholly intact since last year—returning thirteen student-athletes from 2018, when the team reached the Sweet 16 following a strong finish to the regular season that evened their record in conference play to 10-10.
"We were playing our best volleyball at the end of 2018, so there was a lot of momentum and high hopes for this group and high aspirations for this year," Cook says. "We really stretched ourselves in the preseason with a December mindset."
The team spent the whole of preseason on the road, playing everywhere from Hawaii to Iowa. Following strong preseason showings, they continued as road warriors into conference play with a further two-week slate of out-of-state games.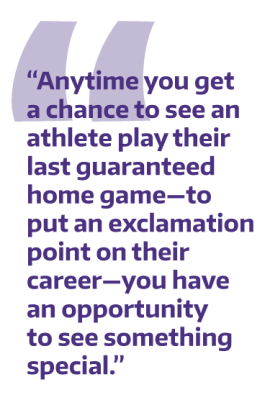 "A lot of teams I've coached would not have been able to handle that," Cook says, citing a grueling travel schedule that typically involves leaving Seattle on a Wednesday or Thursday, returning Sunday or Monday, and then practicing for a couple days at home before hitting the road again. "At the end, we realized, wow, that was a lot, but at the time, we were just going for it."
Cook says the idea behind the preseason schedule was to "get really good at playing on the road, because, chances are, to go to the Final Four, we're going to have to do that." UW is likely to host games in the first two rounds during the first weekend of the NCAA Tournament before its second weekend when regional round play cedes hosting privileges to the top four seeds. "We're most likely at this point going to finish seeded somewhere between five and ten," Cook says. "So we're probably going to have to go somewhere and beat somebody to get to the Final Four."
In accounting for the team's progress from 2018 to 2019, Cook says players' commitment to being connected and "communicating at a really high level with each other and with the coaches" has been a key factor.
"This is a really outstanding group of young women who have grown tremendously," he says. "These young players came in during the transition when I took over as the head coach and all they've done is win a couple Pac-12 Championships."
It promises to be a memorable and moving finish to the season and many of their careers as student-athletes. The regular season concludes with an Apple Cup game versus Washington State on November 30 that UW faculty and staff can attend with discount tickets via The Whole U and UW Athletics.
"Anytime you get a chance to see an athlete play their last guaranteed home game, to put an exclamation point on their career against a quality opponent, you have an opportunity to see something special," Cooks says of the November 30 matchup. "If anyone is able to come to these last few matches or see us in December, you're seeing a bunch of young women who really have grown and I think that's what it's all about being at the University of Washington."
Any new fan that attends the game will be augmenting what in Cook's view is an already unparalleled group of supportive fans. "I think we lead the conference in average home attendance and our fans just seem louder and more focused," he says. "There isn't another place in the Pac-12 that has an environment like this. Nothing comes close."
---
Catch the full schedule of UW Volleyball's upcoming home matches, including one this Friday, November 15 at 8 p.m. vs. Colorado and one this Sunday, November 17 at 1 p.m. vs. Utah.
Get $5 faculty & staff discounted tickets to the final home game of the regular season, November 30 vs. WSU here. Keep pace with UW Volleyball on Twitter, Facebook, or Instagram.