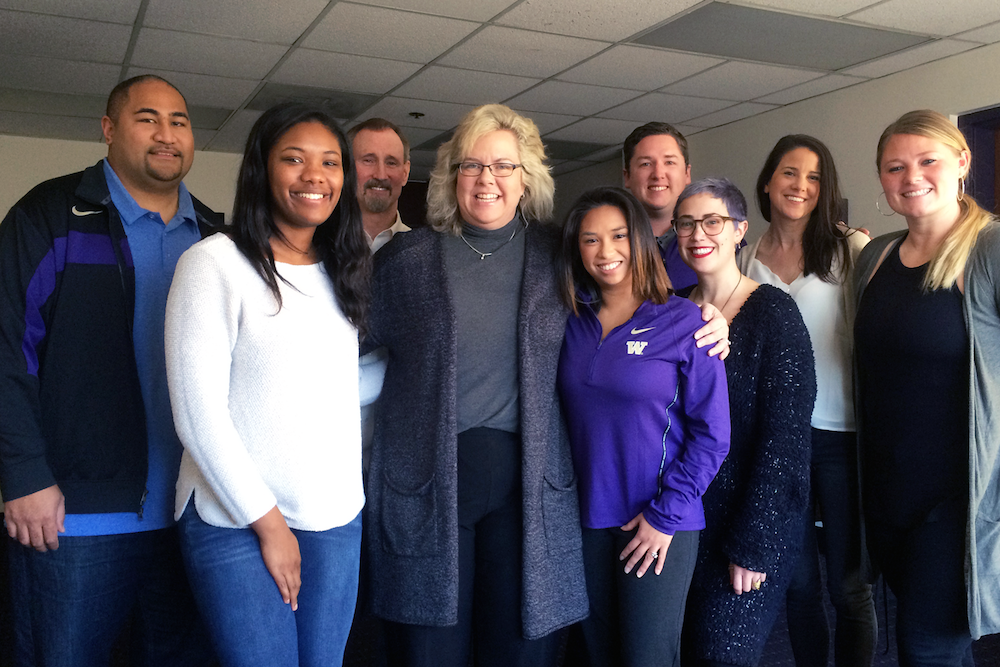 Kim Durand never envisioned that one of the high points in her career in college athletics would come clutching a box full of hats. But that's just where she found herself late last spring in Fullerton, California: standing well back into foul territory, box of hats in hand, as UW Baseball battled into extra innings trying to eke out a win that would propel them to the College World Series for the first time in program history.
Earlier that spring, few could have guessed the team would even whiff at the vaunted tournament held each year in Omaha—especially not after starting the season 18-18. But after winning 12 of their final 17 games to nearly take the Pac-12 conference title, the Huskies weren't just knocking on the door to the biggest stage in college baseball—they were ready to break it down. For her part, Durand (pictured at center above) never could have guessed she'd be along for the ride.
As UW's senior associate Athletic Director for Student Development, Durand had been called on to "pinch hit" that season as Husky Baseball's administrator, a position that oversees all elements of the program from recruiting and facilities to personnel and general operations. So there she was, on the verge of UW Athletics history, holding a box of hats emblazoned with "Road to Omaha" and praying it would be her job to walk out on the field and hand them out.
In the end, the Dawgs delivered—coming back from down one to win the game on a sacrifice fly in the bottom of the tenth inning. And so did Durand.
---
---
"You can't describe how euphoric that is, because those hats are a symbol of what these players have dreamt about since playing t-ball," Durand says, noting that the team actually had two players on the roster who had been playing together since t-ball. "Our guys would tell you that making it to Omaha and doing it together was more important to them than making it to the major leagues."
Unseen success
Durand says the on-field celebrations that followed the win against Cal State-Fullerton will forever be etched in her memory, but there are other moments from the team's road to Omaha that will stay with her just as long—stepping stones on a wonder run that speak more to ballplayers' academic skills than anything they might have done between chalk lines.
"We were on the road for the last three weeks of the quarter, which meant proctoring exams on the road because we were gone for finals. We ran four hours of study hall a night in hotel meeting rooms," Durand says.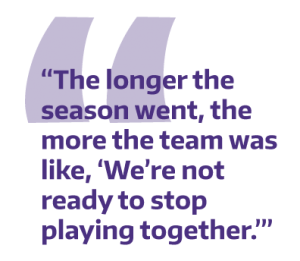 She adds that was no small feat of self-discipline for players, considering how amped up they were after each successive victory.
When the day came for seniors to graduate, the team was still on the road, so Durand helped plan what she dubbed a "first annual" graduation ceremony in the courtyard of the team's hotel. It was hardly glamorous, but with purple sashes in tow, Durand helped make it a meaningful capstone in an unforgettable season.
"The longer the season went, the more the team was like, 'We're not ready to stop playing together,'" Durand recalls. "Talk about what great coaching, team leadership, and chemistry will do, along with playing for each other."
Theirs was a spirit of shared toil and teamwork that Durand says she and her team of 16 full-time staff and 65 part-time tutors hope to cultivate among the 650 student-athletes they serve in everything from academic advising and tutoring to personal preparedness and guidance on life outside and after athletics.
In her role, Durand manages all student-athlete academic services, which involves working to enhance student-athletes' life skills, forwarding the goals of UW's race and diversity initiatives, and serving as UW Athletics' liaison to faculty.
"The whole philosophy of athletics is about accountability and teamwork," Durand says. "Those two things produce good human beings. So how do we get student-athletes to realize that and use those skills for the next step?"
Peoples' power
Founded in 1972 by Gertrude Peoples, UW's Student-Athlete Academic Services was the first program of its kind in college athletics. Peoples was hired in 1969 by Dr. Samuel E. Kelly, UW's first vice president of the Office of Minority Affairs, to be an academic counselor with the University's Educational Opportunity Program. She quickly set about working to improve academic support for student-athletes of all ethnicities and genders with a pioneering approach that set the standard that countless collegiate athletics programs follow to this day.
"As a tribute to her legacy, we want to be at the cutting edge, thinking about what's next and not just doing what everyone else is doing," Durand says. "We want to be national leaders—whether that's graduation rates or academic progress rates or team GPAs. We're aspiring to make those benchmarks, but a lot of what defines success for us are those personal stories that impact individually as well as collectively."
This past quarter, Husky student-athletes scored an overall GPA of 3.22, with 21 of 22 teams earning a GPA of 3.0, equaling the all-time high benchmark set by teams last year. Four teams—Beach Volleyball, Women's Cross Country, Gymnastics, and Men's Soccer—earned 3.4 or higher with Gymnastics taking top honors at 3.55. Durand credits Baseball and Women's Basketball as the most-improved teams. All told, 139 student-athletes made the Dean's List. (See full results here.)
"Finding out what a student's passion is, building their confidence in the academic realm, and then seeing them graduate and have a life is so rewarding because you know they're better off through their experience at UW and that our staff has been able to help them flip that light switch."
Durand says much of her work involves "looking for lightbulbs"—instances when student-athletes break through to realize their potential and purpose—not just as athletes, but as whole individuals.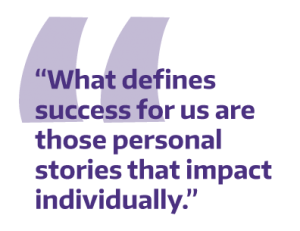 Such moments of epiphany and elation sometimes only come after months or even years of what can be at times frustrating work, but when students do break through, Durand says it is always a moment worthy of the effort and energy that preceded it.
"The most difficult element of this work is when you have students who are really struggling—maybe they aren't motivated or who don't see their own ability," Durand says, adding that it's always a joy to witness a transformation after she's worked with a student for a period of time.
"It's when that switch flips and they go on to success."
Duck, Duck, Dawg
Durand's stated goal is to always maximize student-athletes' ability to do both athletics and academics at a high level. She is keen that they "have a student experience that lets them take advantage of everything UW has to offer" and wants student-athletes to feel like the UW is a supportive home that nurtures the interests of their whole being.
"UW should feel like home—even to those of us who are transplants."
Growing up in Oregon, Durand always loved sports. She was a gymnast "before becoming 5'8"" and her younger sister would go on to become a Division-I tennis player. Durand credits their relationship for teaching her about how elite athletes stay motivated, what their struggles are, and how they overcome adversity. Both would attend the University of Oregon, where Durand became involved in the athletic department.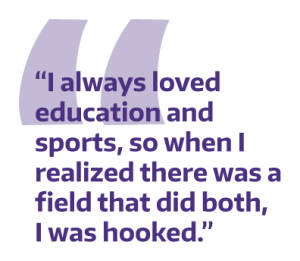 "I always loved education and I loved sports, so when I realized there was a field that did both at a high level, I was hooked."
After earning a master's in higher education administration at Oregon, Durand spent five years as an academic advisor for student-athletes at the University of Kansas before becoming the director of academic services for student-athletes at UCLA. After five years in LA, Durand joined the UW—a course of action she would have once considered anathema.
"I remember being at Oregon, having a beer with colleagues, and you're all talking, saying, 'Okay, in the Pac-12, are there any schools you would never in a million years work for?' And I'd say, 'I'd never go to Washington!'"
But after more than a decade helping thousands of student-athletes find balance and purpose, Durand felt ready to take the UW job, having long since learned the chance to make real impact transcends rivalry.
"In the national landscape of this work, the University of Washington is where you come to win national championships," Durand says. "This is the first program of its kind, it's well-funded, and there's been a commitment over decades to doing this work and doing it well—not just keeping kids eligible, but really being at the cutting edge of a holistic experience."
Durand also credits her own staff for creating an environment that champions student-athletes as a means of sustaining championship culture: "I truly believe we have the best staff in the country; they truly inspire me each and every day with their hearts, their character, and their commitment to our student-athletes."
Rivalry revisited
Fourteen years into Durand's career as a Husky and it's clear old interstate rivalries are a thing of her past. Indeed, she says she's learned that the best rivalries so often result in some of the closest-knit relationships—as demonstrated by events leading up to the 2018 Apple Cup when a Husky Marching Band and Spirit Team bus rolled over on the way to a snowy showdown at Pullman.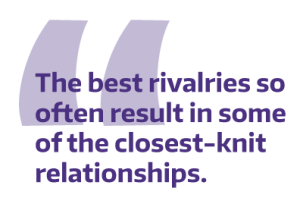 Two days later, Durand returned to work to find her voicemail box full of messages from Cougar fans.
"They were just calling people in the department to say, 'Hey, I don't really know why I'm doing this, but our thoughts and prayers are with you, hope everything goes well, and we're thinking about you."
Durand cites another recent example of how Pac-12 athletic programs and student-athletes are finding ways to support one another. Earlier this week, two former Oregon State student-athletes gave a presentation on student-athlete mental health to UW coaches, staff, and student-athletes as part of their #DamWorthIt campaign.
"These student-athletes had competed against our student-athletes, who were sitting there and a couple of them yelled out, 'Go Beavs,' and then they said, 'Go Dawgs.' And that's how the evening started: just recognizing that athletes' mental health is something bigger than all of us."
Exit velocity 
For Durand, it's imperative to see student-athletes for who they are now in order to help them realize their future selves.
"In the public eye, our students are often seen as professional athletes, but at the end of the day, they're 18- to 22-year-old students just like anyone else," she says. "We don't want them to have any regrets when they leave to say, 'I wish I would have pursued that major, done that internship, or taken time to figure out what my life after sports looks like."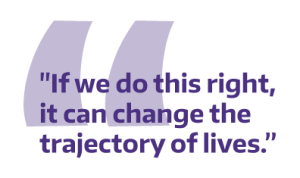 When all is said and done, Durand and her staff—like Gertrude Peoples before her—want to see student-athletes well cared for, but also well capable of caring for themselves.
"If we do this right, it can change the trajectory of student-athletes' lives and their families' lives," she says. "You don't forget there's a larger purpose to all this beyond how many yards they run or points they score."
Wins and losses might be of secondary importance to the life skills and sense of self-discovery Durand and her staff hope to imbue in the student-athletes experience, but student-athletes still want those wins.
That's part of why Durand will be sticking around next season as baseball administrator—this time, on a permanent basis.
"They don't want to tinker with the formula," she says. "You know how superstitious baseball guys are."
---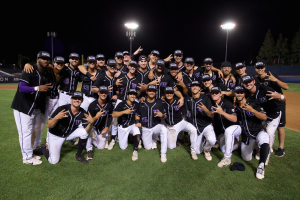 ---
---
Kim Durand has a B.A. in Rhetoric & Communication and Psychology and an M.A. in Educational Policy & Management, with an emphasis in higher education administration from the University of Oregon. In 2010, she received the N4A Model Practice award for her work creating the University of Washington summer LEAP (bridge) program.
In 2011, she was awarded the N4A Lan Hewlitt award, recognizing sustained professional service in the field of academic advising for student-athletes and significant contributions to the field through professional involvement and development, and leadership in university affairs. She is also actively engaged in the National Association of Academic Advisors (N4A), serving as the National President from 2014-15.