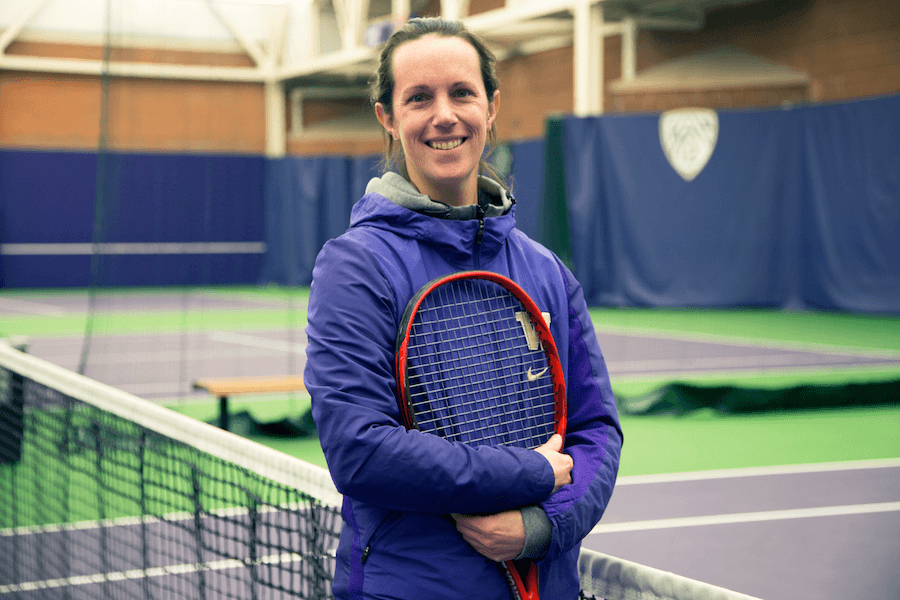 Coaches' Corner: Robin Stephenson
The No. 15 Washington women's tennis team is off to the best start in program history and hosts a pair of key Pac-12 matches this weekend, welcoming No. 13 USC on Friday at 1:30 p.m. and closing out the home portion of its 2019 schedule against No. 10 UCLA on Sunday at noon. Both USC and UCLA are tied with Washington at 6-1 in conference play with the Trojans 16-3 and UCLA 14-5 overall. Admission to all home tennis matches is free. All fans in attendance can receive free pizza after the doubles point!

---
Robin Stephenson grew up looking west. A native of Kitchener, Ontario, Stephenson first traveled to Vancouver to play in tournaments as a high school tennis standout.
"I always wanted to be in Vancouver or Seattle," Stephenson says, adding that, after concluding an All-American tennis career at the University of Alabama in 2006, she spent one day in Seattle and "fell in love with it."
After playing professionally for two years and volunteering as a coach at Georgia Tech, she spotted an open position for an assistant coach at the University of Washington—what she viewed at the time as a "dream job." So she applied, but ultimately didn't land the role.
Instead, she continued on as a volunteer assistant with Georgia Tech, playing a role in coaching Yellow Jackets women's tennis to National Indoor Championship seasons in 2007 and '08 as well as back-to-back ACC titles in those same years.
Her next step was to head across town, joining Georgia State as head coach. After leading the Georgia State team to its most successful season in program history in 2013-14, including a first-ever advance in the NCAA tournament, Stephenson again applied to join the University of Washington—this time for the role of head coach.
"It was one of those things where I went after it and it fit," she recalls.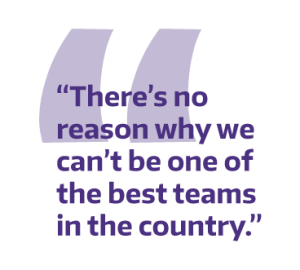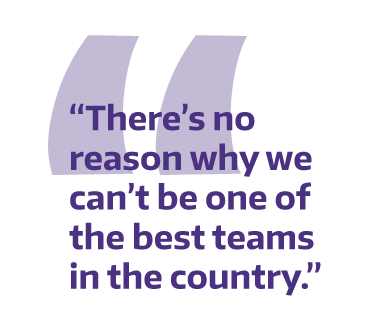 Now in the midst of her fifth season as a Husky, Stephenson is beginning to enjoy the rewards of four years' hard work in building her own program.
Earlier this season, the Husky Women crested into the top ten for the first time since 2004 and currently stand at 16-2 on the season and remain unbeaten in Pac-12 play at 6-1.
"We feel really good about where we are—we only have four returning players from last year and six new players and those new players have really just jumped in and helped a ton," Stephenson says.
"We've got four freshmen who just have a really good mindset and are committed to play here with the vision of being one of the best programs in the country and building things in that direction."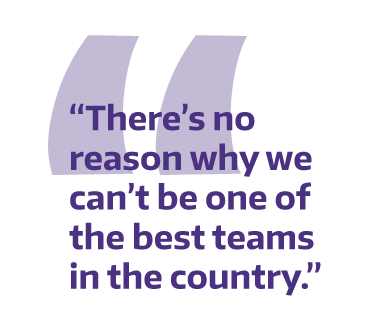 And while the team's record is reassurance that they're doing things the right way, Stephenson is careful about getting "too high or too low with those results."
Even so, it's been fun to see hard work paying off.
"There's no reason why we can't be one of the best teams in the Pac-12 and one of the best teams in the country—this was the vision when I got here. We've got to keep doing things the right way, but it's really cool for our two seniors, my very first recruits, that have seen the program then till now and been part of that building process."
The Huskies will be honoring their two seniors, Stacey Fung and Kenadi Hance, during Sunday's match against UCLA. Hance has been a key member of the team during her four seasons at UW, posting a 66-47 overall record in singles matches including a 17-7 mark this season. Fung has been the Huskies No. 1 singles player throughout the season after becoming the team's first All-American since 2011 last year and is currently ranked No. 98 in singles and No. 26 in doubles.
---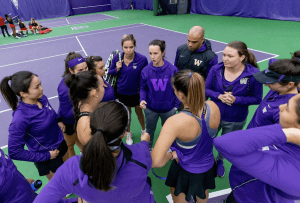 ---
Stephenson points to a "signature" win against a strong Kansas team ranked seventh at the time and sweeps of Utah and Colorado in the team's first conference matches as tone-setting contests in 2019, adding that a team-first attitude and willingness to put in the hard work has helped separate the Huskies from the pack.
"Tennis is a unique sport—it's an individual sport that's become a team sport in college, so we do a lot of team bonding and team-building," she says. "Regardless of where you are on the team, your match is going to be important."
Stephenson says that, over her four first seasons with the program, she's come to a better understanding of the type of player—the type of person—who is going to succeed at the UW.
"The academics are challenging, being in the Pac-12 is challenging, so I think it takes somebody who is very serious about being a solid all-around person—somebody who wants to develop academically as much as they do as an athlete."
"So much of it is just the people. I'm such a big believer in the culture [here] and I think you can accomplish really great things when you've got the type of people who are willing to work hard and come together and put the team first."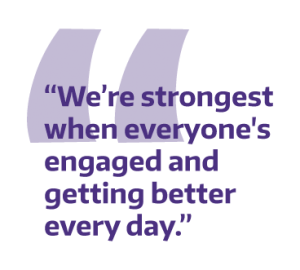 The team rallies behind a cheer of "BETTER—TOGETHER" and spends equal amounts of time focused on the mental and physical elements of the game.
"We talk about things they can control, self-talk and body language and energy because teammates feed off that," Stephenson says. "As you have teammates around you, it translates from one person to another."
"We're so much better together as a group and strongest when everyone's engaged and getting better every day. That's one of the mottos of our entire athletic department and our girls have really taken that to heart: get better every day."
It's a mantra Stephenson adopted early in her tennis-playing career. Determined to be a professional athlete, she settled on tennis at age 11 as her sport of choice, having been introduced to it by her father.
"It didn't matter what, I just wanted to be a professional athlete. Once I was 11, I narrowed it down and decided tennis was the best path in terms of a career and I dropped every sport and stuck with tennis and rode the wave as long as I could."
She says she loved the feeling of being on court alone with the whole outcome on her shoulders. The sport allowed her to explore a propensity for problem solving that engaged her on a mental and physical level.
"I love the feeling of overcoming adversity and challenges and trying to do that on my own," she says. "If I won, it was on me and, if I lost, it was on me—and I appreciated that part of the sport."
The idea of coaching first crossed her mind during her sophomore year of college at the University of Alabama. She recalls the passion of her head coach at the time, Jenny Mainz.
"She'd come to work every day and say she was the luckiest person in the world and just loved what she did and made such a big impact on our lives," Stephenson says. "She just created such a great environment for us and had such an impact on my and my teammates' lives, I thought it would be an incredible path to go down."
After playing professionally after college, Stephenson knew she was ready to coach.
"I was fortunate to have had so many great coaches, so to be able to use my own experiences to help other people down their path from freshman to senior year developing as a person and as a player is the coolest thing."
---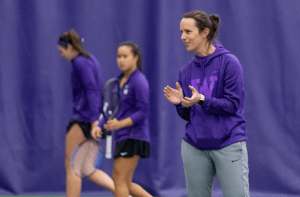 ---
Coaching, Stephenson says, is the closest one can get to competing again. Being on court with her players, working through matches, as well as being a big part of their lives outside of tennis are the elements of the role that most resonate with her.
"I always put it on myself as a player to feel like I was the hardest-working person on my team—that I knew, if I was going to compete against somebody, that I had worked harder than them, so I'd know when I got out there I had that confidence."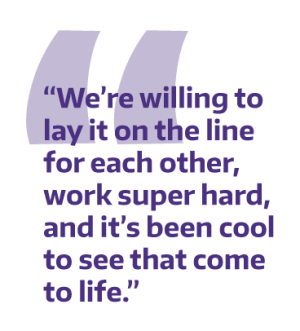 "That's something I've tried to instill in our players and I think that's what we're doing this year," Stephenson says. "We're willing to lay it on the line for each other, work super hard, and it's been cool to see that come to life."
With the team's final set of home matches happening this weekend, it's the perfect time for the UW community to get in on the action before Pac-12 Championships and, after that, nationals.
"This is just the beginning for us, so there's a lot of energy and excitement [and] we love the support from people up in the stands," Stephenson says. "We feed off it and I feel like part of [our success] has been from the support of people from the University and fans—they've been incredible."
Stephenson says she's eager to see where the season takes them, but isn't in any hurry to get to the end.
"What I'm looking forward to most is just continuing the journey with them," she says. "I'm just trying to enjoy every second I have left with this group."
Even as teams turn over, student-athletes graduate, and new recruits arrive on campus, there are a few things that will remain the same: "Every time we travel somewhere with the team and we're coming back, we look down [from the plane] and think, 'We're so lucky, we live in the best place ever.'"
---