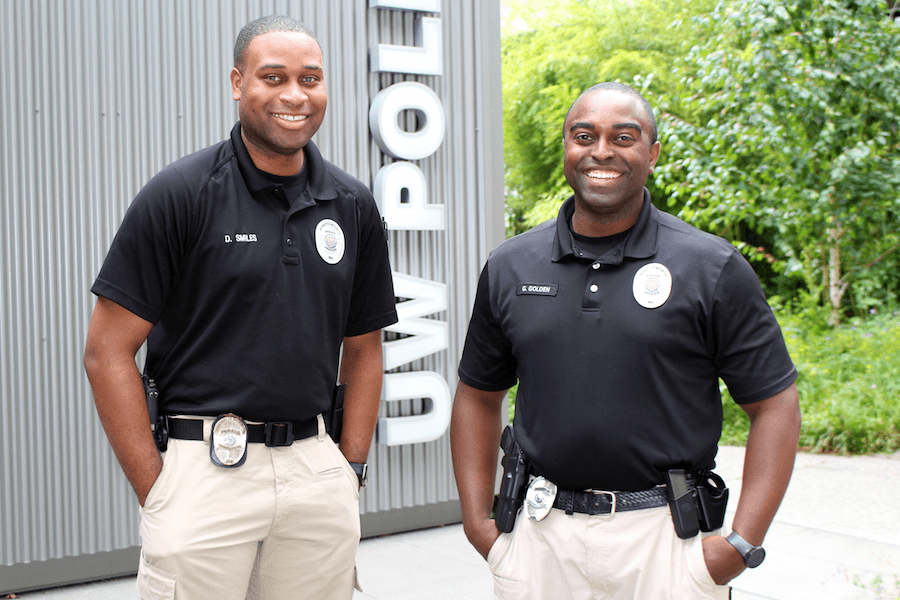 Staff Story: Dahmar Smiles and Gabriel Golden
When you think about the tools of police work, handheld radios, flashlights, and firearms might spring to mind. But two officers with the University of Washington Police Department have found success utilizing a different device—handling their duties as part of the UW Seattle campus constabulary not with handcuffs, but with a healthy dose of humor.
As community outreach officers serving the University of Washington, Dahmar Smiles and Gabriel Golden know that in-person interactions are essential to effectively carrying out their mission of keeping students, staff, and faculty safe. They're frequently on campus working with first-year programs, speaking with groups as large as 100 people, and hosting open house events and activities at police headquarters as they do at The Whole U's annual Take Our Kids to Work Day.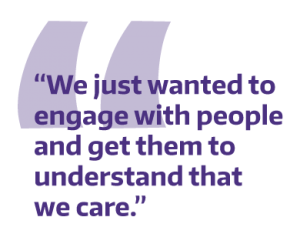 But at other hours—all hours, in fact—they walk a different, digital beat—logging on to the UWPD's social media channels not to fight crime, but to spread information, grow awareness, and create community connections.
"If we use social media, we can engage people and let them know who we are from a different standpoint," Golden says.
Since taking over control of UWPD's social media platforms in June 2018, Smiles and Golden have made waves with UW students as the masterminds behind a running series of memes—humorous images with pieces of text that are copied (often with slight variations) and spread rapidly by web users with the aim of conveying a particular phenomenon, theme, or message.
Smiles and Golden started posting memes to the UWPD Facebook page after noticing students on the popular 26,000-member public Facebook group UW Teens for Boundless Memes were discussing how they couldn't wait to jump into Drumheller Fountain as soon as it had been refilled with water after a recent cleaning.
"Do people know you shouldn't be doing that because, when they're cleaning it, they're not sanitizing it; they're just making the water look clearer and removing phones and debris," Smiles recalls thinking as he browsed posts in the group.
After getting clarification from his UWPD administrative staff that students should not, in fact, be jumping in the fountain, Smiles decided to "do some education." He took one of the memes students had posted to the group and reposted it on the UWPD Facebook page with a message that said, 'We understand you want to jump in the fountain, but understand you shouldn't be doing that.'
"If you get in there unprepared to understand how deep it is, people will struggle to get out—especially at night," Smiles says. When students made the connection that UWPD was looking at the meme page, Smiles and Golden observed two kinds of general reactions.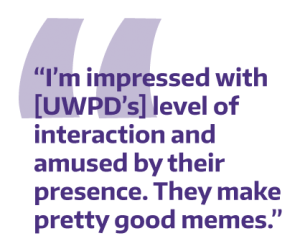 "One was, 'We're going to [jump in the fountain] anyway' and the other was, 'we understand [jumping in] can be unsanitary and it's really funny that the Police Department thought to say something about it,'" Golden says. "A lot of people caught on that we were pretty much just trolling."
"We just wanted to engage with people and get them to understand that we care," Smiles says. "You say you want us to give you safety information, but then you'll totally disregard it? We played up the irony of that."
Lila Faulhaber, a UW senior majoring in Neuroscience, was in the group and witnessed it all go down: "It was odd to know not only were they aware of memes about Drumheller, but they were also responding with their own memes," she says. "I'm impressed with their level of interaction and amused by their presence. They make pretty good memes."
The good-natured "meme war"—as students in the group quickly dubbed it—continued between the two pages for several weeks until graduation when student activity on campus tapered off. That's when the UWPD community outreach officers pulled their boldest move yet.
"Instead of 'stealing' memes [from their group] and posting them on our page, we figured we could request to join their group," Smiles says.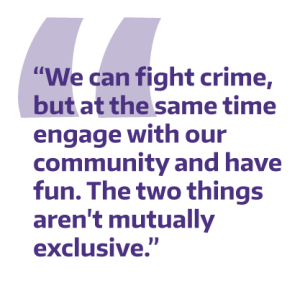 "What could this become?" they wondered, if they joined the page as the UWPD Facebook account and started to interact even more.
What it became was something beyond even their highest hopes in terms of community engagement. When the public group's moderators posted a screenshot of UWPD's request to join, it kicked off a discussion around what the UWPD can see on social media, which in turn gave Smiles and Golden an opportunity to open a productive conversation on transparency and policing.
"UWPD isn't tracking you," Smiles says. "Facebook knows more about you as a person than we will ever know or care to know."
The "meme war" presented just the sort of online discourse that would allow Smiles and Golden to take the pulse of campus before stepping out for further face-to-face interactions.
---
---
For Smiles, it's an amicable, non-adversarial approach that strives to be "as integrated as possible with everything you do."
"We don't just want to show up when bad things are happening," he says. "We want to be there for the good things too so those good things can continue to happen without having to worry about what else is going on outside of campus."
Soon after graduation, the UWPD's request to join UW Teens for Boundless Memes was approved. "Someone made a point that UWPD was already looking at the group and engaging with it," Golden says, adding that others also pointed out the group was listed as public for anyone to view.
"You'll see some stuff that's funny, but you'll also get a lot of information," he says of the memes UWPD posts to the group and the Department's own page.
"We have a lot of fun with our community members every day; this is just to highlight how much fun we can have."
The officers reposted a student-made meme highlighting that point.
"Some would ask, 'why are you writing memes when you should be out protecting the community and we posted one that was like, guess what, we can do both," Smiles says. "We can fight crime, but at the same time engage with our community and have fun. The two things aren't mutually exclusive."
"Now they're just actually good meme-content generators on the page," Faulhaber says of UWPD's presence within the group, whose recent focus has shifted to an amicable feud with a similar group at the University of Wisconsin over which UW is the "real" UW. Smiles and Golden have readily joined in the fun, further cementing UWPD's status as online ally, not adversary, to UW students.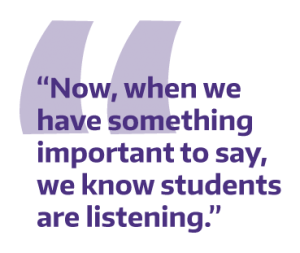 Ever since the "meme war," traffic and engagement on UWPD social media pages have risen.
"Students are on our pages, liking our posts. So now, when we have something important to say, we know they're listening," Smiles says, adding he and Golden are listening in turn.
"If people are posting a bunch of memes about how they're stressed about finals or how it's hard to get into their majors, that allows us to strategize and say, 'Maybe we should have some type of a de-stress event where we bring the dogs out, or team up with Hall Health with classes on how to de-stress and time management."
"If this helps us do our jobs better and help the community, then we want to keep doing it," Smiles says, adding that UWPD's presence on social media is an invitation to all UW community members—students, staff, faculty, and families.
"That Facebook page and our Twitter are up 24/7, so if someone wants to get an idea about who UWPD is, they can go to our Facebook page, for example, and see we're trying to make an effort to engage with our students, because we know they're why we're here," Golden says.
"We're reaching out and saying we're here for you, this is who we are, and this is our attitude and demeanor. That means developing communication strategies that get across that campus law enforcement is different from what you might expect elsewhere."
In both officers' past experience serving as officers with police departments—Smiles at Arizona State University and Golden at the University of Arkansas—community outreach was an auxiliary duty and not something they could engage in on a full-time basis.
"That's the thing I like the most that I think really gives us an advantage here: having the time to devote to people," Golden says. "That's what a lot of these situations need: let's slow things down, find the root cause of a problem, and then solve it."
Making memes, then, is just another way of communicating messages of safety and creating connections in spaces where none previously existed.
"Our job is to engage the community, meet them where they're at, talk about what we're doing right and wrong—and, if something is wrong, how we can fix it," Smiles says. "If you don't feel comfortable reaching out directly, meme it, and we'll see it and get a pulse on it. We're just trying to be as transparent as possible—that's what this is all about."
Both Golden and Smiles are adamant in their conviction that UWPD outreach is about partnerships, not good publicity.
"We have to be good first before I can do my job," Golden says. "I couldn't work in a place [whose department] engaged in profiling and say, 'Hey, let's do coffee with the cops'—it doesn't work like that; you can't put on a face for someone. I don't want to do this job to make people look good; I want to do this to show how good we are."
---