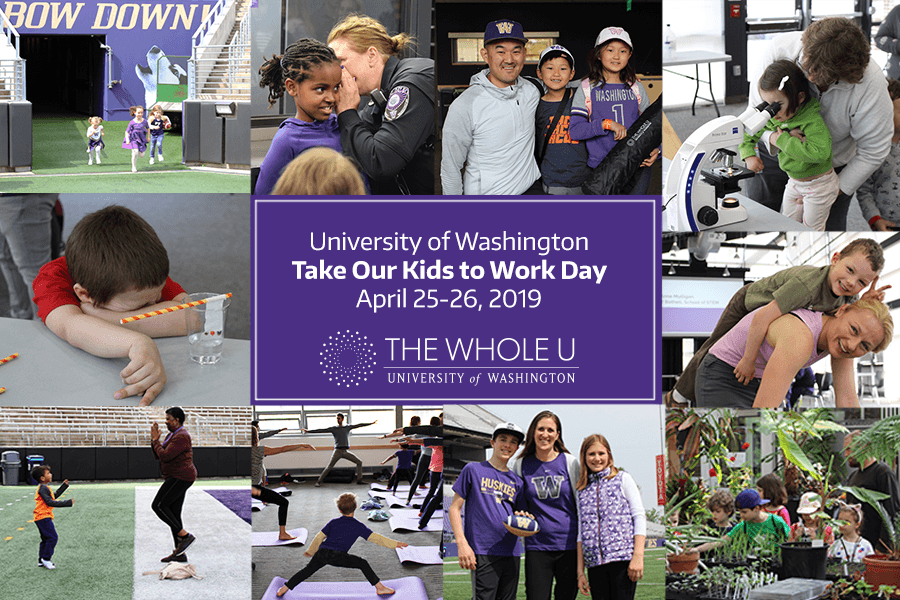 Whole U hosts Take Our Kids to Work Day
Thursday, April 25, was Take Our Kids to Work Day—a day intended to get young people acquainted with the professional possibility of their future adult lives. At the University of Washington, it's also a chance for children to explore—and better understand—the campuses their parents serve and support. This year, parents and their children took part in a range of activities and events at the UW Seattle and UW Bothell campuses.
Kids and parents could take in the stars at University of Washington Planetarium or take to the skies with some green-screen magic from UWTV. In addition to a special scavenger hunt sponsored by US Bank, other activities included a morning yoga class with Danny Arguetty of UW Recreation, look behind the scenes at the University of Washington Police station, time to play on Alaska Airlines Field at Husky Stadium thanks to Washington Athletics, and a UW Bothell wetlands tour!
See more of what the days held in store and hear what parents had to say below!
---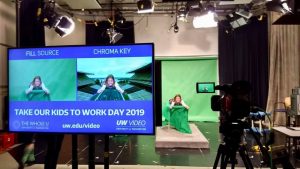 ---
"My grandkids loved it," said Toni Booker, a customer account manager with UW-IT, said of UWTV's Green Screen activity.
---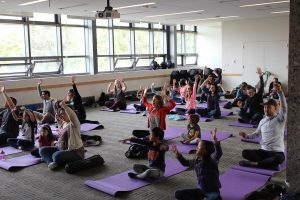 ---
Danny Arguetty, manager of UW Recreation's Mindfulness Program, led a yoga class activity to start the day.
---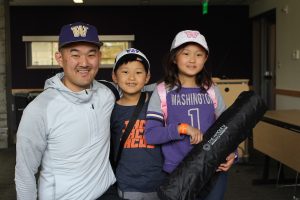 ---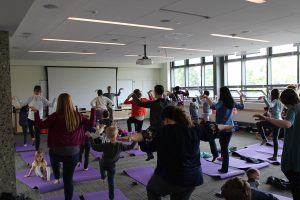 ---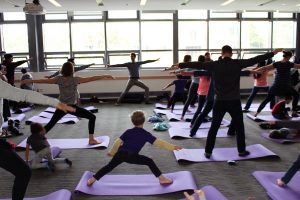 ---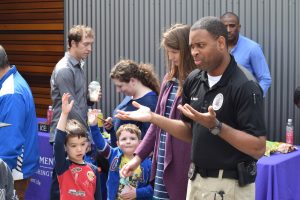 ---
After lunch, parents and kids stopped by UW Police Department headquarters for meet-and-greet with officers along with the station's resident canine. Kids could explore the holding cells, a patrol car, and have their questions answered.
---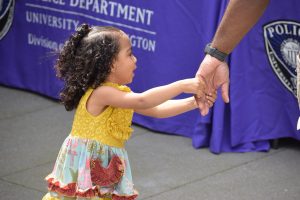 ---
"My boys absolutely loved this," said Jewel Evenson, a program support supervisor II for UW Libraries. "The officers were incredibly kind and welcoming, and informative. Being able to explore the police car and the holding cells was really fun for them. The snacks were appreciated, the K-9 dog was loved, and really- just having time to talk to real police officers was thrilling to them. Thank you to the UWPD for being so gracious with our kids!"
---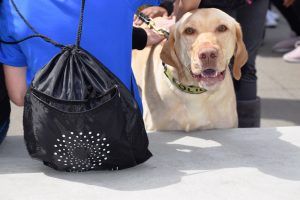 ---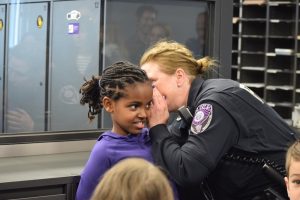 ---
"My daughter loved this event," said Courtney Jones-Vanderleest, assistant director of academic partnerships in UW Continuum College. "Thank you to all of the officers who provided a positive and educational experience."
---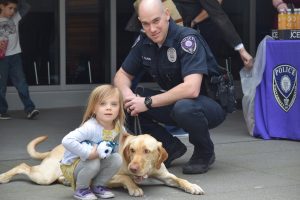 ---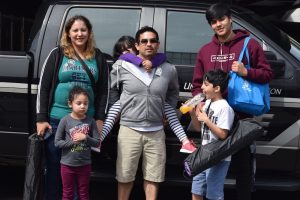 ---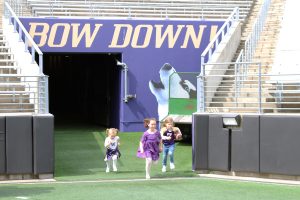 ---
Kids and parents stormed the field at Husky Stadium thanks to UW Athletics, who had footballs on hand to turn Take Our Kids to Work Day into game day!
---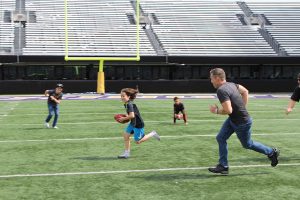 ---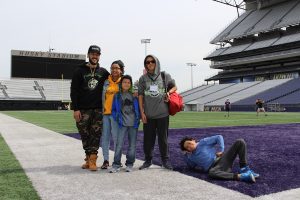 ---
Husky families struck poses at the Greatest Setting in College Football.
---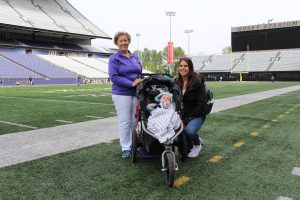 ---
Husky Stadium and UW Athletics welcomed guests of all ages onto the turf!
---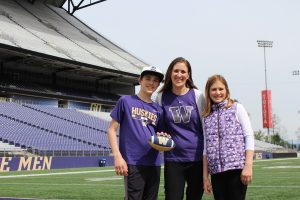 ---
Purple pride on full display!
---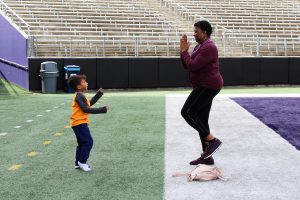 ---
A moment with mom turns into a moment of calm.
---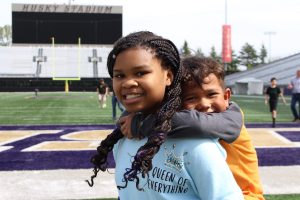 ---
Time of the field was also a chance for siblings to connect with one another.
---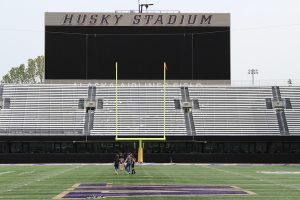 ---
The last play of the day!
---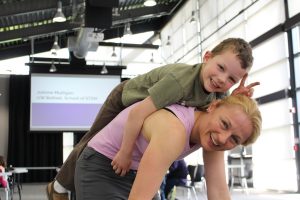 ---
The Whole U rolled into UW Bothell on the morning of Friday, April 25, to kick off Take Our Kids to Work Day festivities, including a scavenger hunt, science experiments, and a tour of the campus green spaces and wetlands!
---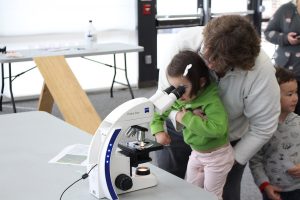 ---
A big thank you to JoAnne Mulligan, laboratory instrumentation coordinator at the School of STEM, for leading a science activity exploring various fields of science, including physics, biology, and engineering!
---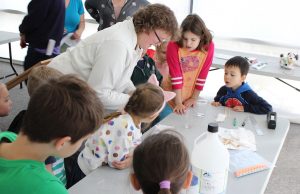 ---
"Thank you very much! I felt very supported by this event," said Jessica Trencamp, an academic advisor with the School of Interdisciplinary Arts and Sciences. "We need more [activities and events that] focus on employees who are parents."
---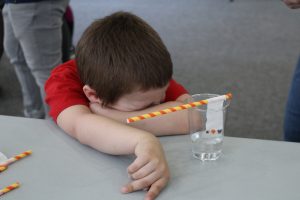 ---
"It makes such a difference to feel that I am welcomed on this campus as a working mother and it made such a difference for me to feel encouraged to bring my son with me to work," said Sara McDermott, an academic counselor in Engineering.
"Having this event completely made my day and my son, who is only two-and-a-half years-old was so excited to see where Mama worked.  Thank you for putting this on and for all of the goodies: it truly made a difference and made me very proud to work at UW Bothell."
---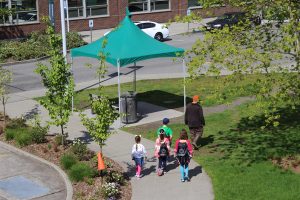 ---
Gabe and Chris from Facilities Services then led the group on a tour of the UW Bothell wetlands and green spaces!
---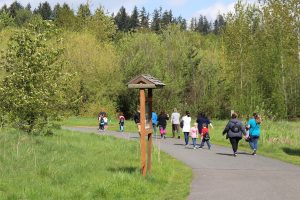 ---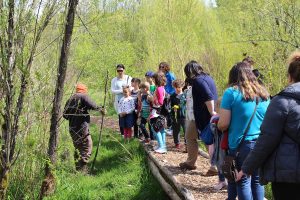 ---
Gabe from Facilities services explains how the prevalence of beavers influences the campus ecosystem. Kids learned that beavers can carve out water channels more than five feet deep!
---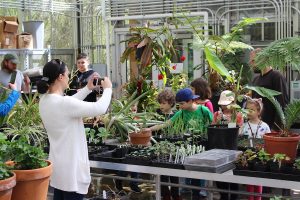 ---
The UW Bothell greenhouse was a huge hit with kids!
---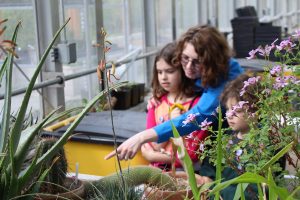 ---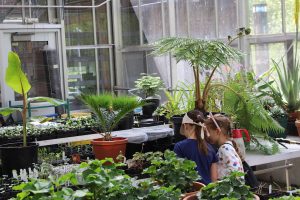 ---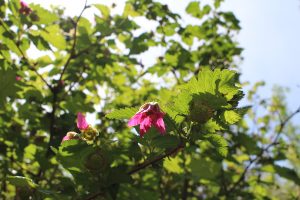 ---
Thanks to all the faculty, staff, and children who participated in our Take Our Kids to Work Day programming as well as to the campus partners who helped make these events possible! Let us know in the comments what you would like your kids to experience next year.