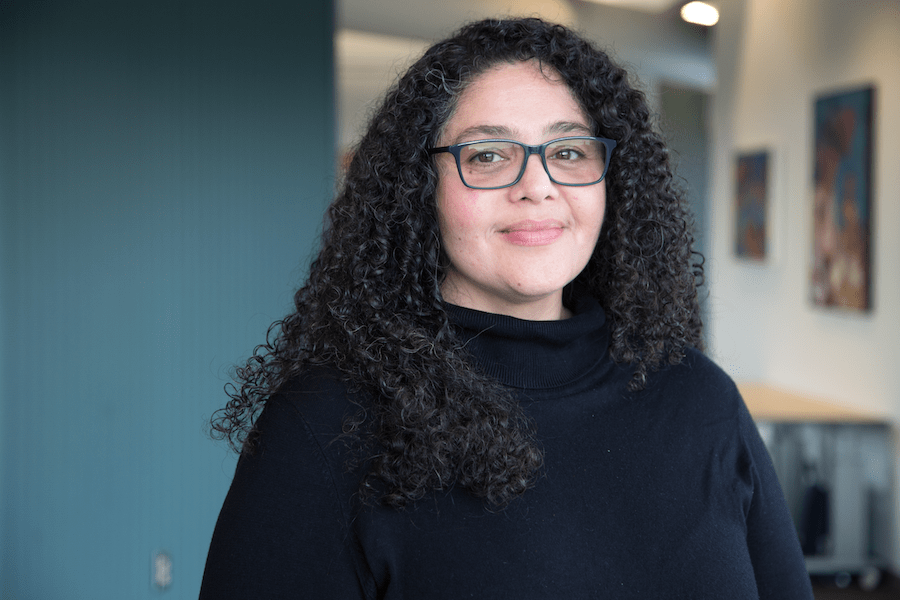 Faculty Friday: Charlotte Sanders
Growing up, Charlotte Sanders didn't know what social work was. She did, however, know "what it felt like." Her mother, a worker with the Department of Social and Health Services, would participate in donation drives for members of the Toppenish farming community on the Yakama Indian Reservation and Charlotte would help out.
"She showed me the social responsibility of helping people connect with a community," Sanders says. "That brought me closer and closer to discovering what social work was."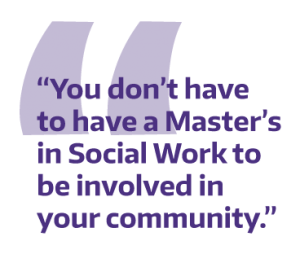 Today, Sanders serves as teaching associate in UW School of Social Work. Her sense of the vital role community plays in determining behavioral outcomes has only grown stronger with time.
Working with populations experiencing homelessness and other privations of need, Sanders says she will often reflect on the support she received from a "wonderful extended family" and how so many other people she encounters didn't—or couldn't—benefit from the same.
"I think people often automatically assume that people who are identified as homeless are drug users, mentally ill, prone to violence, thieves, or are just waiting to do something to you," Sanders says, adding that in her more than two decades in the field, she's only experienced "two or three" occasions when she's felt her safety was in danger.
"If we just for a moment thought about this without blame and spent an extra second to describe that person's situation—to instead acknowledge, 'the man who's on the corner who has no home, who has no resources, who probably has no friends who can support them or family that want them'—we might start recognizing how much judgment we all have when it comes to certain issues."
Withholding one's judgment and offering a little help—spare change as so often is the case—without worrying where that money is going is one small way to make an impact, Sanders says. Simply acknowledging a person is there—giving them a sense that they are seen—can also go a long way.
"You don't have to have an Master's in Social Work to be involved in your community and want your community to be well," Sanders says. "I think the first step would be to ask yourself, 'what's kept me from being involved? What's kept me from being non-judgmental?'"
Doorways to belonging
The number of individuals who are homeless has been on the rise since 2013 when some 18,500 individuals reported to be experiencing homelessness in Washington. By 2018, that figure had risen to some 22,500. At the same time, the number of affordable rental units at $800 or less has dropped by 75,000. Evictions have played no small role in the swelling statistics.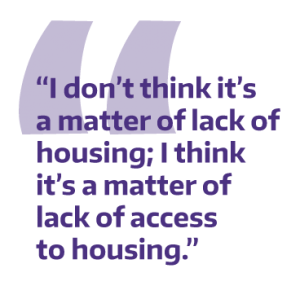 "I don't think it's a matter of lack of housing, I think it's a matter of lack of access to housing," Sanders says of the city's housing situation. "I don't know why we're not talking about creating a system where everyone who builds has to build responsibly."
Sanders is involved in two efforts that seek to challenge the city's narrative and perceptions of homelessness and problem-solve around them.
Two years in development, The Doorway Project aims to create a place for young people experiencing homelessness in and around the University District where they can feel welcome and access resources and tools needed to thrive.
"Young people may or may not choose to go into homelessness serving organizations because of the stigma that now is applied to them as "homeless young person" or 'homeless youth' or 'homeless adult,'" Sanders says. "Just going into an environment knowing 'that's where homeless people go' can make someone not want to go there."
The Doorway Project seeks to establish a permanent café environment where "anyone can come through the door; anyone can receive food or drink based on a pay-it-forward model; anyone can come in with whatever need they have," Sanders says. "We don't really want to connect this to the idea or social construct of homelessness, but rather need."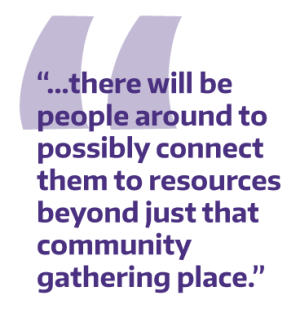 Some people might not identify as homeless, but could have food, financial, or housing needs, Sanders says.
"So what would that look like if they were able to go someplace where they know they'd be able to get something to eat or drink. They know that there will be people around to possibly connect them to resources beyond just that community gathering place."
Now in its second year, The Doorway Project has collected input from young people, the community, and service providers about what "makes sense" as far as the development of a permanent space. To date, the Project has operated a series of pop-up café events to engage stakeholders. The goal, Sanders says, is not to "recreate what's already in existence," rather to construct an environment that makes anyone entering it "feel like they can get connected to community."
The next pop-up café will take place on March 4.
Sanders says she hopes the intended space can serve a similar function to that of the Husky Union Building (HUB) on UW's Seattle campus.
"The UW has been a model for me in thinking about, 'Wow, that is what I'd love everyone to experience—in being able to go someplace where you know that place is for me."
In Sanders' view, it's especially important that social services such as The Doorway Project tend to the whole individual, rather than servicing basic needs.
That can be difficult, she admits—especially when service providers are already stretched beyond capacity and always trying to do more with less. Nevertheless, it's imperative that she and others still try.
"We've been focused so long on the basic needs of those in crises that we neglect the other Maslow's Hierarchy of Needs, like sense of belonging," says Sanders. "What do you need as a person coming into a community? The feeling of acceptance, belonging, the opportunity to expand your knowledge and access."
It can be extremely difficult to meet broader, more nuanced needs in spaces that are really dedicated to the urgent basic needs, Sanders says.
"The shortcoming is that we consider support to young people as connecting them to service providers without including the connection and development of natural supports."
Sanders hopes The Doorway Project can also ultimately serve as a hub where community members can envision themselves bringing their talents to be helpful to others.
"We want to provide opportunities to connect with people who are interested in supporting them, who are interested in having more than a service provider relationship," Sanders says. "That way, we can help [people in need] develop their own supportive communities."
Common bonds
The need to look beyond the basics is paralleled in One Health, another UW project that seeks to address the health needs of people experiencing homelessness as well as their animal companions.
"One Health is this wonderful movement where the human and companion animal bond is recognized as an integral part to health and wellness—especially for populations experiencing homelessness," Sanders says.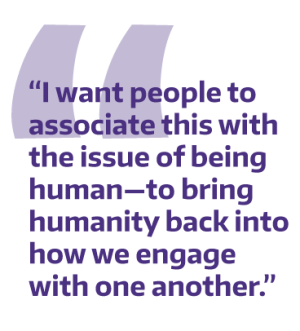 All too often people experiencing homelessness are castigated for keeping animals as pets. It's a tendency Sanders pushes back against.
"Why are we complaining or having such judgment around someone who is going through extreme crises in their life?" she asks.
"Why wouldn't they want someone who loves them unconditionally; why wouldn't they want someone to focus all of their love on because no one else is there to receive it."
One Health also serves as a means of engaging populations who might not otherwise seek healthcare, but would for the sake of their animal companions.
"It's an extremely effective way of engaging people who are very service-reluctant who will come because they care so much about their animal companion," Sanders says.
"They'll come to a clinic when they can get free care for their pet, but probably haven't stepped into a clinic in years for themselves because of distrust of systems or of not knowing how to access healthcare."
Sanders says the dual-purpose clinic also serves to help the broader public see the human side of homelessness: that "everyone is entitled a bond that brings joy."
"I want people to associate this with the issue of being human—to bring humanity back into how we engage with one another and how we care for the health of the ones we love."
Both projects, Sanders says, allow her to connect with the community she Ioves, having spent almost two decades as a social worker in the U District before joining UW in 2014.
"It's exciting because they are two different ways of seeing how we can be with people who need support, with people who need community," Sanders says. "I still think there's a different way we can do things."
Overlapping worlds
In an interview with Columns Magazine, Sanders stated that homelessness was a symptom of a larger disease. I asked her to elaborate on what she meant.
"To say homelessness is a symptom of a bigger disease, if I were to name the illness, it's greed," Sanders says. "I want to stay away from the word homelessness and focus on people without homes, people without food, children going through experiences they otherwise would not if their families had the resources to support them."
"How much money do you need in order to live a good life?"
Sanders would implore people to think less about how the issue impacts them and more about how it impacts "us." Otherwise, she says, we are not addressing the problem at its root.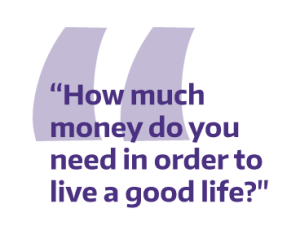 That's something Sanders has been conscious of ever since embarking on her career. After moving to Seattle and upon graduating with a degree in psychology, she took a job doing on-call work at a youth shelter.
"That's when I realized I wasn't satisfied just putting the bandaids on [situations]; that I felt there was something wrong with our system."
Sanders decided to get her master's degree in social work at the UW in an effort to delve deeper into factors driving issues of inequity in society.
After doing so, she worked with Neighborcare Health's Youth Clinic as the youth clinic manager and onsite social worker. In joining the UW, she brought to bear her experience of serving Seattle youth and young adults in different homeless service settings and capacities, ranging from direct service, program management and advocacy.
"My worlds here still overlap which is really cool—I have the privilege of working with students who are preparing to provide behavioral health services as social justice workers.  I emphasize social justice because they are supporting marginalized communities."
Sanders loves social work. It could be that she always has. Even when being witness to adversity and people in desperate situations, there is something about walking alongside them and offering compassion.
"Many of the people I've worked with feel invisible and that's sad," Sanders says. "When someone sees that you see them, that can be really powerful."