Save a Life, Be the Match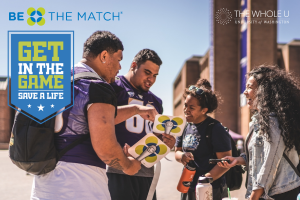 The University of Washington is proud to be a community partner with Be the Match, an education, research and advocacy organization managing the world's largest marrow registry which helps connect people living with life-threatening blood diseases and cancers with life-saving donors.

Table of Contents
---
Get Involved Today
---
Attend or Volunteer at Get In The Game on May 23
Join The Whole U, UW Athletics, and Be the Match on Red Square on May 23 from 3:30 p.m. – 5:00 p.m. to learn more about joining the registry and saving a life. This fun block party will include music, a photo booth with Dubs, free t-shirts and other swag. Meet UW coaches and athletes and commit together to saving lives through the Be The Match registry.
Interested in being a volunteer? Click HERE! Volunteers will help spread lifesaving information at Red Square on May 23. Help us add hundreds of Huskies to the registry!
UW Fitness Day, a one-of-a-kind, campus-wide workout to celebrate movement, will be returning as an in-person event on May 23.  Register today to participate at UW Seattle, UW Tacoma, UW Bothell, or Harborview Medical Center!
This year, Fitness Day will benefit Be the Match. Our fundraising goal is $5,000 and 500 new registry members. Even if you cannot attend UW Fitness Day, you are invited to help us reach our fundraising goal.
Consider making a one-time, monthly, bi-monthly, or annual monetary contribution to Be The Match through the UW Combined Fund Drive. Your donations can be deducted from your paycheck to make contributions simple.
---
About the Partnership
---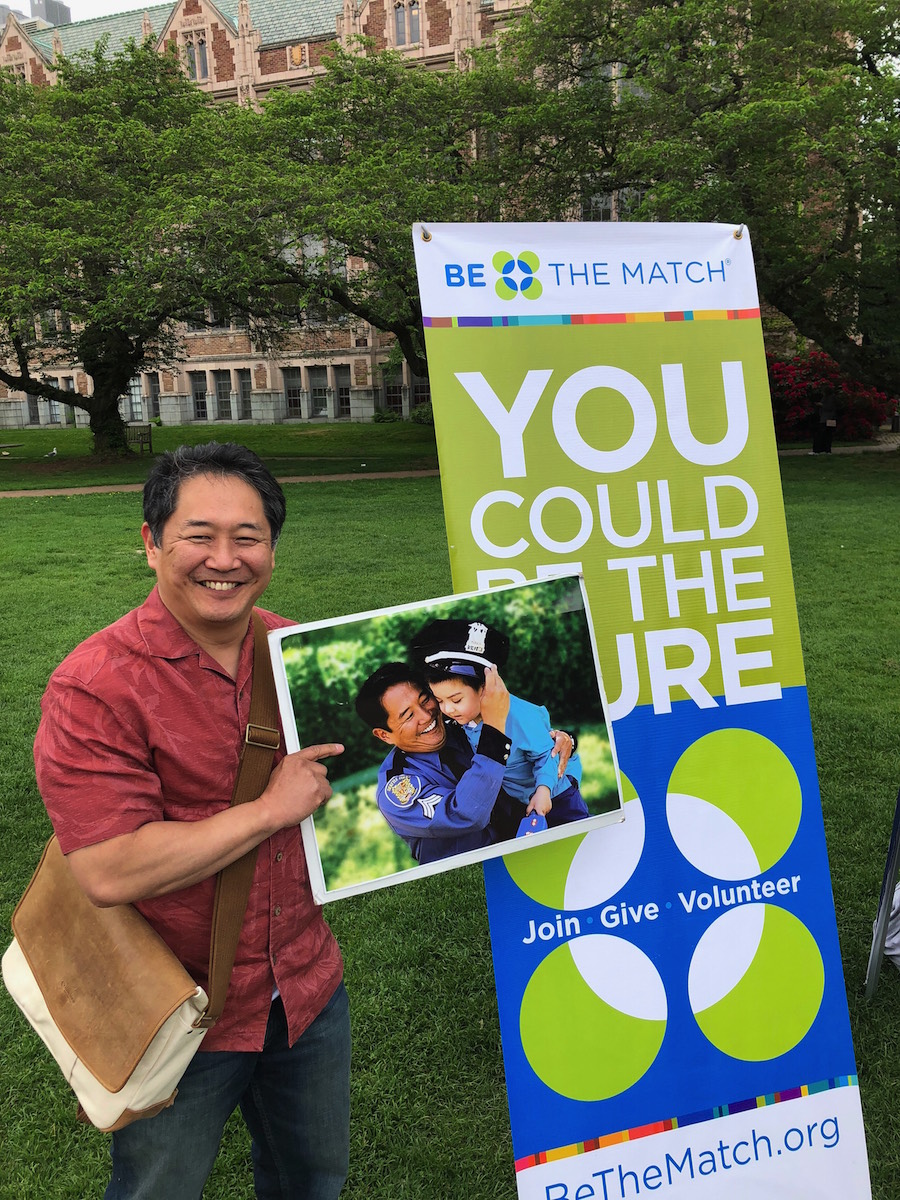 The University of Washington is proud to be a community partner with Be the Match, an education, research and advocacy organization managing the world's largest marrow registry which helps connect people living with life-threatening blood diseases and cancers with life-saving donors.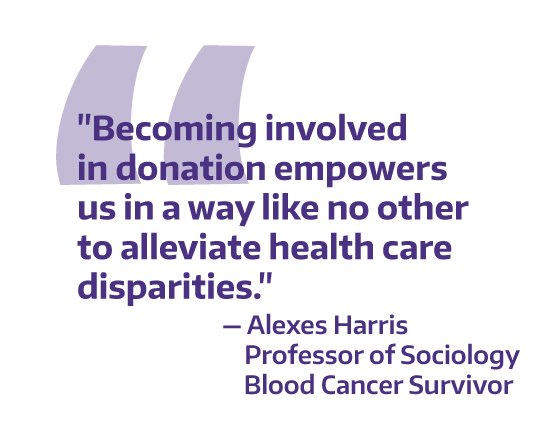 This partnership bridges the University-wide Population Health and Race and Equity Initiatives. Our aim is to improve the quality of life and chance of survival for people with cancer and over 100 other diseases by educating about marrow donor disparities and the need for diverse registrants!
Be The Match is especially looking to register potential donors between the ages of 18 and 44.
In particular, they encourage people of color, particularly those with mixed-ancestries to consider becoming potential donors. Growing and diversifying the registry's pool of potential donors increases peoples' chances of finding a match—more on this later!
Since 2018, the UW has offered many opportunities to get involved in this partnership within the UW community, educating people about the life-saving process of marrow donation and how it helps save lives around the world. Below, you can check out what's planned on campus in the coming future, find ways to get involved, learn about past events, and learn why this partnership is so essential to UW's commitment to equity in advancing population health.
---
Why UW
---
This is a bold, new partnership, but one with deep ties to the UW community. Research and treatment done in collaboration between the Fred Hutchinson Cancer Research Center and the UW—including one of the first live marrow transplants—was integral to the establishment of the first marrow registry. As the first institution to be a community supporter of Be The Match, the University of Washington is excited to continue to serve in this life-saving mission.
More recently, in May 2016, UW professor of sociology Alexes Harris was diagnosed with a rare blood cancer and soon learned that a marrow or stem cell transplant would be her only hope of a cure. Two years later, after receiving a successful stem cell transplant using umbilical cord blood at Seattle Cancer Care Alliance, she is living cancer free and recovering well, but the difficulty of finding a donor with a 100% matched made her realize the fight had only just begun.
Why ancestry matters
"We immediately started research to learn about how matches were found and I discovered that finding a non-related full match is difficult if you are a person of color, especially of mixed race origin," says Harris, whose background is African American, Filipino, and Caucasian.
Having a 100% match is crucial in predicting positive outcomes post-transplant, but the percentage chance of finding a perfect match is skewed against minorities because ethnically diverse and mixed race donors are underrepresented in the registry. While Caucasians have a 75% chance of finding a full match in the existing marrow registry, African Americans only have a 19% likelihood of finding a match and comprise only 7% of the United States registry.
Within the United States registry, the likelihood for finding a full match is higher for people of Mexican (37%), Chinese (41%), South Asian (33%), Hispanic Caribbean (40%) and Native American (52%) ancestry than for African Americans, but still significantly lower than the likelihood for Caucasians.
---
Past Events at UW
---
Be The Match + UW Football!
Be The Match was on hand as the Huskies triumphed over Stanford the weekend of September 28. But the biggest winners were those who stopped by the Be The Match table and registered as potential marrow donors in order to make life-saving impact. The day before, Friday, Be The Match was at the HUB along with BloodworksNW to co-hosting a blood drive and recruitment event.

---
Get in the Game – Block Party on Red Square!
After Fitness Day, the Whole U, Be The Match, UW Football, and UW Men's Basketball all packed up and headed to Red Square with a mission: spread the word about UW's new partnership with Be The Match and talk to students, faculty, and staff about joining the registry. Students flooded the block party; eager to snap a photo with Dubs, meet coach Petersen and team players, and sign up to be a donor.
Although the official Be The Match and UW partnership is the first of its kind, Get in the Game isn't a new concept. Created by Coach Tally of Villanova, Get in the Game is a nationwide series of events hosted by university football teams. The mission is always the same, spread the word about Be The Match and show students the impact they can make by joining the registry. Today, Get in the Game is supported by Coach Tally's Foundation, the Andy Tally Bone Marrow Foundation.
From students and faculty playing corn hole together to attendees cooling off with Hubert's lemonade and throwing on their new tees, the afternoon was exciting, inviting, and definitely one to remember. UW now has had over 200 students, faculty, and staff complete registration for Be The Match and request their swab kits in the mail. This is incredible, thank you to everyone who has become a donor. We're just getting started! To learn more about the registration process, UW's partnership, and who can join the registry, click here.
Without further ado, here are some of our favorite moments from the afternoon!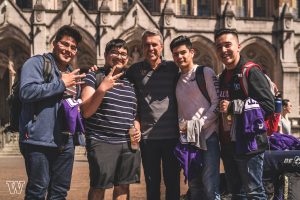 Students snap a photo with Coach Petersen after joining the registry and snagging their official Get in the Game t-shirt!
---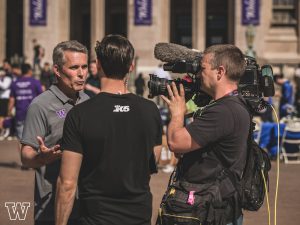 King 5 news dropped in to film the event for their local segment Take 5. Reporter Jordan Steele interviewed Coach Petersen, Lauren Updyke, assistant director to the Whole U, Brandyn Harvey, former NFL football player and Be The Match staff, and Dr. Alexes Harris, UW Sociology professor and cancer survivor. Check out Dr. Harris' interview—what a natural!
---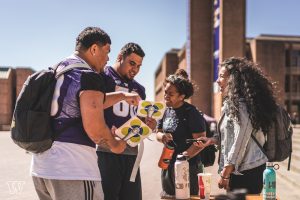 Students passing on their way to class learn about Be The Match from two UW Football players.
---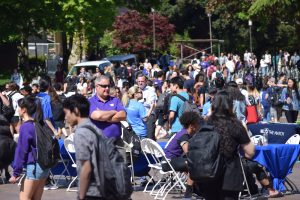 Be The Match, UW Football, and Whole U volunteers were very busy spreading the word and walking new donors through the registration process the entire event. Good thing we had Kind Bars to refuel!
---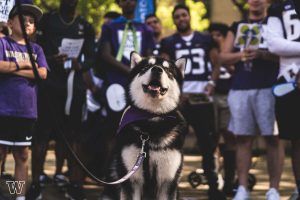 Dubs smiles for a job well done! Woof!
---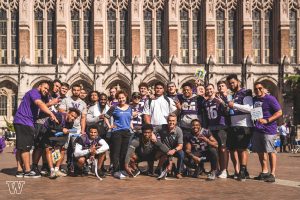 All in all, UW Fitness Day and our Get in the Game Block Party made for a fantastic day full of Husky spirit and community. We are excited to continue this partnership and could not have done it all without our amazing sponsors and partners. Thank you to Be The Match, UW Football, UW Athletics, and the Andy Tally Bone Marrow Foundation for your partnership and Hubert's Lemonade, Kind Bars, Be The Match, and BECU for your sponsorship.
---
Partnership Kick-Off!
The Whole U is proud to help facilitate this partnership and got things started on Monday, November 5 by hosting a Be the Match Kickoff Event in the HUB South Ballroom attended by more than 450 staff, students, and faculty.
With a welcome and introduction from UW Provost Mark Richards, the evening featured a screening of Mixed Match, an acclaimed documentary that tells the stories of mixed race blood cancer patients who are forced to reflect on their multiracial identities and complex genetics as they struggle with a nearly impossible search to find marrow donors. The film was followed by a panel discussion on race in medicine and the process of marrow donation with experts from UW Medicine and the wider Seattle medical community weighing in.
Kick-Off Presenters & Panelists:
Jeff Chiba Stearns — Mixed Match Director
Sarah Noonberg MD, PhD — Chief Medical Officer at Nohla Therapeutics
Dr. Colleen Delaney — Fred Hutchinson Cancer Research Center, Clinical Research Division, Pediatric Oncology
---
---
All new Be the Match campus programming will be added to the Get Involved Today section at the top of this page. Follow along with us on social media and the Whole U website, and most importantly share with your family, friends, and colleagues!