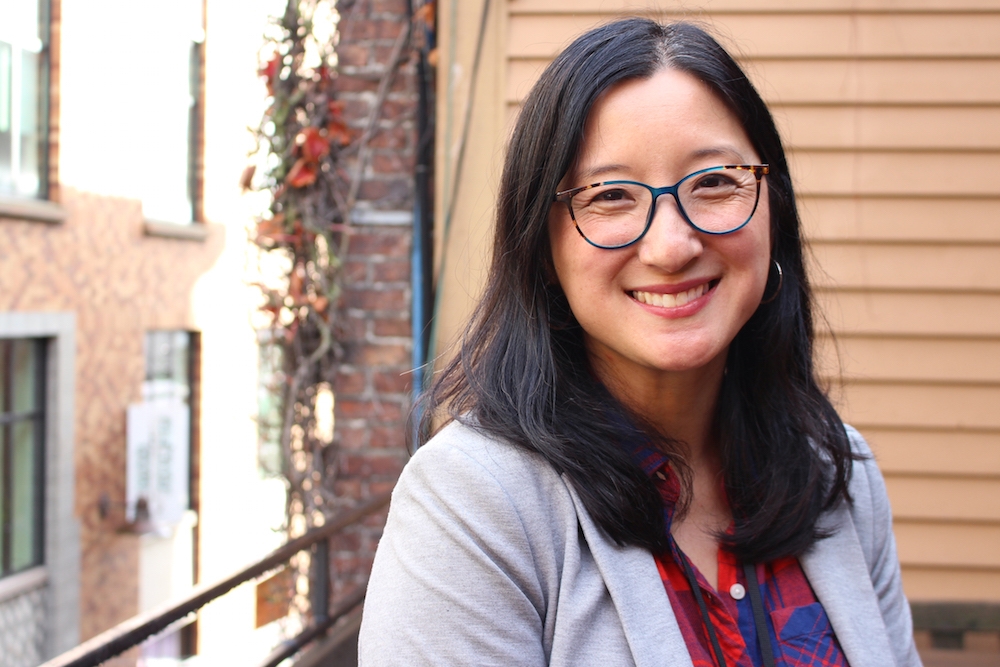 Staff Story: Misty Shock Rule
For Misty Shock Rule, the oft-repeated phrase, "you are what you eat," might well be scrambled up to read: "you eat where you are." In July 2016, six months into a new job as communications and media editor for the UW Alumni Association, Shock Rule began writing a blog about food in the University District. She called it "Eating the Ave."
"Part of the motivation behind the blog is to just get a good writing habit," she says. "There are so many varieties of food in the U District and I thought it would be a fun project and a good excuse to try all these different types of food."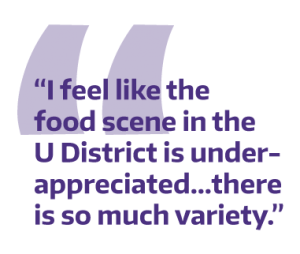 Three years into the project, Shock Rule has reviewed more than 100 dining establishments within walking distance of the UW Seattle campus, sorting each review by type and price—under $7, between $7-10, and over $10.
"In general, I feel like the food scene in the U District is under-appreciated," she says. "There are lot of places in the $10 range—not fancy—but there is so much variety."
In an earlier iteration of the blog, Shock Rule intended to start at one end of the Ave and work her way up, but Eating the Ave grew from more organic explorations—a reason to try something new each day and write a reflection on the experience later.
"Once I started, I thought, 'I might as well keep on doing it,' because I don't think there's anyone else eating at this many places in the U District," she says, adding that she tries to keep each restaurant review to a paragraph or two–often setting a writing goal of 100 words as her way of being accountable to her writing objectives and mindful of anyone else who might be reading.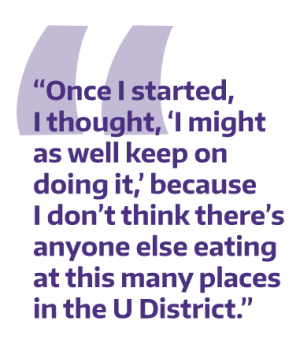 "I think people just want bite-sized content that is fun to browse, hopefully fun to read. It doesn't have to be something I put pressure on myself to make perfect. As I eat more places, I get more writing experience."
Shock Rule says the food blog is not unlike writing a journal—a habit she's kept up while traveling in the past and which she says helps keeps her accountable to her own goals. Her reviews tend toward the positive with restaurants rated on a scale of "I'm a regular," "Definitely coming back," "I'd go again," and "Once is enough."
When visiting and reviewing a restaurant, Shock Rule says she rarely does research beforehand, preferring instead to try the most classic version of a cuisine in order to provide a baseline for a given establishment and the food culture it might represent.
Pressed for an all-time favorite spot for lunch, Shock Rule chooses Wann Yen, a small Thai restaurant off the Ave near the location of the future light rail stop. "I love Wann Yen because they only have a few options, they're very friendly, and it's the place that reminds me most of traveling in Thailand."
She says another favorite is Koa, which specializes in Hawaiian comfort food: "They have three options, all really good. One of the things I really love about it is they offer small, medium, and large."
Sometimes Shock Rule will eat somewhere and not get around to reviewing it for a few weeks, but she says she's incentivized to keep the blog going because it gives her a reason to keep exploring a neighborhood she's known since her days as an undergraduate studying English at the UW.
She says she hopes any who read it will see it as an invitation to try something new.
"There are lots of foods that are totally new to people but are very accessible. People might not realize there are so many accessible flavors that might open a door to being more interested in that type of food."
The blog has served as a conduit for Shock Rule to connect with her own Korean heritage and the Asian community in Seattle—something that wasn't always possible growing up as an adopted child in Port Orchard, Washington.
"One of the first times I ate Korean food was in the U District when I was in school at UW," she says, adding that she recently finished a piece for Seattle Eater about discovering Korean food in the U District and through that, Korean culture.
"That piece was a lot easier for me to write than it would have been three years ago," she says, crediting the blog for expanding her knowledge of food culture as well as her breadth and confidence as a writer.
"Getting out of your routine makes you view the world a little differently," she says. "No matter where life takes me, I want to continue doing that."
---
A regular byline in The UW Magazine, Misty Shock Rule also contributes to the International Examiner, an Asian community newspaper based in the International District. Check out her blog at eatingtheave.com