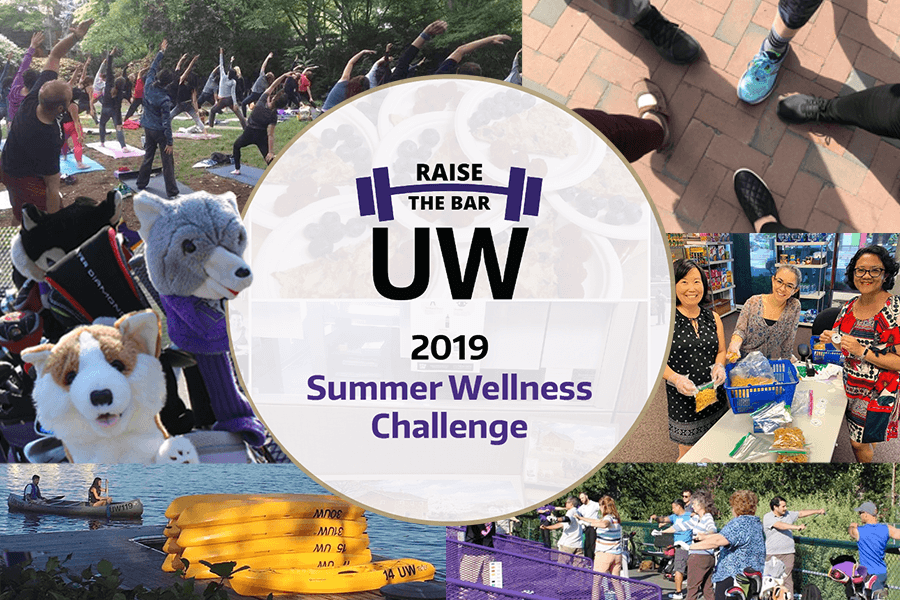 Challenge Accepted: Raise the Bar in Review
As summer soon shifts into autumn, the UW community begins to look ahead to the new academic year.
In addition to the excitement of a campus bustling with students and the spirited competition of fall athletics, there's a lot to look forward to! From UW Yoga Month and the UW Medicine Heart Walk in October to boat outings and fitness classes, The Whole U also can't wait to usher in a new season of programming geared to your interests and goals.
But before we do, it's time we looked back on a summer of goal-setting and growth, at the center of which was The Whole U's six-week Raise the Bar wellness challenge.
Over the span of six weeks, participating UW faculty and staff worked to champion wellness in the workplace across five areas of focus: being active, eating well, stress management, cultivating kindness and compassion, and building community. In addition to self-directed efforts in these areas, teams and individuals participated in themed weekly challenges initiated by The Whole U.
One look at the results below shows what we accomplished together and just how many ways there are to embrace and advance a sense of wellness that extends to and even find genesis in the workplace!
Congratulations to the Raise the Bar teams who ranked in the top three for each challenge—as well as to all who partook and challenged themselves, including all of UW HR and UW Facilities. A big thank you to sponsors AT&T, US Bank, and BECU as well as to partners UW Recreation, UW Sports Medicine, IanFitness, and Barre3 who helped us take summer to the next level!
---
Week 1 Challenge: Track miles exercised
UW Total: 10,000+ miles
---
First: Total Talent Management
Second: HRBAIS
Third: UW Finance Transformation
---
Week 2 Challenge: Track minutes exercised
UW Total: 120,000+ minutes
---
First: Total Talent Management
Second: HRBAIS
Third: ABC Shared Services
---
Week 3 Challenge: Track cups of vegetables eaten
UW Total: 4,300 cups
---
First: Total Talent Management
Second: HRBAIS
Third: UW Finance Transformation
---

Week 4 Challenge: Track minutes meditated
UW Total: 16,112 minutes
---
First: HRBAIS
Second: STEM Grad Changes Their Weighs
Third: Team Peek-A-Boo
---
Week 5 Challenge: Track steps
UW Total: 10,820,416 steps
---
First: HRBAIS
Second: Team Peek-A-Boo
Third: Team Library
---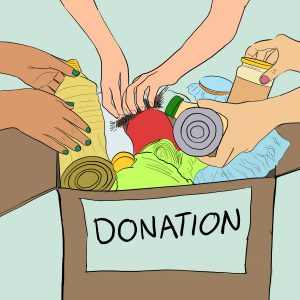 Week 6 Challenge: Donate items to UW Food Pantry
UW Total: 1,500+ items
---
First: Team Rehabilitation Medicine
Second: SoM Business Unit
Third: Takin' Care of Fitness
---
Rianne Peterson, Outreach Program Supervisor / Student Services Office at Housing & Food Services, shared a reflection on her involvement in the challenge:
"I would like to thank you for coordinating these wellness challenges. They are always a fun way to interact with health and wellness in the workplace. The thing I like most about them is that they allow everyone to create their own benchmarks and define what "improvement" is for them, whether they are just exploring their wellness journey, or have been working on it for years."
We couldn't agree more! Take some more time to look back on some of the ground we've covered together this summer. Remember what you loved doing. Discover what you may have missed. Above all: take what you've learned this summer and keep applying it to your life at work and beyond it as we all look to finish 2019 strong!
---
---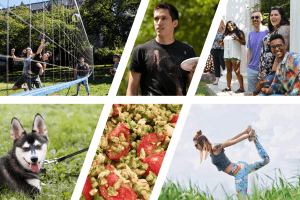 Summer Resource Guide — To start summer off right, we put together a guide of different resources from The Whole U that can give you a boost in whatever area of your life you're looking to improve. From training plans to kitchen quick reference guides, the guide is organized into three sections—being active, improving mental health, and eating well—to serve as a one-stop springboard to help you stay active, feel better, and grow stronger.
---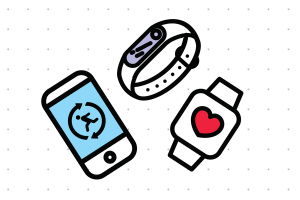 Favorite fitness apps and trackers — In any endeavor, tracking your progress as you go can be one of the best ways to stay on track. But where to start? Whether you're looking for something versatile and easy-to-use or something with more advanced tech to take your training to the next level, our guide to some favorite fitness apps and trackers will get you where you're going—with a bevy of insights, motivation, and workout variations.
---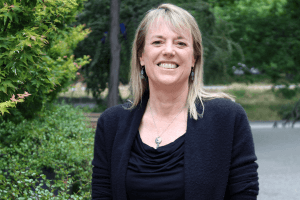 Spotlight: Lisa Brandenburg — We caught up with the chief health system officer for UW Medicine, who shared more about her passion for cycling as well as ways UW Medicine is making it easier than ever for UW faculty and staff to get the care they need, including a priority access line for faculty and staff at (206) 520-5050. "As staff or faculty of the University of Washington devoting so much of your time, energy, and life to this place, you should be able to get your healthcare here if you want to," she says.
---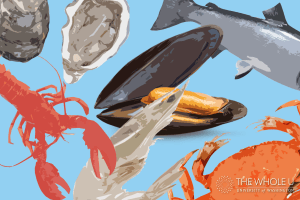 Eating Ethically: Sustainable Seafood — Registered dietitian Amanda Li wrote about the nutritional benefits of seafood that is sourced sustainably. Packed with protein and nutrients that add a healthy punch to any meal, seafood—which includes fish and shellfish—can be an integral part of any healthy diet. Amanda's insights and suggested resources can help you navigate the sometimes-choppy waters of eating well—and sustainably.
---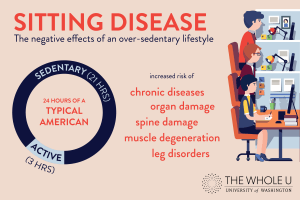 Sitting Disease — Summer is a great time to get up and about. But the typical American is sedentary for 21 hours out of the day. Including exercise and physical activity, people across the U.S. only spend approximately 3 hours out of the day on their feet. Learn more about this phenomenon, coined "Sitting Disease," and accompanying adverse health effects from Dr. Elliot O'Connor, DPT, UW Sports Medicine.
---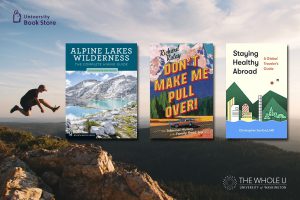 5 Globe-Trotting Good Reads From U Book Store — To encourage the UW community to get active, the U Book Store curated a list of great books for the great outdoors. From reflections on the classic American summer road trip to guides for staying healthy when traveling abroad, these recommendations are geared to getting you active and making the most of the beautiful natural surroundings inherent to the state of Washington.
---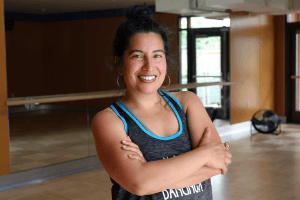 Spotlight: Dalya's Dance Crew — What a host of UW staff, students, and faculty already knew, we shared with the wider community in our Spotlight story on Dalya Perez, a Ph.D. student who leads a twice-weekly Zumba-style lunch hour dance workout. Get inspired to take your lunch hour fitness to the next level by watching our video profile in which Dalya explains her motivation for being active at work and helping others do the same!
---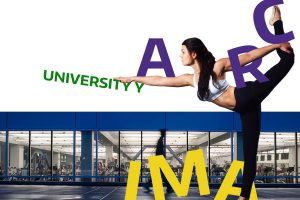 Guide to Tri-Campus Recreation — As part of our Raise the Bar summer wellness challenge, participants had a chance to explore the UW Seattle IMA, UW Bothell ARC Fitness Center, and UW Tacoma University Y on July 31 when all were open free. Whether you are searching for a place to swim, run, lift, climb, swing, dive, or rent equipment for your next adventure, you can find ways to stay active and get connected with our UW Recreation resource guide.
---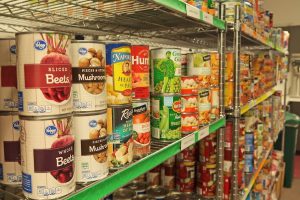 UW Food Pantry August Drive — Food insecurity negatively affects physical, mental and emotional health. Food is not only something people need to survive, but also something people share. That's why The Whole U hosted an August drive, to coincide with our Raise the Bar summer wellness challenge, for the UW Food Pantry. Together, UW surpassed our goal of donating 1,000 pounds of nonperishable food and other necessity items.
---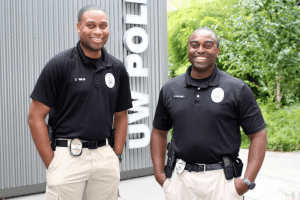 Spotlight: UWPD Community Outreach — We got to know Officers Smiles and Golden, who, since taking over UWPD's social media platforms in June 2018, have made waves with UW students as the masterminds behind a running series of memes. Learn how they are using social media to engage members of the UW community to make campus safer by spreading information and creating community connections where none previously existed.
---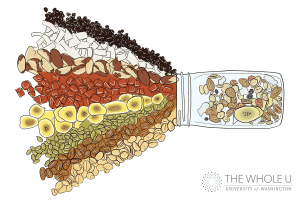 Building a Better Trail Mix — No matter what activities you do outdoors, it is important to always carry some healthy snacks. It is a shame to cut outing trips short just because there is a shortage of fuel and nutrients for your body. UW Medicine registered dietitian Jen-Wei Liu breaks down one of the most popular snacks—trail mix—explaining the benefits behind each component of this hiker favorite, while also providing a couple recipes to try out next time you hit the trail.
---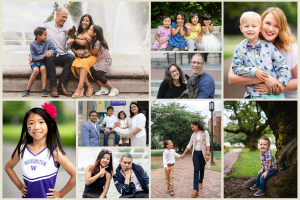 UW Photo Day 2019 — On Sunday, August 11, more than 2,300 Huskies turned up for The Whole U's annual UW Photo Day when faculty, staff, family, and friends can get free professional portraits from some of Seattle's best photographers. Amid snapping shutters, attendees made their way to their choice of eight campus locations. In between stops, they also took time to explore and appreciate UW's iconic grounds and gardens as well as enjoy games and activities.
---
Thanks for joining us this summer in any or all our Raise the Bar programming! We've already added a great slate of events for September and beyond. To see what's in store, head to our events page.
---