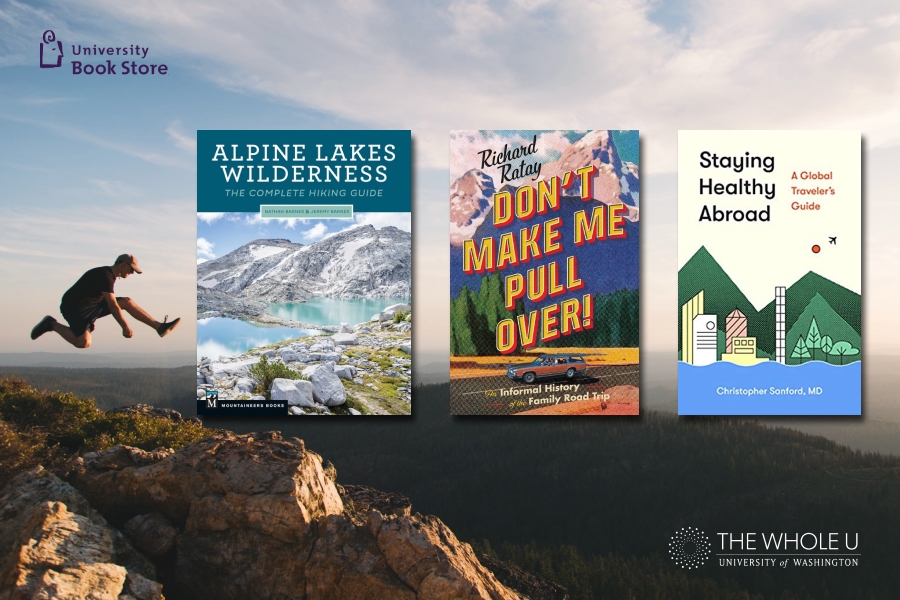 5 Globe-Trotting Good Reads From U Book Store
The famous Swedish director Ingmar Bergman was quoted by his daughter, Liv Ullmann, that it was important to go outside because "the demons hate fresh air." What better time than Summer, then, to let out the stale air from one's home and spirit with a little time outside. Whether just around the block, hiking the Alpine wilderness, or even across the globe, here are 5 great titles University Book Store recommends to make the most of your summer travels!
---
International travel can be an exciting adventure, a business requirement, a study-abroad opportunity, or a quick getaway outside the normal routine. However, the unprepared traveler may be exposed to diseases that can turn an unforgettable travel experience into an unforgettable travel experience.
Observing that risk is determined less by where you go than by what you do, physician and UW associate professor Christopher Sanford, MD provides succinct overviews and advice on how to prevent communicable diseases, malaria and other mosquito-borne illnesses, and travelers' diarrhea; avoid traffic and water accidents; and evaluate post-trip symptoms; and addresses many other concerns.
Staying Healthy Abroad also covers concerns unique to women, men, children, LGBTQIA+ individuals, and travelers with chronic illnesses. Sanford offers straightforward and easy-to-follow recommendations for those traveling for pleasure, study, business, or volunteer work, in destinations ranging from rural areas to large cities across the globe.
---
In the days before cheap air travel, families didn't so much take vacations as survive them. Between home and destination, there are thousands of miles and dozens of annoyances.
With his family, Richard Ratay experienced all of them—whether it was being crowded into the backseat with noogie-happy older brothers, picking out a souvenir only to find that a better one might have been had at the next attraction, or dealing with a dad who didn't believe in bathroom breaks.
Decades later—enough time to find humor and joy in those trips—Ratay reminds us of what once made the Great American Family Road Trip so great, including twenty-foot "land yachts," oasis-like Holiday Inn "Holidomes," "Smokey"-spotting Fuzzbusters, twenty-eight glorious flavors of Howard Johnson's ice cream, and the thrill of finding a "good buddy" on the CB radio.
---
Founders of the popular website and blog hikingwithmybrother.com, Nathan and Jeremy Barnes are avid hikers, UW graduates, and both live in West Seattle!
Engage yourself in Washington's Alpine Lakes Wilderness, a sprawling wonderland that harbors old-growth forest, glacier-dredged creek valleys, ice-sharpened peaks, wildflower-studded hillsides, and so much more. With more than 600 miles of trails and more than 700 sparkling alpine lakes and ponds, this treasured wilderness encompasses a lifetimes worth of mountain landscapes.
Alpine Lakes Wilderness: The Complete Hiking Guide features routes across the spectrum: longtime favorites like the fabled Enchantments, lesser-known trails such as the peaceful Deception Lakes, and ambitious backpacks like the striking tour of lake basins in the Chiwaukum Mountains. Hikers of all ages and skill levels will find trails to suit their taste.
---