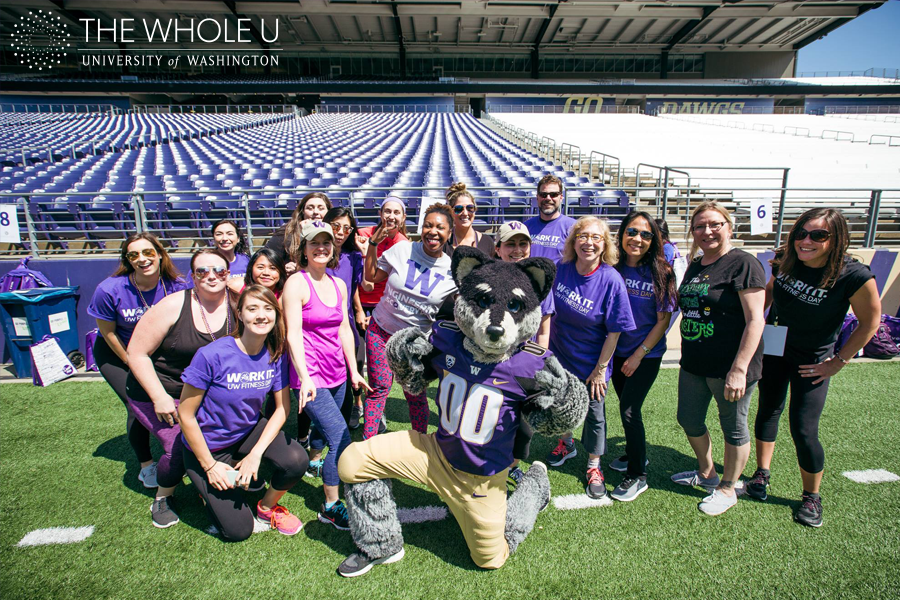 UW Moves Mountains in May
This May, the Whole U and faculty and staff across the University of Washington marked Global Health and Fitness Month, exploring and celebrating the many ways we move at work. We got things going in a big way early when more than 1,100 faculty, staff, and students convened at Husky Stadium for a fun workout at UW Fitness Day.
But that was just the start. So much more went down over the ensuing weeks that we wanted to make sure you didn't miss a beat. From skincare in the sun to salsa steps that break a sweat, here's your Whole U recap for the month that was!
UW Fitness Day
Experience the energy and enthusiasm of UW Fitness Day and get inspired to move on your own with the event's do-it-anywhere workout (find it at the bottom of the story). "Thank your body for giving you this opportunity to move," was the advice imparted by Bonnie Duran as she led the group in a mindfulness meditation exercise to conclude the event. "Savor this joyous event and hold your body in gratitude."
UW Fitness Day participants came packing shelf-stable, nonperishable goods to benefit the UW Campus Food Pantry. Together, we filled two giant tubs to the brim before the event was over. Check out our photo album for more!
Learning Happiness
On May 8, Tabitha Kirkland, Ph.D. presented a seminar on Learning Happiness as part of the Whole U Speaker Series. A Ph.D lecturer in the Department of Psychology, Kirkland shared tips on how to foster mindful awareness, social connections, and contribution to something larger than oneself.
"I really appreciated how well organized, logical, and scientific the information was," said Sonia Honeydew, a facilities specialist in Dean's Office of the College of Engineering. "I always appreciate being reminded and inspired to live my best life." Check out the slides from Dr. Kirkland's presentation here.
Dancing it Out
Our Latin Salsa Class with La Clave Cubana on May 15 was just a preview of the fun coming to campus summer at Seattle Cuban Dance Fest (book your specially discounted tickets here)! Over the course of an hour at the HUB Lyceum, participants got things shaking—learning four essential salsa steps and, by audience request, how to shimmy like a pro!
"[That] made me smile," said Wendy Gabrielle Katz, proof and production editor at the Foster School of Business. "I thought salsa would be more complicated; happy to find out it is—technically, anyway—within my grasp."
Aiding Animals
The same afternoon, we teamed up with the UW Combined Fund Drive to bring kittens to the UW Tower to support PAWS, an organization which has been serving the Greater Seattle community for more than 50 years by finding loving homes for more than 4,000 homeless dogs and cats and treating and rehabilitating for release back to the wild hundreds of species of wild mammals, birds, reptiles and amphibians each year. Together, the event raised $1,669 from 110 donors!
Protecting Your Skin
On May 18, Jennifer Gardner, M.D. presented a seminar on Skin Cancer Prevention. The assistant professor of Dermatology at the UW School of Medicine covered tips on how to prevent different types of skin cancer and answered commonly asked questions regarding supplements, safe tanning, and more.
"The information was presented in a very accessible way, but also included enough science to back up the recommendations," said Deborah Fishler, research manager at the Evans School of Public Policy and Government. "The experience of the presenter made it all the more impactful." Check out our recap and video of the whole talk here!
Celebrating Bike Everywhere Day
May 18 was a busy one. That morning, Huskies hopped in the saddle at the Lower Rainier Vista for Bike Everywhere Day Celebration in partnership with Transportation Services, UWPD, ASUW Bike Shop, U District Let's Go, and The Whole U!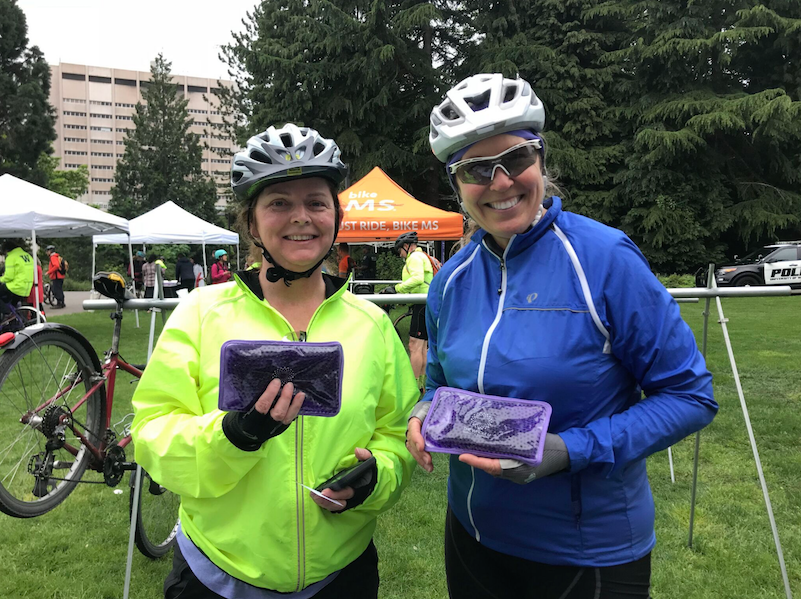 Preparing for an Earthquake
The same day, UW's Seismic Resilience Program Manager Stacie Louviere presented her latest seminar on Earthquake Awareness and Personal Preparedness. Learn more about the work of UW's Seismic Resilience Program and steps you can take here.
Articles you may have missed:
You've likely heard about the spice turmeric or seen it as an ingredient in products at your local grocery store, but what exactly are its benefits and how do you use it to cook at home? Registered dietitian Julia Marnadi provided answers in her article, Spice of Life: Cooking with Turmeric, including a delicious recipe for Turmeric Vegetable Fried Rice!
For even more summer-specific Whole U content, check out our Guide to Long Weekend Wellness, which includes links to recipes, activities, and more! If you're looking to kickstart your summer of fitness, we have you covered with these Seattle-area fitness discounts to help you stay committed to your goals.
Words to live by: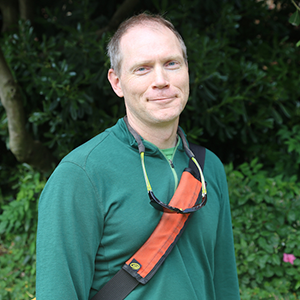 "I was trying to create something for the public. Public education and outreach is something I value very much. I do as much as I can to get the word out about what's going on—then the public becomes the people who are actually teaching others."
—Jim Gawel, associate professor of environmental chemistry and engineering at UW Tacoma's School of Interdisciplinary Arts & Sciences, on why he created the documentary Water Undone: The Efforts to Save the Puyallup River Watershed.
---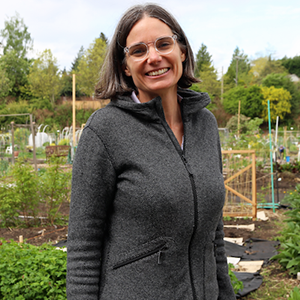 "There's a human experience in that relationship [with nature] that you will miss if you don't get out there. Missing out on the natural environment is like missing out on love. I feel very hopeful about my students in that respect: they get a piece of that. It's real to them."
—Amy Lambert, lecturer at UW Bothell's School of Interdisciplinary Arts & Sciences, on her emphasis that students get outdoors. For the past decade, Lambert has been working to conserve the Island Marble butterfly in San Juan Island National Historical Park.
---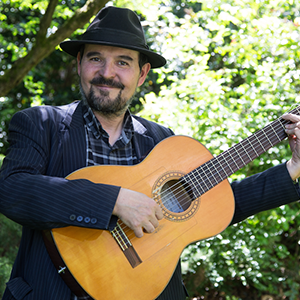 "We all keep that rhythm. You could have 500 people clapping along to two people dancing and playing guitar. Flamenco is a real communal style of music and dance."
—Ethnomusicology Visiting Artist Ricardo Garcia, a renowned Spanish-born flamenco guitarist who offered a sonic demonstration of the genre's different styles and his thoughts on music's role in creating—and connecting—communities across borders and over time.
---
We want to hear from you! The UW is for UW by UW so let us know who you'd like to hear from or what activities interest you. Get in touch at wholeu@uw.edu.