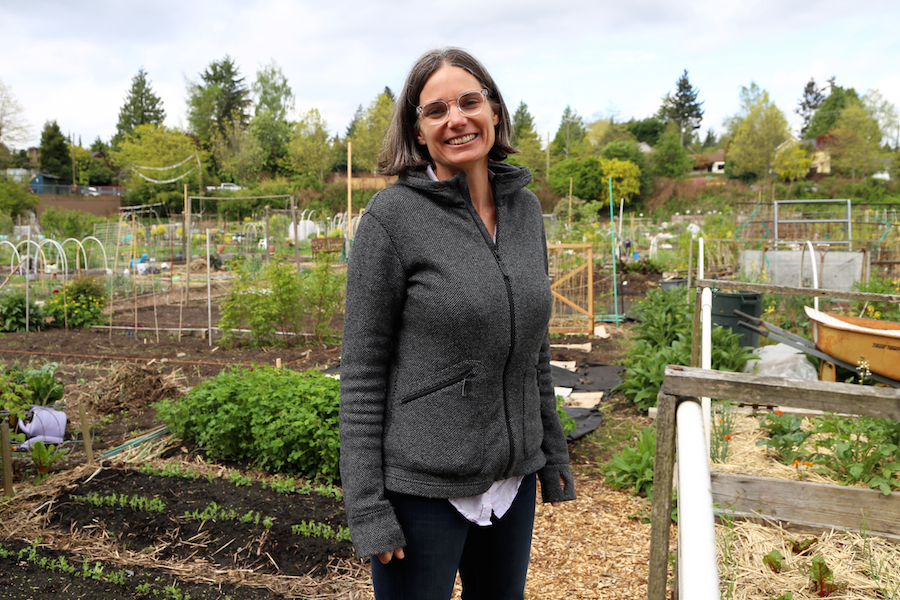 Faculty Friday: Amy Lambert
When Amy Lambert first set foot in Washington, she never imagined she'd one day return for a master's degree—let alone to devote nearly two decades to documenting and conserving one of North America's rarest butterflies.
At the time, Lambert was merely stopping through—a rising junior pursuing a BFA in Sculpture at Florida State University on her way north to work at a salmon cannery in Alaska. She'd spied the job in her local paper and applied with few other qualifications than a love of nature and a sense of adventure.
"For someone who'd only been east of the Mississippi, it blew my mind," Lambert says of Alaska. "It was so light all year round, the vegetation was completely different, the people I met were from all parts of the United States, and 12-hour shifts sliming fish gave me a real sense of what labor was."
On completing her BFA, she fell back on her cannery experience, moving from her hometown of North Port, Alabama to work canning beer at an Anheuser-Busch plant outside Atlanta. It was intended as a stop-gap position.
Just before she left, she'd submitted applications to work as an environmental educator at dozens of locations across the country, having put herself through college working as an educator in an afternoon program—but she was prepared to work canning beer for as long as was necessary. Nearly a year went by before the phone rang with an offer of an internship with the Parks Service at a place called Muir Woods.
"I said, 'Sure, that'd be great.' I got off the phone and, in an age before Internet, got out a map and said, "Where in the world is Muir Woods?'"
Turns out it was just north of San Francisco. Lambert packed up and moved across the country. Working on restoration projects her first summer as intern, she observed the way people were working together to restore ecological environments was not dissimilar from the sculpture installation work she'd pursued as an undergraduate.
"In the arts, it's all about owning—who did this, who made that—and these people were performing and engaging in the environment and then standing back from it at the end of the day and not 'owning' it," Lambert recalls thinking at the time. "I thought that was brilliant and committed to myself that I wasn't going to leave the art part of who I was just to pursue the sciences."
At Muir Woods, Lambert progressed from intern to contractor to seasonal worker to program manager—her interest in restoration ecology as artistic process growing all the while.
It would later lead her to the UW, where she was able to obtain her master's degree in restoration ecology under advisement of professor Kern Ewing while simultaneously working in conjunction with the public arts program in the Art Department to produce sculptures (some of which currently reside at Willapa Bay National Wildlife Refuge).
Arts and sciences
In 2010, Lambert's integrative practice of art and science came together in the form of The Pollen Balls project at the Presidio of San Francisco, part of the first National Parks Service commissioned artwork.
For the project, she devised giant wax pollen balls—each construct inscribed with "stories" gleaned from data collected by local volunteers in a survey of pollinators native to the park.
"The data—species names, weather and location data—was used to develop prose and inscribed in the wax," she says.
The Pollen Balls were then scattered at intervals throughout the park's native plant nursery—a visual reminder of the essential work of the otherwise unsung digger bee and other plant pollinators.
Lambert's is an art that's informed by science, and a science that is communicated through art. Today, she serves as lead faculty for the CCUWBee Research Initiative, a group of faculty, staff and students working across Cascadia College and UW Bothell campus to monitor native bees with a goal of creating a database and a photo archive of native bees on campus.
"The database will serve as an educational resource to students and provide baseline data," Lambert says. "We also work with staff and gardeners to create pollinator gardens that provide resources for native bees and opportunities for students to study the interactions between plants and pollinators."
Rare new world
What drew Lambert back to Washington a second time—even before she embarked on her UW graduate and teaching career—was a posting with the Parks Service at San Juan Island National Historical Park, which encompasses a rare slice of Pacific Northwest prairie along the island's southern edge.
"In the Pacific Northwest region, prairie plant communities or ecosystems are very rare and small, but there are pockets of them both in south Puget Sound and north Puget Sound," she says, adding that prairie ecosystems have long been intricately tied to human management.
"When the last glacier receded, it left Puget Sound and, in places where it left rubble or rock, the only things that could persist were grasses." As humans occupied those spaces, Lambert explains, they realized open-grass environments were important for foraging and other cultural resources.
"The prairies occupy a long-term historical place in time of a cultural ecosystem that is dependent on people and always has been. They had to manage them as open areas—[in some cases] they had to burn to prevent trees encroaching."
"All the plants, animals, and insects present in those environments have all adapted to human presence."
If humans have long had a hand in the ecological management and preservation of prairies, Lambert has made her mark as well, working to conserve the island's dwindling population of Island Marble butterflies—the subject of her Ph.D. thesis in Conservation Biology.
Thought to be extinct since the early 1900s, it was "rediscovered" on San Juan Island in the late 1990s.
Lambert became one of the first scientists to formally study it—a case, she says, of finding herself "in the right place at the right time." Today, its population is limited to around 200 individuals. "For an insect, that's crazy," Lambert says. "I've been on the project long enough to see the distribution shrink to one particular site."
Lambert's and other researchers' efforts to conserve the rare species include captive rearing—capturing butterfly eggs and rearing caterpillars until they are butterflies ready to be released into the wild—and planting more resilient non-native plants that better support the insects.
In 2017, more than 100 captive-reared butterflies were released onto the upland prairie where they found mustard grasses planted by Lambert as a means of providing a source of food and shelter as the prairie's native plants come under threat of tidal flooding from rising sea levels.
As a lecturer at UW Bothell, Lambert says she wants to ensure her students get a taste of that type of fieldwork as well.
"Teaching is reciprocal for me—I genuinely learn from students," she says. "Prairies are one of these ecosystems I think are really important for students to be exposed to."
The two courses Lambert currently teaches are both field-based: "What's the Buzz: Urban Bee Behavior Studies" and "Introduction to Restoration Ecology." In both, students spend the quarter visiting various sites in the region—from the UW Bothell wetlands to lowland forest and prairie ecosystems.
"There's a human experience in that relationship [with nature] that you will miss if you don't get out there," Lambert says. "Missing out on the natural environment is like missing out on love. I feel very hopeful about my students in that respect: they get a piece of that. It's real to them."
---
Amy Lambert holds a B.F.A. Visual Arts Florida State University and an M.S. Restoration Ecology and Ph.D. in Conservation Biology from the University of Washington. This past April, she was a recent recipient of UW Sustainability's ninth annual Husky Green Award.