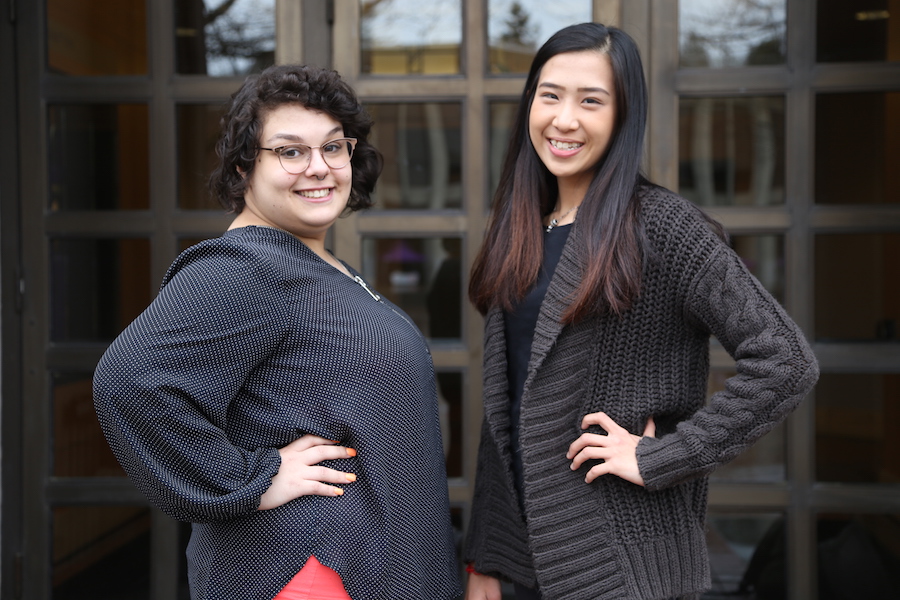 Support UW Campus Food Pantry at UW Fitness Day
Because fitness is about finding what fuels you, The Whole U is partnering with Any Hungry Husky / UW Campus Food Pantry for UW Fitness Day. Register to participate and bring a nonperishable, shelf-stable food item to Husky Stadium on Wednesday, May 2 to help sustain and grow this service vital to community health and wellness.
---
When hunger hits, it strikes far deeper than you might think. It gnaws from within with that draining, distracting pang, yes, but also frays the fabric of communal bodies from without: curtailing people's ability to connect and reach their full potential—with their work, their life pursuits, and their relationships with one another.
With a rising cost to living, working, and studying in the Seattle area, people are increasingly being forced to make financial choices that can lead to states of food insecurity—the state of being without reliable access to a sufficient quantity of affordable, nutritious food. That's why in 2016 a multi-departmental UW task force developed Any Hungry Husky: a suite of resources that help to reduce hurdles for students in their pursuit of a degree.
A part of that effort, UW Campus Food Pantry was launched in October 2016 as an on-campus resource that provides low-barrier access to nutritious and culturally relevant food to any students, staff members, or faculty who might find themselves in need.
"Part of what we're trying to do in the short term is alleviate hunger and the stress that comes with not being able to afford groceries because you're having to pay for living in Seattle," says Melodie Reece, Any Hungry Husky's Program Management and Communications intern.
Approximately 73% of the 400 shoppers who made use of the pantry in the last year live off campus.  Rents across the region rose 48 percent from 2012 to 2017, adding an extra $550 a month to a typical renter's bills according to The Seattle Times.
Any Hungry Husky operates on a pop-up basis, hosting a pantry at locations on UW's Seattle campus every two weeks—most often at the HUB and the Ethnic Cultural Center.
The Any Hungry Husky team also takes appointments for people who can't get to the pop-ups or who need food in the interim. Anyone with a Husky Card can make use of the service.
Though other food resources exist throughout Seattle, Reece notes there is a considerable difference between shopping amongst peers at a university versus a local food bank.
""Students have largely been receptive to our pop-up pantry model," Reece says. "A number of student shoppers have noted our judgment-free setting—this feeling is garnered by the dignifying experience that we strive to provide."
She describes the Pantry as a grocery-style shopping experience. "We usually have 8 to 9 categories [students can select a certain number of items from] ranging from canned fruits and vegetables to toiletries and household products."
In its 2016-17 pilot year, 400 shoppers visited pantries a total of 640 times. Each visit provides shoppers with approximately $25 worth of food to supplement 4-5 days of an individual shopper's diet. An estimated 700 additional family members, roommates, and others were also impacted as a result.
At checkout, volunteers bag the items and have shoppers fill out a short survey so the pantry can learn to better serve their needs. But even with this data, it can be difficult to anticipate what the need will be from week to week.
"We can never really predict how many people are going to show up at each pantry," says Sophie Win Htet, the Campus Food Pantry coordinator, who manages the daily operations of the UW Campus Food Pantry including volunteer engagement. "It's very much a balancing act."
Immediate need, immediate impact
While the 2016-2017 pilot year for the Campus Food Pantry reached hundreds of hungry Huskies, only ~1% of UW students took advantage of the program. National data indicates that 10-20% of college students experience food insecurity on a monthly basis.
But in order to expand its reach, the first step is to become more efficient in food procurement. The more food the pantry has on hand, the easier it is to flexibly accommodate those who currently shop at the Pantry as well as expand the service to others in the community who might be experiencing insecurity of their own.
In its first full year, UW student groups, offices, and departments have chipped in, holding 43 donation drives which collected 4,000+ pounds of donated food worth $11,000. Housing & Food Services hosted a cooking demo and taught shoppers to cook well-balanced recipes with ingredients available through the pantry. Bay Laurel Catering provided hot soup at one pantry and 15 fresh grab-and-go items, while UW Farm provided fresh produce, including spinach, carrots, and parsnips at three pop-up pantries.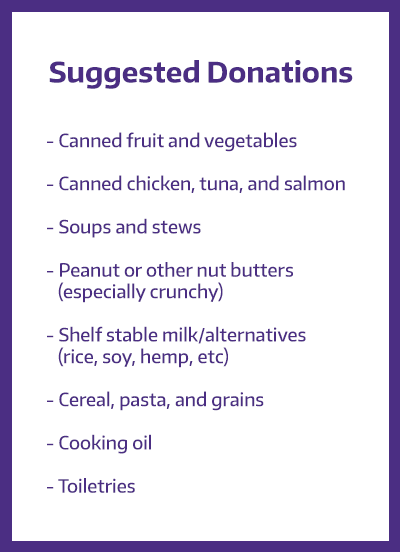 The efforts and inputs in the program's pilot year have been far reaching, but for Reece, her work at the pantry resonates most on a personal level.
"I was food insecure growing up. I was also an undergrad here at UW and remember having to utilize the U District Food Bank a few times just because that's where I was."
The opportunity to work as a part of Any Hungry Husky and Campus Food Pantry arose as Reece was returning to campus for graduate work at the Evans School of Public Policy and Governance, where her focus will be on education policy and student success.
"It meets all the boxes of giving back to a community that I live for and love and that I was a part of," she says. "That personal connection was really important to me. It feels really good to help someone in a tangible way that you can see the immediate impacts of and also longer term impacts."
That immediate impact is also what sophomore Sophie Win Htet finds so rewarding about her work with the Pantry.
"People are going to take these items home to make a whole, hearty meal," she says. "That is a direct, positive impact you can make on the community."
A good meal goes a long way—relieving hunger and the stressors that accompany it in the short term, but also leading to more far-reaching outcomes: giving someone the ability to cook a substantive meal at home compounds to help whole communities grow stronger, more secure, and ultimately more successful.
Reece relates an anecdote about a shopper who was also a long-distance runner, but since starting grad school, had to stop running because they didn't have enough money for the food it takes to sustain a body that's exercising.
"It's so easy to fall into temporary poverty and that could easily be anyone," Reece says. "It's true for people who are studying, for people who are doing sports, for people who are just living. I think people should donate because it's a real investment in students and in other staff members."
"By donating, you're investing in your community and in yourself."
---
To learn about upcoming dates, times, and locations for pop-up pantries, visit the UW Food Pantry Facebook page. Students and staff who are interested in volunteering may fill out this interest form online. To donate food, you can drop off items at the Ethnic Cultural Center front desk, Monday-Friday from 9 am through 5 pm.
To make a monetary contribution, you can visit the giving page and make a gift to the Husky Hunger Relief Fund. The Husky Hunger Relief Fund helps stock and sustain the Campus Food Pantry, and supports other food security initiatives on campus. A $25 donation provides 4-5 days' worth of food for one UW community member.