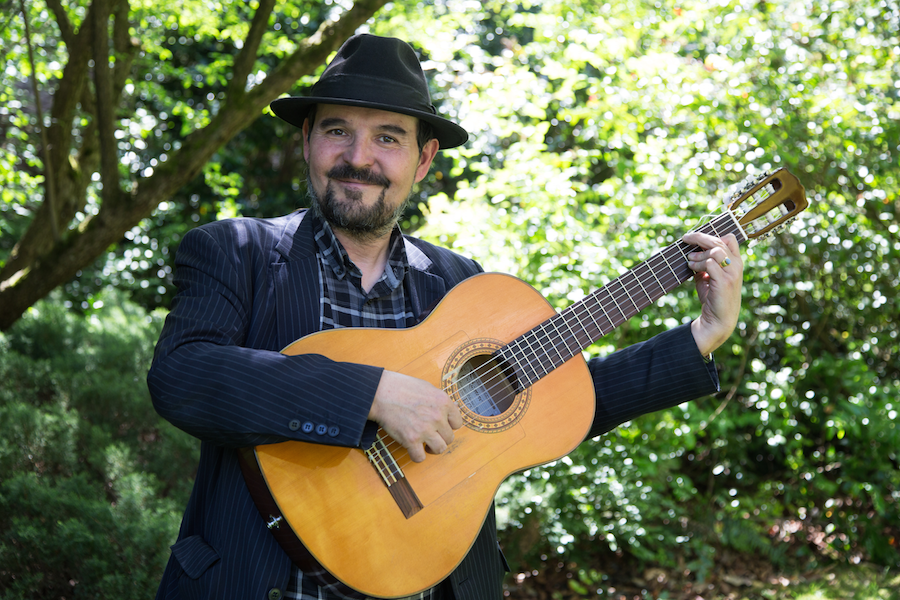 The energy and ecstasy of Flamenco comes to UW
A few minutes into my conversation with Ricardo Garcia and it's clear he prefers to let his guitar do most of the talking.
Perched on a chair in an office in the Music Building, he plucks out series after series of palos, the stylistic and geographic variations of his chosen art form, flamenco. Like Garcia, it can trace origins to southern Spain, but has found devoted fans at all corners of the world.
It's May 3, a Thursday—the last day of Garcia's term as Ethnomusicology visiting artist at the University of Washington. When Garcia does speak—in between riffs on a guitar that looks just how you'd imagine a guitar might look if it had traveled four continents—he talks less about himself or his music, but of the nine UW students he's been training daily for the past three weeks. In a few hours, he'll cap his residency by taking the stage at Brechemin Auditorium for a special performance alongside them. The only catch? Before commencing lessons with Garcia less than a month prior, six of the nine had never picked up a guitar.
"I'm very proud of the students I've been teaching for this time here and the fact they will all perform on stage," Garcia says in advance of the performance—just one of more than 30 this May at the UW School of Music. "I've calculated each student received about 20 hours of pure teaching on top of all the many hours of practice they've put in."
Garcia says the driving idea for the performance is for flamenco to be a thread—one that not only links performance styles and musical genres, but also brings together people and place. It's a thread Garcia followed from a young age, leading him to perform as far afield as Scotland, Malawi, and India—and, most recently, Seattle.
Born in Andalusia, Spain, Garcia moved to France with his family as a child during the Franco era. When they packed their bags, they took their flamenco traditions with them. Garcia says it was a way for his family "to hold onto its roots." He learned to play guitar from his uncle Antonio and before long was accompanying his mother, the singer Maria del Carmen, at concerts.
---
---
Flamenco fuses various folkloric music traditions of southern Spain, comprising cante (singing), toque (guitar-playing), baile (dance), jaleo (vocalizations), palmas (hand-clapping), and pitos (finger-snapping). It was originally performed in private gatherings such as weddings, often by the region's poorest communities. About two hundred years ago, it began to coalesce into a more formal tradition and has since spread and found popularity in all corners of the world.
That popularity, Garcia says, is a function of the fact that flamenco finds its origins at the cultural convergence point of Andalusia where, for centuries, Christian, Jewish, Muslim, and Romani cultures mixed and intermingled at the mouth of the Mediterranean in a confluence of musical traditions.
Different forms of flamenco will vary widely, even town by town, with more than 50 different palos (styles) that can be classified by rhythmic pattern, mode, chord progression, stanzaic form and geographic origin. Some are only sung, some only strummed, but all are the product of communities coming together generation after generation to generate a form of music that moved them.
As Garcia carries his own music into the world, it too is ever-evolving like the palos of old—influenced by eight years he spent living, teaching, and performing in Malawi, Africa as well as by collaborations with everyone from an Indian sitar and tabla player to Scottish and American folk musicians. For Garcia, the "authentic flamenco" of today is as global in its influences as its ever been—perhaps more so as its formative elements (Indian, Arabic, African, South American, Caribbean) continue to flirt with modern influences such as Jazz, Latin Jazz Bossa Nova, Salsa and others.
---
---
But even with its global reach, flamenco remains a community-centric and community-driven art form. Wherever Garcia and his wife, Julie Gunn, travel, they make a point of playing in the communities to emphasize that—even if their main gig is at an embassy.
"We take what we do to people who normally might not get to see it," says Gunn (a talented vocalist in her own right who also serves as Garcia manager) of their outreach efforts abroad, which typically take the form of children's music workshops.
"We normally set out a workshop where people learn the hand-clapping—that means you're in a circle with everybody and we get people to learn arm movements, footwork, so you have this sense that you are in a community," Garcia says, adding that flamenco is all about evoking an atmosphere of conviviality held in common.
"It's a thing you can share because we all keep that rhythm and, on top of that rhythm, the dancer is going to do some crazy stuff, the guitarist is going to play something truly unique," he says. "You could have 500 people clapping along to two people dancing and playing guitar, so it's a real communal style of music and dance."
Another important aspect of flamenco are the shouts of encouragement directed at musicians and dancers during a performance—an occurrence Garcia says often comes as an ecstatic, unbidden outburst on the part of audiences and participants who feel compelled to cheer in the atmosphere created by the musicians, dancers, and singers.
At the concert performance at Brechemin Auditorium later that evening on May 3, several such whoops and exclamations could be heard to pierce in the warm night air as UW student guitarists burst into their final number, a Rumba improvisada performed alongside all percussion and dancers present, including UW associate professor of Ethnomusicology Shannon Dudley on steel pan, before the concert concluded to rapturous applause.
What did it mean to Garcia to see all nine of his students capably carry a program that called for them to play in several styles of flamenco guitar—first all together, then in pairs? He says all credit goes to students' hard work and willingness to bring their own selves and confidence as instrumentalists to the table to try something that, for the majority of the group, was entirely new.
"It was a real joy to teach nine very committed students and enjoy the beauty of the people and place and all these possibilities," Garcia says. "Great thanks to University of Washington."
---
The show's hardly over! From studio recitals and gospel choirs to ensemble performances and opportunities to "Meet the Artist," there are more than thirty UW School of Music events throughout the rest of May! There's something to suit every musical taste—and fit every schedule—so don't miss out! Learn more about Ricardo Garcia and his band, Flamenco Flow, here.