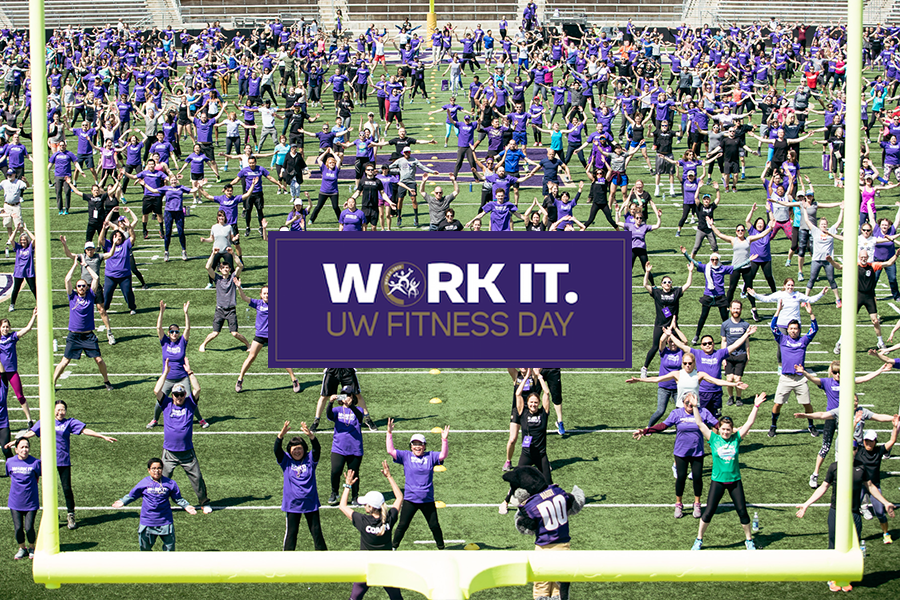 1,100+ Make History at UW Fitness Day
"Thank your body for giving you this opportunity to move.
Savor this joyous event and hold your body in gratitude." —Bonnie Duran
Last Wednesday, the "Greatest Setting in College Football" was setting to something never before witnessed in University of Washington history. Beginning at 11:15 am, more than 1,100 University of Washington faculty, staff, and students flooded onto the field at Husky Stadium for the largest group workout ever held at the UW.
The workout got underway at noon as groups cycled through a 45-minute, exercise station workout led by coaches from UW Athletics, UW Recreation, and Whole U fitness discount partners before concluding with a 5-minute mindfulness meditation led by Bonnie Duran of the UW School of Social Work.
Held in recognition of Global Health and Fitness Month, UW Fitness Day offered participants a chance to explore many different forms of movement ranging from cardio bursts and strength training exercises to tai chi and salsa dancing. Coaches at each station had modifications available so that participants could do as much movement as felt comfortable.
Everyone was welcomed to take the field by Mindy Kornberg, vice president of UW Human Resources, who underscored the importance of promoting wellness in the workplace and engaging people of all fitness levels to connect with each other in celebration of community and the benefits of being active.
"We're trying to show people that you don't need to have equipment to exercise," said Lauren Updyke, assistant director of The Whole U, in an interview with The Daily before leading the assembled multitude in a series of warmup exercises from a small dias in the stadium's far end zone (Harry the Husky did his best to keep up at first before quickly finding his groove).
Let's head down to the field for a closer look at the action!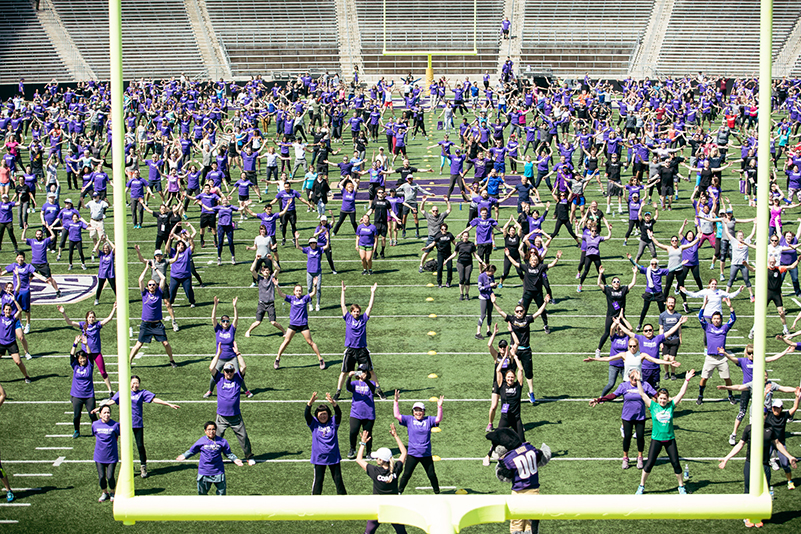 Checkout more photos on our Facebook page with more of your submissions being posted daily! If you haven't already, share your own Fitness Day photos with us on Twitter and Instagram using #UWFitnessDay and we'll send you a workout headband courtesy of Bondi Band!
Below, we've listed the day's complete circuit training workout so you can continue to workout anytime, anywhere on your own! It couldn't be easier: do each exercise for 30 seconds with 45 seconds rest in between.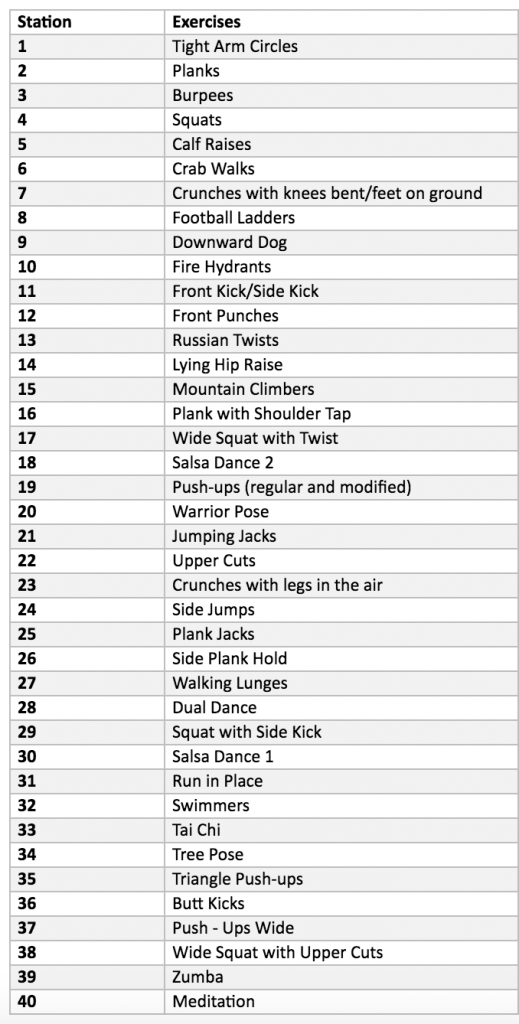 Here's what a few of the 1,100+ participants had to say about about their Fitness Day experience:
"Outstanding coaches. This was such a fun experience overall!"
—Grace Yeh-Eun Lee, Computer Operator I, UW Medicine IT
"This is an event I am seeing make an impact on people."
—Ajay Jajodia, Senior Fellow, Medical Genetics
"This was GREAT. So fun to get together with colleagues and get active. I know a lot goes into putting this event on, but it would be great to have a big event like this every May and September (best weather)."
—Meghan Herman,
Human Resources and Operations Manager, Global Health
"Hats off for organizing this—that's a lot of people to move around! I appreciated coaches' and volunteers' energy and enthusiasm and it was nice to get outside midday."
—Kristin Ludwig,
Affiliate Assistant Professor, Earth & Space Sciences
"Love the additions of Tai Chi, Zumba, and the meditation to end things—very nice! Lovely time!"
—Elonna Lester, Grants Manager, Principal Accts
"Thank you Whole U team for this important event! I wish that there were more resources so this kind of fitness break and team-building activity could happen at least once a month!"
—Layla Taylor,
Program Manager, Community-Based Learning and Research
"This was tremendously fun, a good workout, and a real lift to the week. I've participated in many of the Whole U events and have always come away grateful to be part of the UW community. Thank you for another great Whole U adventure—I can't wait for the next one!"
—Stephanie Kirschner,
Database Developer, UW School of Nursing
---
A very special thanks to our fabulous Fitness Day sponsors and partners who helped make this epic event possible:
To all who showed up to work it with us, thank you as well! We loved seeing you and hope you will join us at more of our upcoming events. If you have suggestions for future events, please get in touch with us by emailing your ideas to wholeu@uw.edu.