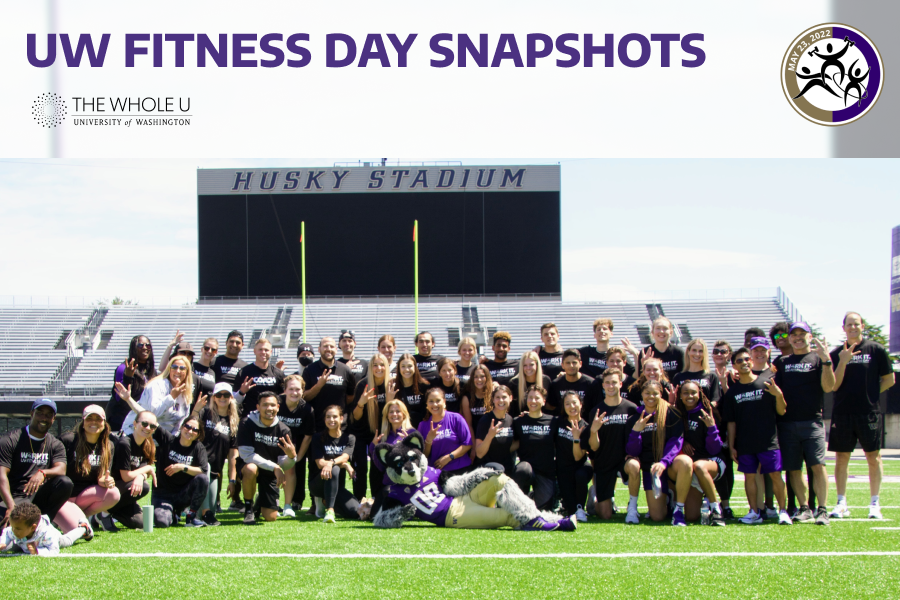 UW Celebrates First In-Person Fitness Day in Three Years
How do you like to move? Whether it's planks, pushups, squats, sit-ups, burpees, yoga, jumping jacks, tai chi, Zumba, high interval cardio bursts – or all the above – UW's first in-person Fitness Day since 2019 had something for everyone.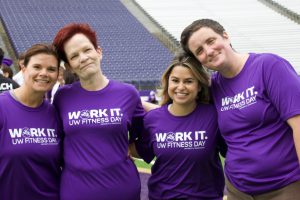 An annual event held in May in recognition of global health and fitness month (suspended during the pandemic), UW Fitness Day is a unique, campus-wide opportunity to explore various types of movement while celebrating wellness.
Held at Husky Stadium, UW Bothell's recreation center, the Tacoma YMCA and Harborview, participants of all fitness levels were welcomed and encouraged to personalize the workout to their own needs.
Fitness day provides opportunities to connect with colleagues and members of the UW community in an out of the ordinary context: participants move through the circuits together in small groups, developing a sweat and new connections along the way.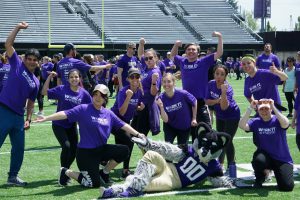 "After years of not being able to gather in person due to the pandemic, I am thrilled to see employees and students come together in community once again," said Mindy Kornberg, UW vice president for Human Resources. "UW employees across campus and our medical centers work extraordinarily hard and this event is the epitome of centering employee well-being at work."
---
What participants had to say:
I absolutely loved UW Fitness Day. It helped me get out of the hospital walls for an hour and just participate in a very encouraging, positive, and healthy activity. It gave me energy and motivation for the rest of the day.
I was worried I was too out of shape for the event but every coach was great and accommodating to all fitness levels and doing it in such a large group helped eliminate that fear! Great event! Can't wait for the next one!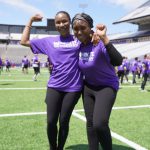 I was hired at UW the beginning of the 2019-2020 academic year, and have spent most of my time remote and working with my direct staff. UW Fitness Day was the first time in three years I was referred to as a "Husky," and I got to meet up with friends I do not work with but are also UW employees for a fun day at Husky Stadium. Thank you so much, I'm feeling proud to be a part of this university!
This was a great event! It was just the right amount of exercise to confirm what I already knew: I am out of shape and it's time to get back in the saddle! Thanks for the whole experience, from seeing the stands from a field point of view to the enthusiasm of the coaches, the volunteers and everyone else involved!
The atmosphere had a very good vibe and I enjoyed every minute of it – even the out of breath moments! Hopefully this will be renewed next year, and I hope to see the green of the field turn into a solid purple of UW t-shirts.

Coach Hopkins was the highlight of the day! His enthusiasm, Husky spirit, and engagement with us was so much fun! He brought so much energy to each group and made us feel like real Husky athletes!!
Everyone was so nice! The volunteers and coaches were very kind and encouraging and it was wonderful to be in that environment.
The emails, reminders, getting inside the stadium, greeters, event organizers, exercise coaches/trainers, UW Mascot + assistant and organizers are ALL AMAZING! I learned so much and I will definitely incorporate the exercises I learned.
I love the station to station style of coaching. Very motivational! I love the t-shirt! My co-workers and I enjoyed it so much that we will do it again next year. YOU ARE ALL AWESOME! THANK YOU SO MUCH!
A special thank you to our event sponsors: AT&T, UW Medicine and BECU.
---
Meet the coaches
Volunteer coaches from UW Athletics programs, UW recreation programs and community wellness partners offered their time and talent to lead hundreds of staff, faculty and students in a series of 45-second strength training, cardio bursts, active recovery and yoga circuits.
Learn more about our fitness day coaches: Meet Your Coaches Part I, Meet Your Coaches Part II, Meet Your Coaches Part III, Meet Your Coaches Part IV and Meet Your Coaches Part V.
Thank you to Barre3 Ballard, See Me Wellness, La Clava Cubana, Barre3 Covington, Fremont Health Club, Karen Cornelio Zumba, Bespoke Treatments Physical Therapy, Upbeats Fitness, High Fitness, Aaliyah Earvin, NW Fitness, UW Sports Medicine, RowdyBox Boxing, Pure Barre Seattle, UW Recreation, Tacoma Center YMCA, and Chinese Wushu & Taichi Academy LLC for partnering with The Whole U for this event!
---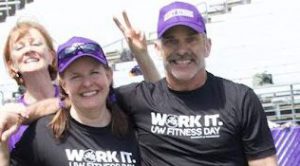 Dan Druliner and Melissa Maxwell are our dynamic coaching duo from UW Marketing & Communications where Dan is a web developer and Melissa is a graphic designer. They worked a core station.
Dan is a certified yoga instructor at Pranify Yoga Greenlake and Melissa is a competitive rower with Green Lake Crew.
---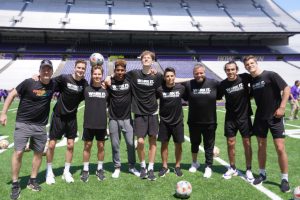 UW Men's Soccer and Head Coach Jamie Clark had teams working on fast feet during fitness day.
Follow UW Men's Soccer on Twitter @UW_MSoccer and Instagram: UW_msoccer
Take advantage of The Whole U discount on Youth Summer Camp with Washington Soccer Academy this summer on the UW campus!
---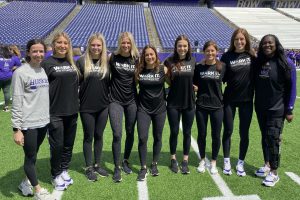 UW Women's Soccer and Head Coach Nicole Van Dyke had teams working on cardio quick feet during fitness day.
Follow Coach Van Dyke on Twitter @coachvandykeuw and @UW_WSoccer
Take advantage of The Whole U discount on Husky Day Camp with UW Women's Soccer Team this summer at the UW campus!
---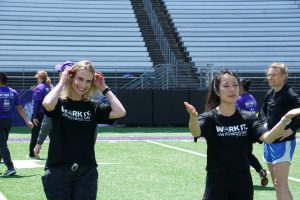 Physical therapists Jamie Murphy (left) of UW Sports Medicine and Melissa Garcia of Bespoke Treatments on First Hill had groups holding a 45-second plank on the field with alternating legs.
Learn more about Bespoke Treatments and the UW Sports Medicine clinic at Husky Stadium.
---

Katie Lyden is an instructor and the community manager at barre3 Ballard. Groups at her station spent 45 seconds doing squat pulses!
Take advantage of The Whole U discounts on barre3 classes and packages!
Follow barre3 Ballard on Instagram @barre3Ballard or on Facebook
---

UW Men's Basketball Head Coach Mike Hopkins was an exuberant member of the coaching team at Fitness Day, leading a station of hard "core" exercises and winning the unofficial award for most enthusiastic.
Follow Husky Men's Basketball on Instagram @uw_mbb or Twitter @UW_MBB
Learn more about Husky Men's Basketball.
---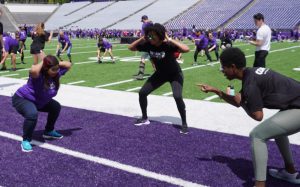 Aaliyah Earvin (center) is a movement and run coach and Adia Callahan (right) is a wellness coach and Founder of See Me Wellness. Aaliyah and Adia's station worked on mastering the perfect squat at Fitness Day.
Follow Adia's wellness journey on Instagram @seemewellness or Facebook @seemewellness!
Follow Aaliyah on Instagram @confidentaaliyah or Facebook @confidentaaliyah
---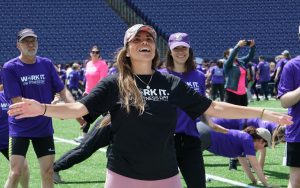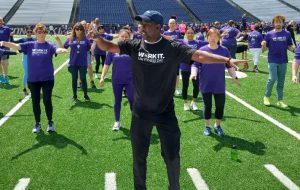 Daniela Gallardo and Reinier Valdes  are dance instructors with La Clave Cubana in Seattle.
Follow on Facebook @LaClaveCubanaSeattle
UW faculty, students, and staff can take 20% off on the latest 2022 dance class series through The Whole U discount at La Clave Cubana!
---

UW gymnastics assistant coach Jeff Langenstein led a jumping jacks station that incorporated three dynamic styles of jacks into 45 seconds of movement.
Follow UW Gymnastics on Instagram @UWgymnastics
Learn more about UW gymnastics! 
---

Jenny Wyeth (left, in black shirt) and Maya Hutchinson (center, in black shirt) are instructors at Rowdy Box Boxing and PureBarre Seattle. They worked an upper body combo station at fitness day.
Take advantage of The Whole U discounts at PureBarre Seattle. Follow Jenny on Instagram @jenny.wyeth.
---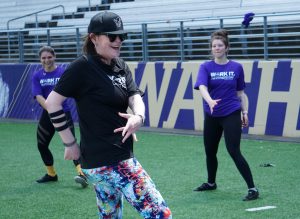 Karen Cornelio has been a licensed Zumba Instructor since 2013 and with UW Recreation at the IMA since 2016. She also has a career as an engineering consultant, so virtual fitness is strangely familiar for her.
Follow Karen at karencornelio.zumba.com or on Instagram @corneliok, where she posts a clip of #thisweekinclass.
Get a Rec Class Pass and access to unlimited weekly yoga and meditation classes throughout campus.
---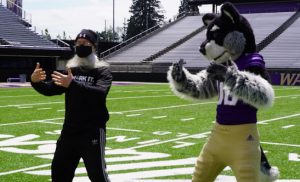 James Guidon has been teaching Yang Style Taichi since 1993; nineteen years with the Chinese Wushu and Taichi Academy. He is currently a student of Master Yijiao Hong and has been since 1997. James led a traditional Tai Chi station at Fitness Day.
Learn more about Chinese Wushu and Taichi Academy here. 
---

Bryan Hill is a post-transplant nurse at UW Medical Center – Montlake and an American Ninja Warrior who lives with Early-onset Parkinson's Disease. He worked a push-up station at Fitness Day and helped lead the warmup.
Follow Bryan's journey on Instagram @Fox_ninja_C
People of UW profile: For nurse Bryan Hill, movement is medicine
---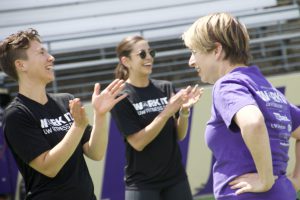 Danika Drugge (left) is a group fitness instructor for UW Recreation. Jackie Rea (center) is a personal trainer and fitness instructor at Upbeats Fitness who loves tacos. Danika and Jackie rocked a cardio station at Fitness Day.
Follow Jackie on Instagram @Upbeatsfitness or @sunreafitness.
Take advantage of The Whole U discounts at Upbeats Fitness or get a Rec Class Pass and access to unlimited weekly yoga and meditation classes throughout campus.
---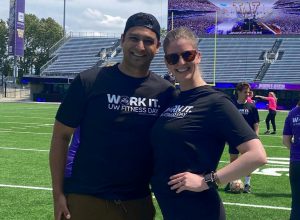 Erin Anderson (right) is the owner of barre3 Covington and has been teaching barre3 for five years, along with her business partner and husband, Rajah (left). As a UW graduate, she is proud to reconnect with a community that has given her so much. Erin and partner worked a squat pulse station at Fitness Day.
Learn more at barre3 Covington  or follow on Instagram @barre3covington
---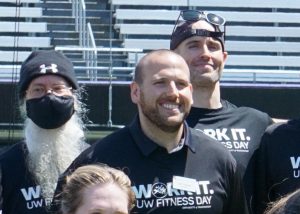 Jeff Palmer (center) is a 13-year veteran of the fitness industry and the fitness manager for UW Recreation.
At the age of 13, Jeff lost 127 pounds with the help of a personal trainer. Jeff worked a core station at Fitness Day.
Get a UW Recreation Rec Class Pass and access to unlimited weekly yoga and meditation classes throughout campus.
---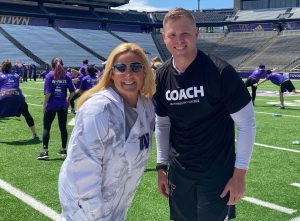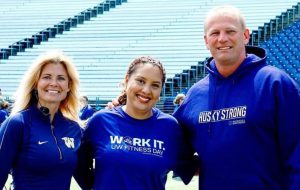 UW Football, including Chief of Staff Aaron Knotts (left photo, with UW Athletic Director Jen Cohen) and Head Coach Kalen DeBoer (right photo, with The Whole U Director Lauren Updyke and Professor Alexes Harris) helped get the crowd pumped up during the warmup.
Learn more about UW Husky Football!
---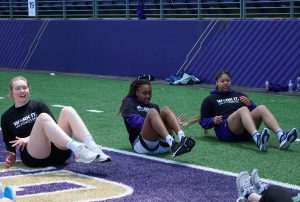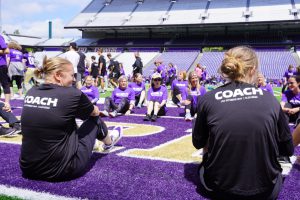 UW Women's Basketball worked a core station doing Russian twists at Fitness Day.
Learn more about UW Women's Basketball! 
---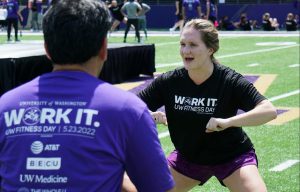 Katie Edwards is an instructor at High Fitness in Seattle.
Katie rocked a backward lunge and squat station on Fitness Day.
You can find Katie on Instagram @highfitkeds
---
Get in the Game
This year's Fitness Day included a fundraising and registration goal for Be The Match, the nation's largest registry of bone marrow donors. A donor registration event took place on Red Square following Fitness Day, intended to increase awareness of its marrow and stem-cell donor registry and encourage students to sign up for the registry.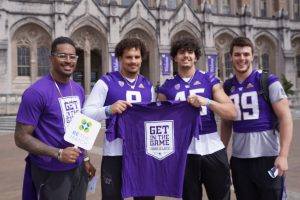 UW athletes led the peer-to-peer education effort with Football, Men's Basketball, Women's Basketball, Men's Soccer, Women's Soccer, Cheer and Dance, and Track teams participating.
Alexes Harris, UW professor of sociology, was the catalyst for the registry event. Six years ago, Harris was diagnosed with a form of leukemia that required a bone marrow transplant – but she couldn't find a match, because of the lack of people of color on the registry.
Harris participated in a clinical trial at Seattle Cancer Care Alliance and had a cord blood transplant that saved her life.
Watch: Alexes Harris draws attention to low representation of people of color in bone marrow registry
"I work with Be The Match in the name of people who did not find a match and were not able to live," Harris said.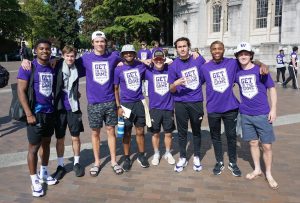 To date, 108 UW donors have pledged $1,640 to support Be The Match, and student volunteers signed up 462 donors to the registry.
Although the official Be The Match and UW partnership is the first of its kind, Get in the Game (GITG) is not a new concept. Created by Coach Tally of Villanova University, GITG is a nationwide series of events hosted by university football teams.
The mission of GITG is always the same: spread the word about Be The Match and show students the impact they can make by joining the registry.