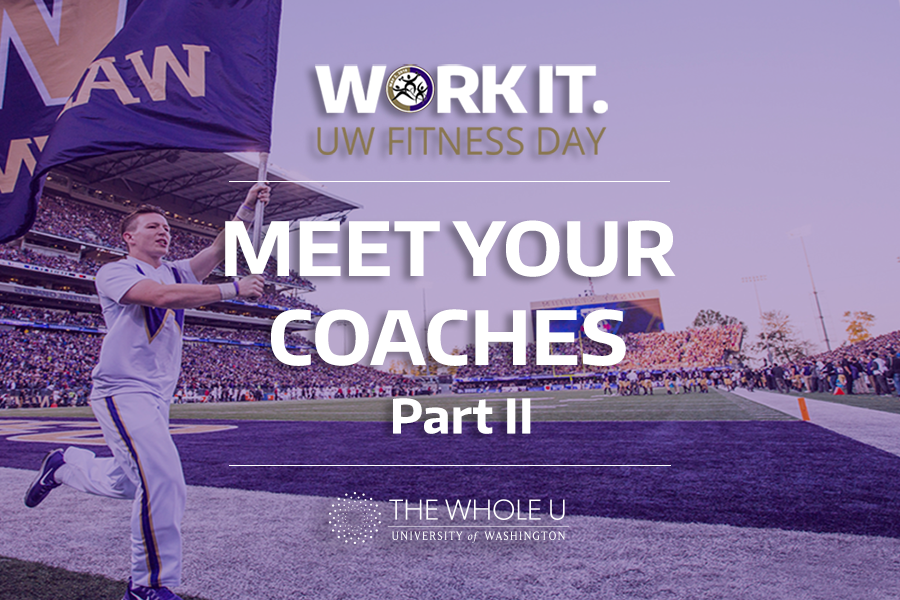 UW Fitness Day: Meet Your Coaches Part II
Save the date! The Whole U is excited to announce that our annual UW Fitness Day will be returning as an in-person event on May 23. Fitness Day is a one-of-a-kind, campus-wide workout to celebrate movement. This will be the Whole U's first live event in over two years, and we are thrilled to offer the UW community an opportunity to reunite and explore various forms of exercise together again, safely.
All participants will receive a free, performance tech t-shirt.
Benefitting Be The Match
This year, Fitness Day will benefit Be the Match, the nation's largest marrow-donor registry. Our fundraising goal is $5,000 and 100 new registry members. Learn about Be the Match and, if you are able, make a $5 suggested donation through the UW Combined Fund Drive when you register for UW Fitness Day. Even if you cannot attend UW Fitness Day, you are invited to help us reach our fundraising goal.
Choose your location
Fitness Day at UW Seattle will be hosted at Husky Stadium on the field. Participants will gather together from 12:30 p.m. to 1:30 p.m. and complete a circuit workout with 20 stations led by expert coaches from UW Athletics and community partners.
Fitness Day at Harborview Medical Center is hosted at View Park outdoors on the grass lawn. Participants will gather together from 12:30 p.m. to 1:30 p.m. for an invigorating and restorative yoga class taught by ICU nurse Leah Lowe. Leah has been practicing yoga for over a decade and is passionate about creating an inclusive space for healing and health. She teaches a practice for the mind, body, and spirit using movement, breath, and meditation.
Fitness Day at UW Bothell will be hosted by the ARC. Participants are invited to attend a variety of fitness classes throughout the afternoon including cycling, yoga, and strength.  Classes begin at 11:00 a.m. and will continue throughout the afternoon until 2:45 p.m. We hope you will join us!
Fitness Day at UW Tacoma: This year Fitness Day at UW Tacoma will be hosted by the University Y. Participants are invited to attend a full-body fitness class at 12:30 p.m. All participants will receive a free, performance tech t-shirt. We hope you will join us!
Meet Your Coaches
Each week leading up to May 23, we're highlighting UW Fitness Day coaches so you can learn more about who you'll see on Fitness Day.
Missed some of the coaches? Check out Meet Your Coaches Part 1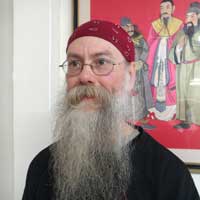 James Guidon is a graduate of UW with a Bachelor of Fine Arts Degree in Painting. He has been learning and practicing Internal Martial Arts since 1979.
James has been teaching Yang Style Taichi since 1993; nineteen years with the Chinese Wushu and Taichi Academy. He is currently a student of Master Yijiao Hong and has been since 1997.
James completed teacher training program in 2000 with Master Hong and is certified Yang Style Taichi instructor with over 20 years' experience working with the Art of taichi to bring body and mind in Harmony and to experience the benefit of this practice – Health and Tranquility.
Learn more at http://www.chinesewushutaichi.com/
---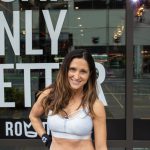 Jenny Wyeth finally, and very happily, accepted fitness as her true career calling in 2013, after several years of forgetting what sleep was like working in public interest and human rights law.
An avid climber, yogi, hiker, surfer, skier, and general adventurer, who is always looking for a good physical challenge, she managed workout studios for years while teaching.
Jenny is now a lead instructor at three Pure Barre studios, as well as boxing and strength conditioning Coach at RowdyBox, and might be guilty of being a massive fitness nerd… She cannot get enough of helping others have fun while getting after their fitness goals. And she can't wait to meet you!
Role model: Jane Fonda – a pioneer in social justice and women's fitness
Favorite foods: dark chocolate peanut butter cups & dill pickles
Best vacation: Surfing in Costa Rica
Favorite pastime (other than exercise): snacking
Follow Jenny on Instagram @jenny.wyeth
Take advantage of The Whole U discounts at Pure Barre studios
---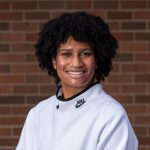 Aaliyah Earvin has a degree in exercise science and a Master's in sports management. She is a certified personal trainer, run coach, and health and life coach. She is a mom to three active kids.
Aaliyah started working in the fitness field because sports made her happy. She stayed because of the joys her clients gained in their ah-ha moments. During the day, Aaliyah works as a Fitness and Recreation Coordinator for a local recreation center. She is also a part-time entrepreneur. Aaliyah creates fitness content for runners, including strength, and running tips, and provides running clinics and workshops.
Favorite food: Mac & Cheese
Best vacation spot: I love to travel – the best to date was Costa Rica
Favorite pastime (other than exercise): Reading or coloring & listening to podcasts
Learn more at aaliyahearvin.com and follow her on Instagram at @confidentaaliyah
---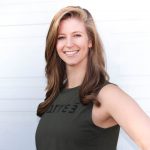 Erin Anderson is the Owner of barre3 Covington and has been teaching barre3 for five years. She is enthusiastic about creating a welcome environment for all levels of fitness enthusiasts to experience the power of movement when it comes from a positive place. As a University of Washington graduate, she is proud to reconnect with a community that has given her so much.
Learn more at barre3 Covington  or follow on Instagram @barre3covington
Take advantage of The Whole U discounts at barre3 Covington