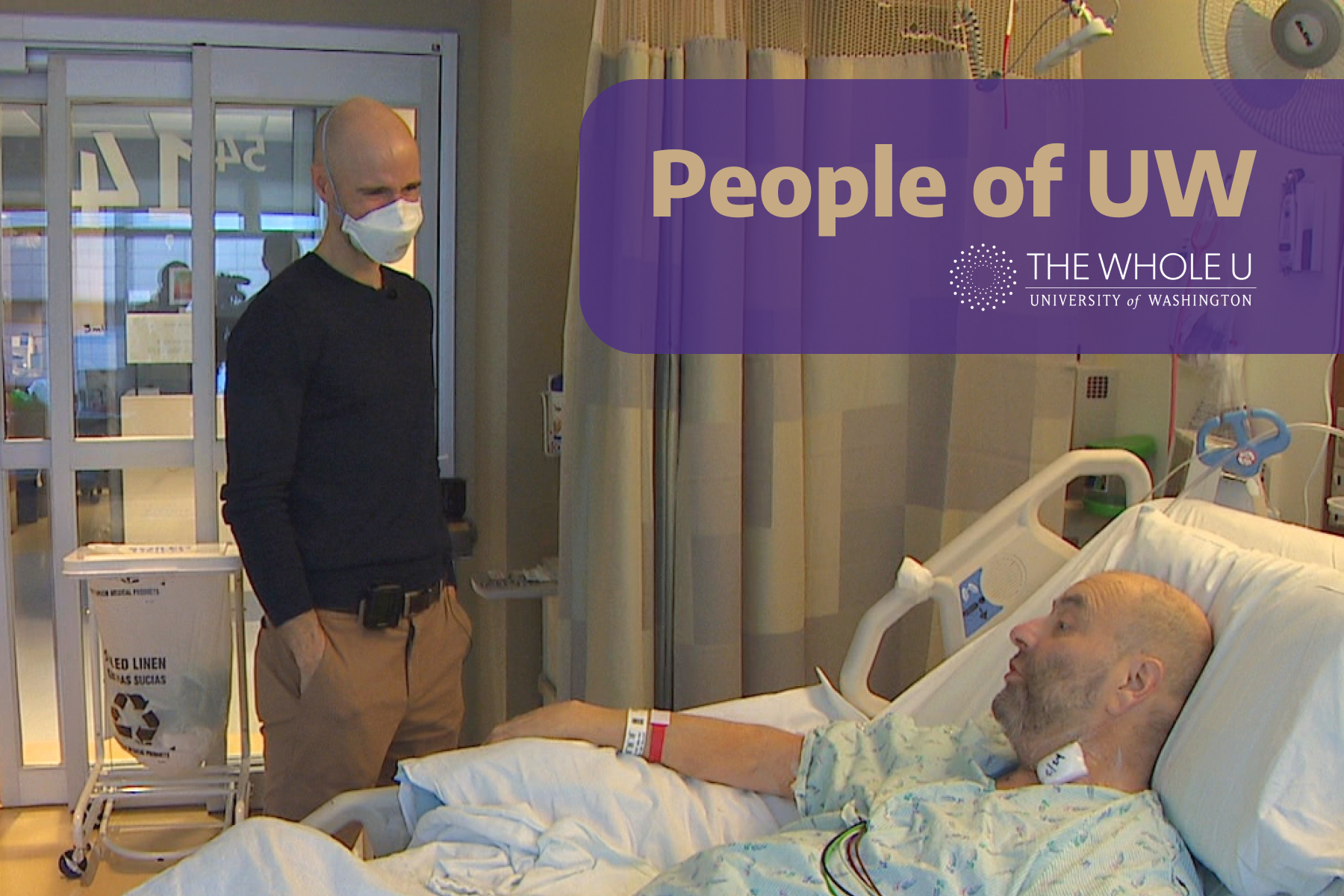 For Nurse Bryan Hill, Movement is Medicine
The Whole U is thrilled to re-introduce our Spotlight column, now titled People of UW, to highlight the incredible people at the University of Washington. Across our campuses and medical centers, the energy at UW is truly boundless. Join us in celebrating the people who make our University one of the best institutions in the world.
---
For UW Medicine post-transplant nurse Bryan Hill, the popular phrase "movement is medicine" is literal.
Diagnosed with early onset Parkinson's disease (EOPD or PD) at 31, just weeks before getting married, Bryan thwarted the initial feelings of despair and denial with movement. A lot of movement! Already an athletic guy, Bryan began using high intensity interval training to alleviate some of his symptoms and potentially slow the progression of the disease.
"Exercise isn't a choice," Bryan recently told KOMO's Eric Johnson. "It's a must in my life."
A hiking and rock-climbing enthusiast before the diagnosis, Bryan found himself focusing more on exercises to improve his balance, coordination and dynamic movement ability as the disease began to progress.
And considerable research shows the extent to which "movement is medicine" is the truth. Any movement – from moderate walking to high intensity training – can lower the risk of some diseases while alleviating or even reversing the symptoms of others: diabetes, arthritis, cancer, sitting disease… and Parkinson's.
Parkinson's disease is a progressive neurological movement disorder that can result in weakness, stiffness, difficulty walking, tremors, poor balance and falls, and impaired cognitive processing. Though not a muscle-wasting disease, the disease causes the brain to forget how to tell muscles what to do – so they need to be "reminded" with regular use.
That's why people with Parkinson's often benefit so dramatically from exercise tailored to their needs, such as boxing, cycling, dancing, and – as Bryan can attest – high intensity intervals of strength and endurance training.
"Parkinson's is the driver in my motivation to keep moving because the movement is so important for my body and the disease process," Bryan says. "This is when my body feels its best. I'm moving, utilizing all my muscles."
Going Ninja
Inspired by athlete Jimmy Choi, who also lives with Parkinson's disease, Bryan began training to compete as a contestant on American Ninja Warrior (ANW), a reality show testing elite athletes' endurance and skill on a parkour-style obstacle course.
Choi featured on several seasons of the show, raising awareness about Parkinson's disease and funds for the Michael J. Fox Foundation for Parkinson's Research.
Now Bryan wants to do the same. "[Jimmy] has really become a great role model for me, not only with training, but also dealing with young professional life and family life," he says.
Having only trained for seven months, Bryan will be competing on season 14 of American Ninja Warrior later this month in San Antonio, Texas (the shows will air in late spring).
Bryan recently met with some veteran ANW competitors in Chicago for a test run, tackling obstacles like the warped wall, salmon ladder and spider jump.
But it's not the physicality of the obstacles that has him worried about the competition.
"It's the mental game," he says. "The stress of the unknown, waiting around for filming, not being in charge of my schedule." Through trial and error, Bryan has learned how to manage his medications and his intense exercise schedule for optimum performance – something sure to be a challenge while on the set of a reality TV show.
Waking at 5 a.m. most mornings, Bryan spends 60 to 90 minutes working out, always pushing himself a bit harder. He loves to work his upper body and has been focusing on things like pushups (50 at a time and one-armed), pull-ups (including finger pull-ups!), battle ropes and other dynamic movements.
Then, it's time for work. Bryan has been a nurse with UW Medicine for more than 8 years, after completing his BSN at the UW School of Nursing – a program he says was "really challenging." His first job as a new grad was on the medical/surgical floor at UWMC (5E, for those who know), which also proved challenging.
After working as a STAT nurse in cardiology (5SA) for years, Bryan has decided to step away from the bedside to work with post-op cardiac transplant patients, a role that his given him a great deal of perspective about his own health – particularly during the Covid-19 pandemic.
As for being a nurse at UWMC: "I love it," he says. "I'm not going anywhere."
Eliminating the Stigma
Bryan is particularly interested in representing younger adults with Parkinson's, for whom the often overlooked or misdiagnosed disease can be psychologically isolating.
His mom, who also had early onset PD, was diagnosed in her early 20's. With considerably less public awareness of the disease and fewer treatment options available at the time, she dealt with a great deal of stigmatization. Eventually her health became so compromised that Bryan dropped out of Ballard High School at the start of his senior year to help care for her, completing his GED along the way.
Bryan wants to remove the stigma of early onset PD, a stigma that prevented him from revealing his diagnosis for four years. As a new father, he hopes to demonstrate bravery, vulnerability and grace in the face of adversity to his young son Forrest – and anyone else who may be watching.
Get Involved
Follow Bryan's journey on Instagram @fox_ninja_c.
Save the date to work out with Bryan in person on Husky Fitness Day on May 23 at Husky Stadium!
Support research looking for a cure for the more than 6 million people living with Parkinson's disease worldwide by making a one-time gift or setting up payroll deduction through the UWCFD to the Michael J. Fox Foundation (charity code 0337001).