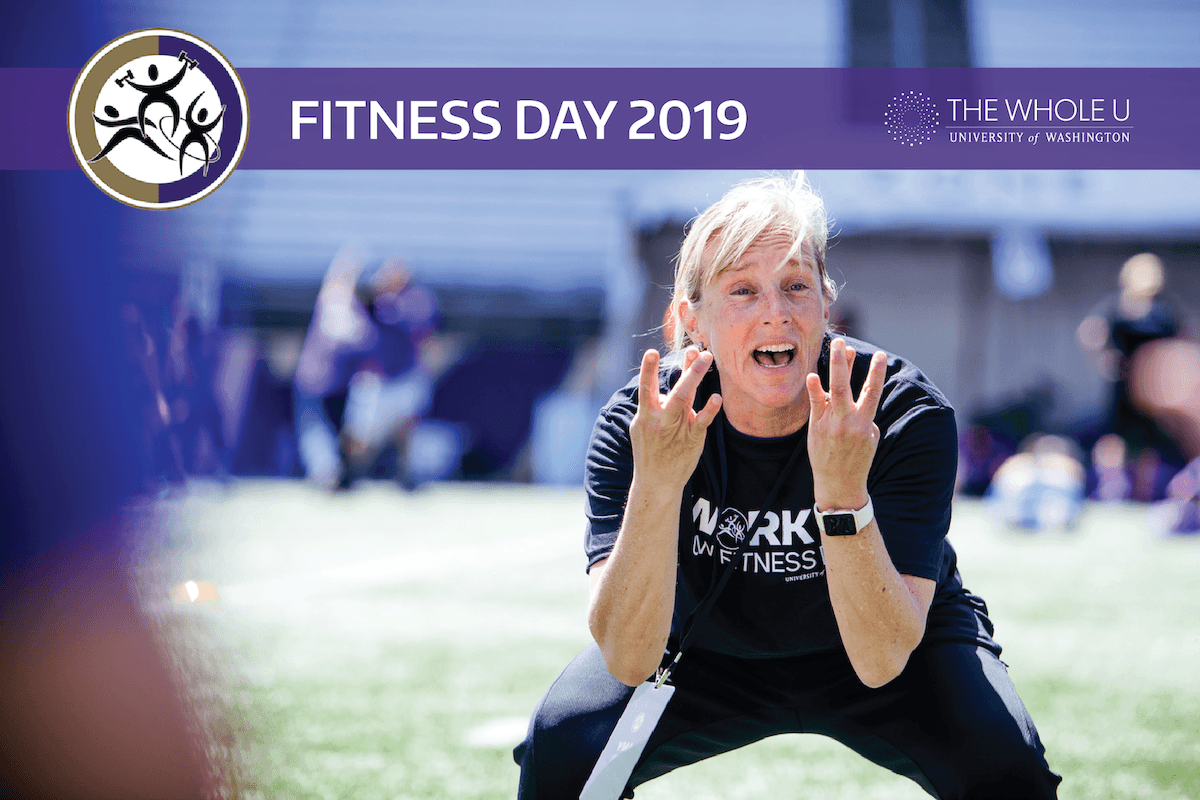 UW Fitness Day: Meet Your Coaches from UW Athletics
After introducing our coaches from UW Recreation and our community partners over the last two weeks, it's time to turn our attention back to the home turf to welcome the coaches from UW Athletics who will join us May 8 for UW Fitness Day.
From coaches and student athletes drawn from various UW Athletics teams to representatives from UW Sports Medicine to UW Olympic Strength and Conditioning, these coaches will be with you the whole way on May 8, helping you celebrate the best version of yourself and showing you some great exercises to keep you moving in the months beyond. Register here!
---
Nina Ellen Keaney
Director of Administration — UW Athletics
A triathlete turned tail runner, Keaney brings athleticism from all corners of life and a philosophy that "movement is a mindset." After a turn as a UW Fitness Day coach last year, Nina Keaney will re-take to field this year at Husky Stadium.
"Movement isn't just about doing a sport or an activity," Keaney says. "It's about how you interact. Movement keeps you energized, gets your mind moving, keeps you involved; it helps you connect with other people."
---
Football

Head Coach Chris Petersen and Director of Player Development Justin Glenn led the UW huskies to a 10-4 2018 season record; ultimately, they won the Pac-12 Championship and played in the 105th Rose Bowl game! If you're looking to get a look into the inspiring coaching that Coach Petersen and Director Glenn have to offer, be sure to sign up for UW Fitness Day, where they will be coaching for the first time. Then, follow them and UW Football up to Red Square for our "Get in the Game" block party!
Chris Petersen — Head Coach
Justin Glenn — Director of Player Development
Check out men's football here.
---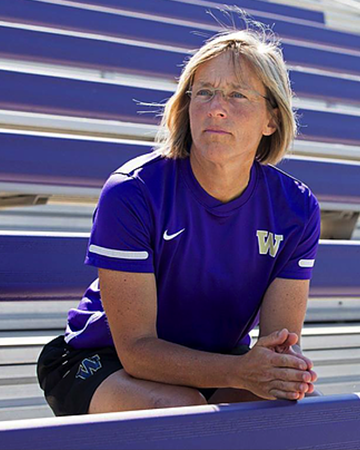 Women's Soccer
2018 season record: 8-10-1 (3-8-0 in conference); Scored six more goals than in 2017; 11 Huskies with at least one goal on the year, including seven with multiple goals.
Amy Griffin
—
Associate Head Coach
On training: "UW is a wonderful place, but only if you make the most of everything here. In our training, it's a question of, 'Do you want to be great? Then we have everything here to be great.' You just have to put the time and right attitude into it."
At Fitness Day I want to see: Everyone! I am leaving my comfort zone to come and coach, so I hope to see all of you do the same and show up too!
Catch up with Coach Griffin in our Coaches' Corner profile.
Check out women's soccer here.
---
Men's Soccer
2018 season record: 12-7-1 (6-4-0 in conference); Six playoff appearances in the last seven years, ending the previous regular season ranked #25 in a United Soccer Coaches poll; For second-straight season, UW had seven players on the All-Pac-12 men's soccer team with three Huskies placed on the All-Pac-12 First Team
Jaime Clark — Head Coach
Richard Reece — Assistant Coach
Catch up with Coach Clark in our Coaches' Corner profile.
Check out men's soccer here.
---
Gymnastics
Elise Ray-Statz — Head Coach
For Coach Ray-Statz, achieving goals is as much about building relationships as it is about performance. While Ray ascribes some past squads' success to "a beautiful chemistry," she adds, "a big part of it is investing in the young woman—investing in their whole self." The GymDawgs took second place at the 2018-2019 Pac-12 Championships.
"If [student athletes] know that we genuinely care about their wellness, they're going to give you more; they're going to trust you more: you can say these lofty things and they go, "Oh, she believes in me; she cares about me; so I'm going to believe and care for her."
Catch more from Coach Ray-Statz in Coaches' Corner.
Check out women's gymnastics here.
---

Olympic Strength and Conditioning
Todd Tuetken
Director of Olympic Strength and Conditioning
Who do you want to see show up at UW Fitness Day?
"People who are excited to start a new goal and create new positive habits."
Favorite workout quote:
"The weight room should build you up more than it breaks you down!"
Catch more from Coach Tuetken in Coaches' Corner.
---
UW Sports Medicine
Catherine Braden — Board Certified Physical Therapist
Catherine Braden, D.P.T., is a board certified physical therapist at the Sports Medicine Center at Husky Stadium.
Dr. Braden provides care to runners, cyclists, climbers, skiers and pregnant and post-partum athletes. She loves working with athletes and helping patients be their most healthy, active selves.
Dr. Braden earned her D.P.T. from the University of Minnesota. She is a RRCA Certified Running Coach and Bike PT-trained bike fitter. Her clinical interests include injuries from alpine skiing, cycling, climbing and running, the female athlete, return to sport, and knee, hip, ankle and ACL rehabilitation.
Caitlin Marra — Physical Therapist Assistant
Caitlin Marra, P.T.A. is a physical therapist assistant with UW Medicine's Physical Therapy Services at Eastside Specialty Center and the Exercise Training center at UWMC-Roosevelt. Marra values being able to give back to the patient.
She wants to make sure they really understand why we are taking a certain treatment approach and that they know their own musculoskeletal anatomy and how it works—namely, Why deficits or injury can cause pain or functional limitations, and how to give them the right tools to have a healthy body with a return to sports, hobbies or work.
---
Thank you to UW Athletics, AT&T, US Bank, BECU, UW Recreation, Dansai Water, KIND Bars, Pacific Coast Harvet, UW Bookstore, IanFitness, The Seattle Gym/FitDefense, Orange Theory Fitness, Fremont Health Club, Chinese Wushu & Taichi Academy LLC, Kevin Ng Yoga + Mindfulness, and Be The Match for sponsoring this event!