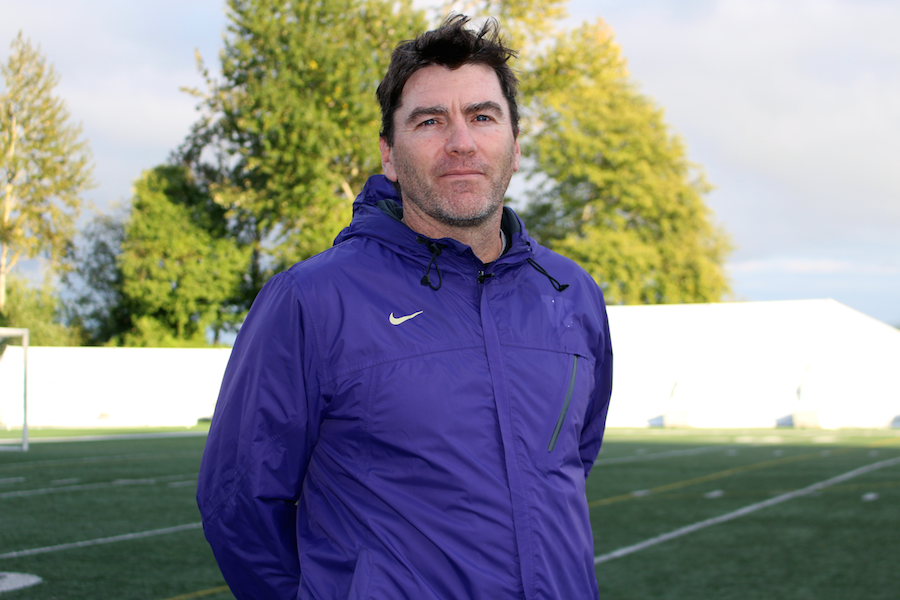 Coaches' Corner: Jamie Clark
It's a best-in-the-West showdown you won't want to miss. This Sunday at 3 pm, UW Men's Soccer takes on reigning three-peat national champion Stanford at Husky Soccer Stadium.
"This is a huge weekend because Stanford is the three-time conference champion in a row and three-time national champion in a row," says head coach Jamie Clark. "If we're going to win the Pac-12 title back, it's going to be through them."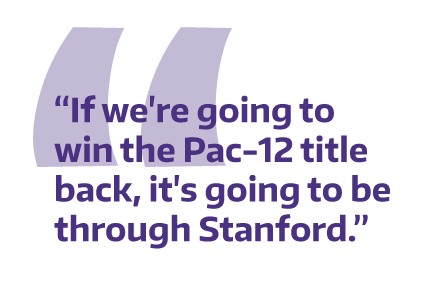 For Clark, the anticipation goes beyond the promise of a highly competitive match. Before playing professionally, Clark was a two-time All-American at Stanford, helping lead the team to its first NCAA Tournament victory and a spot in the NCAA Championship final (assistant coach Chris Gores was a teammate of Clark's on the Stanford squad).
"To some degree, it's like you're playing against all your old teammates all over again because they're in your ear all week," he says of the impending match, which UW faculty and staff can attend with $5 buy-one-get-one tickets from UW Athletics. "You want that game more than anything because you don't want to hear from them on Monday and Tuesday."
Clark gives Stanford their due for the level of play they'll bring to the pitch, but also serves up some historical perspective with a small side, perhaps, of personal pride as Husky head coach for the past eight seasons.
"You're seeing us play the best but, historically, we've beaten them more times than we've lost since I've been here," he says. "So there's a good chance you could see us beat them."
Since joining the UW after two successful seasons at Harvard and one at Creighton, Clark has led the Huskies to a 87-35-19 record, a Pac-12 title and five trips to the NCAA Tournament. This past July, the team claimed gold at the FISU America Games in Sao Paolo, Brazil. The team's lock-down defense led to back-to-back shutouts in the tournament's knockout round with a 4-0 victory over Uruguay in the semifinal and a 1-0 win in the final versus Brazil, who the Huskies had played earlier to a 2-2 draw.
---
"Winning gold was fantastic—it was the cherry on top—but it wasn't the be-all, end-all," Clark says. "That was representing our country and wearing Washington gear well."
He credits success in Brazil for helping build momentum for a strong start this season. The Huskies opened 6-1, shutting out perennial powers in Maryland and Akron along the way (as well as celebrating the 1,000th match in program history). They recently weathered a four-game slide—which Clark says was "a healthy reflection period"—but rebounded with a win against San Diego State last weekend. Clark admits it can sometimes be hard to get beyond wins and losses, but says, "you have to have a bigger perspective on that."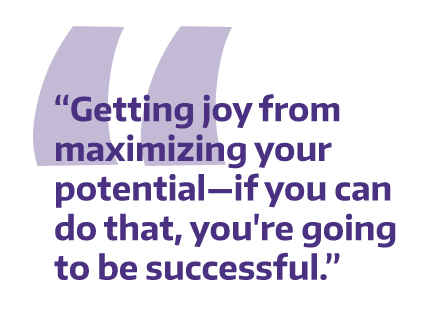 "As a team, we talk about building margins—shots, possession, chances created," he explains. "If we make enough margins, we'll win more than we lose—and hopefully, we'll win them all."
The UW Men's Soccer program's overarching philosophy, Clark says, is one of: "the more you give, the more you get," with the addendum, "but that's never why you do it."
"We never want to give to get, but the more we put into the community, the more the community will give back to us," Clark says. "The more you put in, the more invested you get and all of a sudden you're getting that much more joy out of it."
"Getting joy from maximizing your potential. If you can do that, you're going to be successful."
It's a sense of balance Clark sees reflected in soccer itself.
"The beauty of the game is always in the balance and that's what I think makes sports exciting," he says. "In soccer, you're usually only one or two goals away from winning. A good team will create 20 opportunities a game and you're fortunate if you convert three of them."
While soccer at its best is known as "the beautiful game," Clark is also not averse to winning scrappy. "We always talk about earning one—a gritty goal, a tough one, one that's not always easy on the eye," he says. "Good teams manage to score the scrappy ones."
When he played professionally in the U.S., Zimbabwe, and Scotland, Clark was a defender, but during his youth career he played all over the field—something he says taught him the values and realities of "playing pragmatic."
"You figure out a role and figure out a way," he says. "You make adjustments accordingly and I think if our players and teams make the right adjustments and if guys are willing to be flexible, we'll be successful."
Playing pragmatic
Clark grew up on the soccer play fields of Dartmouth, New Hampshire, where his father, former Scottish League player Bobby Clark, served as coach from 1985 to 1993. The family moved to the U.S. from Zimbabwe, where Clark's father coached for a season after a long playing career in Scotland.
"I was a coach's kid, so I ate it, breathed it, talked tactics, tried to figure out ways to win games my whole life," Clark says. "The X's and O's of it all were always fun to me. That was dinnertime conversation."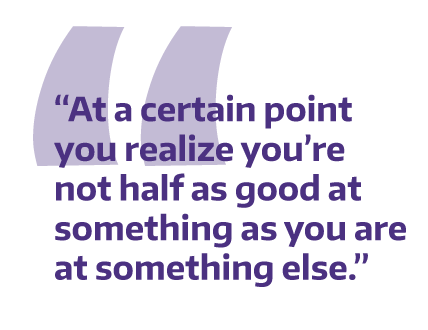 For a great deal of his life, playing soccer was what Clark believed he wanted to do, even though he says basketball long held a place as his recreational activity of choice.
"I was probably playing twice as much soccer as anyone else around me, but I was still playing basketball on my time," he says. "But, at a certain point you realize you're not half as good at something as you are at something else."
In 2002, Clark found his calling to coach while rehabbing an injury in Albuquerque, New Mexico, where his older brother Tommy, was completing his residency in pediatrics at the University of New Mexico (Clark's sister is head soccer coach at Claremont-McKenna). At the time, Clark was taking his LSATs and planning to go to law school as was ostensibly there to help his brother build a website.
"I really didn't think I was going to coach, because even though it was probably what I was best at, you always want to still branch away from your family a little bit," Clark says. In the process of recovering from injury, however, Clark got to know the coaching staff at the University of New Mexico who soon offered him a position as an assistant coach.
"I fell in love with it—it's such a fun age group," he says. "You're working with guys who are figuring a lot of stuff out and they're very, very talented. Some of them are going to be pros, some of them aren't, but for a lot of them, it's all they've ever known."
Alongside head coach Jeremy Fishbein, Clark assisted UNM to a 61-16-8 record in four seasons, including a 2005 national championship match. Along this new path of helping others find theirs, Clark also met his longtime associate head coach, Jeff Rowland.
"The first walk-on tryouts ever at New Mexico, we tried to cut one of the walk-on players—this guy was the one we were most unsure of," Clark says. "But he managed to talk himself onto the team for another two weeks of tryouts and then we kept him on and he ended up being the senior year-runner up National Player of the Year and went on to a professional career." After ending his pro career, Rowland joined Clark's coaching staff at Harvard.
"He's been with me ever since and now is my closest friend and confidant in the game," Clark says.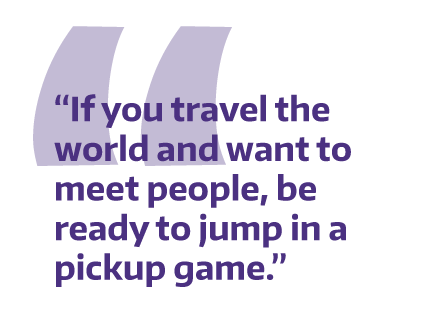 Things often come full circle like that in the world of soccer, Clark has found. He's also had the unique experiences of playing for his father at Stanford and later serving as his assistant coach for two seasons at Notre Dame.
"All those New Mexico guys I started with are still part of my life today—that's the fun of it," Clark says. "You continue running into these people for the rest of your life, so it's so important that you try to give them the best experience here."
As someone who has experienced soccer from multiple perspectives the world over, Clark says the fun of playing in a soccer city like Seattle is that it's an environment that values greatness.
"Here, you're motivated by all these other great things going on—successful people, successful teams," he says. "To turn people's heads in this town, you've got to be doing great things."
Clark says that same spirit is what is going to make Sunday's showdown against Stanford so much fun as well: UW bringing its best to take on the best—hopefully bringing the wider Washington soccer community along for the ride.
"For me, soccer is the grassroots game—and if you want to experience culture and community, it's marvelous," he says. "I bring my cleats and soccer ball wherever I go, because if you ever travel the world and want to meet people, have a ball or be ready to jump in a pickup game. People will open their doors to you if you're a footballer."
It's those personal connections that endure when the tallies are wiped from the board at the end of each season.
"The wins and losses do mean so much and are a measuring stick of reaching your potential, but in the end, how you handle people and relationships you build are what it's all about."
---
Save your spots at Sunday's game here! To follow the men's soccer team, check out their schedule. Washington wraps up the season with six of its final eight games at home this year, including this weekend. The Huskies are 4-1-0 at home this season and have won at least six home matches each season under Jamie Clark.