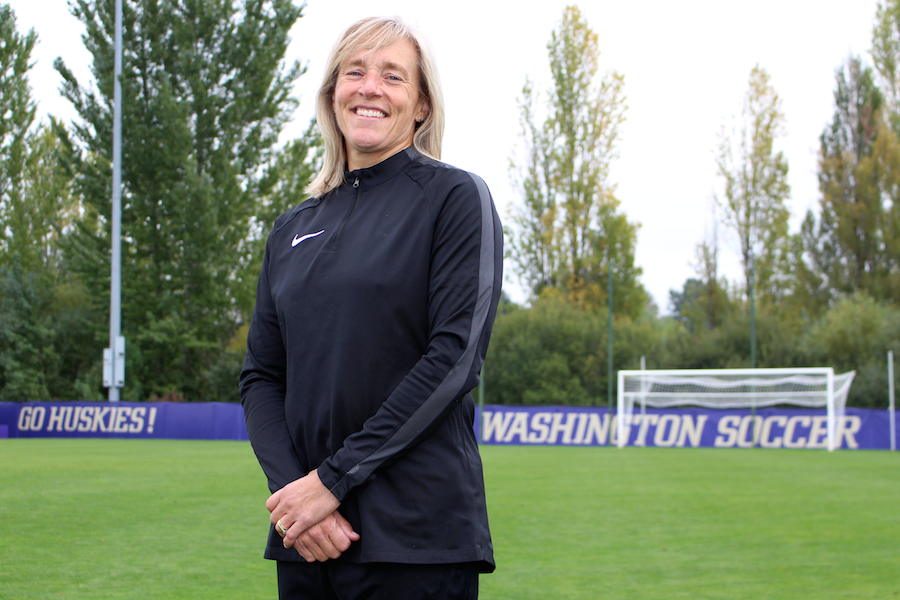 Coaches' Corner: Amy Griffin
When UW Women's Soccer associate head coach Amy Griffin thinks about winning a national championship, she thinks about everything that has to go right. Not in terms of lucky bounces or fortuitous footwork, but in terms of the ways a championship team will prepare and support one another—both during games and in times in between.
"Here, I want to win a national championship the right way," Griffin says. "I want our kids to be unbelievably great and different human beings and I want to show them things I've learned along the way about being your best self everyday."
Griffin has a lot to share. A force in U.S. Soccer for more than three decades, she spent five years with the U.S. National Team as a player, winning the World Cup in 1991. After three years as head coach at the University of New Mexico, she joined the University of Washington in 1996, reuniting with head coach Lesle Gallimore after working with her as assistant coach at San Diego State in 1990 and 1991.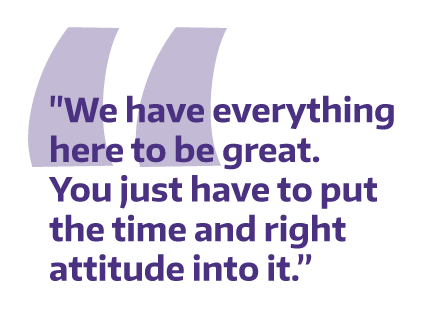 The lessons Griffin picked up along the way are many, but she sums up her unified coaching and playing philosophy with the Japanese phrase, ganbarimasu, which translates to, "I'll try my best." But, as Griffin explains, it really means a lot more.
"No matter what, for how often, or for how long, you persevere," she says. "Not because you're going to get credit for it or because people are watching or because you're going to get a raise, but because it's the right thing to do." In other words, what you get out of an endeavor is equivalent to the effort you're willing to put in.
"I approach everything that way," Griffin says. "UW is a wonderful place, but only if you make the most of everything here. In our training, it's a question of, 'Do you want to be great? Then we have everything here to be great.' You just have to put the time and right attitude into it."
'It's here'
That approach is evident in the two-word mantra players chose for the 2018-19 season: "It's here."
"If we can all stick together and be on the same page and try to get better everyday, everything we need to win is right here," Griffin says. "We don't need to look anywhere else to find what we need. It's on us."
As Women's Soccer (6W-3L-1D) prepares to square off against the University of Oregon on Sunday in a showdown for Pacific Northwest bragging rights, Griffin is eager for fans to witness firsthand the team's spirit and unifying ethos in action. Her hope is those in attendance will realize how much it reflects the University as a whole.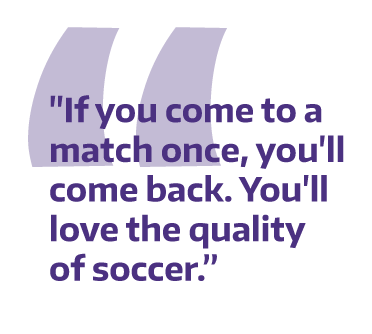 "If you come to a match once, you'll come back," Griffin says. "You'll love the quality of soccer and I think our team is wonderfully representative of the University and all the things that they go out into the community to do and the way they build up skills in the classroom."
The stands get packed and "the vibe is cool," she adds. "You'll see. This is our community. Not many other teams or fans get to experience that."
What sets elite collegiate soccer apart is the speed of play and elite defending, Griffin says, adding, the better you are at the latter, "the less you have to do it." College players often have to learn to play a different, more complete game after years of dominating play in high school.
"All of the players who come here are phenomenal; they've worked hard," Griffin says. "But many have never had to fight through something; they've never really hit that wall, failed, or been unable to do something."
One of the biggest responsibilities for Griffin and Gallimore as coaches, then, is fostering an ability to be critical and push players for more, while simultaneously help them realize it's okay to fail and that they are loved and cared for. Failing is important, Griffin says, "so long as you are going for it."
'Playing big'
During her collegiate playing career at Central Florida, Griffin earned her share of accolades. She won five gold medals and a silver from the Olympic Sports Festival and was recognized as the Adidas Goalkeeper of the Year. But even so, up to that point she had yet to reckon with how steadfast habits born of her success as a goalkeeper might be preventing her from becoming an even better one.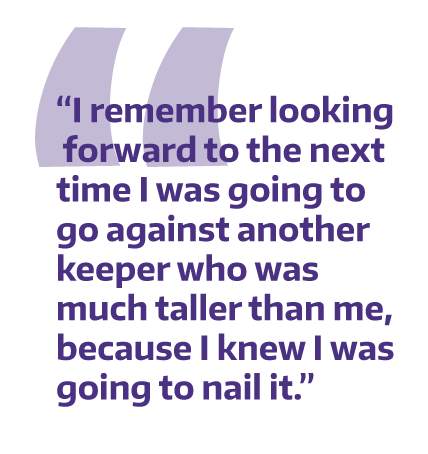 After making the U.S. National Team, she asked coaches what she could work on and was told she could improve her "presence."
At 5′ 4″, Griffin was not tall for her position, and often leaned on her skill at maneuvering players in the middle and backfield to make up for what she perceived as her lack of range. Never a fan of crosses—the long kicks that help set the offense up for goal driving plays—she grabbed a bag of balls and got to work.
"It scared me a little bit," she says of the decision to move away from what she knew were her strengths to a more self-directed course, but Griffin was determined to "take ownership" and learn other ways to "play big."
"I created my own environment for what I needed without too many people watching," she says. "I had guys who were 6'5″ or 6'6″ stand in the six-yard box and have people serve balls [and I had to clear them]." Aside from team practice, all the work she did for the next six months was on her own.
"I remember looking forward to the next time I was going to go against another keeper who was much taller than me, because I knew I was going to nail it," she says. "Everything opened up for me when I knew it was on me."
Forward pass
Growing up in Federal Way, Washington, Griffin says she would have gone to the University of Washington to play soccer—if only there had been a program at the time.
"Today, the Northwest and Seattle is huge in soccer," she says. "It's kind of great to come full circle."
Griffin's best memories of playing soccer in Washington are some of her earliest.
"My mom signed me up for soccer whether I wanted to or not and I loved it," she says. A self-described introvert as a child, Griffin came to view the soccer field as a place where she didn't need to care about how she looked or what she said. "As soon as I stepped across that white line, I got to be who I felt most comfortable being."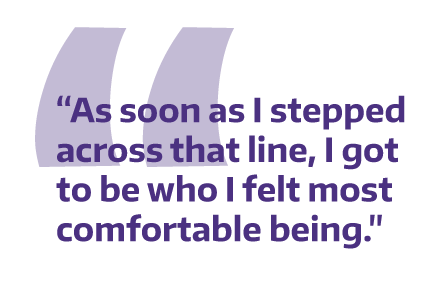 Griffin speaks about her early teams with an almost-legendary reverence: The Kickoffs, Sweeney's Meanies, The Bionic Booters. The memories as clear as ever, such as one of her first coach trying to explain the offside rule by drawing lines in the sand.
"It was such a great environment with your friends. I think the biggest piece was that I had so much fun for so many years with no pressure of trying to make a select team or get scouted by US Soccer. You just show off for your friends and learn from your failures."
After a player injury during a game her junior year of high school, she subbed as goalkeeper, where, despite being scored on multiple times, her energy got her noticed by Washington state team scouts.
At the state team tryout, she and two other players were told to get their goalkeeper gloves on. Griffin recalls being too shy to tell the coaches that wasn't really her position.
"I just got in the back of the line and tried to figure it out," Griffin says. "I was athletic enough that I made the team." The experience playing against talented teams from out-of-state only solidified Griffin's burgeoning "addiction" to the sport.
"I wanted the challenge," she says, describing being a goalkeeper as "the most uncontrolled environment you could find yourself in. The biggest part of the goalkeeper's role is managing the game and the players around you so that you don't have to save a shot." Griffin says the position became "a lot more fun" once she realized she could dial in to reading the field, thinking several steps—and possible scenarios—ahead.
"If I can help five or six players play a little bit smarter while they're running around needing a third lung to play their position, then that's way better than me just being a shot-stopper," she says. It shouldn't be surprising, then, that many soccer coaches are former goalkeepers, even though there are usually only two goalkeepers on a team of twenty-two players at a given time.
As a coach, Griffin's impact on the sport extends beyond her contributions to Husky Athletics.
In 2015, she was asked to be head coach of the USA Deaf Soccer's U.S. Deaf National Team and lead them to compete in the World Cup in Italy. Griffin has a cousin who is deaf and learned the basics of sign language from a class she took in the '80s. She later would practice signing with a neighbor who was a deaf athlete while living in San Jose. More recently, she brushed up on her skills by taking two classes at UW.
"I loved the communication piece and said, 'Yeah, I'm in,'" Griffin says of her decision to accept the role leading the team, which is made up of athletes between the ages of 12 and 32 and undefeated since its founding in 1996.
"For three weeks in Italy, I was the one who was confused and at a disadvantage," she says, adding that the experience challenged her to find new ways of communicating, even as the team played its way to a World Cup victory.
"Because of that, I've become a much better coach at UW and with other teams," Griffin says. "It made me realize communication is every bit as essential to people as food, shelter, and water."
Women's Soccer's October 12 game versus UCLA will be Deaf Culture Night with activities and ceremonies recognizing and celebrating deaf culture. For Griffin, it's just another way of playing bigger than you are.
"When we win a national championship, can you imagine how much fun that will be when our family is winning it together?"
---
Catch UW Women's Soccer this Sunday, Sept. 30, 2018 at 2PM. Secure two seats for just $5 with a buy-one-get-one-free ticket offer for UW faculty and staff! The team also has a "Stoppage Time" series, a platform used by players and coaches to share their experiences and offer a behind-the-scenes look at the program. Keep up with the squad on Twitter @UW_WSoccer and Instagram @uw_wsoccer.