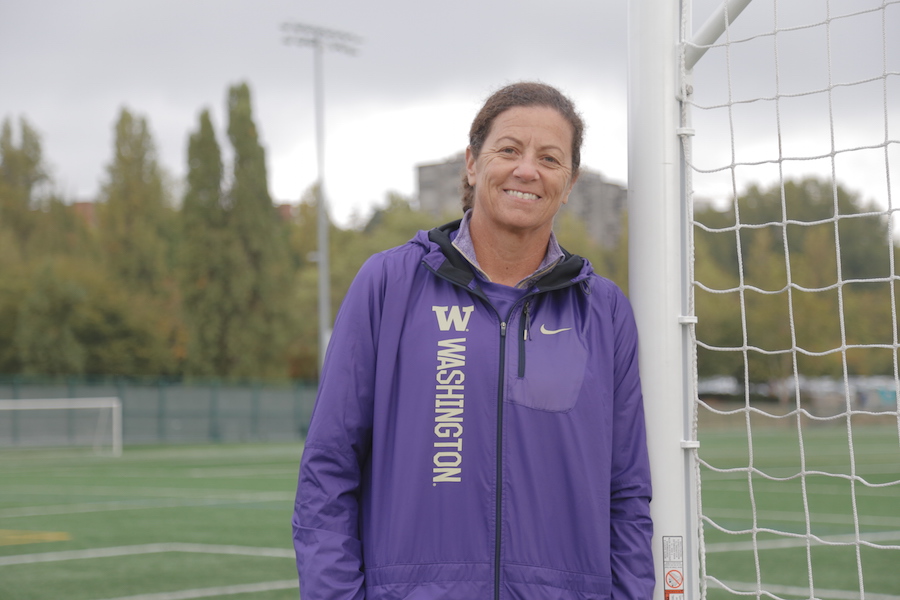 Coaches' Corner: Lesle Gallimore
There is no such thing as a soccer emergency. At least not in the life of Lesle Gallimore.
It's not that the head coach of UW Women's Soccer isn't competitive. To the contrary: the California native is the winningest coach in program history and recently earned her 250th UW victory in a 1-0 contest at Oregon on October 8. Ask her about the milestone, however, and she'll tell you the losses have meant just as much in making her the coach she is today.
"I know there are far bigger lessons to be learned when you fail and that you can get through it," she says. "For me a successful formula has been: you can't really dwell on the past other than on the things that we want to carry forward that make us successful."
Coming off a string of hard-fought, nail-biter losses against Pac 12 competition over the past five games, her 28-member squad will be looking forward, not back, when they square off at home Friday for Senior Day against WSU in this year's Apple Cup matchup.
"We try to be process oriented as opposed to outcome oriented," Gallimore says. "If we stick to that, I think it makes it more educational for the team and more enjoyable for everybody."
It's an even keel Gallimore has steadily maintained through 24 seasons as head coach, having joined UW in 1994 after four years as head coach at San Diego State. She emphasizes a player-focused approach in which a sense of care and individual integrity on the part of players and coaches form the underpinnings of a successful program.
"If you're paying attention to the people that you're working with, you're going to have a way better chance of success," she says. "Even if your X's an O's are off sometimes."
Gallimore says her promise to players as a coach is to put them in a competitive environment, but also demonstrate integrity, caring, and commitment in ways that convey that decisions she makes around the team have to do with helping them be better—as individuals and as a collective unit.
"You have to take a deep breath and say, 'What are the really important things in life that have meaning and are long lasting and how can I influence those with these kids?'"
Gallimore says she plans to one day write a book—a thought that hadn't occurred to her until a few years ago.
"I have something to say about this profession, what I've done in my career, and the lessons I've learned that I think would either help out younger coaches or be insightful for this environment," she says.
Specifically, she thinks the sport can do a better job retaining female coaches.
"There's a cluster of us who've stayed at it a while—we got really fortunate in our careers to either be thick-skinned or good enough to hang in there and hone our craft—but there's a way bigger group that's fallen by the wayside," she says.
"Younger female coaches in youth soccer and college soccer have tended to not get mentored in coaching and, when they haven't had success, they've given up or not been given a second chance. If we want to grow the sport, it's our duty and responsibility to give back and help more women be coaches and stay coaches. If you see it, you can be it."
Kicking up
Gallimore began coaching 32 years ago as an assistant at University of California, Berkeley. Raised alongside three brothers by her mother and grandmother after her parents divorced when she was young, Gallimore started playing soccer after her mother—already busy wrangling three Boy Scouts—dissuaded her from joining Girl Scouts.
Gallimore could walk to the practice field from her house and the sport cost little to play.
"I fell in love with it," Gallimore says.
By the age of 13, she was playing in the Y19 division. Not thinking she would play competitively in college, she attended University of California, Irvine, returning home on weekends to still play on their club team. Before long, coaches at Cal Berkeley and Santa Clara took notice of their play and, the next year, Gallimore and several teammates transferred to Cal—effectively taking over the club program and ultimately getting it varsity status.
A four-time All-American defender who helped lead the Golden Bears to the national playoffs three out of her four seasons, Gallimore graduated and started law school, but continued on as Cal's assistant coach. After a year, she decided to set aside the study of law to keep coaching full-time.
"It was brutal for me," she recalls of making the decision. "I thought I was letting everyone down when I quit law school, and just felt a huge responsibility to be really good at [coaching soccer] to show them I made the right decision."
But Gallimore says she's long since let go of that sense of needing to prove her abilities—having found happiness as a coach and the opportunity to build a legacy at the University of Washington and, more broadly, in U.S. soccer.
"It's the biggest life lesson I've learned and one I try to pass on to my kids: you get a lot of pressure from your family, but at the same time, you learn that, 'If I'm happy, my parents will be happy for me. If it's what I want to do, I have to be big enough to make that decision.'"
"I see kids at that crossroads all the time," she says. "I help them navigate that because I learned that lesson."
Gallimore does so with a sense of confidence in self, but credits others for having helped foster it.
"I've had great women role models around me and that probably gave me confidence to be me," she says. "That's not to say I haven't also had male bosses who haven't also been supportive—I have—but the equality of having both, as opposed to having one, is a much different experience than most people have had in my position."
Gallimore credits associate head coach Amy Griffin (now in her 23rd season on the coaching staff), former UW Athletic Director Barbara Hedges, and former UW Associate Athletic Director Marie Tuite for their mentorship and influence. Tuite (now athletic director at San Jose State) previously served as an associate athletic director at Cal when Gallimore was a student-athlete.
"I'd known Marie my entire athletic career and she ended up being my boss here for 14 years!"
Gallimore's tenure as head coach of UW Women's Soccer bridges one era to the next, but she says the present feels as exciting as it's ever felt to coach at the UW.
"One of the greatest thrills for me is to see a Jennifer Cohen get the A.D. job; to see Ana Mari take the presidency and do the things she's doing," Gallimore says. "Ana Mari has been tremendous about understanding that student athletes are students at the UW too."
Gallimore describes the atmosphere of working in UW Athletics and within the wider University as "collaborative" and says the fact that she feels she can easily reach any number of school officials indicates, "we are not living in a bubble or silo."
It's largely why she's quick to spread the credit for her 250-win milestone.
"It's humbling to do something for this long and have success in a very outcome-oriented climate," she says. "For me, 250 wins represents all the people who have made that possible; to win that many times takes tremendous commitment from the people around me and the student athletes I've been fortunate to coach."
She says she's proud of her team for who they are and how they're different.
"I don't want my team to be like-thinking to me," Gallimore says. "I want the players on my team to be themselves and feel safe being themselves. That's something that I'm really proud of—that I can bring a group together who think and believe and are very different people, but they feel like one, because they're respected."
Beyond the people, Gallimore's daily motivation as a coach comes from a sense of introspection.
"You always have to ask yourself, 'Why are you doing what you're doing? Why are you here?'"
For Gallimore, coaching remains a challenge and a thrill.
"I can talk about it until my face turns purple, but I believe in this place, which is why I'm still here. This is what I love best. I love university life. I tell people all the time, 'I've been in college for 32 years without having to go to class.'"
---
Hear more from Coach Gallimore in this week's Media Minute, then follow Husky women's soccer on Twitter @UW_WSoccer and Instagram @uw_wsoccer and catch the team Friday at 7:00 p.m. as they close out the regular season!