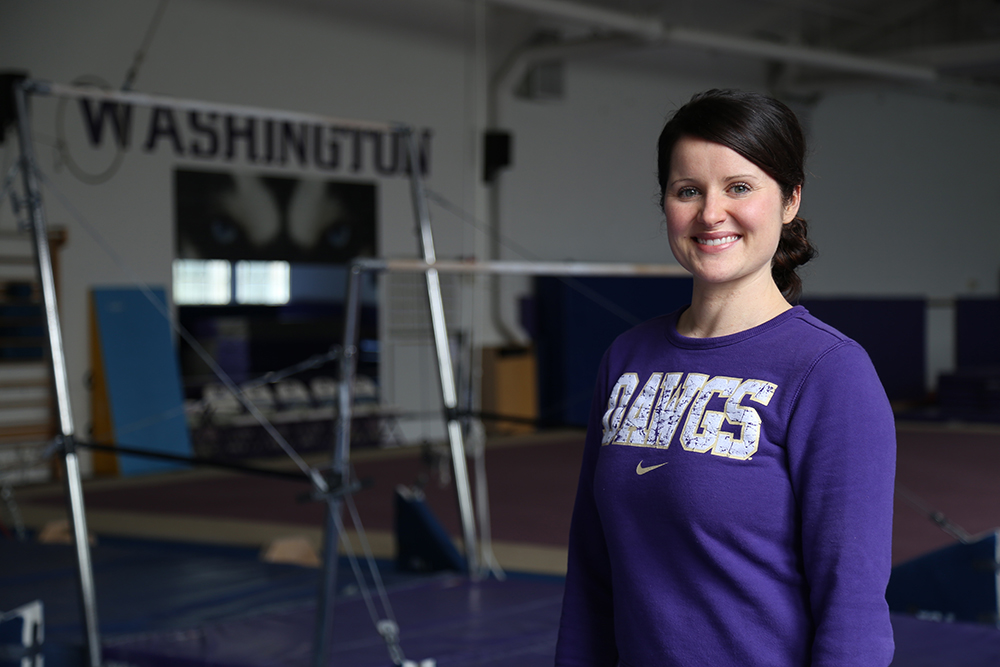 Coaches' Corner: Elise Ray
If there is such a thing as a fifth act in the drama of American athletics, Elise Ray just opened hers to a standing ovation.
This past April, Ray closed the books on her first season as head coach of UW Gymnastics, leading the GymDawgs to a program-record eighth-ranked finish nationally, ten spots ahead of the team's preseason ranking. Having coached the team to a 196.5625 score at NCAA Championships—its highest tally in history—Ray says she's now taking some time to reflect on and cherish the experience, even as she sets summer training plans in motion in advance of her sophomore campaign.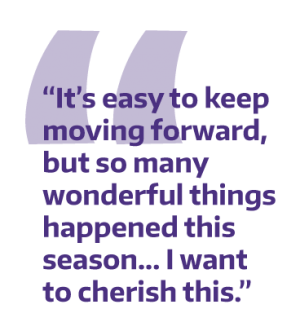 "It's easy in this job to keep moving forward, but so many wonderful things happened this season that I wanted to make sure I soaked it in," she says. "I had such an amazing group of young women to coach and had so many minds and hearts with me, I want to cherish this as my first year."
She says she isn't just hoping it happens again: "I plan on it happening again."
In a world where elite athletes often struggle to reinvent themselves after competing on the world stage, Ray has proven exceedingly flexible, finding success as a college gymnast, performing artist, coach, and commentator in the decade and half following what she describes as a "horrible" experience at the 2000 Sydney Olympics.
That was when officials mistakenly set the vaulting table five centimeters too low, causing several crashes and sending the competition into disarray. While Ray and other competitors narrowly avoided potentially devastating injuries, the inconsistency, along with a slew of other factors, marred the experience—along with many athletes' performances—beyond salvation.
"Everything about my Olympic experience was so horrible that I wanted nothing to do with gymnastics," Ray says. "I was done. I wanted to get as far away from it as possible."
While Ray and the rest of the USA Gymnastics team were retroactively awarded a bronze medal in 2010 after the Chinese team was disqualified when it emerged they had falsified the age of one of their athletes, Ray says the fact that she didn't initially medal ultimately played a part in leading her to where she is today.
"If we had medaled as a team, I likely would have gone professional and wouldn't have competed in college," she says of what, to that point, had been the typical career path for elite gymnasts post-Olympics. Ray and several other fellow Olympians were among the first to buck the trend.
"Now it's really normal, which is so cool because elite gymnastics can be really damaging to mind, body, and soul—it can be—so to see these Olympians in college now, I hope that they get the healing experience that I did."
Ray, renewed
Ray found that renewed focus and energy at the University of Michigan, where, after four years, she graduated with 14 All-American honors (the most in the program's history) and emerged as the Big Ten Conference's all-time leader in Gymnast of the Week citations with nine.
"Once I started competing with this team of girls, coaches, and trainers who cared about me and my growth as a person; who would give me a platform to totally mess up—whether it was in the gym or in life—and love you anyway, it healed me. It was a blessing that completely flipped my perspective on gymnastics; I went from feeling broken to loving it again."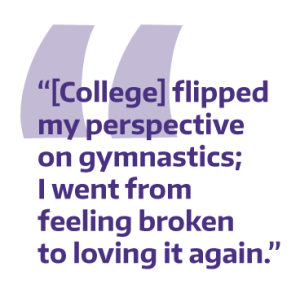 Part of Ray's second wind as a gymnast at Michigan was discovering just how different gymnastics is on the collegiate level.
"It's almost a different sport in many of ways," she says. "Your body and gymnastics as a whole are entirely different from what they were from age seven to 17."
Even though a college-age gymnast might not be as flexible as younger competitors, performing at the collegiate level calls upon a distinctly different kind of flexibility.
"It's finding that newness," Ray says. "Sometimes it can take a year to find, but once you do, it brings you up to a whole new repertoire of skills, options, and creativity that you maybe didn't have as a 10-year-old. Your air awareness changes, along with your speed; now you have a little bit more power and strength; it's beautiful."
After graduating college and before joining UW Gymnastics as assistant coach in 2011, Ray spent three years with Cirque du Soleil, appearing in two shows a night for five nights a week in Las Vegas after completing a six-month stint at the company's training facility in Montreal.
"There's nothing like it—you're taking singing, dancing, and clowning classes; I learned a completely different discipline—trapeze—that was similar to gymnastics, but technically very different," she says.
Working alongside and, at times, underwater with lifelong circus performers was humbling at first, Ray says, but it motivated her to push herself, persevering to improve. The biggest takeaway she applies to her present work as a coach?
"In Montreal, I was uncomfortable everyday, but I learned to love it," she says. "The whole idea was to transform the athlete into an artist. I had to learn to just let loose."
Get loose to let loose
When the UW Gymnastics squad loosed themselves on the competition at NCAA Championships this past April—setting an NCAA Gymnastics Championship program scoring record with a 196.5625 in Semifinal I—it was the culmination of a season-long process of maintaining a long-term vision that was realized in increments—setting and achieving short-term goals.
"We made these goals and then ticked them off as we went," Ray says. "It was special to see."
Achieving those goals was as much about performance as it was about building relationships. While Ray ascribes some of her squad's success to "a beautiful chemistry," she adds, "a big part of it is investing in the young woman—investing in their whole self." It's the same ethos that reinvigorated her own interest in the sport at Michigan.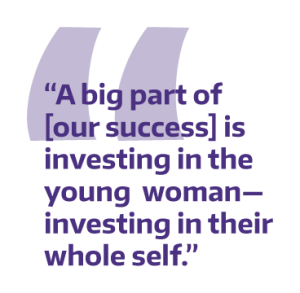 "We try to take an interest in their whole world and hopefully what that does is bridge a gap between them and us.
"If they know that we genuinely care about their wellness, they're going to give you more; they're going to trust you more: you can say these lofty things and they go, "Oh, she believes in me; she cares about me; so I'm going to believe and care for her."
Ray says a major goal for the team this past season was to reach a score of 197, an achievement she describes as difficult, yet denotes having reached "the big leagues."
"It takes really excellent gymnastics," she says, adding that the squad reached their first 197 in February, about halfway through the season. Ray recalls that moment as "an eye-opener for all of us." She knew it was time to raise the bar and get the team envisioning just how good they could be.
"They'd look at me with these hungry eyes and say, 'Let's do this,'" Ray says.
"As coaches we can say it all day, but if they don't believe it, it's over. But they did."
Quest for calm 
Part of how Ray imbues team-wide confidence is by trying to empower student athletes with a sense of calm and control. She emphasizes mindfulness and the importance of making time for yoga, stillness, and reflection at the end of practices.
"Even at their young ages where life is so busy and they're so energetic, we sit there in quiet with one another," Ray says. "I've found a really nice translation between that and their focus in the gym."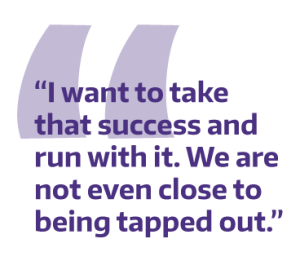 It's all a part of building partnerships that can—and should—be invested in, Ray says, adding that the difference between a cutthroat environment and a nurturing one can make all the difference—not only when time comes to compete, but when student athletes usher out into the world.
"Here you have this support system where you can grow up and mess up and we still have you and still guide you and love you and push you," she says, adding that it's a nurturing sentiment she hears echoed throughout the UW Athletics community, beginning at the very top.
"To have Jen Cohen, a strong, amazing female as our athletic director who sends me text messages after every competition or takes time to meet with me if I have questions midseason is unbelievable and incomparable," Ray says. "I'm seeing how she interacts with everyone with inclusion and kindness."
It's not an attitude born of wanting to win, but wanting to improve as people above all else. Even as Ray prepares to bid goodbye to four "unbelievable" seniors, she says she feels confident the program's culture is strong enough to buoy an exciting new class of freshmen.
"I want to take that success and run with it, because we're not even close to being tapped out."
---
Join Elise and 39 other coaches from UW Athletics, UW Recreation, and our fitness discount partners on the field at Husky Stadium for UW Fitness Day on May 24. Register here.