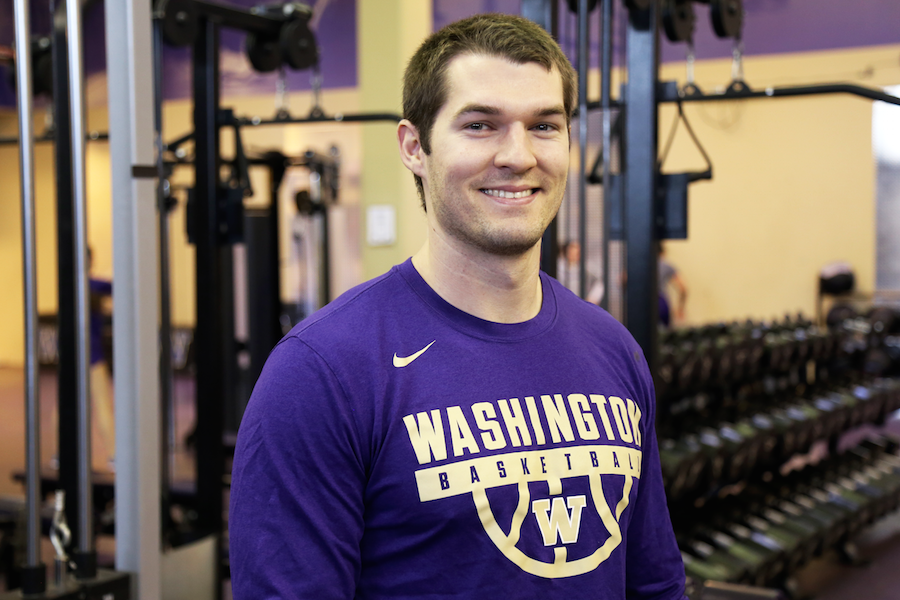 Coaches' Corner: Todd Tuetken
Todd Tuetken always loved to lift. Growing up on a cattle farm in eastern Iowa, he watched his father and uncle build their own weight-lifting equipment with parts from an old combine harvester. Together they engineered a leg press, a spot rack, and rigged a lat pulldown machine using a tiller disc and combine chain. He remembers watching both men grow bigger and stronger working out on the self-made contraptions. When Tuetken started using the machines to lift weights in high school, he was immediately hooked.
"They were right there in our basement and one of our barns outside," he recalls. "Lifting weights was part of my life from a young age, so I'm really fortunate now to be doing this as a career."
Today, Tuetken is director of Olympic Strength & Conditioning for UW Athletics, working primarily with the Volleyball, Beach Volleyball, and Men's Basketball teams. He joined UW in June, having spent the previous four years as an assistant athletic performance coach at the University of Texas, where he oversaw Men's and Women's Track and Field, Men's Swimming, Men's Golf, and Women's Golf. On his way to being part of three National titles and 18 Big 12 Conference titles, he worked with 151 athletes—the most of any strength coach on staff.
When offered the UW job last spring, Tuetken was preparing to embark on a doctoral program for physical culture and sports study under former world's strongest woman Dr. Jan Todd, a professor in the Department of Kinesiology and Health Education at UT-Austin. But with support from his wife Kelsey, Tuetken says the decision to forgo the doctoral program to join UW Athletics was "an absolute no-brainer."
"I was ready to do the doctoral program because I wanted to continue my formal education," he says. "It wasn't necessarily going to help me career-wise, but I was doing it because I have a constant hunger to learn and get better every day."
He credits that hunger with helping him land the position.
"That's the way Director of Athletics Jennifer Cohen and our executive staff and sport coaches think and why UW Athletics is such a unique environment," he says.
As director of Olympic Strength & Conditioning, Tuetken manages a staff of five and is responsible for communicating with all head coaches. His days usually start before seven in the morning, working individually with small groups of student-athletes at the UW Athletics workout complex in the Graves Annex. His days end after he uploads players GPS-based movement and performance data collected during practices and conveys his analysis to coaches.
He'll sometimes then head to the dining hall to join younger members of the basketball team for dinner—his way of getting to know players better, but also ensuring they're adjusting to the rigors and routines of life as an elite athlete at the collegiate level. Tuetken says he's able to serve as a "back-end resource" for Meredith Price, Men's Basketball's sports dietitian, helping "fill in the gaps" and ensure athletes understand the importance of eating well.
"Take care of the basics—that usually takes care of a lot of other things."
"Take care of the basics—that usually takes care of a lot of other things," he says. "All the tech is amazing, but if you're doing the basics, it takes care of 90% of the issues that might come up. That's why the basics are the basics—they work."
Whether sitting shoulder-to-shoulder with athletes at dinner or supervising the latest set in the weight room, Tuetken can relate. He was a two-sport walk-on at Iowa State, playing wide receiver for the Cyclones while also competing as a hurdler in track and field. Battling injuries in his third year at college, Tuetken used his time on the sidelines to work as a volunteer strength coach. After completing a Bachelor's Degree in Kinesiology, he went on to a Master's in Higher Education while working with numerous Iowa State teams as a graduate assistant from 2011 to 2013.
Over that time, Tuetken learned strengthening team bonds lies at the core of any strength and conditioning program. He says that, as a strength coach, one can easily get caught up on working on numbers in the weight room when it's more important to address what actually helps an athlete get better at their sport.
"They're here to play a sport, not here to lift weights," he says, adding that weight training is as much about building confidence as it is about getting strong physically. "I want them to feel better when they leave the weight room than when they walked in."
As for how his approach differs between basketball and volleyball, Tuetken says the key is to establish key performance indicators and understand the style coaches want to play.
"We want each athlete to be in world class shape, but it's important to ask, 'What does world class shape look like.' That, for me, is dependent on the way the coach plays and how they want the game to be played."
"With Coach Hopkins, we run the zone, so I need to figure out what I can do in the weight room that's going to make them better in the zone. Philosophically, on defense, we want to play low, so for us, when I'm in the weight room, I'm trying to figure out how to get athletes strong and let them have more stamina at a lower position when they have to move."
When players hit the court on game day, Tuetken wants them to not only feel strong, but also comfortable. Prepare by pushing yourself hard in practice and training sessions, he says, and you'll never feel outpaced on court. A big part of delivering for players in this way, Tuetken says, is challenging himself to get better every day as well.
"You can't give something to the athlete that you don't have," he says. "If you don't have knowledge in a certain area, you are limiting how the athlete can be developed and how they could be getting better. You have to be willing to constantly challenge yourself to become better educated."
As an Olympic Strength & Conditioning coach, Tuetken looks at nutrition, biomechanics, bioenergetics, and biodynamics to form a more holistic picture of an athlete's route to success—and of any obstacles that might stand in her way.
"That way," he says, "whenever there's a problem or situation, you can view it from every single angle."
Tuetken credits his early development as a coach to experiences working alongside high-level coaches such as Eddie Reese, who, over the course of a 40-year career, has led UT Men's Swimming to 13 national titles. He says he also owes a lot to Donnie Maib, director of athletic performance at the University of Texas, for setting him on his present path.
"If he wouldn't have given me the opportunity to work for him at the University of Texas, I never would have had the opportunity to be a director this young," says Tuetken, who is 28. "He taught me years don't equal equity; it's the amount of work you put in that gives you your equity."
He says Maib also taught him to view on-court outcomes as not necessarily being the athlete's fault; and the way in which that failure or misplay gets addressed matters as a key point of interaction.
"When you stop blaming people…it completely changes your perspective on the way you deal with your athletes."
"As a coach, you have to look at it as, 'what didn't I teach you to make you not make that mistake? Where did I as a coach not help you understand how to make the best decision?'" Tuetken says. "When you stop blaming people and take it on as a coach—saying, 'No, it's my fault; I need to help them'—it completely changes your perspective on the way you deal with your athletes."
With more years ahead of him with UW Athletics, Tuetken is relishing each interaction and opportunity to learn along the way.
"From a cultural standpoint—given what Jennifer Cohen has turned this place into and what she wants it to be—it's an amazing opportunity to be here," he says. "You couldn't ask for a better group of coaches and I couldn't work with better people day to day."
In addition to players, coaches, and other training personnel, Tuetken says Senior Associate Athletic Director Shondell Reed has lent continuous support and a sense of vision since he first set foot on campus.
"You have to look at each athlete as a person—as someone's child—and ask, is this really what's best for them; is this really what's going to help them as an athlete and as a person?" Tuetken says of the ethos Reed has helped impart. "That's why I love training in small groups, because you can really start tinkering and dialing stuff in."
Tuetken says when athletes start believing in the training process, they develop as leaders in their own right, creating their own athlete-driven culture of success. When that happens, it creates the conditions for championships.
"In basketball, our saying is 'Tougher Together,' because that's the truth: when you play as a team on the court and work together as a team off the court, that's when it's really special."
Having worked with seven Olympic gold medalists at UT, including Olympic World Record-holders Ryan Crouser (shot put) and Joseph Schooling (who bested Michael Phelps' 100 m butterfly record in 2016), Tuetken knows what it looks like when it all clicks and is prepared to witness it again now that he's at the UW.
He points to UW Basketball's recent upset victory over Kansas—regarded as one of the greatest non-conference wins in University history—as a telling recent example.
"Show up, put in the work, and amazing things can happen."
---
Todd Tuetken is a Certified Strength & Conditioning Specialist (CSCS) through the National Strength and Conditioning Association, Strength & Conditioning Coach Certified (SCCC) through the Collegiate Strength & Conditioning Coaches Association, Track and Field Strength & Conditioning Coach Certified (SCCC) through US Track & Field and Cross Country Coaches Association.