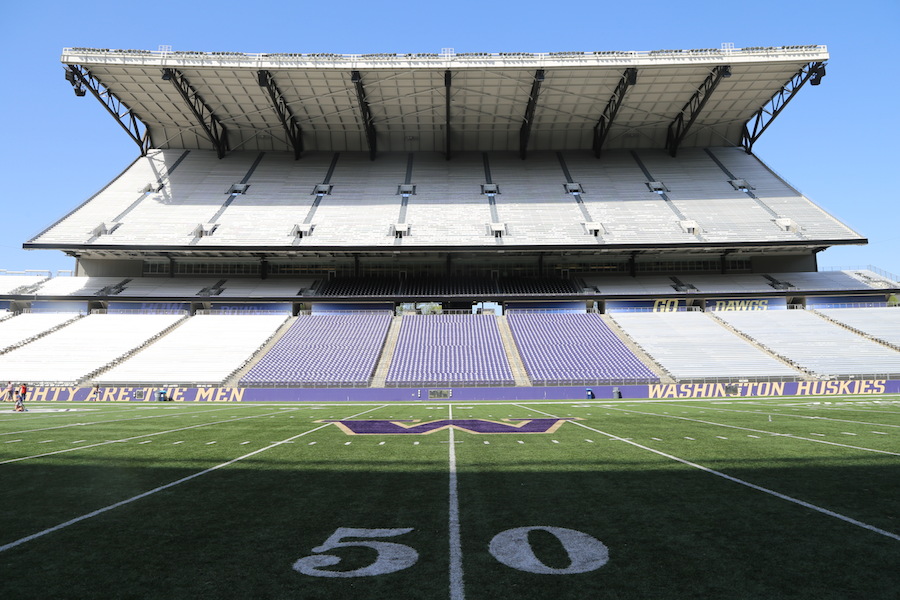 The True Meaning of Fitness
This might come as a surprise, but UW Fitness Day is not about breaking a sweat.
You can go as hard or as easy as you like during next Wednesday's 40-station celebration of the many ways we move. More than anything, we define "fitness" as a gateway to what's possible—a moving more together as one of the fastest means of getting there.
So, even if you're none too keen on calisthenics—don't sweat it—there's still plenty you can take away (and give back) by participating in UW Fitness Day. Don't believe us? We tapped the stories of UW Fitness Day coaches and other UW experts to underscore the true meaning of fitness.
It's about confidence. 
As official historian for the American College of Sports Medicine, professor emeritus Jack Berryman knows a thing or two about fitness. What he wants everyone to know is that competition shouldn't factor in to physical education. In fact, he views the 20th century's over-emphasis on competitive sports in high school curriculums as one of the reasons so many people shun forms of physical activity as adults.
"One of the things that turned so many generations of people off exercise was their experience in public school physical education. A majority of participants were embarrassed they didn't have the athletic ability of others and millions of baby boomers were left by the wayside thinking they couldn't do anything."
In the absence of competition, people can enjoy fitness for its benefits, restoring their confidence and enjoyment of working out in the process. Berry says one of the greatest shifts over the last 40 years has been this recoupling of exercise with a sense of personal wellness rather than gridiron glory. "It brings us back to a point where we were hundreds of years ago when prescribing lifestyle modification was a regular and expected duty of one's physician."
It's about community.
If UW Gymnastics Head Coach Elise Ray can tell you anything, it's that community counts. After a "horrible" experience at the 2000 Sydney Olympics, UW Gymnastics Head Coach Elise Ray found her passion for the sport was at its lowest ebb. "I wanted nothing to do with gymnastics," Ray recalls thinking. "I wanted to get as far away from it as possible."
Ray and her fellow Olympians didn't win a medal (until being retroactively awarded a bronze years later), so instead of turning pro, she did what any 18 would do and went to college. Ray found renewed focus and energy at the University of Michigan, where, after four years, she graduated as the Big Ten Conference's all-time leader in Gymnast of the Week citations (9) with 14 All-American honors, the most in UM program history.
"Once I started competing with this team of girls, coaches, and trainers who cared about me and my growth as a person; who would give me a platform to totally mess up—whether it was in the gym or in life—and love you anyway, it healed me," she says. "It was a blessing that flipped my perspective on gymnastics–I went from feeling broken to loving it again."
It's about new beginnings.
Todd Tuetken enjoys reading about astrophysics when he's not serving as director of UW Athletics' Olympic Strength and Conditioning Program, but he knows you don't have to be a rocket scientist to prepare to perform at your best.
"Take care of the basics [eating well, sleeping enough, and training] and that usually takes care of 90% of the issues that might come up," he says. "That's why the basics are the basics: they work."
Tuetken says he wants every athlete he works with to leave the weight room "feeling better than when they came in"—an approach he'll bring to Fitness Day as a coach. The people he is most excited to see are the ones, "who are excited to start a new goal and create new positive habits."
It's about being yourself.
UW Women's Soccer Head Coach Lesle Gallimore credits associate head coach Amy Griffin for her mentorship and influence over the 23 seasons they've helmed the program together. A tenet both coaches share—and which Griffin will bring to UW Fitness Day as a participating coach—is they want their players to feel safe being themselves, because when you can be yourself you can most easily tap into what truly motivates you to be your best.
"You always have to ask yourself, 'Why are you doing what you're doing? Why are you here?'" Gallimore says. "I don't want my team to be like-thinking to me," Gallimore says. "I want the players…who think and believe and are very different people, but they feel like one, because they're respected."
---
Catch Todd, Amy, and 38 other inspiring coaches at UW Fitness Day, May 2 from noon to 1 pm at Husky Stadium along with locations at UW Bothell and UW Tacoma!
UW Seattle faculty, staff, and students: Register here!
UW community members: Register here!
UW Bothell faculty, staff, and students: Register here!
UW Tacoma faculty, staff, and students: Register here!
Let's make history together again on May 2.