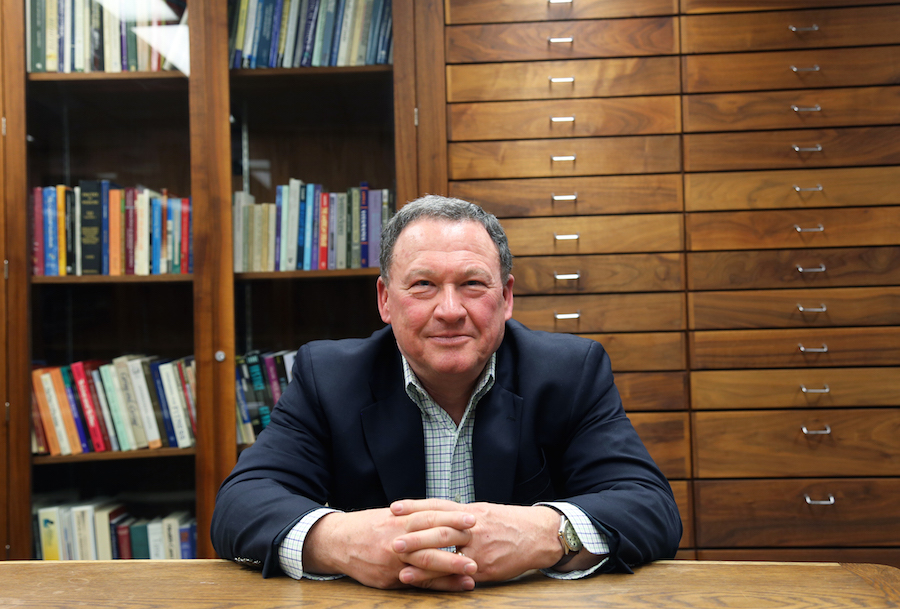 Faculty Friday: Jack Berryman
Growing up in the small borough of Lewistown in central Pennsylvania, Jack Berryman excelled at athletics. As a freshman in high school, he lettered at shortstop for the varsity baseball team. Each fall, he'd leg it down the soccer field with ease. When the weather turned cold in winter, he was usually one of ten picked to square off in basketball scrimmages while the rest of the P.E. class looked on from the bleachers.
"Those programs catered to kids like me," he recalls. "I was an athlete—and that's why I wanted to be a P.E. teacher."
For Jack, the system worked. But as he embarked on a career in physical education after college, it became increasingly clear that the system that had shown him so much success had to change.
"One of the things that turned so many generations of people off exercise was their experience in public school physical education," says Berryman, who today serves as professor emeritus in the Department of Bioethics and Humanities at the University of Washington. "The way that it used to be done, a majority of the participants were embarrassed they didn't have the athletic ability of others and millions of baby boomers were left by the wayside thinking they couldn't do anything."
After 40 years at the UW, Berryman retired from teaching full time in 2015, yet remains one of the nation's preeminent historians of sport, medicine, and physical culture. In addition to his work as a professor, he is responsible for preserving the history of the American College of Sports Medicine as the organization's official historian and has served multi-year terms as editor of the Journal of Sport History and as president of the North American Society for Sport History.
That's why you might be surprised to hear him blame an overemphasis on sports and competition for creating what, in his view, was a climate of alienation that pervaded physical education in the U.S. for most of the 20th century.
"The biggest change over the last 40 years has been moving exercise out of the sports realm back into the health realm," he says. "What you want to be doing is helping students understand heart rate, blood pressure, BMI—things that are health indicators—and then that's what you need to develop your curriculum toward."
He says back into the realm of health because, for much of the 19th century (and centuries prior), health—not athletic skill—was the goal of physical education. It wasn't until the early 1900s when games and sports began to be viewed as physical exercise that gyms—no longer the sole province of gymnastics, exercise machines, and calisthenics—started to be modified to serve as viewing venues for athletic competitions.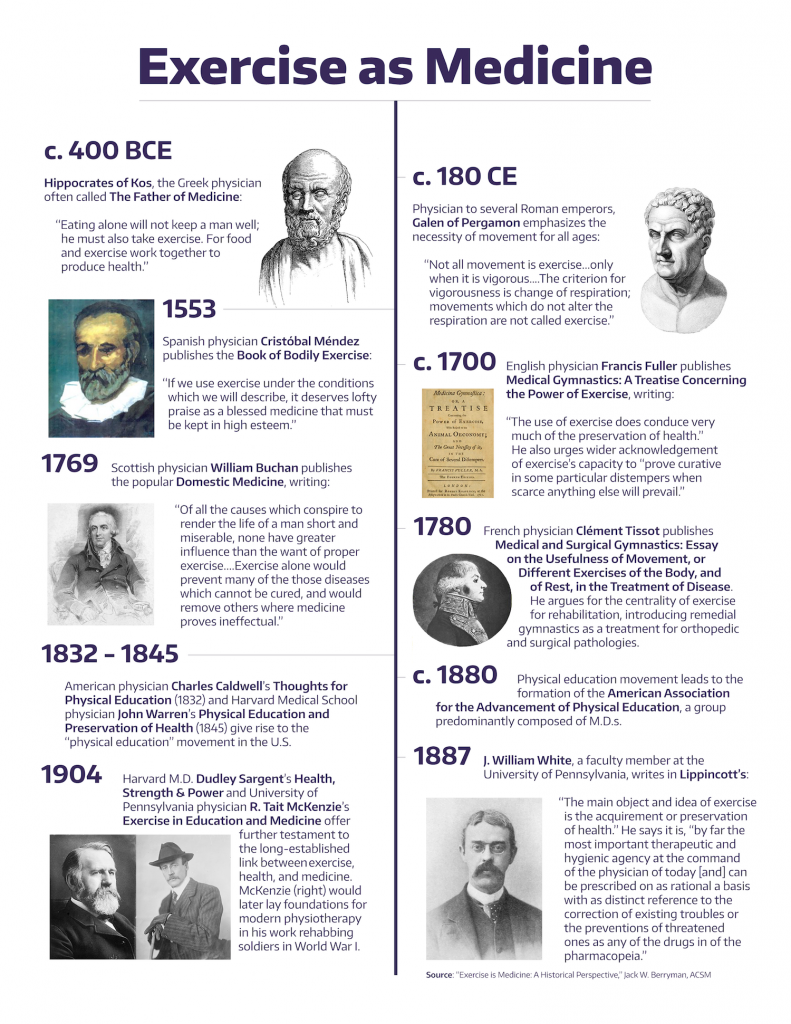 "By the early 1900s, physical education was beginning to experience a shift in emphasis from body development and health instruction to games and sports," Berryman says. "Basketball joined football, baseball, track and field, swimming, and tennis, along with other sports and games, to become the new subject matter of physical education."
This new role of physical education in high schools and colleges, Berryman says, "was viewed as 'education through the physical' as opposed to 'education of the physical.'" Physical education became a curriculum of "sports skills" that emphasized, prioritized, and ultimately rewarded the most athletically gifted students, while "the average student"—as the Journal of the American Medical Association noted in 1905 at the emergence of the trend—was "left to get his physical development yelling from the bleachers."
Indeed, by the 1930s, one study found that in 90% of 760 high schools surveyed the physical education director and the football coach were the same person. In the 20th century, it was coaches—not physicians—who dominated the playing field of physical education.
It's not that this new turn in physical education didn't have its share of positives. Berryman says the newly emergent "Sports Creed" emphasized "citizenship, teamwork, character, democratic living, and sportsmanship," even as it superseded the previous century's "Laws of Health," i.e. instruction on how one's physical body functioned.
Changes in the way medicine was practiced in the 20th century also contributed to the shift in education.
"Mainstream Western medicine became more focused on 'sick care' at the beginning of the 20th century," Berryman says, adding that advances in bacteria science and vaccines also led more physicians to practice medicine that emphasized treatment over prevention.
"Before, a major part of a physician's duties focused on the preservation and promotion of health and prevention of disease—often through emphasis on the importance of exercise and diet—what became known as regimen—because there were not many known cures."
Berryman says that, over recent decades, it's been heartening to witness the reemergence of the notion that "physical activity is a viable and relatively inexpensive way to combat most of the nation's most serious diseases that are, for the most part, preventable."
It's a return to physical education's historical roots that Berryman's own research has done much to help map. In 1996, he was one of the contributing authors of the U.S. Department of Health and Human Services' Physical Activity and Health: A Report of the Surgeon General—considered as influential in raising awareness around the health benefits of physical activity as the 1964 Surgeon General's Report was in alerting the nation to the health risks of smoking.
"It brings us back to a point where we were hundreds of years ago when prescribing lifestyle modification was a regular and expected duty of one's physician" Berryman says. "Ancient medicine made it clear to physicians and lay people alike that responsibility for disease and health was not the province of the gods and goddesses; every person—either independently or in council with their physician—had the opportunity to attain and preserve health."
He says the shift in emphasis back to individual activity and accountability since the 1996 report has been "huge," but even so, physical inactivity remains one of the most pressing health problems of the 21st century.
"You don't need to go to the gym—you just need to get out there and do it," he says. "It's nice if one's available and you know what you want to do, but it's better to do your own thing: walk, rake leaves, wash the car, dance, move."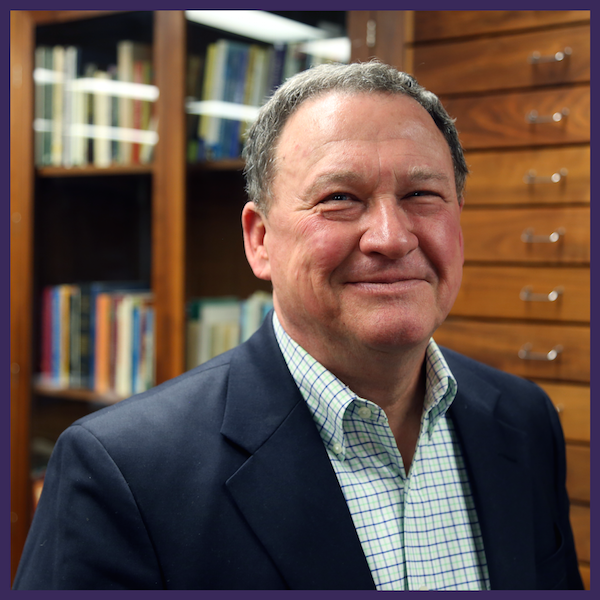 Berryman takes his own advice. Even as an avid member of the I.M.A. during his tenure as UW faculty, he prefers the outdoors—fishing throughout the Pacific Northwest and even serving as a guide on Alaska's Kenai River during summers in the early 1980s.
Since 1986, he's published more than 300 articles and numerous photographs in a variety of adventure, travel, and outdoor magazines and is a member of the Society of Environmental Journalists—speaking for fly fishing clubs across the country and giving several presentations a year.
Berryman says one of the most gratifying moments in his career as an historian and educator was asking his granddaughter what she does in P.E. class and to have her respond that they're running and checking their pulse.
"That makes me feel good," he says. "If done right, the physical education curriculum can be the most important part of one's education."
"What could be more important than learning about your own body and how to keep it healthy?"
---
Dr. Berryman holds a B.S. from Lock Haven State College, a M.S. in Exercise Physiology and an M.A. in History from the University of Massachusetts, Amherst, and a Ph.D. from the University of Maryland. He also serves as an adjunct professor emeritus in the Department of Orthopaedics and Sports Medicine in the School of Medicine. His 2006 book, Fly Fishing Pioneers & Legends of the Northwest won the Outdoor Writers Association of America's Excellence in Craft Award for the best book in 2007.
In 2017, the American College of Sports Medicine honored him with a Citation Award in recognition of lifetime achievements in the literature of sport history and the history of sports medicine and exercise science​​ while Fly Fishers International recognized his contributions to the history and ethics of fly fishing with its Roderick Haig-Brown Award.