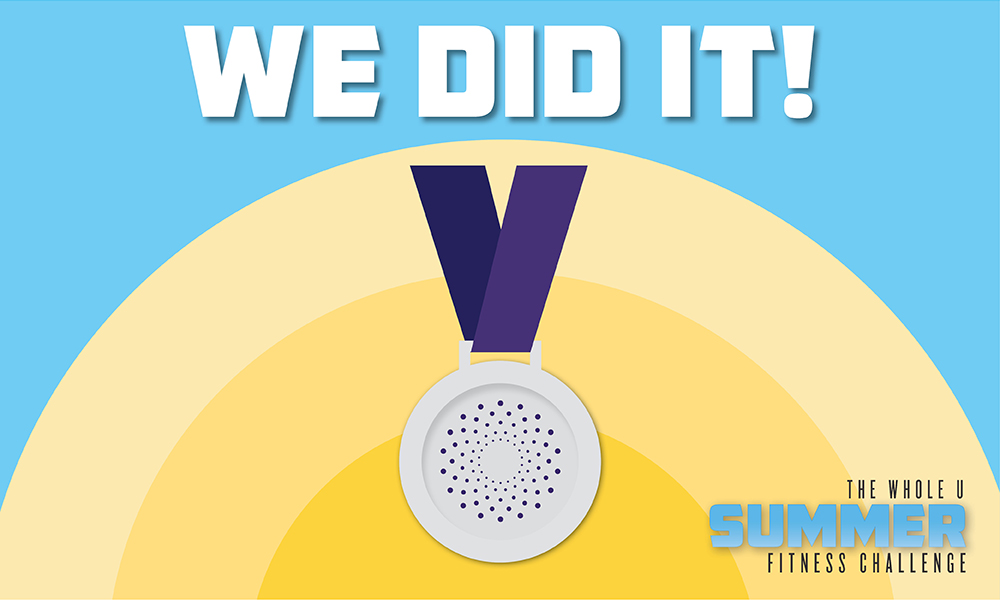 Starting the New School Year Stronger & More Fit!
Over 1,500 UW faculty and staff participated in this year's Summer Fitness Challenge to move more and eat well. Through partnerships with our Fitness Discount Network, participants and their families were able to try out local gyms for FREE. Now we are going into the new school year feeling stronger and more energized.
To celebrate, join us for a workout with discount partner Chris Kirchoff at the IMA on Friday, September 18. We will use our own bodyweight to get moving, practice balance, and build strength. This is your last opportunity to break a sweat with us before the new quarter begins! Register here.
We published an article during each week of the challenge to keep up the motivation. They included an exercise topic, a water tip, a recipe with what's in season, and an exercise video to try. Here are the topics and articles in case you missed it…
Week One – Where to Start
Week Two – Rate of Perceived Exertion
Week Three – Strength Training
Week Four – Interval Training
Week Five – Progression Training
Week Six – Exercise and Travel
Week Seven – Increase Your Physical Activity
Week Eight – Try Yoga
The Whole U hosts many signature programs throughout the year including the Dare to Do Challenge, March Culinary Countdown, the Summer Fitness Challenge, National Yoga Month Celebration, and the Holiday Stress Less Challenge. These activities provide a variety of ways for UW faculty and staff to build community while supporting one another's health and fitness goals in the workplace. Research shows social support is a huge indicator of success. Want to be inspired to give one of these programs a try? Check out a few comments from Summer Fitness Challenge participants:
"I walked on every lunch break for one hour, and then after work walked my dog for an hour. After my walks I felt both release of stress, refreshed, and energetic. The diet changes that I made eliminated my craving for junk foods, and I noticed that I would feel ill if I ate something unhealthy. I began to listen to my body, and this helped with a successful weight loss of 15 pounds from June to August."
"I felt very healthy and fit this summer! I started walking to work (2.5 miles one way; 5 miles round trip), I took the stairs whenever possible and my co-workers and I did 10-20 minute workouts in the mornings together, you might have seen us at the fitness area outside Clark Hall or frog-jumping and running around Drumheller Fountain."
 "I feel healthier about my choices. Been doing yoga during my lunches and rock climbing after work. I feel stronger."
"This fitness challenge has reminded me about the importance of staying fit and healthy. It also provided me with some good information to help attain my goals. I found several of The Whole U activities to be quite enjoyable, and I appreciated the additional opportunities to celebrate fitness with my colleagues!"
"I started out with 30 sit-ups, now I do 100. I started with 4 push-ups, now I do 10. I started with 25 knee bends, now I do 75. I started with 25 jumping jacks now I do 100. I have started adding some jogging into my daily walks."
"The challenge has made me feel accountable to something other than myself. I loved participating in the Stair Challenge and taking the UWT Fitness class. I've been participating in an August ab challenge with some friends and made myself a workout calendar to hold myself accountable to my half marathon training. Thank you Whole U for the summer challenge! I'm signed up for the yoga one too!"
Congratulations to all those who participated and we hope to see you this September during the Whole U Yoga Month Celebration!