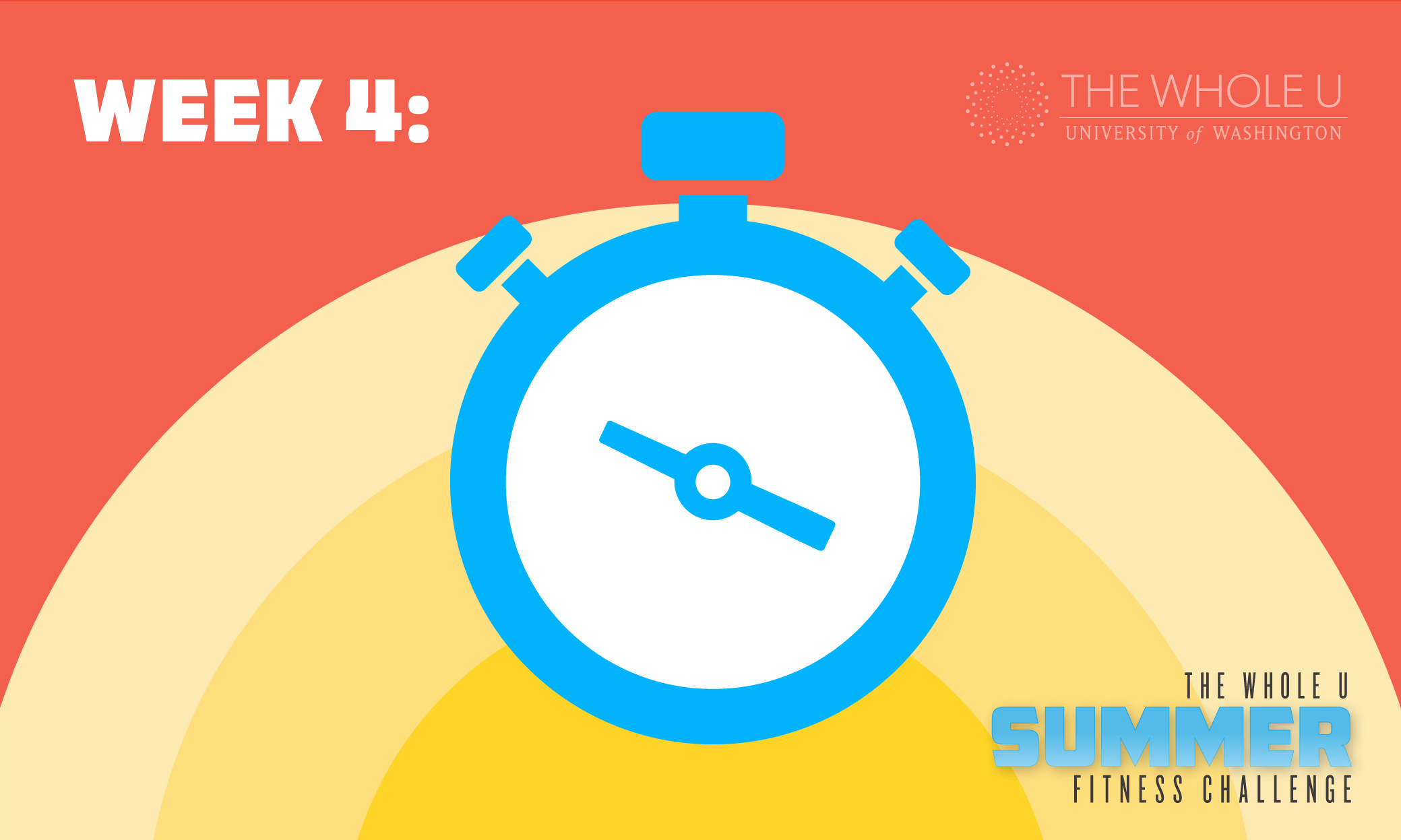 Summer Fitness Challenge: Week Four
Welcome to week four of the Summer Fitness Challenge. The first three weeks have been incredible, with over 1,000 faculty and staff participating in the UW Stair Challenge. We are proud to say that we reached our goal of 500K stairs in 24 hours! Tomorrow's Whole U article will reveal the winner of the challenge and all the exact numbers, but the important thing is that so many people fit in extra movement into their day. Amazing work!
Exercise tip of the week – Interval Training
This week's focus is interval training. Exercising at the same pace or intensity is better than not exercising at all, but if you're looking for ways to improve your fitness try interval training in which you alternate the intensity of exercise from moderate to hard. When you are at a hard pace, you should have trouble carrying on a conversation. Whether you're a walker, stair stepper, runner, or cyclist, it can improve fitness levels and make the workout feel like it's going by faster.
Why is it so effective?
You burn more calories when you increase intensity, even if it is just bouts of intense work.
You improve your aerobic capacity. As your cardiovascular fitness improves, you'll be able to exercise longer or with more intensity.
You stay motivated. Adding short intervals can add variety to your exercise routine and keep you motivated.
Try these workouts this week:

Workout One: Choose your favorite cardio (walk, run, bike, swim, stair climb)
Warm up with 5 minutes of easy exercise
Perform 6-10 rounds of 1 minute hard and 1 minute easy
Cool down with 5 minutes easy
Workout Two: Choose your favorite cardio
Warm up with 5 minutes easy exercise
Perform 3 – 5 rounds of:
1 minute hard, 1 minute easy
2 minutes hard, 1 minute easy
3 minutes hard, 1 minutes easy
Cool down with 5 minutes easy
Washington Grown Veggie of the Week – Swiss Chard
Swiss chard has over three times the recommended daily amount of vitamin K, which plays a role in bone health and is vital in the blood clotting process. It also has almost half the recommended amount of vitamin A, which is a key component in eye health. Of course you can't forget the large punch of vitamin C that Swiss chard brings as well! Try this recipe from Chiara:
Quick Sautéed Swiss Chard
1 ½ tablespoons extra-virgin olive oil
1 ½ tablespoons butter
2 garlic cloves, minced
1 pinch red pepper flakes
2 bunches Swiss chard, stems and inner ribs removed and cut into very small pieces, and leaves roughly chopped (keep stems and leaves separate)
1 ½ tablespoons lemon juice
salt
Add oil and butter to a large pan over medium-low heat. When butter is melted, add garlic and crushed red pepper and cook until fragrant, about 1 minute.
Add the Swiss chard stems and ribs. Add 1 or 2 tablespoon water and sauté, covered, until soft, about 5 minutes.
Add the Swiss chard leaves and cook until wilted.
Add lemon juice and season with salt to taste.
Water Tip of the Week – Exercise and Water
It is very important to consume enough water when you are exercising in the summer months. Sports drinks are not recommended unless you are exercising well over an hour. WedMD recommends the following:
One to two hours before your workout, drink 15 to 20 ounces of water
15 minutes before you begin, drink between 8 and 10 ounces of water
During your workout, drink another 8 ounces every 15 minutes
Video of the Week – Front and Side Raise with Exercise Band
These exercises are especially good if you work at a computer most of your day. Enjoy adding them into your strength routines.

Whole U Opportunities Coming Up
Whole U Picnic on the Quad on July 31 – It's not too late to register. Take advantage of Seattle's gorgeous summer weather and meet us for a picnic on the Quad! Just bring your lunch and a blanket. We'll eat, mingle, and get to know each other while enjoying the beauty of one of the most iconic college quads in America. Register now and join us!
Workout with Chris Kirchoff on August 7 on the Quad – Meet us in the Quad for a bootcamp class with personal trainer Chris Kirchoff! We will use the outdoor environment and our own bodyweight to get moving, practice balance, and build strength. You'll learn some simple techniques that you can do on your own or with your colleagues, friends, or family. Register here.
We're halfway through this eight-week challenge. Keep up the great work!