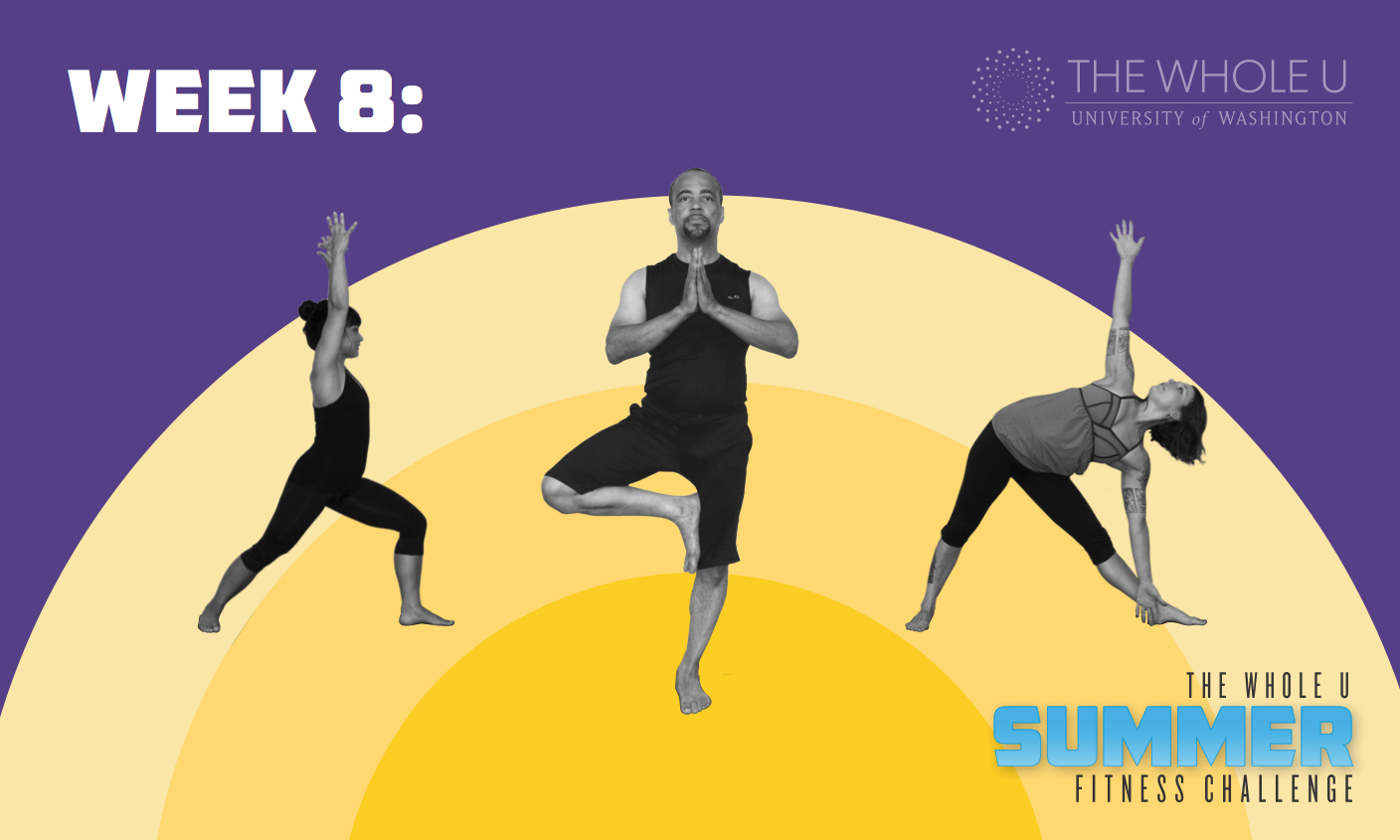 Summer Fitness Challenge: Week Eight
It's the final week of the Summer Fitness Challenge and nearly 1,600 UW faculty and staff have spent the past eight weeks moving more and eating well. So far we have learned where to start with an exercise program, how to gage intensity, the benefits of adding strength, how to progress properly, how to add intervals, tips for exercising while travelling, and how to be more physically active throughout the day.
But we're not done yet! While the Summer Fitness Challenge might be coming to an end, we're looking forward to The Whole U Yoga Month Celebration in September. We encourage all of our Summer Challengers to join us. Staying on track can be the hardest part, and research shows that opportunities like this help motivate us to make fitness a lifestyle.
Exercise Tip of the Week – Just Try Yoga!
Even if you are brand new to yoga, we encourage you to try it out. Yoga Journal lists 38 benefits of yoga and how each is helpful to our bodies.
38 Reasons to Try Yoga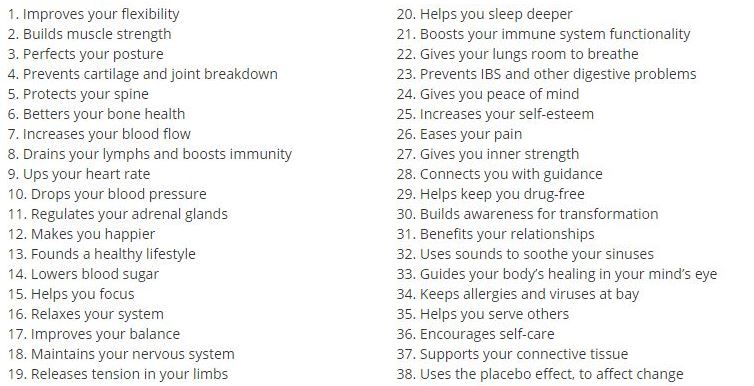 WA state veggie of the week – Radicchio
Radicchio contains lutein, a compound that is necessary for good eye health and helps decrease risk for cataracts. It also contains a substantial amount of copper, a mineral that is crucial for the proper functioning of organs and metabolic processes in the body.
Chiara has provided us with another awesome recipe to try.
Radicchio Risotto (Serves 4 people)
8 cups reduced-sodium vegetable or chicken broth
1 lb. of radicchio
1 cup milk
6 tablespoons unsalted butter
1 medium onion, chopped finely
2 cups Arborio rice
3/4 cup dry white wine
1/2 cup freshly grated Parmigiano Reggiano cheese, plus more for serving
Heat the broth in a small saucepan.
Clean the radicchio and slice it into thin strips. Heat up 1 tablespoon of butter in a large pan and add the radicchio. Add milk and sauté the radicchio for a few minutes. Once wilted, drain it in a colander, getting rid of the milk. (This should help reduce the radicchio's bitterness. Repeat this process if the radicchio is still too bitter.)
Melt 3 tablespoons of butter in a large saucepan over medium heat and add the onion. Cook until softened but not browned. Add the rice and stir with a wooden spoon for a couple minutes.
Add the wine and stir, until all the liquid has been absorbed.
Add the broth one ladleful at a time and stir, waiting until all the liquid is absorbed before adding more broth. Halfway through, stir in radicchio and mix well. Total rice cooking time should be about 20 minutes. Rice should be tender but still al dente, and should look creamy. (You may not need to use all the broth.)
Remove pan from heat, stir in the remaining butter and the Parmigiano. Mix well.
Let the rice rest for a couple minutes and serve over warmed plates with additional Parmigiano.
Water Tip of the Week – Use a Straw!
Try using a straw, or purchase a water bottle with a built in straw. This way you can sip on water throughout the day.
Video of the Week – Stretching with the Band
You can use your exercise band for stretching in addition to strength training. Try this stretching routine twice a day while at your desk.

Whole U Opportunities Coming Up
Harborview Stair Clinic – Join PJ Glassey and learn how to incorporate stairs into your workout.  Register here.
Whole U Picnic – Join us for a picnic at Sylvan Grove Columns. Register here.
Whole U Yoga Month Celebration – Celebrate National Yoga Month with The Whole U. Register here.
We hope you have enjoyed the Summer Fitness Challenge and we encourage you to stay connected through our private Facebook group.