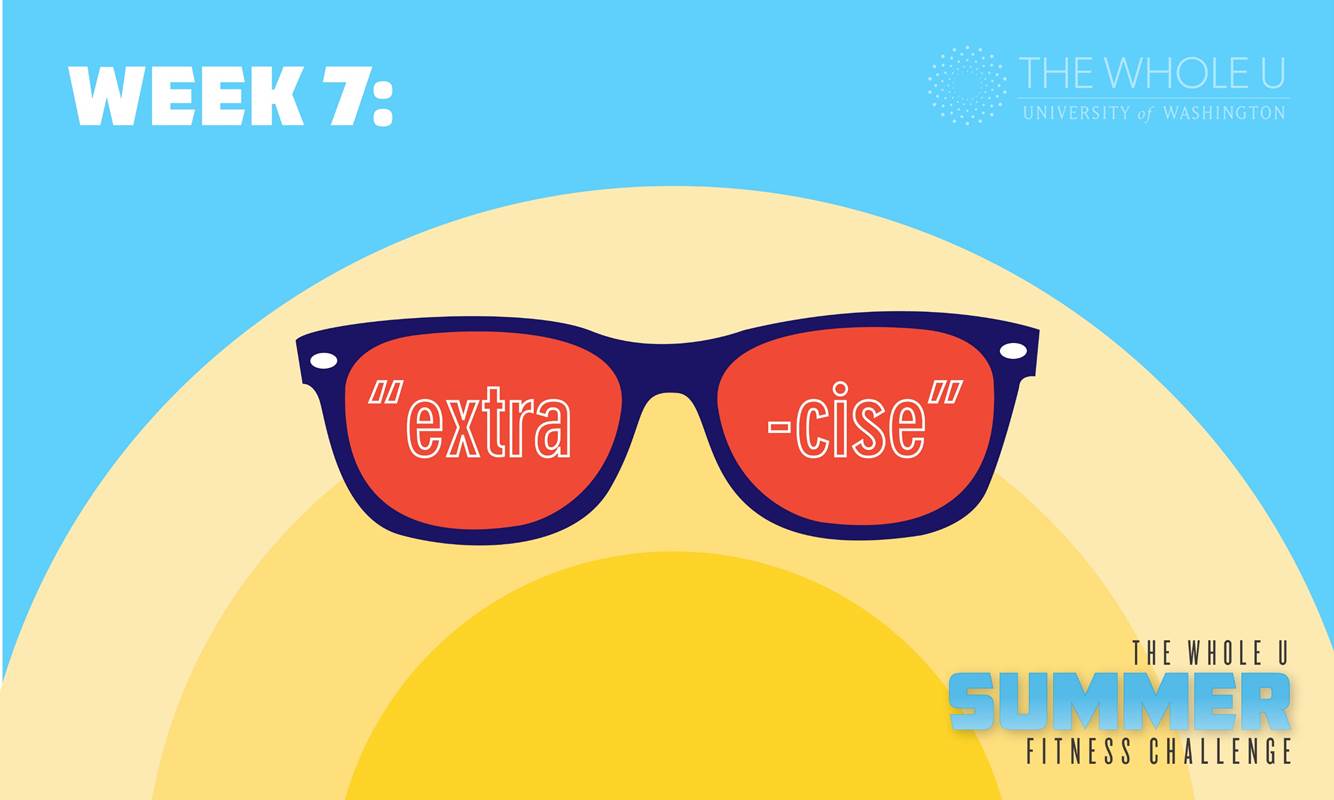 Summer Fitness Challenge: Week Seven
Exercise Tip of the Week – Increase Your Physical Activity
Exercise and physical activity are not synonymous. Exercise is planned and purposeful, and scheduled bouts of it will improve your fitness and health significantly (I've been encouraging you to fit in at least 30 minutes of moderate exercise a day, whether it's broken up in 10-minute sessions or done all at once). That said, moving naturally can also improve your health, mood, and energy.
Here are ways you can fit in more natural activity throughout your day:
Schedule a walking meeting or stand while on the phone.
Get up from your desk every hour for three minutes to stand and stretch.
Park further away in parking lots. Don't look for the closest spot.
Get off the bus one stop further away than normal.
Choose the restroom on a different floor and take the stairs.
Take more trips unloading your groceries vs. trying to get them all at once.
Stretch or do yoga while watching your favorite TV show.
Go for a walk or play a family game, like tag, after dinner.
Clean your house, mow your grass, or do other active chores.
Walk or bike to your destination whenever possible.
Washington State Veggie of the Week – Bell Peppers
One bell pepper contains more than twice the amount of daily recommended vitamin C, which is awesome for immune health! Bell peppers are also a great source of vitamin B6, which is crucial in the production of healthy red blood cells, as well as brain and nervous system health. Try this delicious recipe by Chiara from The Whole U team.
Roasted Red Bell Pepper Soup (serves 4 people)
 3 tablespoons olive oil
2 medium onions, chopped
2 cloves of garlic
2 medium carrots, chopped
1 quart low-sodium vegetable or chicken broth
3 large bell peppers
salt and freshly ground pepper to taste
6-8 basil leaves
extra-virgin olive oil for drizzling
Optional: goat cheese or cooked shrimp, and toasted baguette slices
Preheat the broiler. Arrange the peppers on a baking sheet, and broil for 15 to 20 minutes, turning often, until they have darkened and collapsed. Transfer the peppers to a bowl and cover tightly with foil. Let stand for 10 minutes.
Over a bowl, peel the peppers and remove the stalk, seeds, and filaments. Break the peppers into large strips. Reserve the juices.
Heat the olive oil in a heavy large pot over medium heat. Add the onions, garlic, and carrots and sauté for 15 to 20 minutes, until very soft but not browned.
Add the broth, bell peppers, and the reserved juices. Increase the heat to high and bring to a boil. Reduce the heat and simmer uncovered for about 30 minutes, stirring occasionally.
Add basil leaves and puree with an immersion hand blender. Season to taste with salt and pepper. Pour soup into bowls and drizzle with extra-virgin olive oil.
Optional: Top with crumbled goat cheese or a few cooked shrimps and serve with toasted baguette slices.
Water Tip of the Week – Fruits and Veggies
Hydration doesn't always need to come from drinking a glass of water. Increase your water intake each day this week with more fruits and veggies. Watermelon and strawberries contain about 92% water and grapefruit contains 91% water. Cucumbers and lettuce contain 96% water and zucchini, radishes, and celery contain 95%.
Video of the Week – Quads and Shoulders
Doing exercises that work multiple muscle groups allows you to work more efficiently. Try this exercises with an exercise band or dumbbell.

Whole U Opportunities Coming Up
Try PJ Glassey's stair clinic at Harborview on Wednesday, August 19 – Register now.
Sign up for yoga inspiration and opportunities all September long via The Whole U Yoga Month Celebration – Register now.
One more week to go! Congratulations to all those who kept up with their exercise goals this summer.