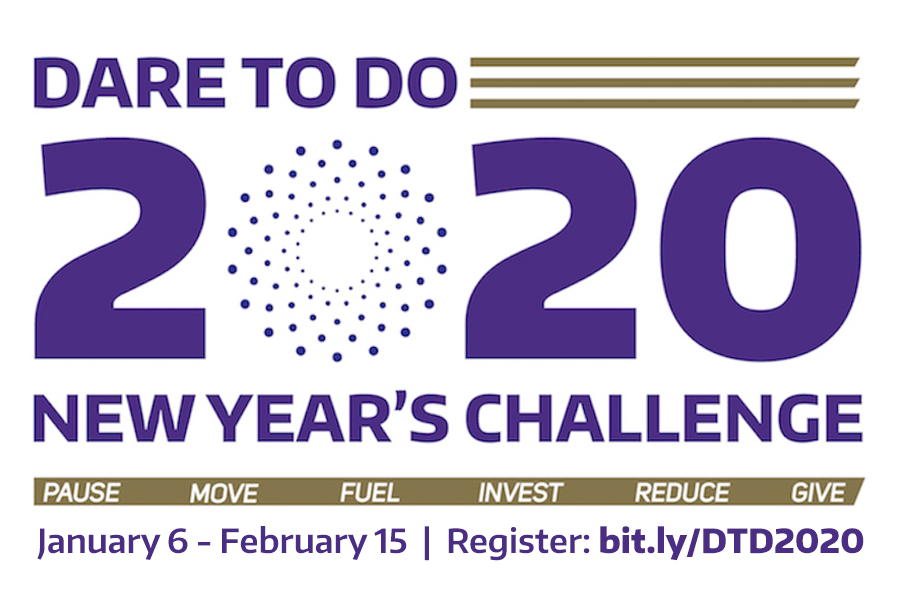 Dare to Do and start the 2020s strong!
Last weekend, when UW Volleyball swept South Carolina at Alaska Airlines Arena to advance to the Sweet 16 of the NCAA Tournament, it was the latest triumph in a season that started back in August with six consecutive weeks competing on the road.
Head Coach Keegan Cook said one reason for the team's sustained success and present momentum has been the "compound interest" they've earned throughout the season from their willingness to "just show up day after day" to work on small things that, over time, add up in big ways.
"[Volleyball] teaches you the importance of consistency—whether you're working on your serve or trying to create some habits in your life," Cook told The Whole U in a November interview. "When you start to do a little behavior over and over again, it turns into a powerful force in your life. If you do something day after day, all of a sudden it will turn into something that just takes you places you never thought you could go."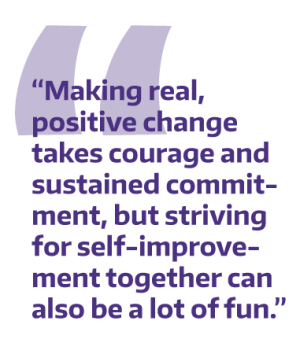 ---
If you think that's easier said than done, you're not wrong. Making real transformations toward reaching your goals takes long-term commitment and a willingness to put in the effort.
With a New Year—indeed, new decade—on the horizon, you might be thinking about making resolutions around what you'd like to achieve or improve come 2020. Here at The Whole U, we not only challenge you to not back down from making that commitment, we also want to help you succeed in keeping it.
That's why we're so excited to invite all University of Washington faculty, staff, and students to join us for the 2020 Dare to Do New Year's Challenge—register here! The challenge's premise is simple: making real positive change takes courage and sustained commitment, but when you make that commitment collectively, together as a team just like UW Volleyball, striving for self-improvement can also be a lot of fun!
The challenge begins Monday, January 6 and runs through Saturday, February 15. After you register, you will receive:
The coveted Husky Fitness Pass, which offers free day passes to participating fitness studios and gyms
Weekly emails and social media challenges for each Dare to Do area focus (read more about each focus below)
Free events across the UW—from goal-setting workshops and fitness classes to opportunities to give together
Additional resources on our website, including article content, virtual programs, and wellness discounts
Because everyone's New Year's resolutions are unique, Dare to Do focuses on six areas of wellness over the six weeks of the challenge, providing you resources, activities, and fun, weekly challenges to stress less, move more, eat healthier, improve your finances, be more sustainable, and give more to others.
Every week, we will dare you to focus on one of the following important facets of overall wellness, so whether you want to focus on a singular goal for the length of the challenge or look to improve across the board, we've got you covered!
Week 1 – Dare to Pause – Take time to reflect, set goals, and be mindful of intention.
Week 2 – Dare to Move – Focus on incorporating fitness/physical activity throughout the day.
Week 3 – Dare to Fuel – Nutrition doesn't have to be about elimination. It's just as much about what we put in.
Week 4 – Dare to Invest – Get ahead and save in 2020.
Week 5 – Dare to Reduce – Explore ways to reduce and make sustainability a daily habit.
Week 6 – Dare to Give – Giving to others grows empathy, connection, and reminds us to be practice gratitude.
---
---
Need even more inspiration to sign up? Check out what people had to say after participating in the past iterations of the challenge! If you've already registered and are ready to get a head start on your 2020 goals, check out our Dare to Do Toolkit for Keeping Resolutions, which includes a comprehensive list of resources for being more active, improving mental health, and eating better.
Don't miss our coverage of How to Plan Workouts That Work and what goes into Building a Balanced Workout Routine. Whatever you want to do and wherever you want go in 2020, we want to help you get there!
---
Thank you to Dare to Do sponsors

AT&T

and

BECU

!

Click the links to view discounts!