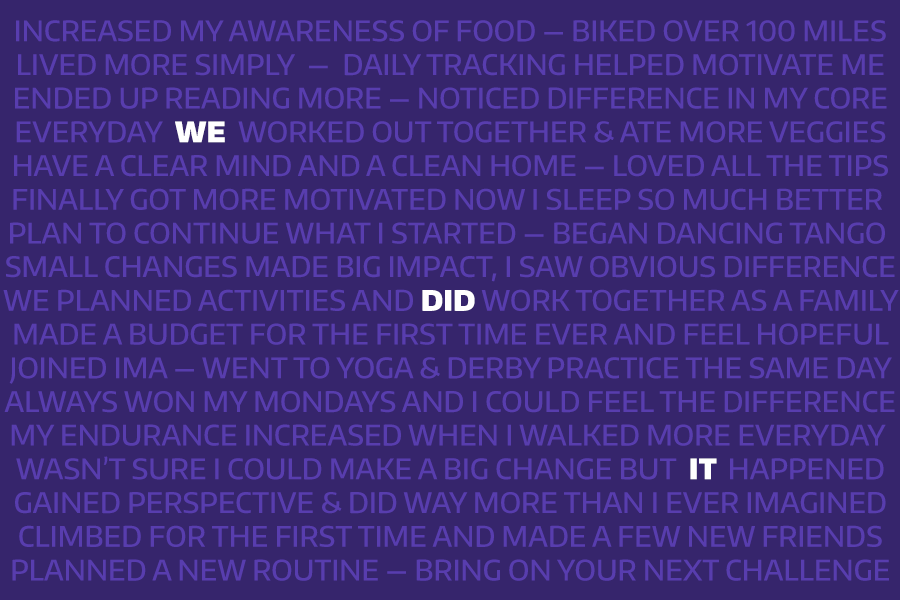 Resolution Recap: Dare to Do 2017
Many find New Year's resolutions difficult to maintain—and with busy lives, they can be. But earlier this year, we decided to stash the excuses and take our resolutions to new heights. As part of the Dare to Do Challenge, more than 1,500 University of Washington faculty, staff, and families dedicated themselves to making meaningful, impactful lifestyle changes by mastering wellness in areas of nutrition, fitness, organization, and finances over the course of 30 days.
We joined forces with our Dare to Do experts who inspired us with advice, activities, and seminars on how to maintain positive habits all year round. Each week, the experts provided tools and tips that dared participants to continue to master their wellness:
Week One – Motivation Before Mastery
Week Two – Get Stronger, Greener, Organized, and More Frugal
Week Three – Weight Loss, Meal Prep, and More
Week Four – The Final Circuit
Results from the challenge proved that participants readily rose to meet their resolutions head-on, challenging themselves in the process. Together, we lost 502 pounds and exercised for 216,554 minutes over just four weeks—all while better organizing our finances and living spaces:
84% created a budget
73% created a savings plan
84% organized their office
81% organized their kitchen and living rooms
Participants were equally as excited about the success they encountered when they decided to dare to do:
"I've tried to start working out before and never gotten past 2 weeks. This is the first time I made it beyond that."
"I LOVED the kickoff event and I have been mindful of the advice from the fitness expert all month."
"I have been SHARING my goals far and wide, and it's made me more accountable!"
"Continuing on my weight loss program…I started the program in September and progressed below 200 pounds during the 30 day challenge. Probably the first time in over 25 years." 
"I completed all the organization goals. It feels relieving to purge old unneeded items. I agree that an organized home makes life less stressful!"
"I found ways to cut discretionary spending by $500+ a month, which can be applied to paying off my car loan early."
"It brought my wife and I closer together! We created a strong plan as a team and since we both work for the UW we felt supported by our community. I have a clear mind, a clean home and a more productive work space! I feel energized and hopeful!"
"I have discovered how motivating it is to prepare all meals for the work week, measure and put into containers. That is breakfast, lunch, dinner and snacks. Every day it is all so easy to eat well. I lost 10 lbs. even though I hurt may back and could hardly move!"
"I started eating healthier and, within a week, I could feel a difference in my energy levels, the ease with which I fell asleep, my attitude in the morning, and my willingness to work out! Making that change made all of the other steps a little bit more achievable. Thank you for this encouraging challenge!"
"I started doing yoga and paid off one of my credit cards! Through the challenge I actually have a clear mind not distracted by clutter (at home or at work) and a better concept of budgeting and sticking with it to create a savings plan. Due to the exercise I feel better physically and have lost ten pounds!"
"I have been avoiding tracking my daily spending until now, and I downloaded an app on my phone to help me actually track and take responsibility for my spending habits and choices. It has been a great success for me to just have that information at the top of my mind as I go through the day! Thank you!"
---
At the beginning of Week 4, we asked Ian Weinberg of IanFitness to share three parting tips for motivation and continued success—in any area of life. Whether you're eager to progress to your next goal or determined to master your initial resolution, we hope you find them helpful:
The Whole U would like to thank all of our experts and participants for supporting this challenge—and each other—and is thrilled to have partnered with our sponsors in providing prize incentives for our participants. We will continue dedicating ourselves to offering opportunities for UW faculty, staff, and family members to form and practice healthy habits together. Continue your mastery of wellness this March by joining us in celebrating National Nutrition Month.
Build on positive nutrition habits formed during the Dare to Do challenge by putting your best fork forward for 28 days by picking one small, nutritional change to make each week from a list of options—register here. For another fun, healthful activity, team up with your department to host a healthy potluck any time during the month of March and receive a window herb garden sets. Join our private Eating Well Facebook Group to stay up to date and inspired.
---
We would like to extend our appreciation to our experts and networks:
Harborview Medical Center's Ben Atkinson, our Nutrition Expert
The Organizing Experts' Kammie Lisenby, our Organizing Expert
IanFitness' Ian Weinberg, our Fitness Expert
Fidelity's Doug Stucki, our Financial Expert
Discount Network Partners – IanFitness and The Organizing Experts
---
Congratulations to the following individuals who won free sessions with IanFitness:
Holly Rickett, Program Coordinator of Orthopedics and Sports Medicine
Tara Cannava, Director of Operations of Hall Health Center
Peter Goodman, EPIC Support Analyst of Clinical Informatics & Support
Christina Davis, Patient Care Coordinator of the Neurology Clinic
Heather Page, Associate Director for Advancement, Regional Advancement
Alice Graden, Research Assistant – VIL of Radiology
For further discounts, check our discount program with IanFitness.
---
Congratulations to the following individuals who won $100 ReachNow gift cards:
Aron Rigg, Scientific Instructional Technician of IAS/Environmental Science and Studies
Jessica Harkhani, Program Manager for Department of Global Health, Global Health Resource Center and Academic Advisor for Global Health Minors
Basia Otto, Event & Program Coordinator for Global Health
For further discounts, check our discount program with ReachNow.
---
Congratulations to the following individuals who won free 3 hour organizing sessions with The Organizing Experts:
Emily Maki, Desk Services Manager of Housing & Food Services
Shawn Zeimet, Program Operations Specialist of Health Sciences & UW Medicine Risk Management
Leiko Kurosawa, Program Operations Specialist of Office of Minority Affairs & Diversity
For further discounts, check our discount program with The Organizing Experts.