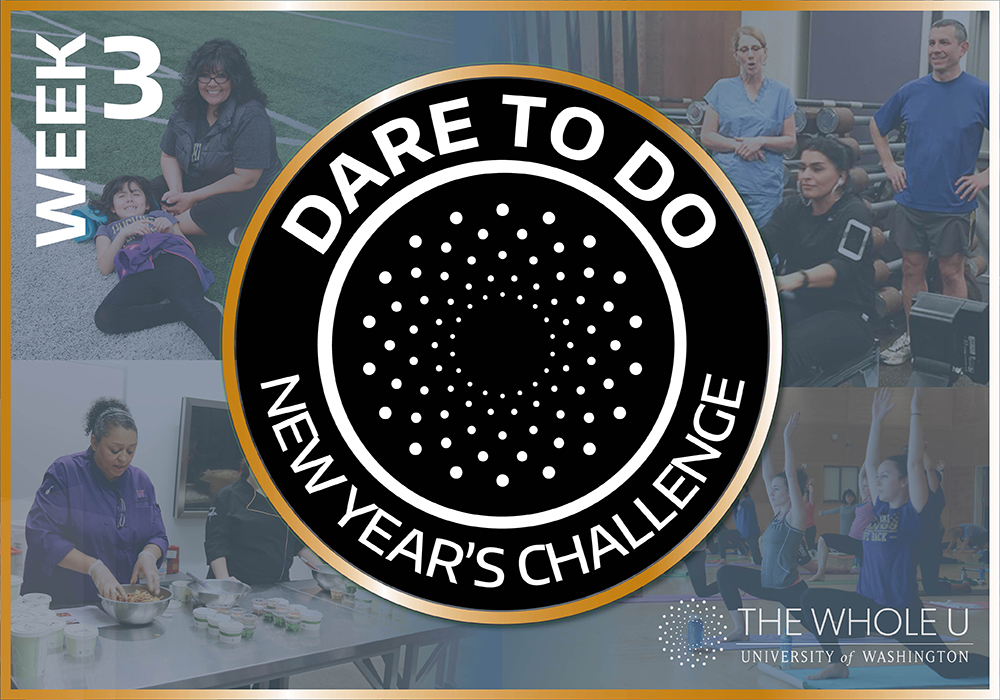 Dare to Do Week 3: Weight Loss, Meal Prep, and More
We're already on Day 15 of the Dare to Do 30-day Challenge! We recognize it isn't easy to make multiple lifestyle changes—does one focus on all four areas each day or try and master one area before moving on to the next? We suggests that if you already eat healthy and exercise regularly, try focusing on your finances and organization. If you already have your finances in check and you feel super organized, then consider focusing on the nutrition and fitness aspects of the challenge. This week, we zero in on the fat and weight loss formula, how to prepare meals for work and home, organizing your bedrooms, closets, and bathrooms, and creating a savings plan. Below, our UW experts provide video tips and answers to questions to help us stay on track towards our goals. Let's make this second half even stronger than the first!
FITNESS

Week 3 Focus: Fat and weight loss formula
Our fitness expert, Ian Weinberg, is Chief Motivational Officer of IanFitness, a part of The Whole U discount network. For the last 10 years, Ian has made it his personal mission to help people get the fitness results they're looking for.
What is the fat and weight loss formula and how do I strive to lose fat versus the muscle I have?
It's proper nutrition + HIIT (High Intensity Interval Training). Unless you are doing an incredible amount of working out, like 12+ hours' worth, or you haven't eaten for days, you don't need to worry about burning muscle. You'll use your stored carbs first and then stored body fat. 
Will I see weight gain before fat loss the first few weeks of training?
Generally no, you won't, though it is possible as every person's body is different. Keep in mind though, there are a lot of metrics for progress: lower body fat, your clothes fit better, sleeping better, and having more energy.
How do I prevent too much muscle gain?
Don't take steroids and mix up your workout exercises.
How do I achieve significant muscle gain?
Consume high protein and healthy fat diet and lift heavy weights.
NUTRITION

Week 3 Focus: How to meal prep
Our nutrition expert, Ben Atkinson, works in Harborview's Medical Center's Nutrition and Foodservice department where he manages a talented group of outpatient dietitians, oversees the department's technology program, and supports worksite wellness activities in retail food areas.
What are your top 5 tips for making meal prep successful?
Buy some reusable containers or use your leftover yogurt or jam containers.
Research or ask friends, family, and co-workers for recipe recommendations
Make sure you and your household will enjoy the recipes you pick on a consistent basis
Make a shopping list based on those recipes—don't forget sides and snacks (healthful ones, of course J)
Dedicate one day per week to cooking at least 3 entrees and 3 sides.
What are the benefits of packing your own lunch vs. eating out?
You lose the temptation of buying less-healthful items. Look at how items are displayed in a cafeteria or restaurant; it is not always the healthful items that they are trying to get you to buy.
You also save money. Most restaurants or cafeterias charge you 2-3 times what the food ingredients actually cost.
You can additionally control the amount of additives that go into your food. For example, members of my household like more salt than I do. So I purposefully use a bit less salt than my significant other, and she can add as much as she likes to her portion.
How can you avoid getting bored of eating the same thing all week (if you are prepping your whole week of meals, let's say on a Sunday)?
Stepping back, this is a process. We all need to step up our culinary game. We don't need to cook fancy food like on a TV show, blog, or Instagram post. But there are simple things that can help a lot. Sides and sauces are the best example.
Let's take pasta for example.
Choose your noodles and boil them.
Now make homemade marinara sauce—one 24oz can of whole peeled tomatoes, ¼ cup olive oil, 6 cloves garlic, and salt to taste. Now, you've got the best marinara you've ever tasted. Eat that with the noodles for a meal or two.
For the next few days, get some store-bought pesto. Pair that with garbanzo beans and mix into hot or cold pasta for your next meal or two.
For the next couple of days, dice and sauté some bell peppers; add this and your choice of cheese to the pasta.
Meat additions: Add roasted chicken to any of these.
Sides: This time of year there are dozens of varieties of apples that taste great, make a simple kale salad with olive oil, garlic and parmesan; or sauté some broccoli and garlic.
Combining these ideas, you can make your meals ahead of time and not get bored.
ORGANIZATION
Week 3 Focus: Get the bedrooms, closets, and bathrooms organized
Our organizing expert, Kammie Lisenby, is the CEO of The Organizing Experts, also part of The Whole U discount network. Her ethos is that it shouldn't take years, months, or even weeks to get your life organized.
What are your top 3 bedroom de-cluttering/organizing tips?
Do not let anything in the bedroom that doesn't belong in the bedroom
Use storage bins under the bed
Storage ottomans for extra pillows and blankets 
What are your top 3 closet de-cluttering/organizing tips? What should I keep and what should l toss? How can I get a very small closet organized?
Slim velvet hangers maximize closet space and give your closet a boutique and uniformed look
Keep clothing separated by type and color
Downsize clothes that do not fit or you haven't worn in the past year
What are your top 3 bathroom de-cluttering/organizing tips? How can I keep all my toiletry products organized while still having easy access to them?
Toss expired or unused items and bulky packaging
Drawer dividers are a must
Over-the-door hooks to keep the floor clear
FINANCES
Week 3 Focus: Up your savings
Our financial expert, Doug Stucki, is a Fidelity director and retirement planner who has more than 16 years with the organization.
How much retirement should we strive for?
Fidelity believes that you should try to save 15% of your income toward retirement. This includes both employee and employer contributions.
How much savings should we strive for?
A good rule of thumb to follow is to have 3‐6 months of living expenses tucked away in an emergency fund. To help, an annual contribution of about 5% of your take home pay into a safe and easy‐to‐access account—like a savings or money market account—could help protect you from experiencing an unplanned expense shortfall. As long as you stay within those guidelines, the remainder is yours to spend or save as you see fit.
Why do I need an emergency fund?
An emergency fund is important in case you ever experience an unexpected financial burden. This could include a drop in income, a death, a sickness, or any other catastrophic event. During this type of financial burden, an emergency fund will help to prevent incurring debt to cover essential expenses.
How do I account for when "things come up"?
This is where the emergency fund comes in! There is always a chance that unforeseen expenses arise that were not included in the budget. Your emergency fund will help you cover these unexpected expenses.
---
Next week we will focus on circuit training workouts, how to enjoy going out to eat, organizing your garage and car, and ways to help you stick with your budget!