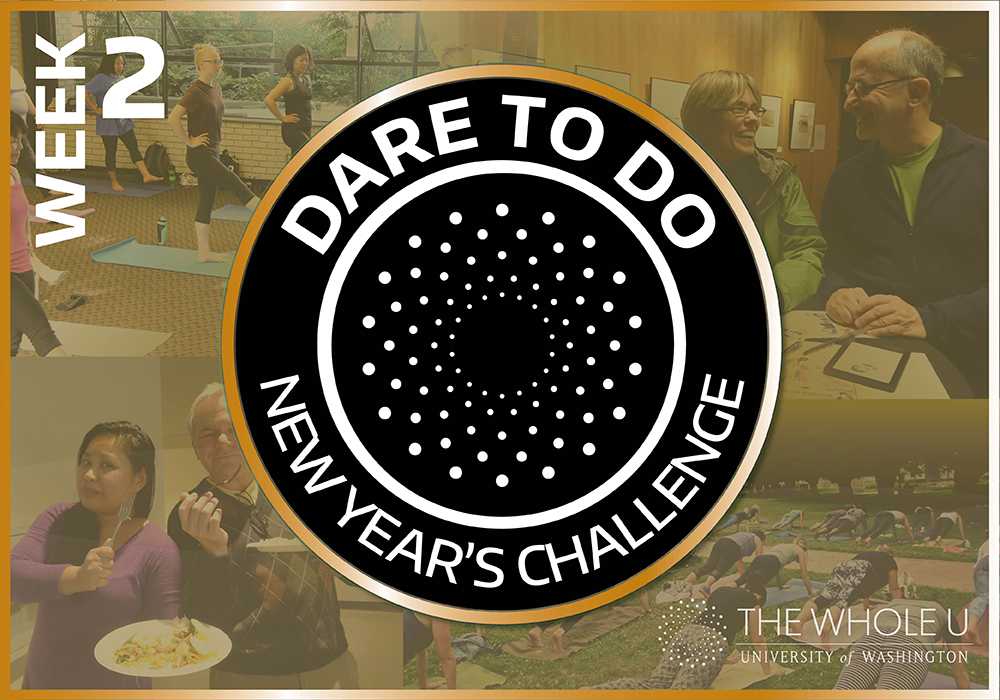 Dare to Do Week 2: Get Stronger, Greener, Organized, and More Frugal
Welcome to Week 2 of the Dare to Do challenge. This 30-day challenge focuses on four areas of wellness: fitness, nutrition, organization, and finances. Balance is not something you find; it's something you create. After focusing on mindset and motivation in Week 1, this week we will work on strength training, getting greener in our meals, creating and adhering to a budget, and organizing our kitchen and family room. Our UW experts are here to answer questions and provide helpful guidance to help us stay on track toward our goals.
FITNESS
 Week 2 Focus: The four most important strength training exercises (and why)
Our fitness expert, Ian Weinberg, is chief motivational officer of IanFitness, a part of The Whole U discount network. For the last 10 years, Ian has made it his personal mission to help people finally get the results they're looking for.
Can I do these exercises sporadically throughout the day or do I need to schedule time to do the exercises all together?
Combine these exercises together in 15-25 minute training sessions so you can take advantage of combining multiple exercises to really boost your metabolism and burn more calories.
How do I warm-up and cool down for strength training?
A great way to warm up is with a light jog, jumping jacks, mountain climbers—anything that gets your heart rate up and body temperature higher.
How often should I change up my routine and should I add more than the four exercises if I have the time?
Every week, try to introduce some variation to every session if you can. Changing your exercises will ensure you don't plateau or get bored.
For more strength training information, check out our training resources here and consider joining the private Being Active Facebook group for more motivation, tips, and a supportive community.
NUTRITION
Week 2 Focus: Getting Green
Our nutrition expert, Ben Atkinson, works in Harborview's Medical Center's Nutrition and Foodservice department where he manages a talented group of outpatient dietitians, oversees the department's technology program, and supports worksite wellness activities in retail food areas.
What does it mean to "get green?"
When I hear the words "get green" my mind starts thinking about sustainability. This is the idea that what we do affects other people and things. There are lots of ways to make what you eat more sustainable. You could eat less food that was grown using pesticides. Those pesticides not only affect you, but also the people who grow the food, and the living things interacting with that food. Same thing goes for added hormones in food, GMOs, and antibiotics. But no matter what you are concerned about, one of the best ways to reduce the negative effects your food intake is having on yourself and others is to eat more plants.
What's the benefit of adding greens to your diet? How many vegetables do I need to make a difference?
You need at least 5 servings of fruits and vegetables each day. Ball up your hand and make a fist. That's about the size of a serving. Adding fruits and vegetables to your diet has all kinds of benefits. First, they taste delicious. If you don't like how they taste by themselves, add something to them—spices or sauces (in moderation). I have some roasted beets, sweet potatoes, and garbanzo beans in my lunch today and, to add flavor, I made a quick sauce of two spoonfuls of tahini and two spoonfuls of water with 1 spoonful of honey. Beets honestly aren't my favorite food, but this meal is now delicious!
Second, fruits and vegetables provide us with vitamins and minerals our bodies require. Also, if you're trying to reduce how many calories you eat, fruits and vegetables tend to have far fewer calories than most other foods.
How important is it to eat a variety of greens? Can I just stick to a couple veggies I like?
Make that fist again. Remember, you need to eat at least 5 fist-sized servings of fruits or vegetables. Eat as much of a variety as you can, but don't force yourself to choke something down just because it's healthful. If you're trying a new fruit or vegetable, consider mixing it with other foods. Also make sure that there are other foods that you do enjoy on that plate when trying the new food. Eating this new food along with your favorite foods will make it more likely that you will like it.
Eating vegetables plain can be boring, but adding heavy condiments can add a lot of calories. How can you make veggies tasty without packing on too many calories?
We talked about filling foods in Week 1 and also about the need to eat a variety of foods at a meal or snack. However, if you are adding too many calories to your fruits or vegetables in order to meet your goals, there are few tricks to try. Use herbs or vinegars to enhance their flavor, without adding additional calories. Additionally, when roasting vegetables—don't be afraid to get them a little black and burnt (thanks to RJ Owen, Executive Chef at Harborview for this great tip!)
Do you recommend green smoothies and juices to get more greens in your diet?
I'm not a fan of juices. If you like juices, a smoothie is better because it uses whole fruits and vegetables. So you get more nutrients and more fiber. Plus, you don't waste food. Have you seen how many leftovers are created when you juice? Also, you can add more fun things to smoothies, like yogurts, milks, and peanut butter.
ORGANIZATION
Week 2 Focus: Kitchen & Family Room
Our organizing expert, Kammie Lisenby, is the CEO of The Organizing Experts, also part of The Whole U discount network. Her ethos is that it shouldn't take years, months, or even weeks to get your life organized.
What are your top 5 kitchen de-cluttering/organizing tips?
Only keep daily use items on countertops.
Items that are used most often should be in "prime real estate" spots that are easily accessible
Bin like items together either in the pantry/shelves or refrigerator.
Use labeled clear containers.
Lazy Susans or bins help with easy access to pantry items.
What are your top 5 family room de-cluttering/organizing tips?
Keep surfaces clear.
Store items in baskets and drawers that flow with the décor in your home for quick cleanup.
If items don't live in the room, return them to their own room.
Keep cords neat with clamps and covers.
Kids will be kids. Give them a system to maintain much like they do at school so putting away items is easy and makes sense to them.
What if I don't have enough space to keep everything organized?
You only have the space you have to work with so you make it work for you! Utilizing storage solutions that fit in your space to keep items categorized and accessible is key.
How do I keep baby and kid clutter from invading the house?
There's a great app called Artkive App. Just take a photo of kid's artwork/schoolwork, upload, save and share the memories! Integrate the same system used at school to stay organized at home for their book bags, homework, etc. Cycle your kid's toys with a dedicated donation bin for those toys that just aren't getting attention.
How do I organize thousands of photos (both printed and digital)?
Fancy programs are not necessary. Use something that comes with your computer. The best thing to focus on is that they are all stored and backed up appropriately. If you are currently keeping photos in storage, make sure the first step is to transfer them into airtight containers to prevent your memories from getting destroyed by rodents or weather conditions. After this is accomplished, dedicate some time to go through one banker-sized box at a time and with some large manila envelopes organize into big categories. The next step is to either use a photo album, create a scrapbook, or transfer to digital system.
FINANCES
Week 2 Focus: Creating a budget, Part II
Our financial expert, Doug Stucki, is a Fidelity director and retirement planner who has more than 16 years with the organization.
Where does my budget begin?
Once you have tracked and labeled your expenses, it's time to create the budget. As outlined in Week 1, a good place to start is with the Saving & Spending checkup on Netbenefits. Using this or another tool, establish your essential spending followed by essential savings. It is generally considered appropriate to limit your essential spending to no more than 50% of your take‐home pay. Essential savings include retirement savings, building an emergency fund, and saving for other unplanned expenses. I will discuss this more in Week 3.
Should I use paper, spreadsheets, software, what? Use whatever will work! It all depends on your personal preference. There are some basic budgeting sheets online, but I find that most people will need to just create their own since their expenses are likely going to unique. They would create their budget based on their spending analysis to determine where they can save money and where they want to spend.
Is a budget just about paying bills?
Planning out your spending and living within a budget is about freedom. With a budget in place, you can be more confident that you have the money to cover your essential living expenses, that you're ready when unplanned expenses pop up, and that you're able to pursue the wants and goals in life that are so important to you.
How often should I update a budget?
You should update your budget whenever anything in your financial situation changes. This might include an increase or decrease in income or a change in your expenses.
What are the most important things I should budget for?
Some of the most important things to budget for might include, but are not limited to, housing, food, health care, transportation, childcare, minimum debt payments, or other obligations.
---
Next week we will focus on the fat and weight loss formula, how to meal prep, organizing your bedrooms, closets, and bathrooms, and creating a savings plan.