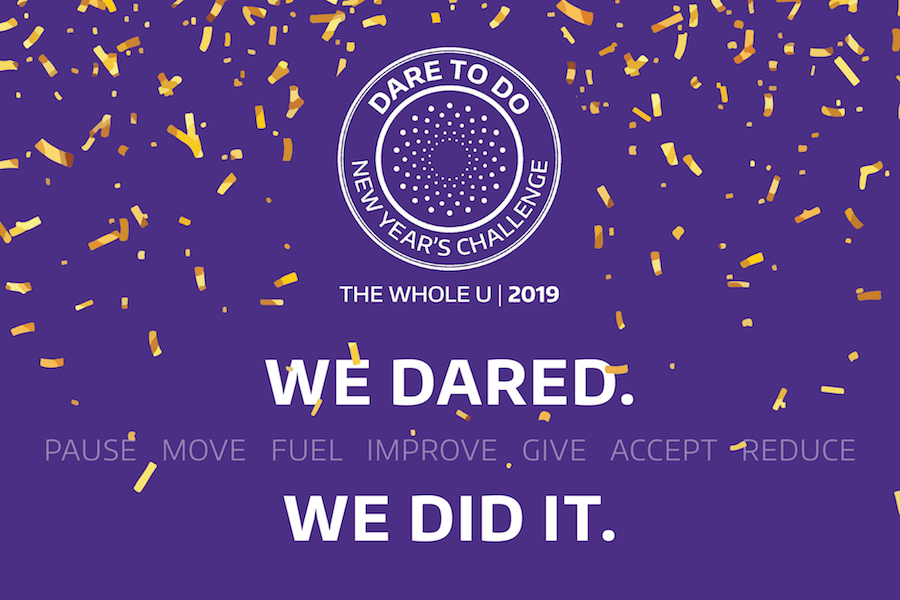 Dare to Do 2019 in Review
We'll conclude this year's Dare to Do wellness challenge as we began it: by pausing to reflect.
Eight weeks ago, some 1,650 University of Washington faculty and staff made a commitment to set goals and strive to reach them by focusing on different facets of overall wellness. From taking time to move more to learning how to fuel one's body for energy and how to reduce waste and stress, Dare to Do challenge participants got an assist in their goals from Whole U events, seminars, daily activities, and other resources including:
Our Fitness Passport, which offered free week passes to participating gyms throughout the challenge
A fitness tracker to record progress
Weekly expertise and insight from UW faculty, staff, and community partners
A weekly Whole U A-Z Workout on social media that helped participants make their own unique workout sets by "spelling out" answers to various questions
Weekly events highlighting that week's Dare to Do theme
The challenge is now at an end, but a whole new year still extends before us! For a full recap of the 2019 Dare to Do challenge, including links to articles and resources, keep reading below.
---
Week 1 – Dare to Pause 
In week one, we took the time to 'Dare to Pause' by reflecting, setting goals, and being mindful of intention. Claudia Finkelstein, board certified physician with Long Term Care Services at UW Medicine, shared the meaning of mindfulness in our first article.
To kick off the Dare to Do challenge, we hosted a "Dare to Reinvent Yourself" seminar by UW Gymnastics Head Coach Elise Ray at UW Tower. Jennifer Kitajo, Operations Specialist at the School of Social Work, said, "Loved this! I have a big goal I want to work toward this year and Elise's talk gave me a big boost of motivation. I'm looking forward to using her tips to take baby steps toward meeting my big, lofty goal in 2019! Thanks!"
---
Week 2 – Dare to Move 
In the second week, we focused on incorporating fitness and physical activity throughout the day, ensuring we 'Dare to Move.' UW Recreation's Jessica Norman shared some tips on how to create a new and improved fitness plan to reach your health goals.
Participants broke a sweat and got on the move with a "Dare to Do Indoor Cycling" class led by Jessica Norman at the IMA. Winston Ciridon, research technologist in the Department of Bioengineering, said the cycling class was "the best exercise I have done this year."
Articles related to our "Dare to Move" theme:
---
Week 3 – Dare to Fuel 
In week three, we learned about food for performance at work, home, and for an active lifestyle. For our 'Dare to Fuel' article, registered dietitian nutritionist Judy Simon outlined 10 tips for healthy, mindful eating.
During the week, participants learned about the best methods and nutrition tips to keep you going strong throughout the workday during our "Dare to Fuel for the Day" with UWMC Clinical Dietitian Charlotte Furman.
Articles related to our "Dare to Fuel" theme:
---
Week 4 – Dare to Improve 
In our fourth week, we honed in on time management, organization, and financial wellness to ensure self-improvement. BECU, one of our Dare to Do sponsors, wrote an article to 'Dare to Improve' with efficient approaches to budget better.
Participants set themselves up for success with tips on how to budget effectively and approach paying off their debt during our "Dare to Improve Financial Management Class" with BECU. Katrina Beyer, Assistant to the Director in Principal Accounts, found the class to be "super helpful. Financial health is huge."
---
Week 5 – Dare to Give
In week five, we found ways to give our time and service to those in need. To encourage participants to 'Dare to Give,' we shared one of our favorite articles written by UW CareLink on how to support a colleague during major life events.
During the week, the UW Medical Center's Art Program and The Whole U hosted the tenth annual Valentine Card Project, where participants created 650+ Valentine cards for patients at UWMC. Chris Pennington, Safety Analyst in Facilities Services, said, "Love this annual event! I enjoy knowing—hoping!—I am making an impact on someone who may not 'feel the love' on Valentine's day. There's an added bonus since I usually attend/participate in this event with a few of my coworkers so love spending quality time with them!"
Articles related to our "Dare to Give" theme:
UW Crafts Over 650+ Cards for Patients at UWMC

Annemarie says of this article: "Thank you for the inspiring story and thank you to all the wonderful volunteers that made such beautiful cards for UW patients! It was cheerful to read about!"
---
Week 6 – Dare to Accept 
In the sixth week, we created opportunities to find happiness, contentment, and acceptance of oneself and among others. In spirit of the 'Dare to Accept' theme, UW Recreation mindfulness manager Danny Arguetty shared strategies for and benefits of self-acceptance.
Participants had the opportunity to attend our "How to Navigate Workplace Challenges with Ombud Support" event to learn about the different ways that the Ombud Office can assist them with any workplace challenges involving colleagues, supervisors, administration, or any outside challenges one may be facing.
Betty Lanman, Assistant to the Director at the Department of Radiology, said, "It was a great opportunity to learn more about the Ombud's role here, ask good questions, and have small group discussions. Thank you."
---
Week 7 – Dare to Reduce 
In week seven of our challenge, we worked towards reducing waste, being more sustainable, and simplifying life. Organizing Experts' CEO Kammie Lisenby dove into how to incorporate small changes in all facets of our day to 'Dare to Reduce.'
During the week, we hosted staff from UW Sustainability and UW Recycling for our "Dare to Reduce seminar" to learn how we can reduce our carbon footprint, waste, and environmental impact. Melissa Kane, Assistant Director, Ph.D. & Sustainable International Development at the School of Law, said she was "impressed with the content and organization of the Sustainability program. It was very informative.  It's inspiring me to want to do more!"
---
Week 8 – Dare to Do 
In our eighth and final week, we reviewed progress and set goals for total wellness throughout the rest of 2019! Peaceful Training founder Kal Broderick shared 5 steps to integrate mindfulness into an exercise routine that will be sure to get you to 'Dare to Do' for the remainder of 2019 and beyond.
Later in the week, Kal led our "Dare to Do: Integrating Mindfulness and Fitness" seminar, which combined many of the tips include in his article as well as a Q&A session at the end. Susan L. Neff, University Ombudsman, said Kal "was inspirational. He provided three reasonable exercises in mindful meditation that could be readily incorporated into one's daily life for positive change."
---
What participants had to say about Dare to Do 
In follow up survey responses, participants shared some more successes that they are most proud of, some are:
"I've logged over 90 miles running in January, and am on track to reach my goal of 1,000 in 2019! I ran in rain and snow here, and temps in the 80s while on vacation in Hawaii!"

"I have been consistently doing yoga once per week and can feel that becoming a habit!"

"Meeting new people who will help me reach my goals because we share similar interests."

"Going with a group of team members to do stairs at least once per day from basement to T22 and desk yoga at least three times per week."
---

Thank you to AT&T, UW Medicine, BECU, US Bank, UW Recreation, 24hr Fitness, Pure Barre, and Fremont Health Club for being Dare to Do 2019 sponsors!