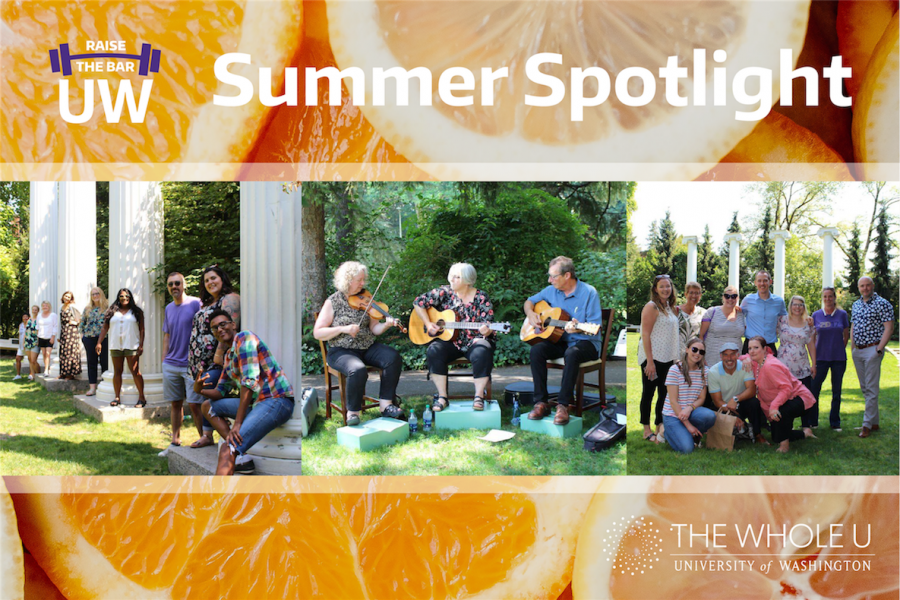 Summer Spotlight: Raise the Bar Week 5
Whether teams were enjoying great music and a collegial atmosphere at Sylvan Grove or checking off items in our 30-Day Kindness Challenge, Raise the Bar participants once again came up with plenty of ways of taking steps to a healthier, kinder, more compassionate summer. Take a look at how UW kept it live during Week 5 of our Raise the Bar summer challenge to foster wellness in the workplace!
Sylvan Social
With more than half of the Raise the Bar summer wellness challenge in the books (check out team accomplishments from Week 1, Week 2, Week 3, and Week 4), the Whole U hosted a Summer Social last Thursday for Raise the Bar teams to connect over their progress and celebrate summer along with other faculty and staff members from the UW.
More than 100 UW faculty, staff, and students brought their lunch out to the Sylvan Grove Columns to listen to the musical stylings of the talented classic country and folk duo Margo Murphy and John Roberts and enjoy a team picnic. Participants basked in the shade while appreciating the peaceful music and conversing with one another.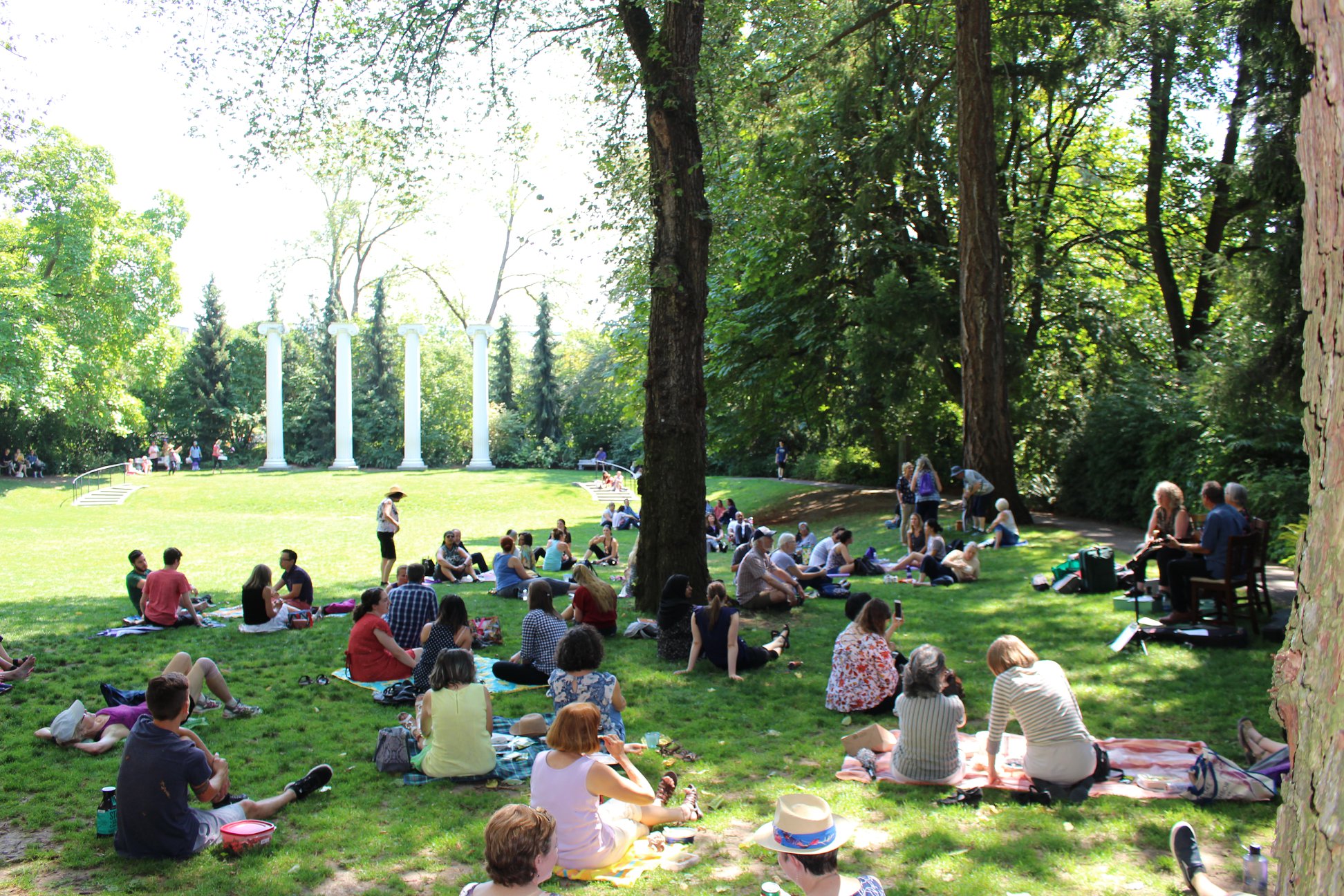 "The highlight of Team LoKB's week was the Raise the Bar Summer Social," said Mary Jane Lohr, project director of the MOMCare Program at the School of Social Work. "We organized a potluck picnic lunch, had a nice walk to and from Sylvan Grove, and we had fun connecting with some members of other Summer Challenge teams too." Team member Rosale Meriales, a budget/fiscal analyst lead, created the team banner on display at part of their picnic bench!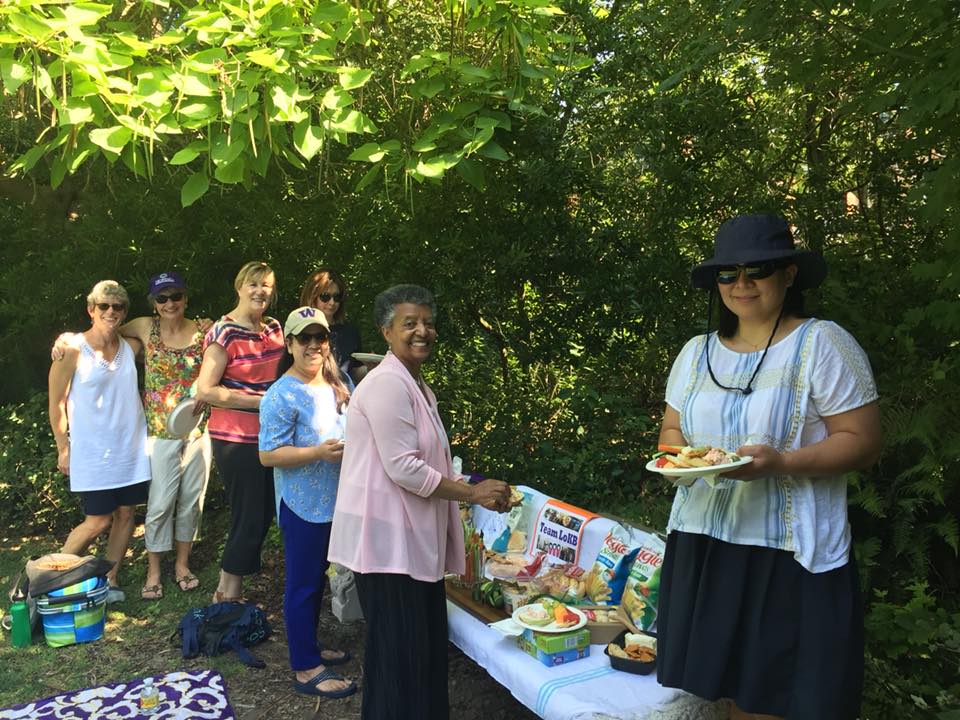 Betty Lanman, assistant to the director of the Department of Radiology, knew she had a meeting that ended after the Sylvan Grove social began, but stopped by by herself afterward anyway.
"To my delight, I was beckoned over to sit with my original team of "Whole U" buddies who had taken me under their wing four years ago that I first met them," Lanman told us. "As Whole U stalwarts, they have always been very inclusive—inviting me to potlucks, stair walking, you name it—so my success story is that the Whole U has provided a community of friends and coworkers that I would not have otherwise had the opportunity to meet!"
Double Your Fun
Malyse Chabot, Katrina Beyer, MaiLinh Niemi, and Clare Tucker Higgins from the Business Unit team of the UW School of Medicine's Dean's Office were another group cruising through the picnic—having decided to reward themselves after an IanFitness bootcamp team workout at the HUB by stopping through Sylvan Grove to cool down on their way back to the office.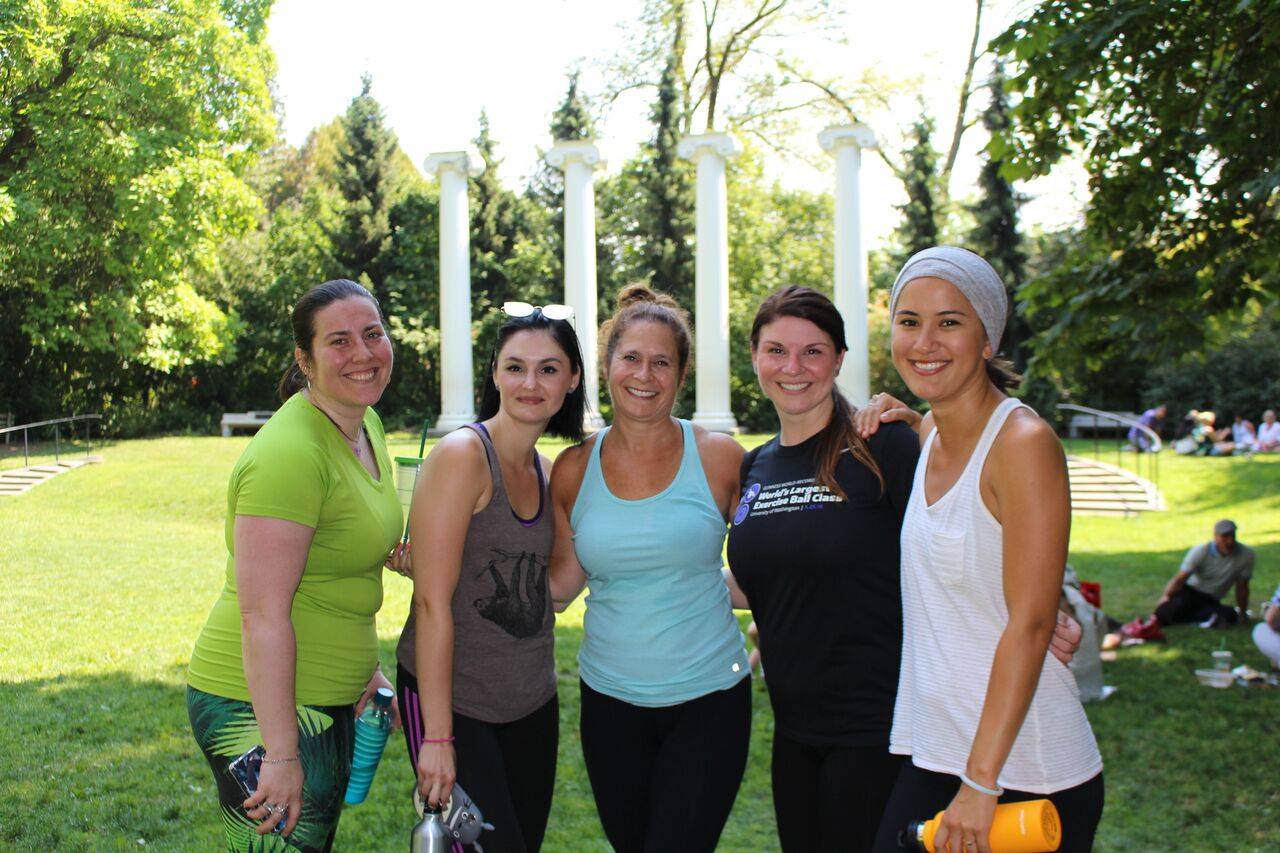 A super-group of staffers from the Comparative History of Ideas program and Department of Microbiology was more than game to mug for a few shots at the base of the Four Columns.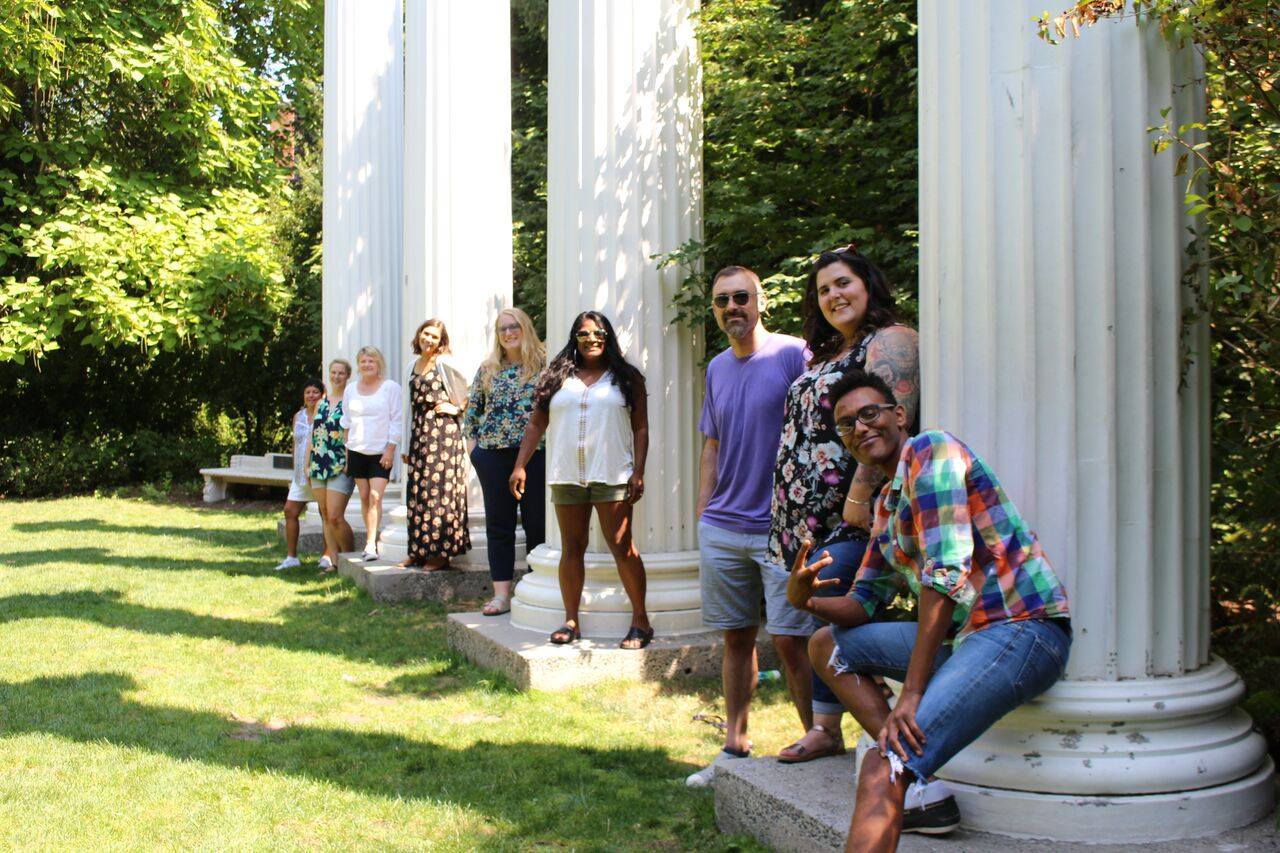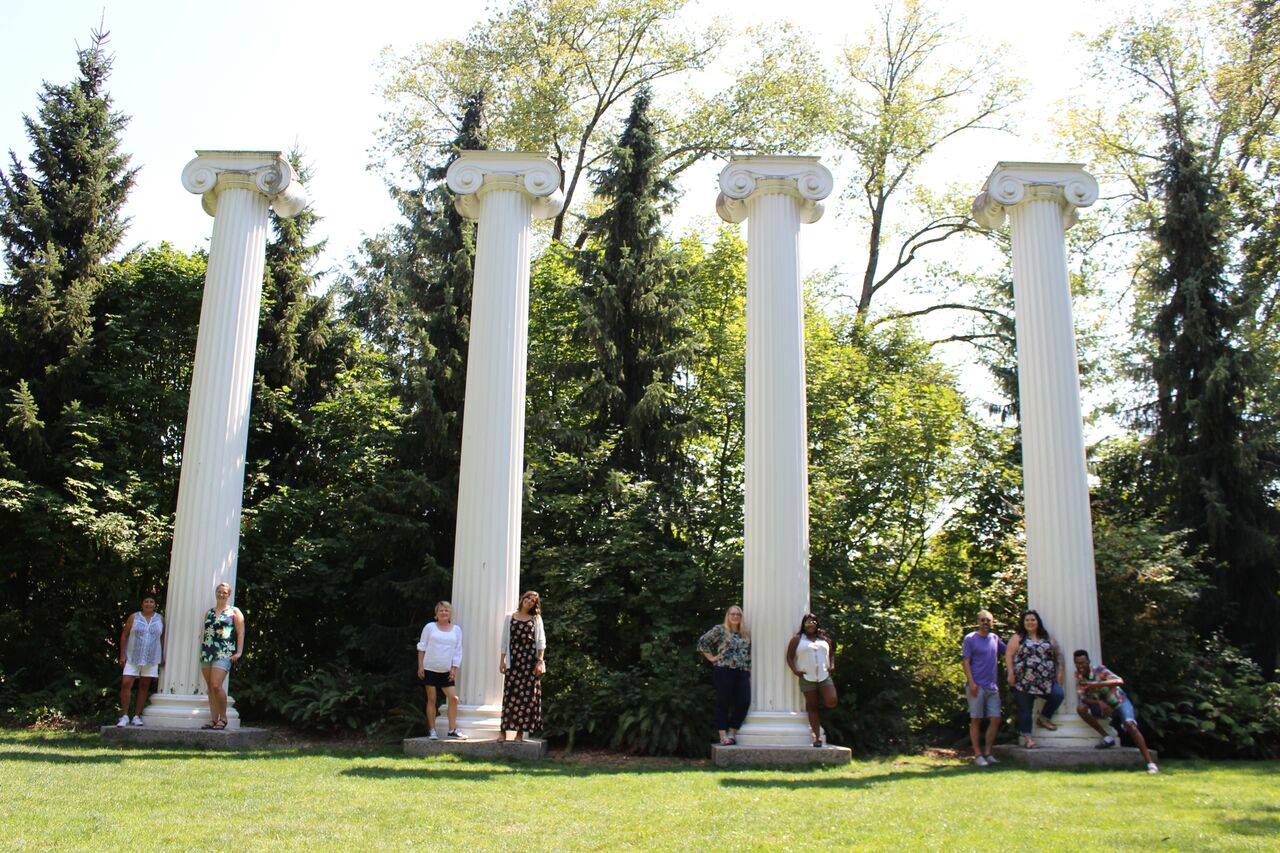 Kind, Calm, and Collected 
How's your 30-Day Kindness Challenge coming along? Every day, for 30 days, complete one of the acts of kindness included in the list provided to all Raise the Bar registrants. Within each purple box is a random act of kindness toward strangers, while each gold box represents actions of self-kindness to perform toward oneself.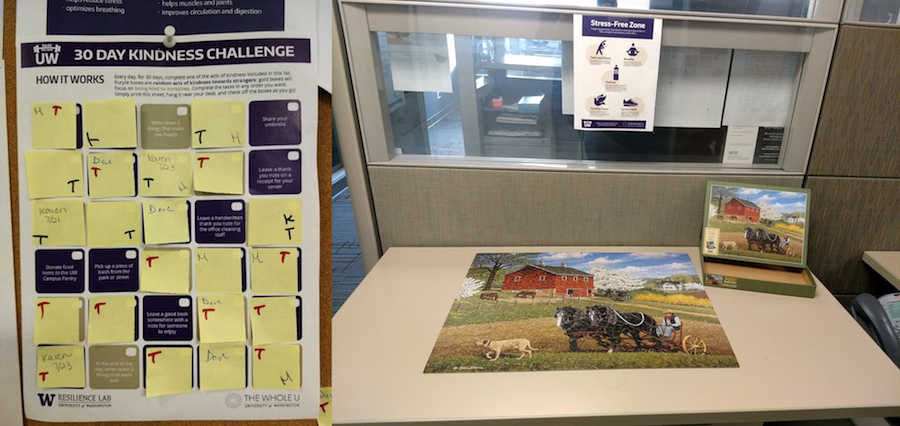 Karen D. Curits, RN and senior project manager in the Program Management Office of UW Medicine's IT Services, checked in to show us the massive progress that department's team had made on their 30-Day Kindness Challenge as well as on a tranquil farm-themed puzzle completed in a designated Stress-Free Zone during break times.
Wellness Warriors on the March
With such beautiful weather in Seattle these last few weeks, it's no surprise that we've received so many great team walk photos, especially ones around Drumheller Fountain. Kat Eli, an academic adviser at the Foster School of Business, and the Wellness Warriors caught some sunshine and went on a wellness walk in last week's heat, showing off a happy team and the fountain's iconic high spout!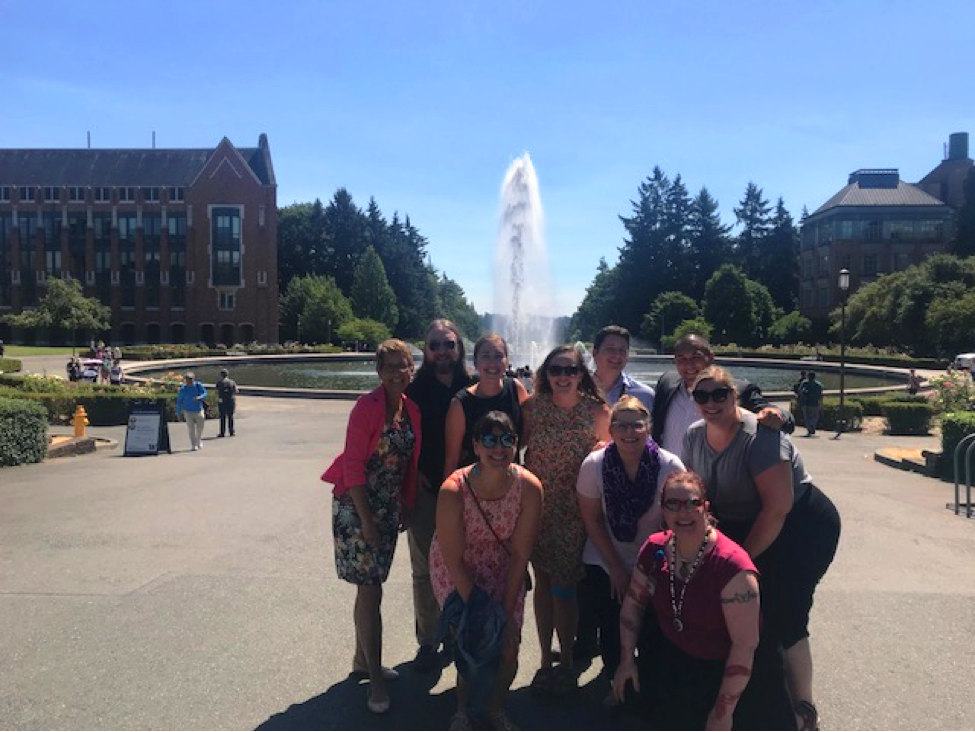 Our New Meditations Page!
If you've been reading our weekly Raise the Bar email every Monday, you'll have seen that each week we're posting a new 5-minute meditation in our Whole U Meditation Series. The series aims to help promote happiness, manage stress, and increase calmness in the workplace, giving you the opportunity of having a UW expert in your ear to help guide your meditation practice.
Catch up on the 8-week series and stay tuned for our final meditation sessions over the next two weeks!
---
Looking for some fun Raise the Bar activities to attend as a team or an individual this week? There are only a few spots left in Wednesday's Summer Salsa Cooking Demo with Chef Tracey as well as in our series of Bollywood Fitness Classes happening across the UW for the rest of August.
We'll continue featuring your stories of developing healthier, more positive work environments throughout the month of August as you continue sharing them with us at wholeu@uw.edu. We also encourage you to join our Whole U Being Active Facebook group to post photos and reflections or share via Twitter and Instagram using the hashtag #raisethebaruw.
---
Special thanks to our Raise the Bar sponsors: UW Medicine, AT&T, US Bank, BECU, and UW Resilience Lab!