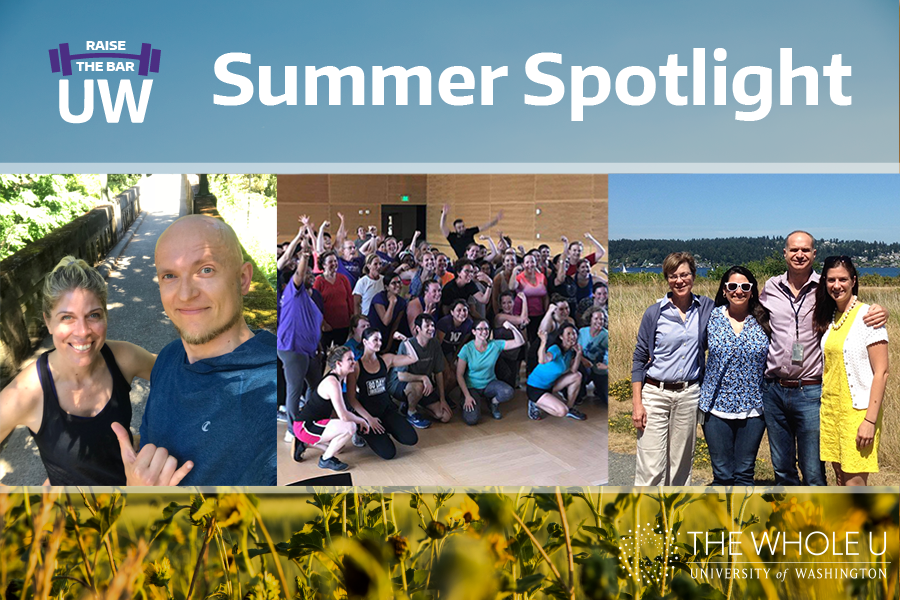 Summer Spotlight: Raise the Bar Week 1
We're just 10 days into the Raise the Bar summer challenge, but have already heard from so many participants about how they've been working to build stronger cultures of health and wellness in their workplaces. Betty Lanman of UW Radiology perhaps said it best: "I think it's important to incorporate wellness at work because I spend so much of my day here!"
We couldn't agree more! That's why on Wednesdays throughout the rest of the summer we'll be featuring your stories and strategies for cultivating a care-filled work environment in this space in a series of weekly Summer Spotlights.
How to get featured:
Every Monday, watch for the weekly Raise the Bar email which will include question prompts for you to consider as well as a schedule of events and links to other resources to help you and your team ace this challenge! Then, whenever you accomplish something awesome—no matter how small it might seem—send your story and photo(s) to wholeu@uw.edu. Each week, we'll spotlight selections so other Raise the Bar participants can get inspired to implement their own positive changes! Send us an update every week of the challenge and you and your team will be in for a fun prize at summer's end.
One of the first to share her Raise the Bar experience was Melissa Vasiliades, who serves as director of the UW Medicine Contact Center and joined the challenge as an individual participant. Below, she explains how Raise the Bar factors in as part of a broader plan to re-establish healthy routines as she bounces back from breast cancer.
---
Melissa Vasiliades, UW Medicine Contact Center
Why did you decide to participate in the Raise the Bar challenge?
I am recovering from a battle with breast cancer and thought this would be a valuable way to ease back into a renewed life by developing new wellness routines. My priorities are a little different now and I see this as an amazing opportunity for a healthy and fulfilling life!
What did you do to improve your wellness at work?
I am intentionally taking breaks throughout the day. Even walking around for a couple of minutes gives my brain a chance to focus on something new. I can then come back and feel refreshed and be more productive.
What was one challenge you encountered and overcame?
My challenge is consistently ensuring that I'm not slouching. I have a printout of the "Working with Better Posture" flyer next to my desk to remind me. These seems to help.
What do you hope you'll take away from this challenge?
Being well doesn't mean I have to be a dedicated triathlete. Being active, eating well, managing stress, cultivating kindness and compassion and seeking community are all ways to improve my wellbeing.
---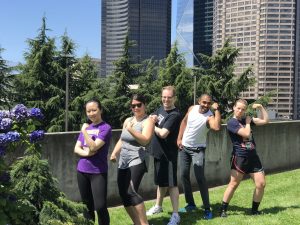 Peak Teamwork
There was a ton of team action in Week 1 as well. Jessica Leader of the "Regulator$" team within the Division of Cardiology in the Department of Medicine reported that two RTB teams within the Division decided to challenge each other to step up their workplace wellness game.
"It has actually been a motivator for most of us for a variety of reasons: wanting to do more physical activity, eating better, drinking more water, stress-level at work and doing more team-building activities," Leader says.
"We think this was a great challenge to keep each other accountable—and healthier—in mind, body, and soul!"
Fostering friendly, inter-division competition isn't the only motivating factor for the Regulator$. Leader says her team also wants to set a positive tone for others.
So far, Leader says her team has found success utilizing The Whole U's downloadable Flex at Your Desk and Stretch at Your Desk training guides: "The opportunity to move is helping us get over the 'hump' or challenge of being inactive at our desks for a long period of time. We would like to be great role models for those who work in the Division of Cardiology."
"One thing we will take away from this challenge is that we can reach our goals both individually and as a team."
---
Jessica shared a few takeaways she says her team found helpful in finding success in Week 1:
Communicate.
This is one of the most important elements to a strong team performance. Keeping the communication clear, open, honest, and respectful will allow team members to express their feelings in a way that prevents a build-up of hidden anger or distrust. Encourage team members to ask questions and listen to one another. This helps to build better team dynamics and stronger relationships.
Respect individuality.
When a group of people with all different skills and personalities are put together to accomplish a certain task, understanding what each team member brings to the table is critical. Each team member needs to contribute his or her strengths in order for the team to function as one.
Encourage creativity.
Creative input should be encouraged from every team member on every project. Negative comments such as "what a dumb idea" should be discouraged and a supportive environment that is open to new ideas should be cultivated. Brainstorming should be seen as a time to throw ideas out without placing judgement. The best ideas can be culled out later.
Hold trust-building exercises.
One way to enhance team spirit is to set aside time for trust-building exercises. If trust and support are seen as an important part of the organization's culture, they are more likely to grow. Teams that appear more trustworthy have been shown to perform better than those who lack trust. Trust is a reciprocal feeling and one bad apple can really spoil the bunch.
Define roles and don't settle. Effective teams require clearly-defined roles so that everyone knows what he or she is responsible for. This creates better team cohesion and productivity. Don't settle for the same routine or activity leaders. Shake things up and take on challenges that you find challenging.
---
Photo of the Week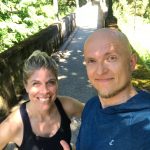 Aries M. Lewis, MA-C Lead at UWMC's Urology/Prostate/Urogynecology Clinic/Pelvic Floor Center, shared how Raise the Bar came at the perfect time when co-workers were trying to get their wellness back on track, especially when it came to avoiding unhealthy snacking and prioritizing moving more an integral part of office life.
"Depending on clinic schedule, we usually do stairs as a group, walk, and run together on lunch as well as squats, lunges, and stretching in clinic as a group," Lewis says.
"This challenge will remind us to always think about our health not just weight but mental health as well. It's also a way to work together and build stronger bonds then we already have."
Lewis describes the clinic as having "more of a family atmosphere" in which "we treat each other as if we are family since most of our day is spent here 5 days a week. We laugh, talk, share, help, and disagree as though we were an office of siblings or cousins. We complement each other and jump in to help."
---
Go Bananas!
No stranger to creative pursuits, L.A. Smith checked in with an update from Team Bananas Foster at the Foster School of Business, showing off their "Managing Stress" game/relaxation station, complete with coloring pages, crayons, colored pencils, markers, games like Barrel Full o' Monkeys, Dominoes, Tessera, and—of course—Bananagrams (a rapid-fire version of Scrabble that can be played in a matter of minutes. "Creative play helps us manage stress and achieve better focus on our work," she says.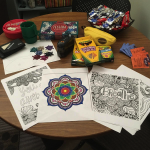 This is just a first look! There's loads more to feature and we can't wait to see what you have in store for Week 2 and beyond! Keep sharing your stories of success and struggles overcome with us at wholeu@uw.edu.
As the challenge progresses, feel free to also post your photos and reflections to our Whole U Being Active Facebook group or share them on Twitter and Instagram using the hashtag #raisethebaruw.
A very special thanks to our Raise the Bar sponsors: UW Medicine, AT&T, BECU, US Bank, and UW Resilience Lab!