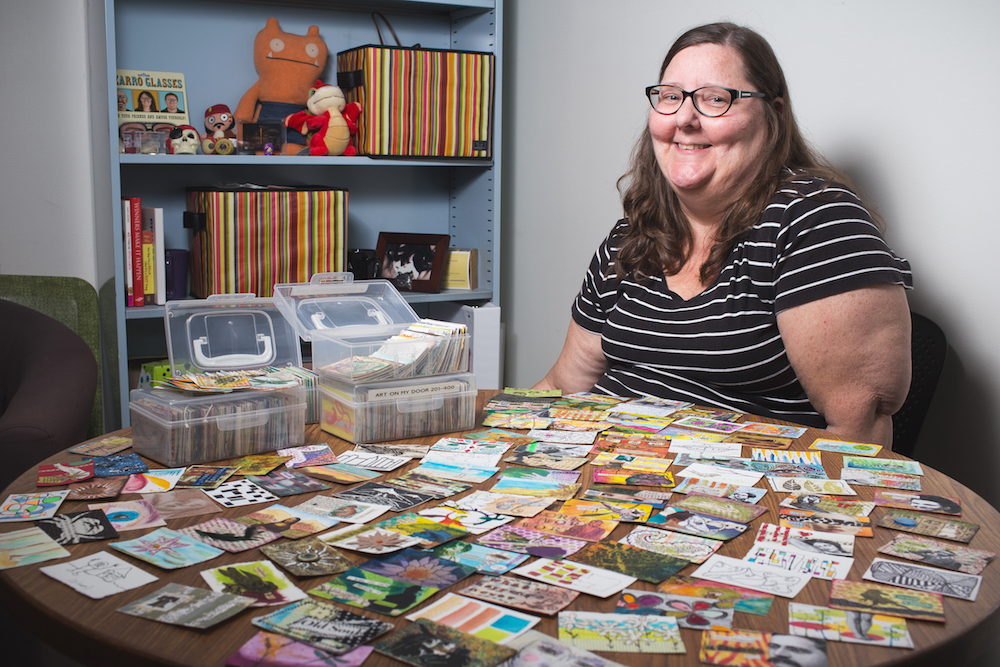 The door of each office in Mackenzie Hall is adorned with a little metal placard, meant to display name plates, business cards, or office hours.
For L.A. Smith, this 3×2-inch rectangle has been the frame for nearly a thousand pieces of art.
Every day, Smith displays a new finger-length canvas on her office door. These pocket-sized pieces, usually made on watercolor paper or card stock, are a mix of painting, printmaking, drawing, collage, charcoal, pastel, photography, and sewed fabrics.
"I dabble in a whole lot of media," said Smith, the director of online marketing for the Foster School of Business. "There's this sort of weird, wide variety."
The project, called "Art On My Door," has been running for over four years. Smith credits the idea partially to Philadelphia photographer Kyle Cassidy. She was exhibiting a collection of his 5×7 prints in her office when inspiration struck.
"I thought, 'If I have Kyle's art, I should do something.' So I made the first piece," she recalled.
That piece — a mix of collage, rubber stamp, and doodling — depicts an unamused-looking astronaut standing on a cratered terrain as the moon floats above. Smith slid it on her door on January 19, 2011. "Then the next day I made one. And the next day I made one," she said. "And I just kept making them."
Over 900 pieces later, Smith keeps making them. Subject matter varies. She loves cats, so she draws them a lot. A window seat on her bus ride home provides landscape ideas. A friend from high school took a picture of a sunset and posted it on Facebook; Smith liked it so much that she painted it.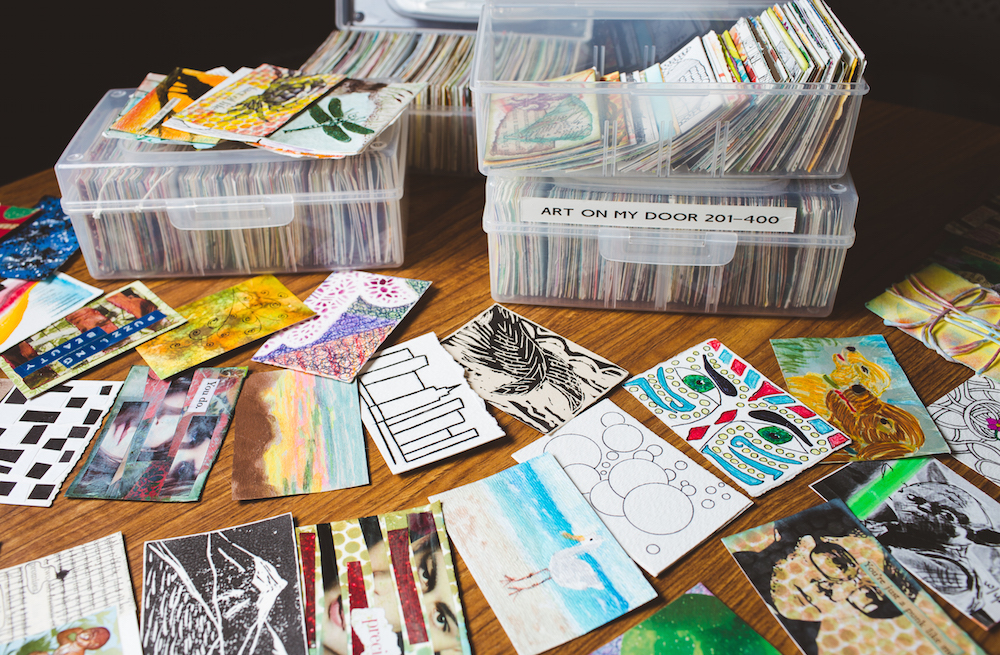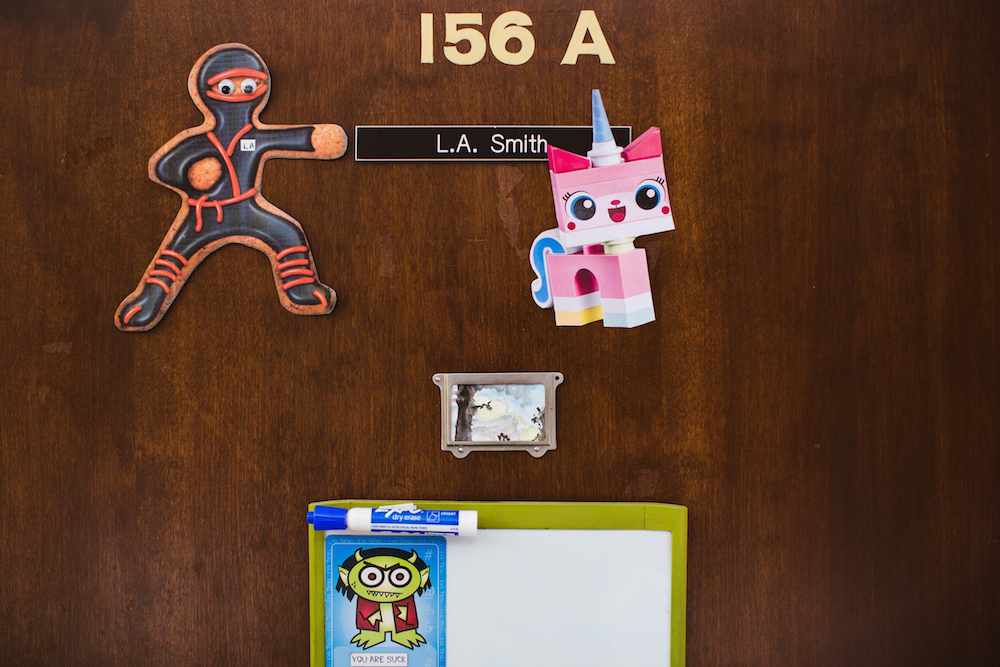 Then there's found art. Smith rips pictures and patterns out of magazines, old books, postcards, and cereal boxes — then glues them directly onto a canvas.
"Nothing is safe," she said. "My husband hides magazines that he doesn't want me to cut up, because he knows I'll go through them and find things that I want."
She pointed to a UW Professional & Continuing Education catalog sitting nearby. "I absolutely love these colors," she said. "These may end up as background or something in art someday."
Coworkers often stop by to see the project. Mike Bozee, a web designer in the Foster School, can't help but admire the work — he sits right next to Smith's door.
"It's a great conduit for her creativity. It kind of carries over and inspires the rest of us," Bozee said. "I might have to start doing something like that myself."
The bulk of the audience, though, is online. Each day's card is uploaded on Flickr and social media, and they're viewed and commented on by friends, strangers, and friends who used to be strangers, like an artist in Ireland who Smith got to know through the project.
Some have encouraged her to curate her favorite cards into a book and raise money to publish it on a crowdfunding website. But in the meantime, it's art for art's sake.
"It's sort of like a meditation time," Smith said about the 10 to 15 minutes per night she spends on the cards. "I disconnect my brain from the business of doing my job, and reconnect my brain to these sort of 'open' activities."
In an early card from April of 2011, a Victorian-era woman looks upward at a giant seashell that's been pasted on top of her head. Orange and yellow watercolors burn like a Monet sunset in the background, and a clipping of the words "I could catch" hovers over another clipping of "my breath."
"I really needed to catch my breath," Smith wrote when she uploaded a picture of the card. "Making art gave me the chance to do it."
To venture through Smith's timeline of work, visit tinyurl.com/artonmydoor.