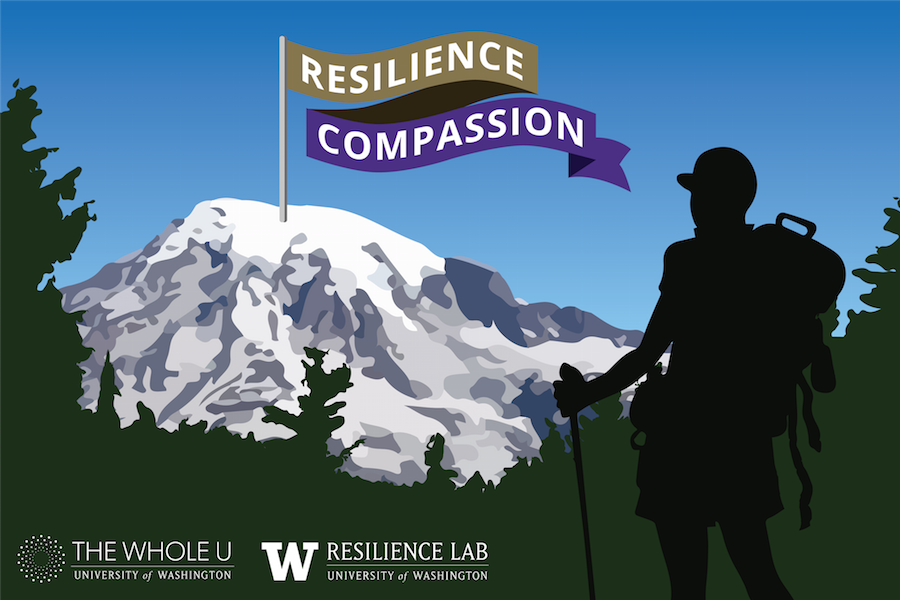 Grant helps The Whole U "Raise the Bar"
Earlier in 2018, UW Resilience Lab announced the creation of Resilience and Compassion Initiatives Seed Grants to support resilience and compassion building initiatives that foster connection and community across the University of Washington. Students, staff and faculty—inclusive of administrative and academic units—were encouraged to apply to help fund workshops, activities, and events tailored for students, faculty and staff.
The Whole U is proud to announce it received one such Resilience Lab grant to help support our Raise the Bar "Summer Wellness Challenge," which kicks off July 9 and runs through the end of August. (It's not too late to register as a team or individual participant!)
"It was so neat to see how creative people were and how they ran with these ideas about how to build connection and support one another to increase collaboration and wellbeing," said Anne Browning, director of the Resilience Lab, about the grant application process.
Grants were awarded to projects and initiatives with "clear and direct alignment" with the UW Resilience and Compassion Initiatives' goals, for their feasibility, and for their great potential to impact a diverse range of UW students, staff, and faculty.
Browning said The Whole U's grant proposal "spoke to everyone on the committee in terms of supporting general wellbeing's physical aspects, but also the focus on connection to one another—how we think about mindfulness and compassion and practice gratitude."
"A lot of these things that we see as deeply tethered into the work of resilience were pretty directly addressed," she said. "Many committee members have participated in Whole U events and partnered with The Whole U in campus events and hold [the program's] work in high regard."
---
Raise the Bar empowers departments and teams across all UW campuses and medical centers to create a healthier community through five main focus areas: being active, eating well, managing stress, cultivating kindness and compassion, and building community. Learn more about the challenge and how to join here.
"Fostering community is the foundation from which The Whole U operates and cultivating kindness and compassion has always been at the core of what we do," said Lauren Updyke, assistant director of The Whole U. "The summer wellness Challenge is a unique program that not only has a far reach, but which also creates impact."
The Resilience Lab grant will help support The Whole U in bringing the UW community a range of events and wellness content this summer, including:
A 30-Day Kindness Challenge in which every day for 30 days participants will be encouraged to complete one of the acts of kindness included in a customized checklist
Each department, group, or individual participating in Raise the Bar will be invited to join picnic events across UW
The Whole U will also be producing and publishing Weekly Audio Meditations by UW experts that will help listeners find a sense of calm and inner strength to center them as they work and live. Each week's meditation session will focus on a new topic, including: gratitude, compassion, meaning, and purpose.
Listen to the first—a breath awareness meditation with Dr. Tabitha Kirkland—here.
---
About The Whole U
Since 2014, The Whole U has engaged more than 120,000 people from all departments, campuses, and demographics at the UW with programming focusing on six key pillars: staying healthy, eating well, being active, life events and changes, volunteerism, and engaging interests. Under these pillars we have provided high quality and impactful seminars, activities, events, tools and resources, along with educational content all at no cost to our UW community. We are continually looking to expand our reach and offerings to better connect diverse groups across campus, both to one another and to the greater University.